Air Fryer Sweet Potato Fries come out perfect every time. It's all as easy as cutting the spears, tossing in spices and turning on the air fryer. Homemade and crispy!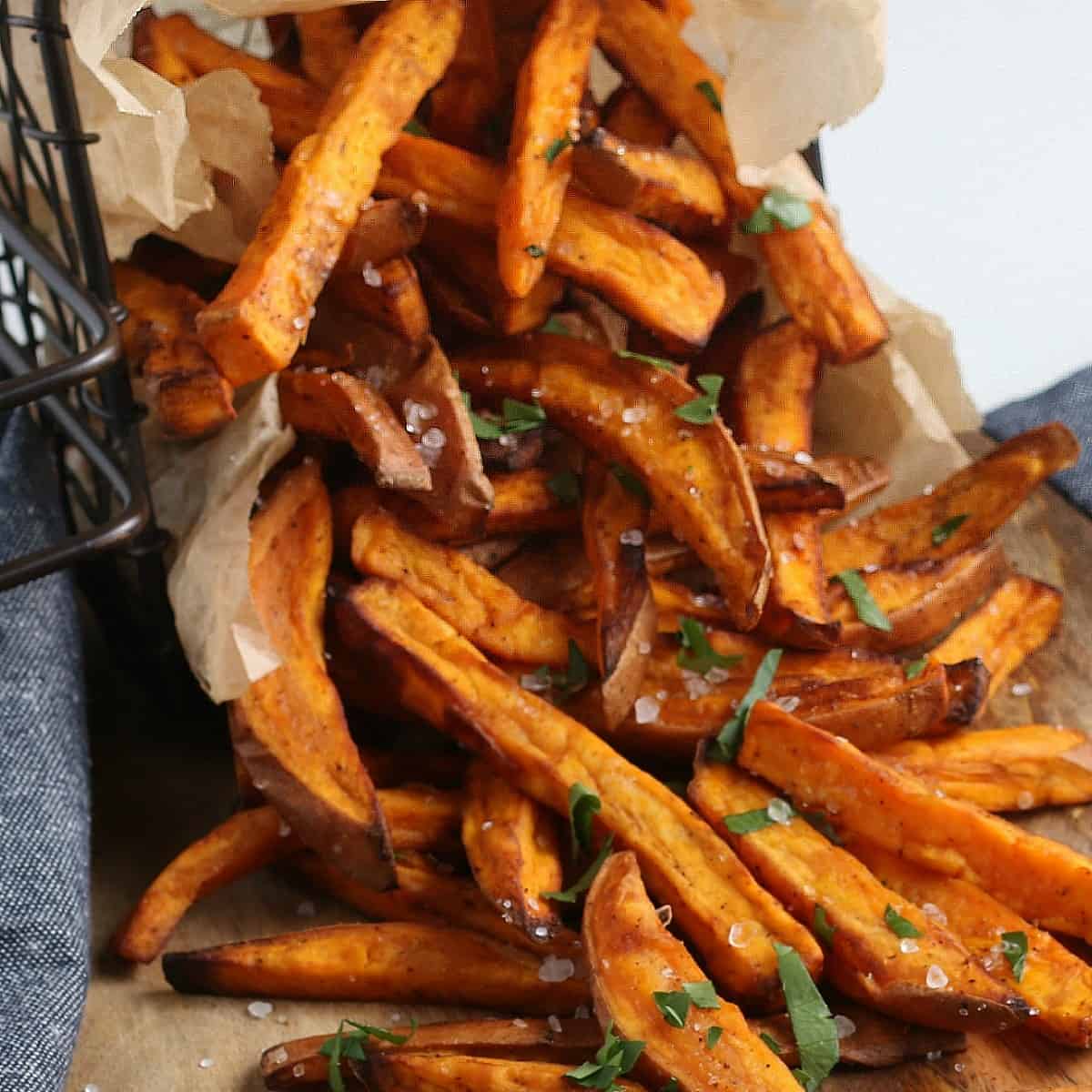 It all starts with a favorite vegetable and gets turned into a crispy side dish or appetizer. I mean I can see eating these as a snack while watching T.V.
You can see the dipping sauce in a couple of the pics and my choices ( as well as most people) are vegan ranch dressing, vegan chipotle mayonnaise, and good old ketchup.
It's really nice that you can find sweet potato fries out at restaurants now. They seem to be sort of a new phenomenon though. They didn' exist when I was a kid.
That's something we can thank the internet for. All of the food bloggers have to put on their thinking caps and create recipes. Or find recipes that are popular in other countries.
In researching this thought I found out that sweet potato fries have been being served in Argentina since the 1940's. AKA batatas fritas!
I think they've only been served here in the U.S. since about 1990. Big city restaurants like in Manhattan and Boston (Fenway Park) and at certain state fairs.
Jump to:
So check out this easy recipe for a really tasty snack and make your own air fryer sweet potato fries today!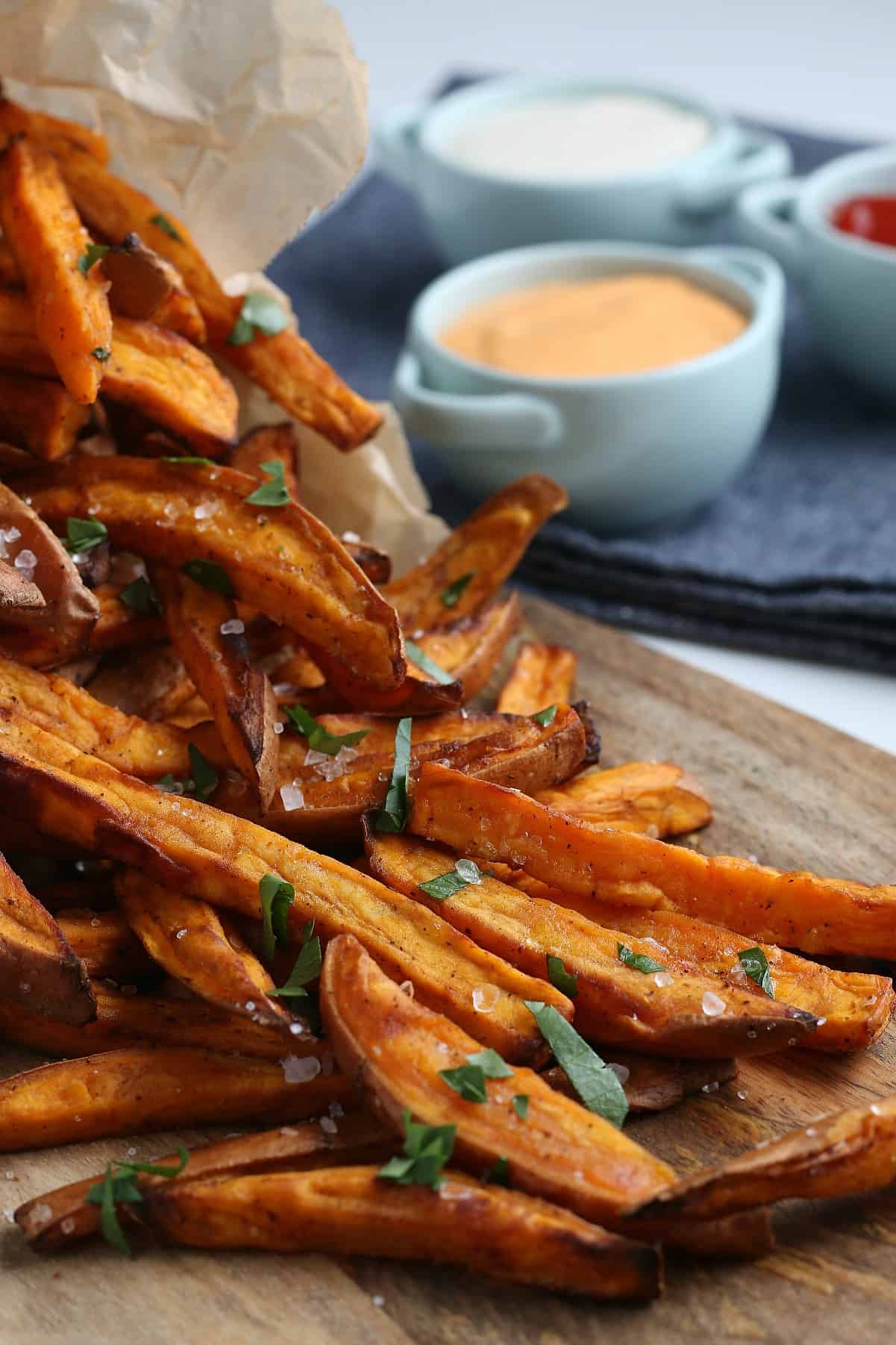 🧾 Fries ingredients
Sweet potatoes are not potatoes and are a mildly sweet vegetable that cook a lot like potatoes do.
Extra virgin olive oil is used to help the spices cling to the veggies.
Coarse salt adds a bit more of a contrasting seasoning.
Black pepper spices it up a bit.
Paprika also has a peppery taste and it is actually made from a pepper.
Garlic powder is a necessity for contrasting flavors.
Fresh parsley is optional and used as a pretty garnish.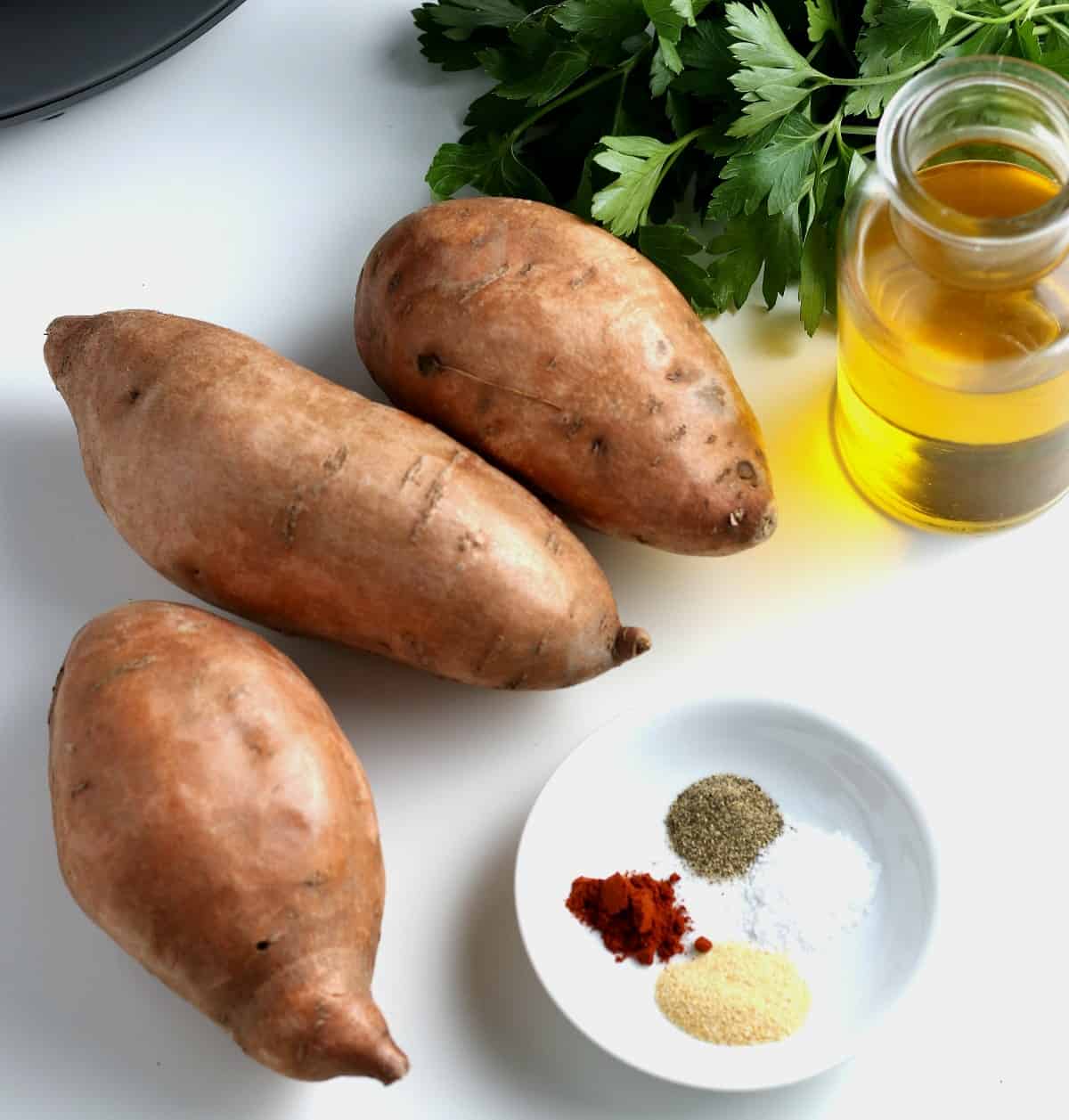 📖 Seasoning variations
If you'd like your air fryer sweet potato fries a little hotter then add cayenne pepper but use it sparingly. You can add it straight to this mix in the recipe.
In place of the garlic-paprika-black-pepper mix in this recipe, feel free to sub in any of your favorite dry seasoning mixes, such as:
Za'atar seasoning is super popular and it is easy to find this mix in the grocery stores.
Italian Seasoning is classic and mild and this is a homemade version.
If you have a favorite jarred mix for Cajun seasonings, probably from Emile, then you can use that.
Another homemade mix that is really popular on the blog is this Taco Seasoning recipe.
Caribbean Jerk Seasoning would be delicious in place of the seasoning in this recipe.
Use an actual Chili Seasoning Mix and this is another homemade recipe.
Are you looking for sweeter fries? Then make a cinnamon sugar mix to shake on your fries before air frying.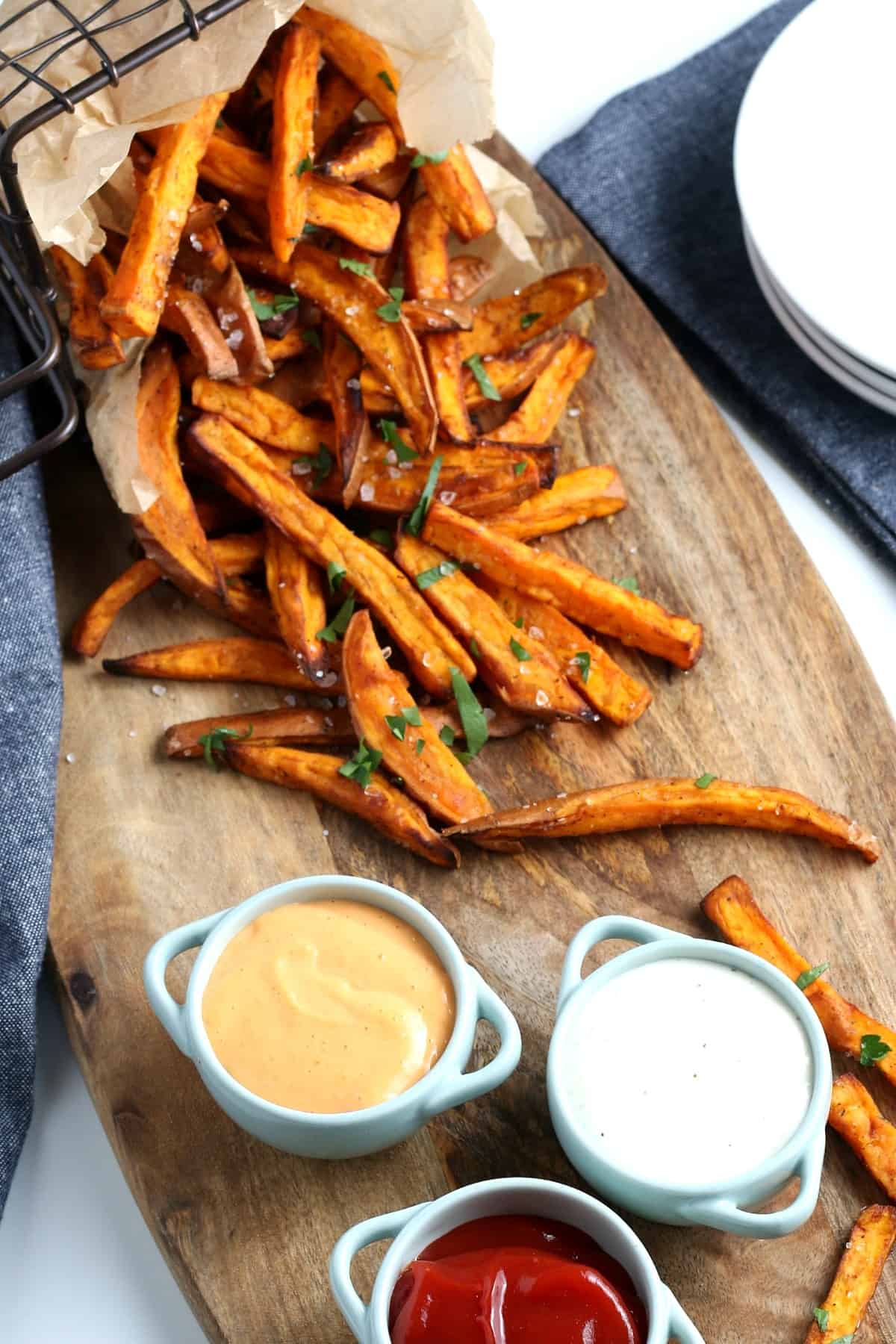 🔪 How to cut sweet potatoes for fries
It is a good idea to cut them in the same size. Not in length but in girth so that they all cook at about the same time.
Try to buy them with as little curing as possible. Some of the shapes get really crazy. You can still use curvy veggies but it will be a little harder slicing them.
You can peel them but you don't have too. I usually don't because it's simpler and they taste great this way too. Keep in mind how your family might like them.
Clean them whether you peel them or not. Cut off the ends for sure.
Cut in half lengthwise to make a safer cutting surface.
Lay cut side down and start to slice the sweet potatoes in about ¼" wide.
Lay those slabs down and slice again about ¼" wide.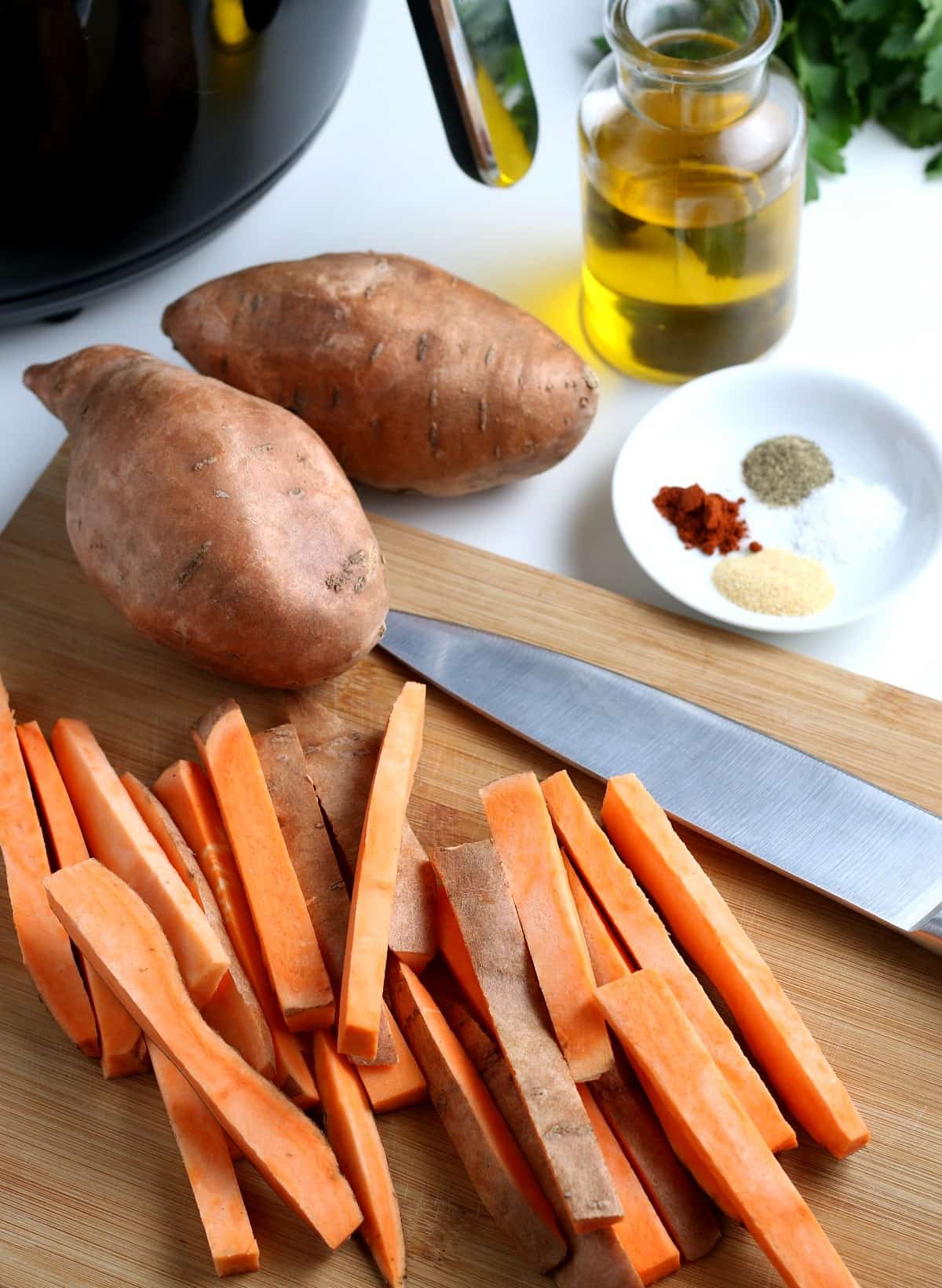 🔪 How to make sweet potato fries
Cut the fries evenly in about ¼" sticks.
Toss in a bowl with the oil and seasonings.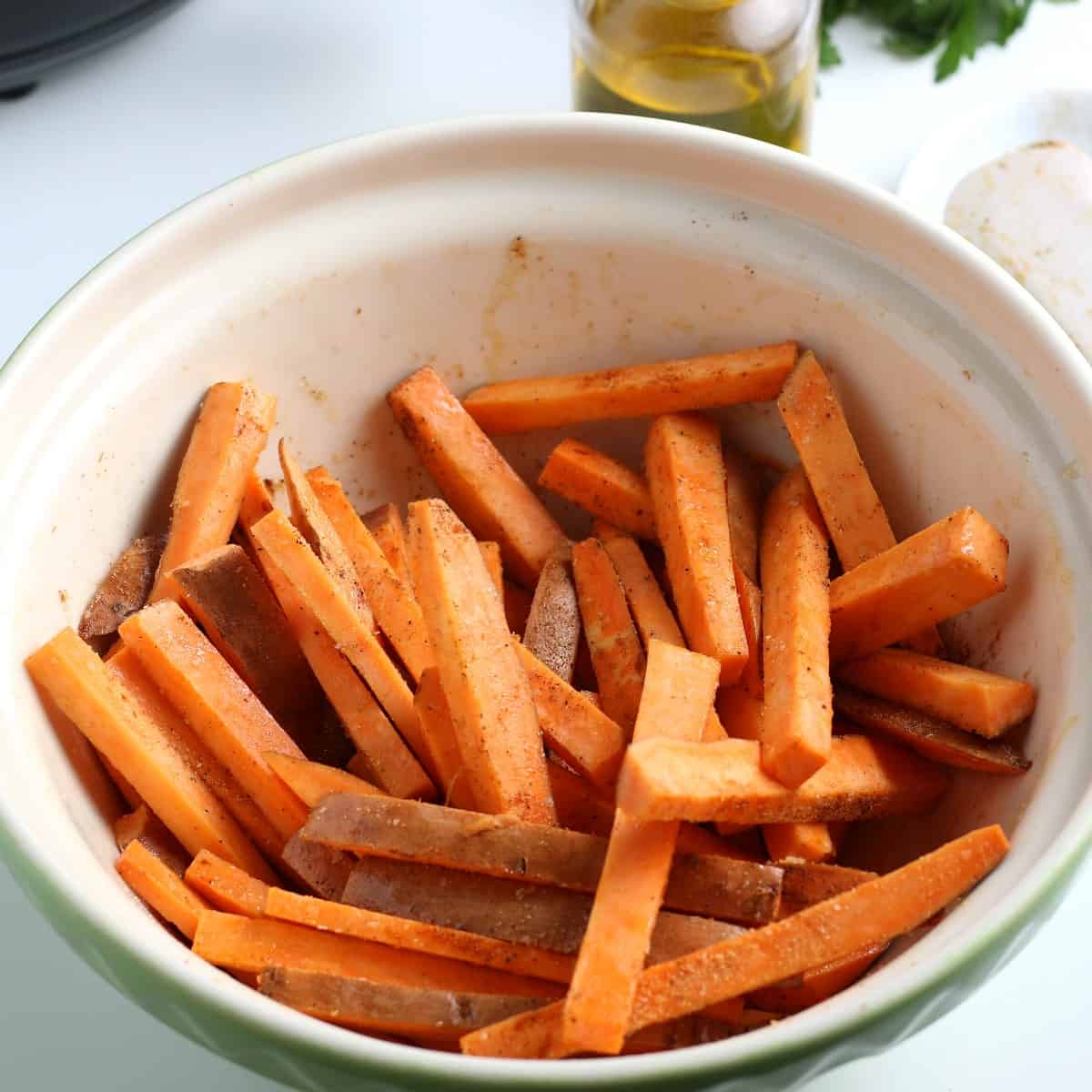 Lay in the bottom of an air fryer basket. Don't overcrowd.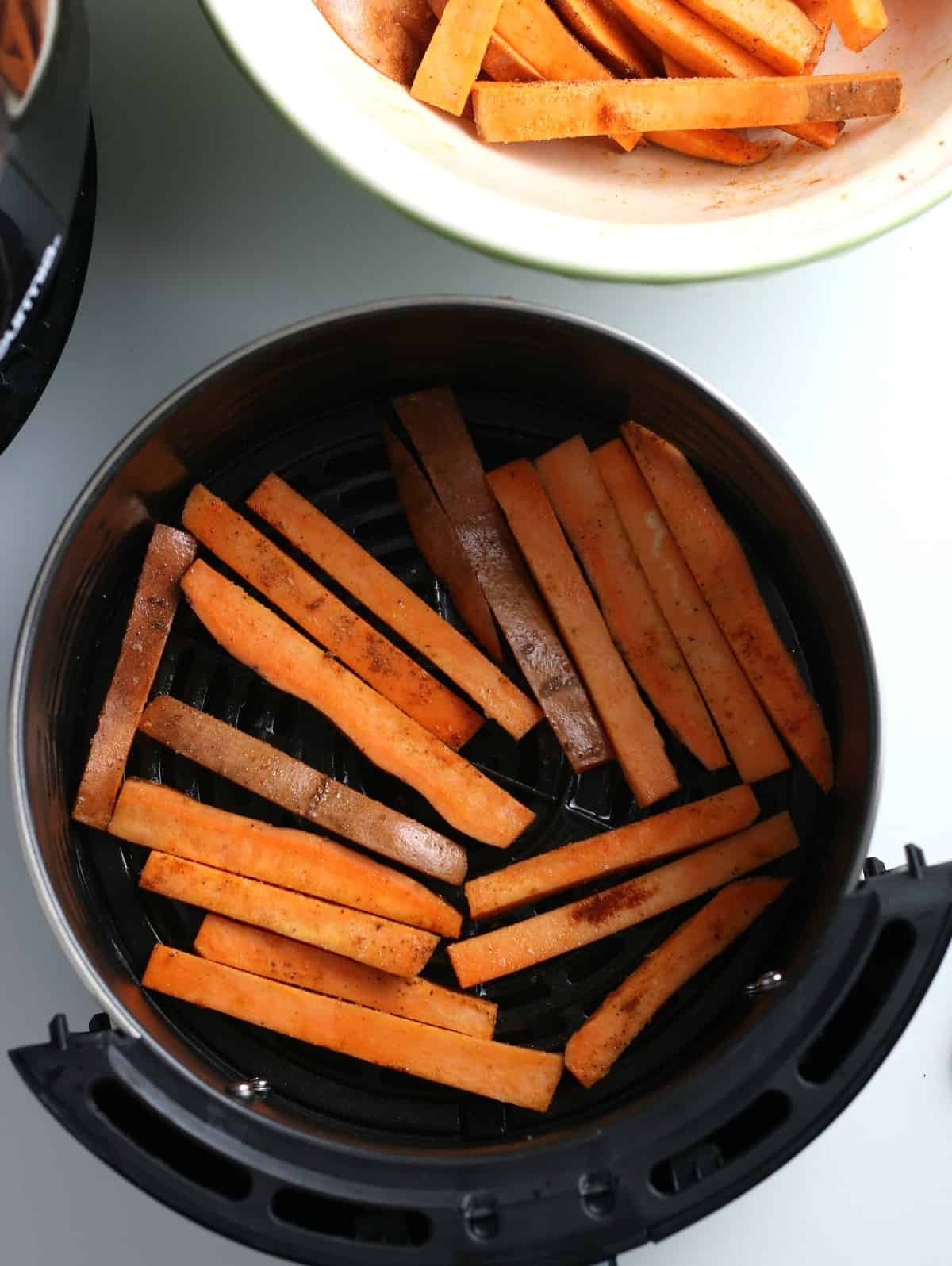 Air fry them for 10 to 15 minutes.
Remove to a baking sheet and place in a 200°F oven to keep them warm while you are doing the next batches.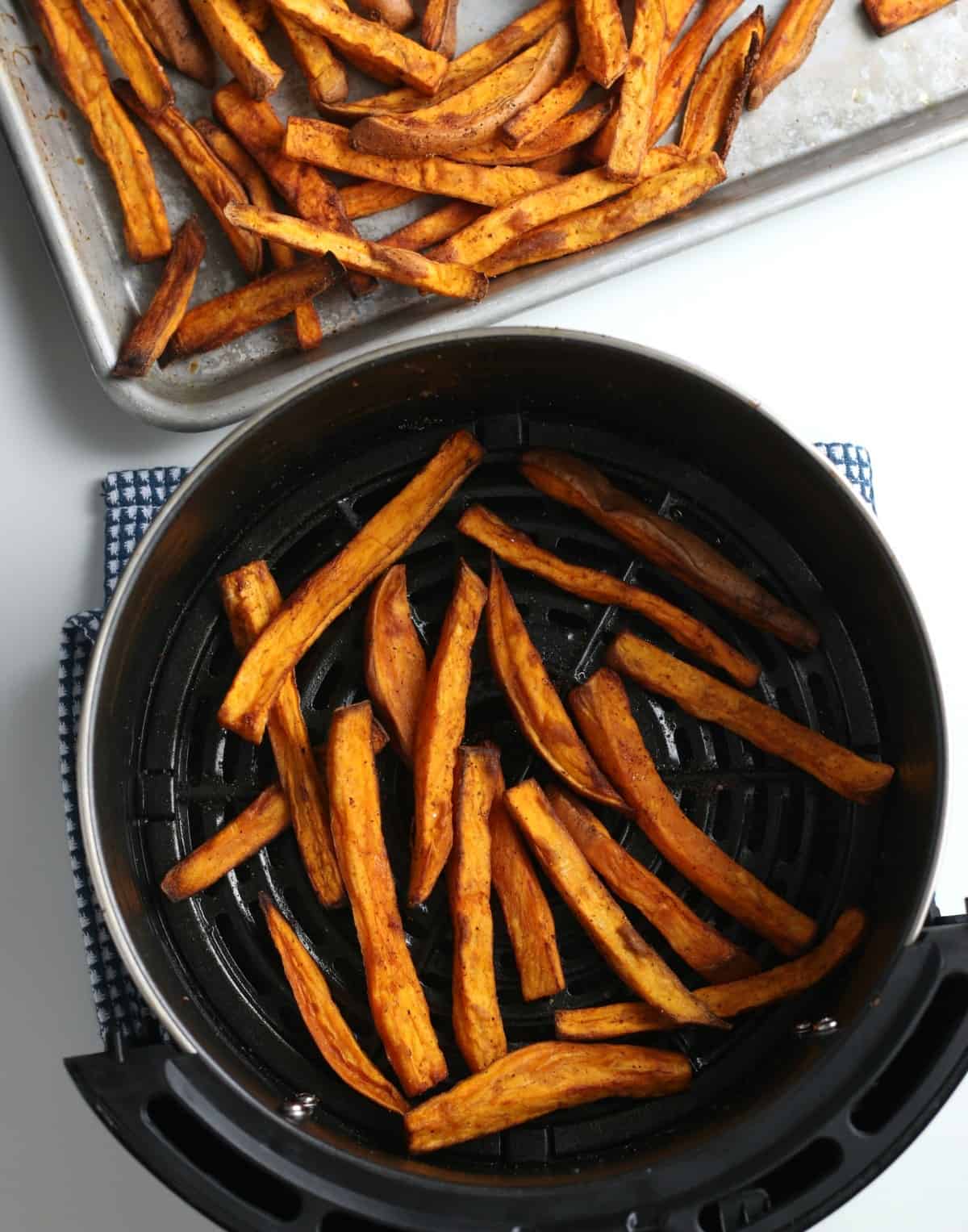 💭 Tips for crispy sweet potato fries
Cut them ¼″ thick. Thicker fries won't be as crispy.
Soak in cold ice water for about 30 minutes for a crispier fry. You can skip this step if you're in a hurry but it does draw out the extra starch.
If you soak them then afterward, rinse, drain and pat dry.
Make sure to line them in a single layer in the air fryer.
Flip the fries halfway through baking to make sure each side gets 'fried'.
👩🏻‍🍳 FAQ's
Can sweet potato fries be reheated?
Yes, they are best reheated in the oven. Place on a baking sheet and bake high at 425°F for about 10 minutes.
Can you freeze them?
No, they don't freeze well at all. You can freeze the raw slices though.
What are these fries good with?
Besides as a snack with or without dipping sauces, they are great with any sandwich or bean burger.
Are they gluten free?
Yes! Gluten-free in all of the 'Variations' descriptions too.
Can sweet potato fries be baked?
Yes, they can. Make sure to use the ice water soaking method mentioned above. it is more necessary for baking. Rinse, drain and pat dry. Lightly coat in cornstarch and then seasoning. Flip the fries halfway through.
🍠 Sweet potato recipes
📋 Recipe
Air Fryer Sweet Potato Fries
Air Fryer Sweet Potato Fries come out perfect every time.
Ingredients
2

pounds

Sweet potatoes

- cleaned and cut into fries

2

tablespoons

Extra virgin olive oil

½

teaspoon

Coarse salt

¼

teaspoon

Black pepper

¼

teaspoon

Paprika

½

teaspoon

Garlic powder

fresh

Parsley

- optional
Instructions
Clean and cut sweet potatoes into french fry pieces and add to a bowl for mixing.

Preheat air fryer to 400°F.

Lightly spray basket with olive oil.

Drizzle sweet potatoes with oil.

Sprinkle with salt, pepper, paprika and garlic powder. Toss to coat evenly.

Place fries in the basket allowing enough space for them to cook evenly, You will need to fry these in batches for them to cook to a crispy outside.

Cook at 400 degrees F for 10-15 minutes, turning halfway through.

Remove and place on a baking sheet in a 220 F oven to keep warm.

Continue cooking the remaining sweet potatoes. Serve immediately with ketchup or condiments of your choice
Notes
Air Fryer temperatures vary so adjust the cook time and temperature that works for your appliance.
Nutrition
Serving:
1
Serving
Calories:
259
kcal
Carbohydrates:
46
g
Protein:
4
g
Fat:
7
g
Saturated Fat:
1
g
Sodium:
416
mg
Potassium:
764
mg
Fiber:
7
g
Sugar:
10
g
Vitamin A:
32237
IU
Vitamin C:
5
mg
Calcium:
68
mg
Iron:
1
mg