Watermelon feta salad is easy, fresh, and light. It comes with cucumber, vegan feta, loads of fresh herbs, and a zesty dressing!
Watermelon and feta cheese go really nice together and luckily there are some good vegan ones out there. You can make your own too.
The store-bought vegan feta that I like is by Violife. Miyoko has one too but I haven't tried it yet. I'm sure it's good!
There are a lot of ingenious things you can do with a watermelon. Making a lightly tossed salad is just one of them.
One of the first recipes I put on the blog was a Watermelon Citrus Popsicle recipe. It was in 2013 (wow!) and I've updated the photos since then but the recipe has not changed because it is still just as refreshingly delicious as always.
And just last week I posted a Watermelon Vodka Cocktail recipe. You know that's a relaxing drink.
Jump to:
But to get back to this fresh salad recipe that has some wonderful complementary flavors.
📋 Ingredients
Watermelon is refreshing, sweet and good for you.
English cucumber is a milder tasting kind of cuke.
Red onion is a great contrasting crunch.
Dairy-free feta cheese makes everything better with a creamy texture in between bites.
Oil and lime juice with a little bit of salt and pepper for the dressing is all you need.
You can actually stop right there and not even add a dressing but fresh mint, olive oil, and fresh lime juice taste really good with the mix too.
I added English cucumbers because they are also a refreshing vegetable. They are the cucumbers that are longer and thinner and are usually wrapped in plastic.
The reason I love using them is that they have thinner skin and are seedless. And if you have a problem, ahem, burping, then they are often referred to as burpless.
Don't get me wrong. You can use any cucumber that you like, you may need to peel them first though. I would.
🔪 How do you cut a watermelon
You cut right through the center so that you have two halves. This is a good way to work with large or small watermelons.
Cut a slice off of one of the halves into a round that's about 1" thick. For a large watermelon put some plastic wrap on one of the halves and put it in the refrigerator.
Go ahead and cut rounds out of the other half of the watermelon.
Now cut those rounds in half. If you're eating the watermelon fresh right off the rind then pass the halves around.
For this recipe, we're going to continue for the salad.
Cut the rind away from all of the halves.
Take a spoon and lightly scrape out any obvious seeds.
Cut the it into bite-sized cubes and remove any seeds that you come across as you go. Cut larger cubes for bigger bites.
Toss the pieces into a large bowl as you go. You can swipe a bite every once in a while too.
This recipe calls for three cups of watermelon but you can truly make as much as you like. If you come up with 6 cups for more people then go for it.
This little bit of dressing will stretch a long way too.
🍉 Watermelon fun facts
You can pickle and eat the rind.
Wild watermelon first came from Africa.
There are hundreds of varieties and they come in every weight and just about every color. Even white.
It's classified as a vegetable and a fruit.
The state vegetable of Oklahoma is the watermelon.
92% of a watermelon is water.
It's in the same family as the cucumber and that is one reason why they go so well together in this salad recipe.
The heaviest watermelon ever grown was in 2013 and weighed 268 lbs.
Thumbs up for the high electrolyte content!
National Watermelon Day is August 3rd.
💭 Chef's tip
If you don't think you will finish all of the salad. Only add dressing to the amount you will eat, then store leftover dressing and salad separately in the refrigerator for up to 1 day.
Add a tight covering if you are storing so that the watermelon stays fresh.
After storing, be sure to test the salad before serving as it will become watery because of the consistency of the watermelon and cucumbers.
You will probably have to drain off the liquid in the salad and it tastes great to me after that also.
If you don't have the dressing made you can always drizzle a little Italian dressing on the leftovers if you think it needs a pick-me-up.
If you take a photo of your watermelon salad with vegan feta I would love to see it. Follow me over on Instagram and tag me on your photo @vegan_in_the_freezer.
📋 Recipe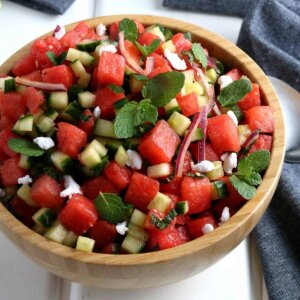 Watermelon Salad with Vegan Feta
Watermelon feta salad is easy, fresh, and light. It comes with cucumbers, vegan feta, loads of fresh herbs, and a zesty dressing!
Ingredients
3

cups

Watermelon

- cubed

1 ½

cups

English Cucumber

- diced

½

cup

Red onion

- thinly sliced

2

tablespoons

fresh mint

¼

cup

Extra virgin olive oil

2

tablespoons

Fresh lime juice

½

teaspoon

Kosher salt

¼

teaspoon

Ground black pepper

½

cup

Dairy free feta cheese

- cubed
Instructions
In a large bowl, combine watermelon, cucumbers, onions, and mint.

In a small bowl, whisk together olive oil, lime juice, salt, and pepper.

Drizzle the dressing over the watermelon mixture and toss lightly to coat.

Sprinkle with vegan feta cheese.

Cover tightly and store leftovers in the refrigerator up to 1 day.
Nutrition
Serving:
1
Serving
Calories:
187
kcal
Carbohydrates:
12
g
Protein:
6
g
Fat:
14
g
Saturated Fat:
2
g
Cholesterol:
3
mg
Sodium:
469
mg
Potassium:
199
mg
Fiber:
1
g
Sugar:
9
g
Vitamin A:
796
IU
Vitamin C:
13
mg
Calcium:
20
mg
Iron:
1
mg