With veganism on the rise, vegan-friendly comfort food options have been popping up all over the place. There's just something about the classic Philly cheesesteak sandwiches; for many, it's a mouth-watering reminder of home. Now, vegan eaters don't have to miss out on that deliciousness because vegan recipes for this popular sandwich have started appearing! A vegan Philly cheesesteak sandwich is full of savory vegan beef substitutes, vegan cheese sauce, and fresh vegetables, making it an excellent vegan-friendly comfort food. Indulging in a vegan cheesesteak with none of the guilt or complaints from your taste buds; now that sounds like a treat worth having!
Why You'll Love This Vegan Philly Cheesesteak Recipe
Flavorful- This vegan Philly cheesesteak is packed with delicious flavors that will make your mouth water. The combination of green bell peppers, onions, and plant-based meat substitutes creates an unforgettable flavor.
A Short List Of Ingredients- All you need are plant-based meat substitutes, bell peppers, caramelized onions, spices, and vegan cheese.
30-Minute Recipe- Who said making something delicious needed to be time-consuming? With this easy, 30-minute vegan recipe, you can have a delightful vegan cheesesteak in no time.
Perfect For Any Occasion- Whether you're looking for a quick and easy weeknight dinner or want to impress your friends with something amazing, this vegan Philly cheesesteak is sure to do the trick.
What Is A Philly Cheesesteak?
A Philly cheesesteak is a famous sandwich originating from the city of Philadelphia. They consist of thinly sliced beef, melted cheese, and peppers and onions served on a hoagie roll. The classic version is usually served with mayonnaise or ketchup.
This vegan version swaps out the beef for a vegan-friendly substitute or chopped portobello mushrooms and onions and replaces the cheese with a vegan version. This creates an equally delicious and flavorful sandwich that is sure to satisfy any cheesesteak craving.
So if you're looking for a tasty vegan alternative to the classic Philly Cheesesteak, this is the perfect recipe for you!
Equipment Needed
Skillet
Spoon for Stirring
Cutting Board
Knife
Baking Sheet
Measuring Spoons
Ingredients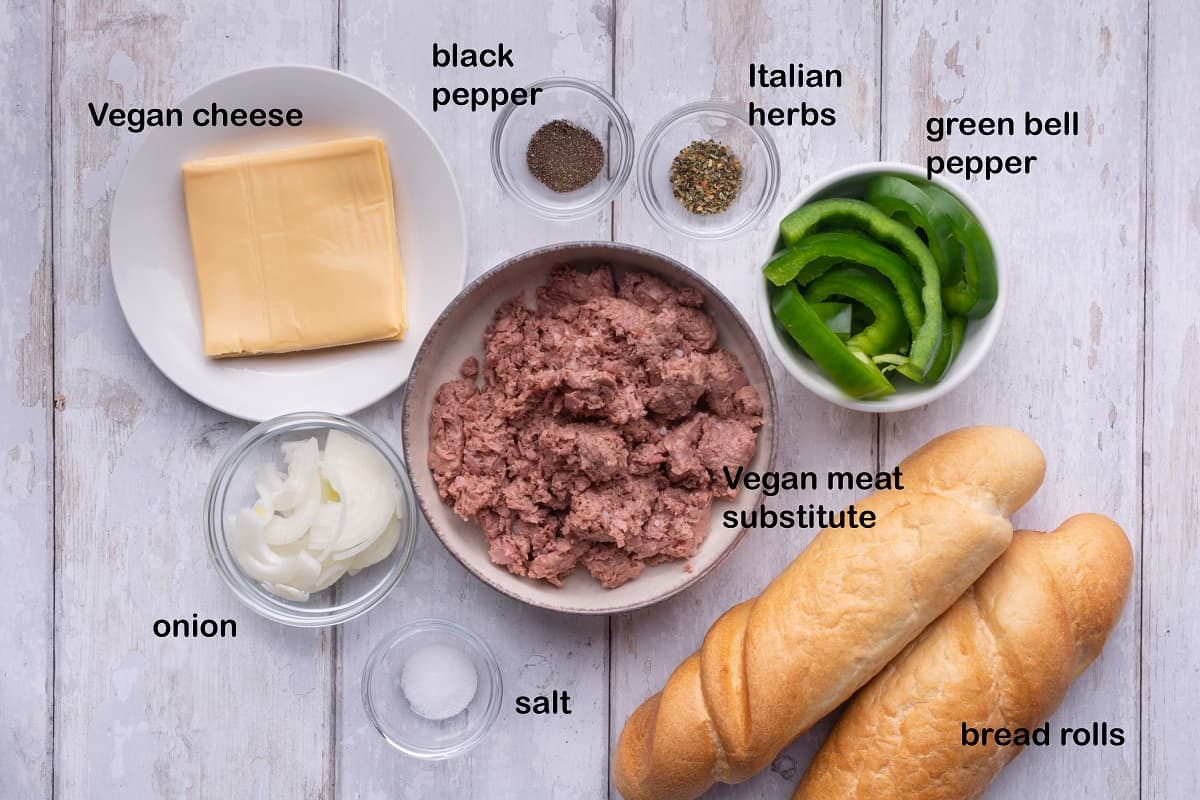 Vegetable Oil- Used to coat the pan, sautee the veggies in, and prevent sticking.
Onion- Adds flavor and texture.
Green Bell Pepper- For a mild sweetness and crunchy texture
Vegan Meat Substitute or Portobello Mushrooms- Provides a hearty texture and taste of a traditional Philly cheesesteak sandwich.
Black Pepper- Enhances the flavor of the meat substitute.
Italian Herbs- Usually a combination of dried oregano, parsley, and thyme, with a hint of garlic powder. It adds a depth of flavor to the vegan sandwich.
Salt- To taste.
Vegan Cheese- Adds the cheesy flavor to this vegan version of a Philly cheesesteak.
Bread Rolls- Traditionally, hoagie rolls or sub rolls are used to hold all the goodness.
How To Make Vegan Philly Cheesesteak Sandwiches
It's easy to make a vegan Philly cheesesteak sandwich at home! Start by preheating your oven to 350F, then heat olive oil in a skillet on medium heat. Start by adding onions and occasionally stirring for around 5 minutes until they are soft, followed by the bell peppers that should be cooked until tender - if necessary, add a bit of water during the cooking process, so the vegetables don't burn.
After the vegetables have been cooked to perfection, add your vegan meat substitute or diced mushrooms alongside all of your favorite spices. Keep stirring until everything is fully cooked, and then add your vegan cheese. Cook it until the cheese has melted into a gooey heavenly delight.
Divide the bread in half with a hotdog bun-like cut, ensuring you don't go all the way through. Slice up the cheese slices and split them between both halves of the bread. Bake it for 10 minutes or until the cheese is almost melted.
Fill the hoagie roll with prepared vegan cheesesteak filling, and enjoy!
How To Serve The Perfect Vegan Philly Cheesesteak Sandwiches
Once you've prepared your vegan Philly cheesesteak, it's time to enjoy it! Serve the sandwich with a side of French fries or a fresh garden salad to make it a complete meal. You can also top the sandwich with some of your favorite condiments, such as ketchup, mustard, or vegan mayonnaise. Add some pickles and a side of vegan coleslaw for an even tastier experience!
Popular Substitutions & Additions
This vegan Philly cheesesteak recipe is incredibly versatile and can be easily customized with various ingredients.
If you don't have vegan meat, you can substitute it with tofu, tempeh, or seitan.
Add other vegetables, such as spinach, carrots, and mushrooms, to the mix.
Like a bit of heat? Add some chili flakes or a splash of hot sauce.
Spices can also be added to give the sandwich extra flavor. Some popular ones are oregano, onion powder, paprika, garlic powder, finely minced garlic, or thinly sliced fresh garlic.
Finally, feel free to use whatever type of bread you'd like. From French rolls to hoagie rolls, the choice is yours.
Can You Freeze Philly Cheesesteaks?
Yes, this vegan Philly cheesesteak can be frozen for up to 3 months. Let the mixture cool before transferring it into a freezer-safe container. Then, when you're ready to enjoy the sandwich, defrost the mixture and heat it in a skillet with some oil. Alternatively, you can also freeze the vegan philly cheesesteak sandwich already assembled, which is excellent for a quick grab-and-go meal. Just thaw it in the refrigerator overnight, then reheat it in the oven or microwave.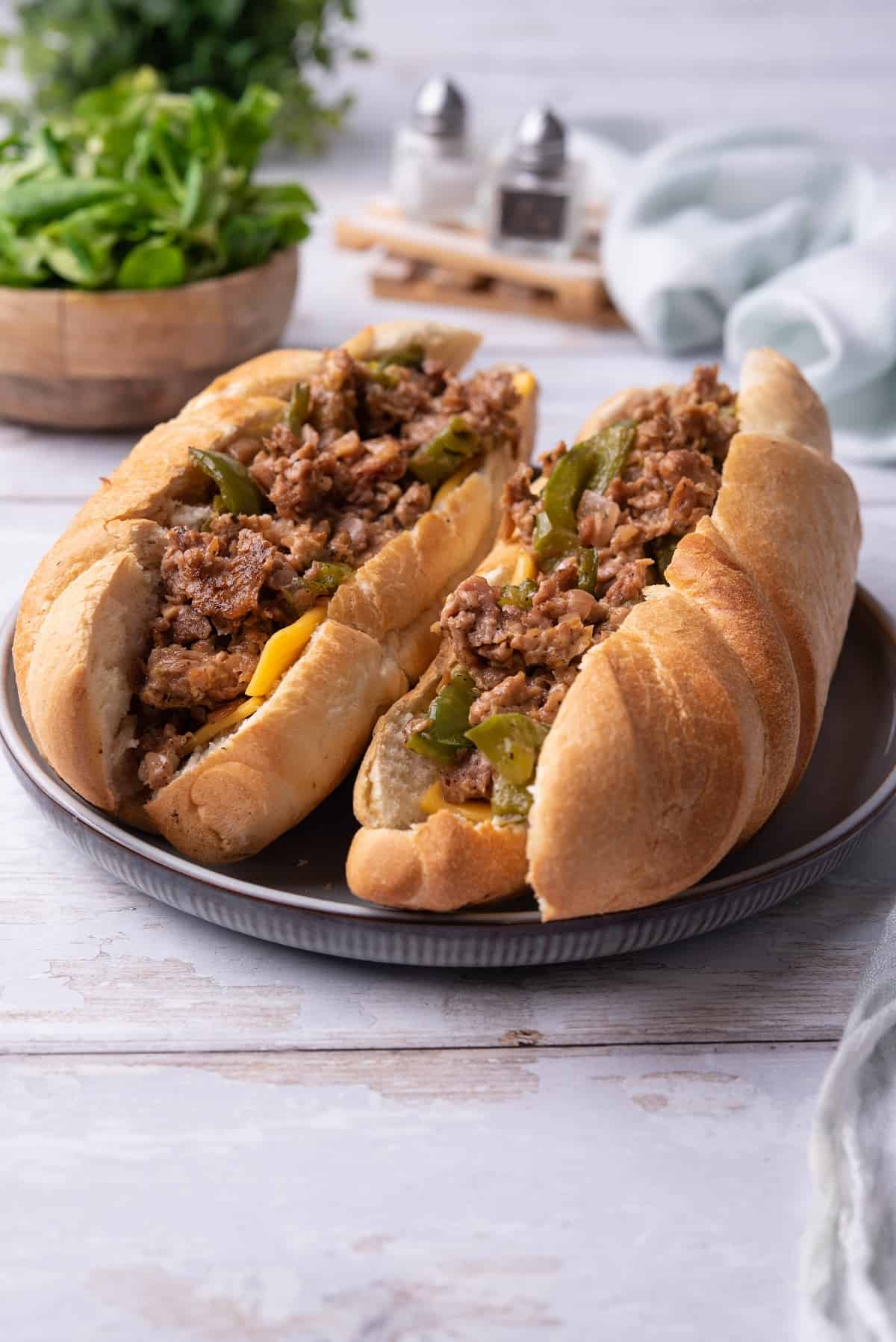 Vegan Philly Cheesesteak FAQs
What is a vegan meat substitute?
Vegan meat substitutes are plant-based alternatives to meat, such as tofu, tempeh, seitan, and jackfruit. These products provide a similar texture and flavor to animal-based proteins, making them a fantastic meat substitute in vegan recipes!
Can I use different vegetables in a vegan Philly cheesesteak?
Absolutely! You can use whichever vegetables you prefer or have on hand. Just keep in mind that some vegetables might need more cooking time, so adjust the recipe accordingly.
What is the best type of cheese to use on a vegan Philly cheesesteak sandwich?
For this vegan cheesesteak, we recommend using vegan cheese slices or freshly shredded vegan cheese. You can also use a variety of different vegan cheese, such as vegan mozzarella, cheddar, or gouda. Feel free to experiment with different flavors and textures.
Can I make a vegan Philly cheesesteak sandwich in advance?
Yes, you can definitely make these vegan Philly cheesesteaks ahead of time. You can assemble the sandwich and then freeze it, or cook the mixture and store it in the fridge until you're ready to assemble. Either way, make sure to reheat it before serving. A vegan cheesesteak is a great meal for meal prep.
What can I use in place of vegetable oil?
If you don't want to use vegetable oil, you can also opt for vegan butter or margarine to cook your vegan Philly cheesesteak in. Alternatively, avocado oil or coconut oil are also great options for cooking the vegan beef mixture. Just make sure to use a medium-heat oil that won't burn or smoke at high temperatures.
📋 Recipe
The Best Vegan Philly Cheesesteak Recipe
Tantalize your tastebuds with this vegan-friendly cheesesteak made with thinly sliced vegan beef, melted cheese, and sauteed veggies, then served in a warm bun.
Ingredients
1

tbsp

vegetable oil

1

onion

thinly sliced

1

green bell pepper

sliced

0.75

lb

vegan meat substitute or chopped Portobello mushrooms

¼

tsp

black pepper

1

tsp

Italian Herbs

½

tsp

salt

4

slices of Vegan cheese

2

bread rolls
Instructions
Heat olive oil in a skillet over medium-high heat.

Add onions and cook for 5 minutes, stirring. Add bell peppers and cook until they are soft. If needed add a bit of water so the veggies do not burn.

Add Vegan meat substitute and spices. Cook stirring until cooked through.

Add 2 slices of Vegan cheese and cook until the cheese is melted as much as possible.

Cut the bread roll in half, but not all the way through, just make a slit.

Cut the remaining two cheese slices into halves. Divide the cheese between the bread rolls and bake the bread for 10 minutes or until the cheese is almost melted.

Fill the bread rolls with the prepared Vegan cheesesteak.
Nutrition
Calories:
97
kcal
Carbohydrates:
9
g
Protein:
1
g
Fat:
7
g
Saturated Fat:
1
g
Polyunsaturated Fat:
4
g
Monounsaturated Fat:
2
g
Trans Fat:
0.04
g
Sodium:
586
mg
Potassium:
200
mg
Fiber:
2
g
Sugar:
4
g
Vitamin A:
240
IU
Vitamin C:
52
mg
Calcium:
36
mg
Iron:
1
mg