Vegan Banh Mi Sandwich is a fantastic recipe that you just can't miss making. Easy baked spicy tofu stars with a sweet and spicy sauce and veggies.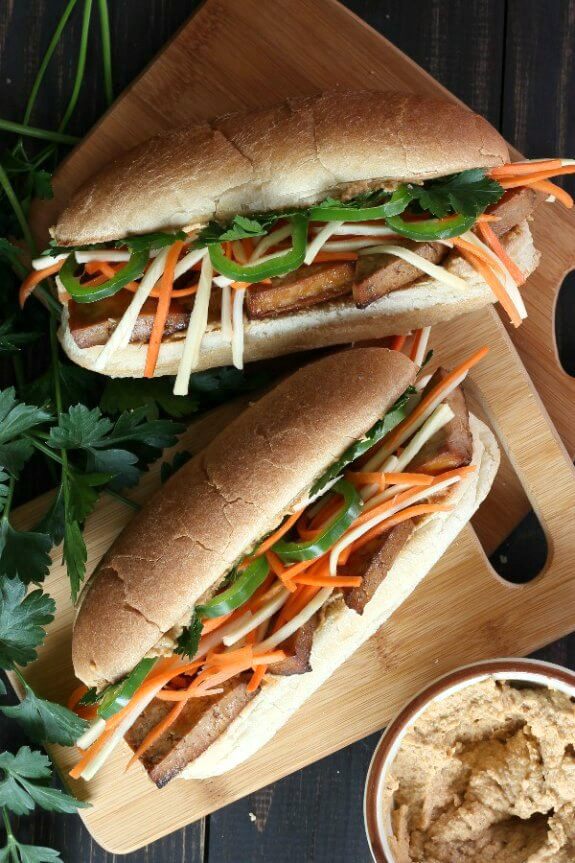 You've never had tofu this good before! Well, okay maybe you have. Tofu can be pretty darn good but this may be the best tofu you've ever had. It's the best I've ever had. It's marinated in a spicy sauce and baked to a slightly chewy consistency.
My stomach is growling. Sandwiches are one of my most favorite things in the world and I am always looking for a unique and new sandwich to make for the blog. This one is just one of those sandwiches.
I've been kicking around the idea of making Banh Mi's for quite some time now and I decided it has got to be now. A year-round delicacy that is never too heavy and always satisfying.
What is a Bahn Mi Sandwich!
It's a Vietnamese sandwich on a baguette with a variety of different ingredients. It's really the bread like we would call a hoagie or submarine sandwich.
Typically it has pickled vegetables such as carrots and daikon.
Cucumber slices are added and can also be pickled.
There is pork sausage but you know I'm going to improve on that!
Often it has jalapeño slices and fresh cilantro.
This can be a mix of tamari and some spices and usually a type of mayonnaise for the spread.
Now to show you some help for veganizing Bahn Mi sandwiches.
How Do You Make a Vegan Bahn Mi Sandwich?
Everything only gets better.
You start with quick and mild pickled carrots and parsnip strips. No radishes here, parsnips instead.
Then a beautiful spicy marinade covers triangles of tofu that will be baked to a mildly chewy texture.
Now the sauce! Homemade sweet and spicy mayonnaise is to be slathered on each side of the toasted French bread. Isn't this sounding good!?
The thin rounds of jalapeño peppers are also added.
I know a lot of people just don't like cilantro so I have also switched that out for beautiful flat leaf parsley.
I'm telling you that this sandwich is good!
It was so nice to have such a delicious sandwich waiting for me two days in a row.
Are you a sandwich fiend like I am? You've probably already tried Loaded Chickpea Salad Sandwich. It's so simple to make and easy to eat. Well, this one is simple too. There are a few steps but it's not hard at all.
You can even do it in steps. Like the spread one day and the pickled veggies on another. Then you have all the makings for some great sandwiches.
Yes! two big long vegan Banh Mi sandwiches.
📋 Recipe
Vegan Banh Mi Sandwich
Vegan Banh Mi Sandwich is a fantastic spicy recipe that you just can't miss making
Ingredients
Sweet and Spicy Sauce:
1

cup

cashews

¼

cup

water

2

tablespoons

hoisin sauce

2

tablespoons

lemon juice

2

teaspoons

Sriracha

½

teaspoon

garlic powder

½

teaspoon

onion powder

¼

teaspoon

sea salt
Tofu and it's Marinade:
6

ounces

extra firm tofu

- ½ block, pressed for about

4

tablespoons

tamari

2

tablespoons

rice wine vinegar

3

tablespoons

maple syrup

1

tablespoon

Sriracha

3

teaspoon

avocado oil
Pickeld Slaw:
½

cup

carrots

- julienned or slice into thin sticks

½

cup

parsnip

- julienned or slice into thin sticks

¼

cup

rice wine vinegar
The Rest:
2

French Rolls

¼

cup

flat leaf parsley

- fresh

⅛

cup

jalapeño pepper

- 1 pepper, sliced thin with seeds removed
Instructions
Sweet and Spicy Sauce:
Cover the cashews with water and let soak for at least 30 minutes.

While the cashews are soaking press the tofu for about 20 minutes make the tofu marinade.

While the tofu is being pressed make the marinade. n a small bowl add the tamari, rice wine vinegar, maple syrup, Sriracha and oil. Mix well.

Take the pressed tofu and lay on it's side. Cut into thirds so that there are 3 slabs. Cut those in half so that there are 6 squares. Now cut the into triangles so that there are 12 pieces.

Pour the marinade into a small flat casserole. Pour the marinade over the tofu and let marinade at least 30 minutes.

Drain the cashews and add to a food processor.

To the food processor add the water. hoisin sauce, lemon juice, Sriracha, garlic powder, onion powder and sea salt. Process until smooth.

Place the julienned veggies in a small bowl and pour over the vinegar. Toss and let set for 15 minutes.

Cut the French rolls lengthwise but not all the way through. Open and lay on a baking sheet. broil for a minute or so until the bread is toasted. Don't walk away. They will burn very quickly.

Remove the tofu from the marinade and lay on a parchment paper covered baking sheet. Bake at 350°F for 40 minutes.

Spread the sweet and spicy sauce thickly on each side of the toasted bread.

Lay half of the tofu on each roll.

Liberally lay the pickled carrot/parsnip veggies on the tofu.

Lay a few jalapeño pepper rounds on top of the pickled slices.

Pinch off some parsley leaves and sprinkle over the peppers.

Close up the roll and take a big bite!
Notes
You can keep in the refrigerator overnight. Heat for about 15 to 30 seconds in the microwave when ready to eat or bake at 350°F for 5 minutes.
Nutrition
Serving:
1
Sandwich
Calories:
539
kcal
Carbohydrates:
92
g
Protein:
18
g
Fat:
30
g
Saturated Fat:
4
g
Sodium:
620
mg
Potassium:
857
mg
Fiber:
6
g
Sugar:
14
g
Vitamin A:
5980
IU
Vitamin C:
31.2
mg
Calcium:
108
mg
Iron:
16.7
mg
I know I mentioned my chickpea salad sandwich above but I'd love to show you another sandwich that gets served in a nice long hoagie bun. It's Cauliflower Po' Boy sandwich and you HAVE to make it!