Homemade Vegan Chili with Mixed Beans Recipe is comforting and full-flavored all at the same time. Packed with spices too for more rich flavor.

I can never figure out when chili season is! I want to say, 'It's chili season so get out your big cookin pot'! But this is what I'm thinking;
If it's spring and still a little nippy, get out your big pot.
If it's summer then start that pot of chili because it's outdoor grilling time.
If it's fall make a big pot because it is perfect for those cozy nights and if it's winter then it will warm you up.
Good news! It turns out every season is chili season!
A great recipe to tackle is this Homemade Vegan Chili with Mixed Beans Recipe.
You start from scratch and let the stove do most of the work. It just takes a little time to get that rich flavor.
I usually buy a pound bag of mixed beans, but now there are so many places with bulk beans that it is fun to pick out the ones you especially want.
You can even find organic. Pick from 4 to 8 kinds or more. Why not.
Chili comes in many forms and grows from many a cook's imagination. This one sprouted out of my head and it got all spruced up with spices that make a deep rich vegetarian chili recipe that everyone will love.
A great potluck dish too!
Whether it's at church or a neighbors house your pot will be emptied along with the bowl of crusty bread that someone else brought.
Community is important, and I am in a new community right now. I'm looking forward to future potlucks.
If you just shared this vegetarian chili recipe not too long ago there is another crowd-pleaser that you might like to take along.
It's named Slow Cooker Black Bean Chili and you can even cook it overnight in the slow cooker.
I will often make chili in a crock pot but I haven't used an instant pot yet.
I'm sure you could do that without canned beans, too. I think I'll give it a whirl with dried pinto beans and flavor it up.
The basics that I think I always use is to add onion and canned tomatoes (they could be fresh, though).
Something different might be red bell pepper and smoked paprika. They make it into the next recipe too.
Now, let's start at the beginning and pull out that stockpot!
How Do You Make Chili From Scratch?
It all starts with the beans. You can go with one variety or make a mix.
They've also been making mixes since the 60's so just look down on the bottom shelf and pick up a mix.
Bringing to a boil. Cook on medium-high for
There are two ways to prepare your beans.
You can soak them overnight or do the quick method, which is covering your beans with water by a couple of inches and bringing to a boil. Cover, turn off the heat, and let it sit for one hour.
Now You're ready to continue with the recipe.
Drain beans whether you've soaked overnight or took advantage of the quick method.
Now, start following your recipe. You may add water and/or broth. One way or the other, you're on your way to homemade vegetarian chili from scratch.
Is It Better to Presoak Beans or to Do the Quick Method?
There are divided opinions.
Some say pre-soaking is for releasing some of the enzymes that cause gas in humans and also to just plain clean the beans. They say the quick method also does this.
They have learned that you'll still have gas. People are different and the degree of your suffering (or others) just has to do with how your body deals with the situation.
Not all beans need to be pre-soaked - at all. Black beans have thin skins and never need to be pre-soaked.
As far as taste, there is a small difference in how good the beans are with the two different methods. The quick method pulls ahead in opinions over the years. It is slight but some people say the quick method leaves a better-tasting bean dish.
I almost always pre-soak because I cannot take advantage of the extra time it takes during the day to do the quick method. I think this is true for a lot of people.
The good thing is both methods are delicious. Just do what works for you and your dish will be wonderful!
I've got to slide in another picture of a different and delicious chili. It's on the blog and it is for Caribbean Chili and has veggies added too.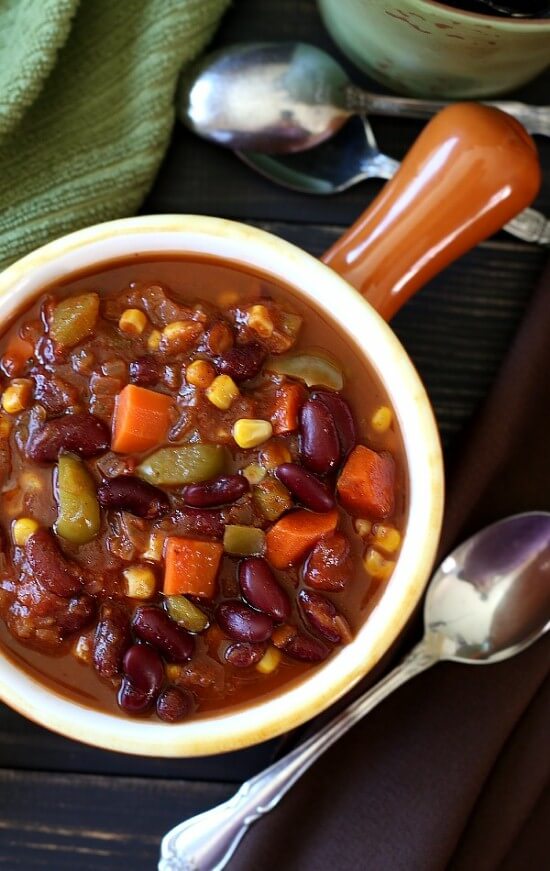 📋 Recipe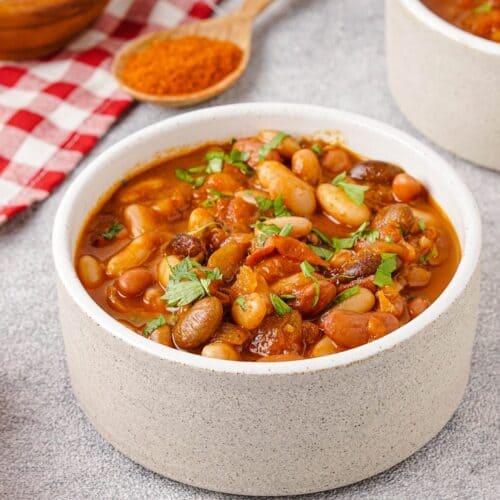 Homemade Vegan Chili with Mixed Beans
Homemade Vegan Chili with Mixed Beans is comforting and full-flavored all at the same time.
Ingredients
1

pound

beans

dried, mixed varieties - you can buy pre-mixed or mix your own

1

tablespoon

extra virgin olive oil

1

onion

small

4

cloves

garlic

finely chopped

4

cups

vegetable broth

low sodium, if you like

29

ounces

tomatoes

2 14.5 ounce cans, crushed tomatoes fire roasted - the measurement can be a little over or a little under

8

ounces

tomato sauce

6

ounces

tomato paste

2

tablespoons

Worcestershire sauce -

make sure it's the vegan

2

tablespoons

chili powder

2

teaspoons

cumin

ground

1 ½

teaspoons

oregano

dried

¼

teaspoon

cloves

ground

½

teaspoon

cayenne pepper

1

teaspoon

sea salt
Instructions
The night before:
Rinse beans and p

lace in a large stockpot. Cover with water by about 2 to 3 inches.

Let soak overnight - the beans will swell.
The next morning:
Drain the beans and place back into the stockpot.

Heat oil in a skillet to medium high.

Saute onion until translucent - about 10 to 15 minutes.

Add garlic and saute another minute. Add mixture to the beans in the stockpot.

Add vegetable broth, dice tomatoes, tomato sauce, tomato paste and Worcestershire sauce. The beans should be covered by a couple of inches of liquid. You can add more vegetable broth or water. Stir well.

Add the remaining ingredients and stir well.

Cover and bring to a boil and then remove the lid.

After it comes to a boil turn down the heat and simmer very very low. So low you can barely see the liquid moving. Don't put the lid back on. It becomes much more flavorful with the lid off.

If the liquid cooks down where the beans are not submerged then add some water. If you add more liquid you'll have to cover again, raise the heat to a boil and then turn it down immediately. Uncover. Make sure your heat isn't too high.

Cook for one hour and check the beans. You want them tender If not done yet then cook longer. You shouldn't need to cook longer than 1 ½ hours.

Taste for seasoning and add more salt if necessary. It's probably perfect.
Notes
Freezers up to 3 months and tastes great after reheating.
Nutrition
Serving:
2
Cups
Calories:
380
kcal
Carbohydrates:
65
g
Protein:
23
g
Fat:
4
g
Sodium:
952
mg
Potassium:
2024
mg
Fiber:
16
g
Sugar:
11
g
Vitamin A:
2220
IU
Vitamin C:
33.7
mg
Calcium:
130
mg
Iron:
8.2
mg