Slow Cooker Black Bean Chili is a great tasting crock~pot dinner and it costs only pennies. The chili has lots of spices for all kinds of flavor.

It seems that everyone loves chili. These days there are so many recipes to choose from that a person can get a little overwhelmed.
Well, here is a straightforward classic recipe that takes advantage of black beans.
It is quick to throw together and a real plus is that dried black beans don't have to be presoaked.
Should You Pre-Soak Black Beans Before Cooking?
Not if you want them to taste better. They really do have more flavor if not soaked.
The skins are so thin they don't need to pre-soak. They can go in the slow cooker just as they are.
As far as gas goes - the difference in the way they affect people between soaking and not soaking is negligible.
I just had to bring that topic up because people will be wondering. It's an important subjust 🙂
Some days, in fact, many days, it is so nice to be able to drop a mix of ingredients into a crock-pot and be on your way.
In the winter it helps warm the house and in the summer you can put your slow cooker on the patio and dine al fresco.
Packed full of protein, black beans, is a quality choice. They go really well with strongly flavored spices which make for very tasty vegan chili.
What Are Some Slow Cooker Bean Recipes?
How about pinto beans for this absolutely delicious Slow Cooker Creamy Chili Dip? It's great with crackers and flatbread.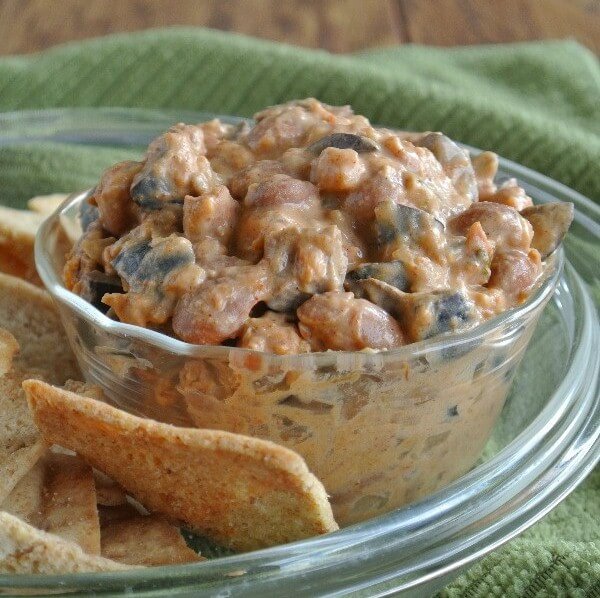 A great way to turn out lots of good luck for the year is to serve Black Eyed Peas from the Slow Cooker on New Year's Day.
Slow Cooker Baked Beans with a Kick are also simple to make. You use canned beans for this recipe and the homemade sauce is The Best!
One more that's very different is the filling for these Slow Cooker Black Bean Burritos. They are so simple and de-de-de-licious!
Helpful Tools!
I still don't have a Programmable Crockpot but I sure would love one. It would make life even easier.
Measuring Cups and Spoons are a necessity for so many recipes and this one is made of stainless steel and has so many sizes!
A Slender Longer Paring Knife is great for cutting onions and many more vegetables for your recipes.
Tomato paste really adds to this vegan chili recipe too. It's not a lot but the enhancement is just right when added along with good old tomatoes.
It's so fun to mix and match ingredients to come up with the best combination. Being able to take advantage of slow cooker dried beans is such a healthy way to go too.
In fact, if you have an abundance of fresh tomatoes you can even use those. Finely chop 29 ounces or so of tomatoes and use them instead of canned tomatoes.
Either way, the chili is delicious.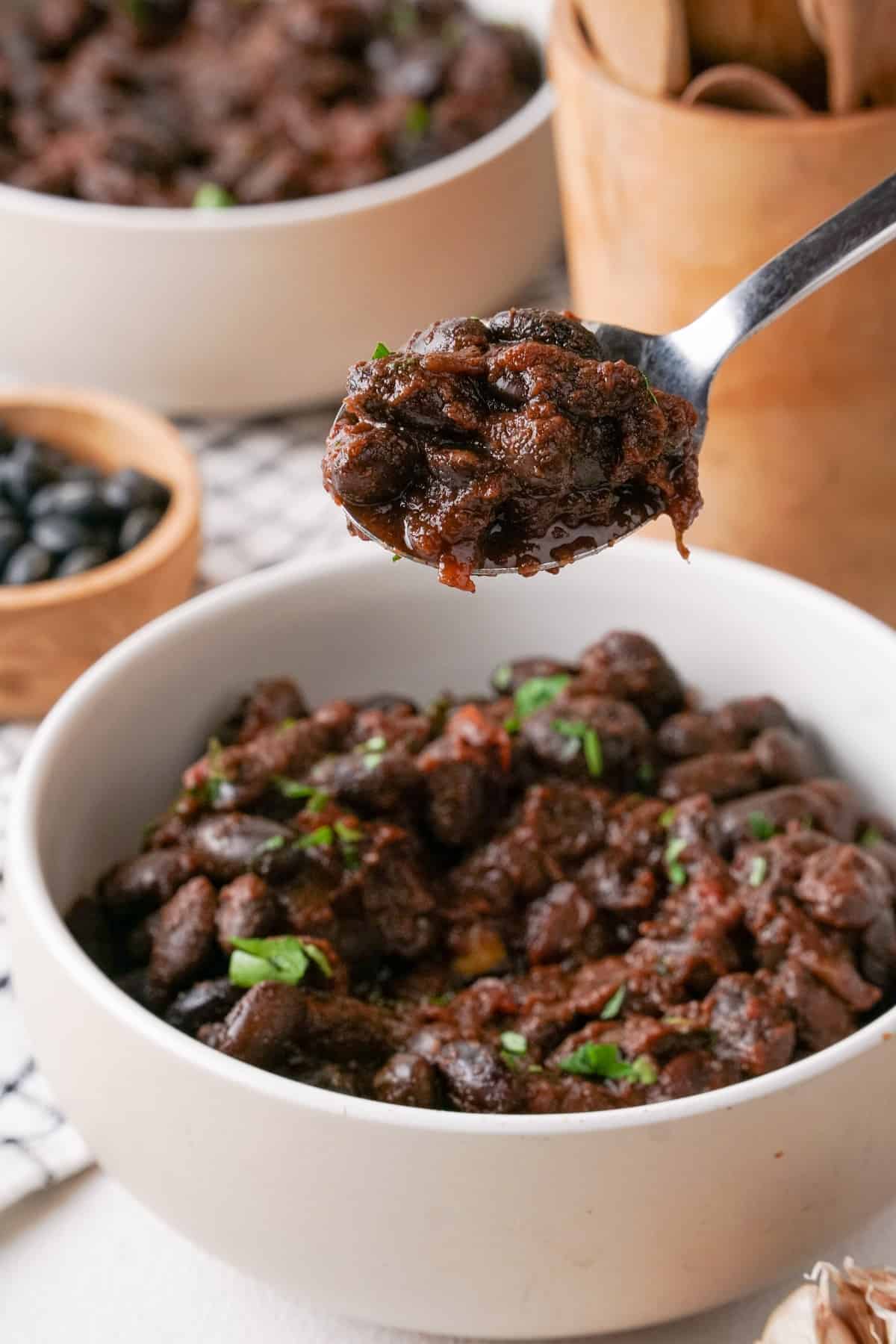 Slow Cooker Black Bean Chili is perfect for potlucks and parties too. Everyone will want a bowlful and the preparation is a no-brainer.
Whatever your pleasure, cooking indoors or out, enjoy a delicious, easy and comforting meal.
TO PREPARE AFTER FREEZING:
Take out of the freezer and put in the refrigerator a few hours (about 6 hours) before heating. Heat in a large saucepan or in the microwave. Serve hot.
📋 Recipe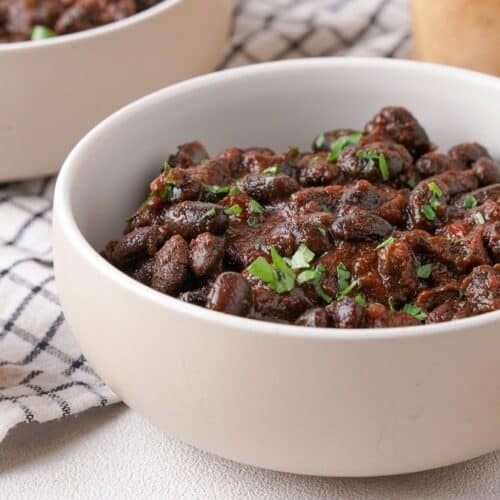 Slow Cooker Black Bean Chili
Slow Cooker Black Bean Chili is a great tasting crock~pot dinner.
Ingredients
1

pound

black beans

dried, rinsed but not soaked

1

onion

chopped

½

teaspoon

garlic powder

2

tablespoons

chili powder - you can add up to 2 more tablespoons if you like it hotter.

1

teaspoon

cumin

½

teaspoon

salt

½

teaspoon

baking soda

29

ounces

tomatoes

14.5 ounces each, diced

3

ounces

tomato paste

2 ¾

cups

water
Instructions
Do not soak the black beans.

Put the beans in your Slow Cooker.

Add the onion and spices.

Add the tomatoes and tomato paste and the water and stir well.

Cover and turn on low and cook for 6 - 8 hours.

Or if you want it faster you can cook on high for 3 - 4 hours.

Check about halfway through and see if the beans have absorbed most of the liquid. If it is seeming too dry to you add warm to hot water at ½ cup intervals. It is a chili - not a soup. But if your like lots of liquid in your chili do whatever you like - it will still be excellent!
Nutrition
Serving:
14
ounces
Calories:
144
kcal
Carbohydrates:
27
g
Protein:
8
g
Sodium:
411
mg
Potassium:
763
mg
Fiber:
9
g
Sugar:
6
g
Vitamin A:
1360
IU
Vitamin C:
23.3
mg
Calcium:
47
mg
Iron:
2.5
mg