Cashew Creamer- Cashews blended until smooth, then sweetened with maple syrup and a hint of vanilla, make for a delicious and creamy creamer that is sure to please! It's the perfect plant-based alternative to traditional creamers, and it's great in coffee, tea, or even used as a baking ingredient.
With the popularity of veganism on the rise, it's no surprise that more and more people are looking for dairy-free alternatives to their favorite foods. And if you're like me, you can't start your day without a cup of coffee. But finding a dairy-free creamer that doesn't break the bank can be difficult. That's why I started making my own vegan cashew coffee creamer.
This delicious and simple homemade vegan cashew coffee creamer is a perfect example of a plant-based alternative that is just as good, if not better, than the real thing! Cashews make a great base for this creamer because they are creamy and flavorful. It's quick and easy to make, and it tastes incredible! Plus, it's healthier than store-bought creamers, and it's made with just a few simple ingredients that you probably already have in your pantry. So, if you're looking for a delicious dairy-free alternative to your morning coffee, give this recipe a try. I think you'll be pleasantly surprised at how good it is. And who knows, you might even find yourself eating it by the spoonful!
Why You'll Love This Homemade Cashew Creamer Recipe
Budget-Friendly- This recipe is much cheaper than store-bought creamers, and it makes a large batch so you can enjoy it for weeks at a time.
Quick & Easy- This recipe is easy to follow and doesn't require any complicated equipment.
Customizable- You can easily customize this recipe to your liking. Add more or less sweetener, change up the extract, or add a spice like cinnamon or nutmeg.
Luscious- This cashew creamer is rich, creamy, and full of flavor. It's the perfect addition to your morning coffee or tea.
Simple Ingredients- All you need to make this recipe is a handful of pantry staples that you probably already have on hand.
Equipment Needed To Make This Cashew Coffee Creamer
Large Mixing Bowl

Colander

Food Processor
Ingredients For Your Vegan Coffee Creamer
Cashews

Water

Maple Syrup

Vanilla Extract
How To Make Homemade Cashew Coffee Creamer
Add raw cashews to a large bowl and cover them with water. Allow the cashews to soak in the water for at least 4 hours when they start to swell. Drain the cashews and put them in a food processor with the rest of the ingredients. Blend until smooth. This make take some time, so don't be tempted to add more liquid. Once the cashews have been turned into a liquid, transfer it to an airtight container for storage. Enjoy as desired.
What to Serve/Pair with Your Cashew Creamer Recipe Recipe
This cashew creamer recipe is ultra-versatile and can be used in various ways.

Add it to your morning coffee or tea for a delicious and creamy treat.

Drizzle it over vegan ice cream, pudding, or fresh fruit for a tasty dessert topping.

Mix it into oatmeal, yogurt, or smoothies for an extra boost of flavor.

Use it as a dip for fruit, pretzels, or graham crackers.
Here are some ideas to get you started, but the possibilities are endless! So get creative and enjoy this tasty homemade cashew creamer recipe in all sorts of different ways.
Popular Substitutions & Additions for vegan cashew coffee creamer recipe:
A few substitutions can be made in this recipe if you need to. Here are some ideas:
If you don't have maple syrup on hand, dates or agave nectar can be used instead.

To make this creamer sugar-free, simply omit the maple syrup or use a sugar-free alternative like stevia.

For a richer and creamier creamer, you can add ¼ cup of coconut milk or cream in place of some of the water.

Add a bit of pumpkin pie spice, cinnamon, or a citrus extract for a seasonal twist.
How To Reheat & Store Vegan Cashew Creamer
What Is The Best Way To Store Cashew Creamer?
This cashew creamer recipe can be stored in an airtight container or jar in the refrigerator.
How Long Will Homemade Cashew Creamer Last In the Fridge?
This creamer will last in the fridge for up to 2 weeks when stored properly.
Can I Freeze Cashew Creamer?
Yes! You can freeze this creamer for up to 3 months in a jar or airtight container. Simply thaw in the refrigerator overnight before using.
How To Reheat Vegan Cashew Coffee Creamer?
Cashew coffee creamer is best used cold. However, if you prefer it warm, simply heat it in the microwave or on the stovetop over low heat until the desired temperature is reached. Be sure to stir often, so it doesn't burn.
Vegan Cashew Creamer FAQs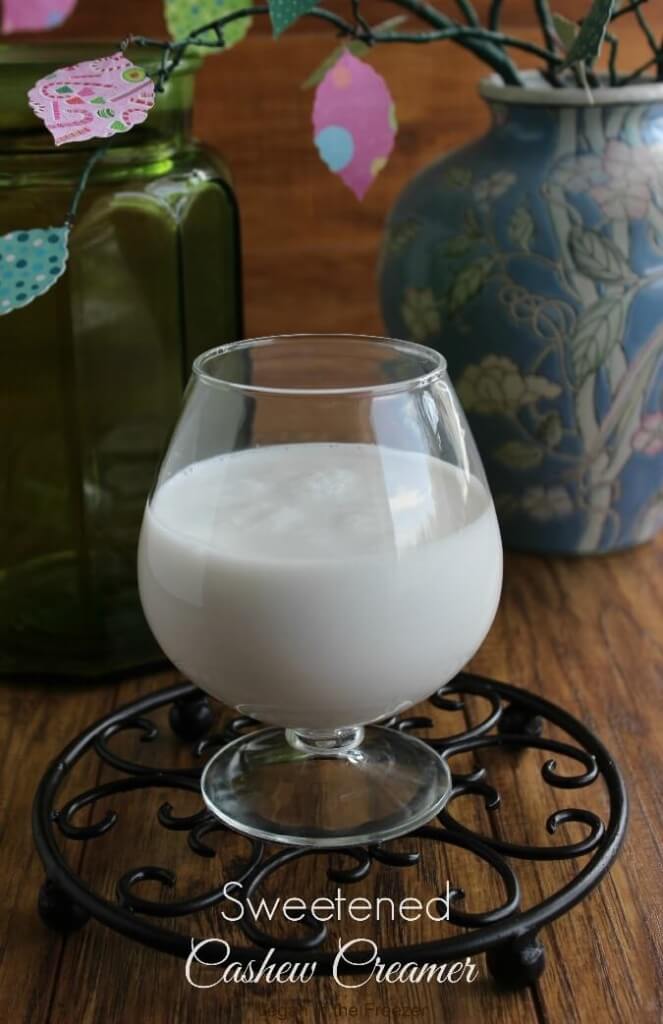 Is cashew cream the same as cashew milk?
No, they are not the same. Cashew cream is made by blending water-soaked cashews with maple syrup and vanilla extract until they form a thick and creamy mixture. You can then use this mixture in place of dairy cream in recipes. Cashew milk is made by blending water and cashews together until they form a milk-like consistency. It can be used in place of dairy milk in recipes or enjoyed on its own.
Can I make this recipe without a food processor?
Yes, you can! Simply place the soaked and drained cashews into a large blender with the remaining ingredients and blend until smooth and creamy. The blending process may take a few minutes, so be patient.
How can I make this creamer sweeter?
If you want your coffee creamer to be sweeter, you can add more maple syrup, date syrup, or agave nectar to the recipe. You can also add a few drops of liquid stevia for a calorie-free option.
Is this recipe gluten-free?
Yes, this recipe is naturally gluten-free. Just be sure to check the labels of the ingredients you use to make sure they are certified gluten-free if you are sensitive to gluten.
Do I have to soak the cashews before making this recipe?
No. Soaking the cashews is not required, but it is highly recommended. Soaking helps the cashews become softer, making them easier to blend. It also helps to remove any impurities that may be present on the cashews.
Can I use another nut in place of cashews?
If you are allergic to cashews or want to try something different, you can use almonds, macadamia nuts, or Brazil nuts instead. Just make sure to soak them in water for at least 4 hours before blending.
📋 Recipe
Sweetened Cashew Creamer
Cashews blended until smooth then sweetened with maple syrup and a hint of vanilla make for a delicious and rich creamer that is quick easy and sure to please!
Ingredients
½

cup

cashews

- raw

1 ½

cups

water for the creamer

1

tablespoon

maple syrup

you can use p to 2 tablespoons

½

teaspoon

vanilla extract
Instructions
Cover the cashews with water by about an inch or two and let soak for at least 4 hours but up to 10 hours.

They will swell up.

Drain the cashews and put in a food processor.

Add the rest of the ingredients and blend until smooth.

It may take a couple of minutes.

Something really great about cashews is that there is nothing left behind to strain through a mesh bag. All of it turns into a creamer.

So easy and you are all set.
Notes
Keep in the refrigerator for up to a week.
Nutrition
Serving:
1
Ounce
Calories:
52
kcal
Carbohydrates:
4
g
Protein:
1
g
Fat:
3
g
Sodium:
1
mg
Potassium:
58
mg
Sugar:
2
g
Calcium:
6
mg
Iron:
0.5
mg