Hoisin Sauce- With white vinegar, maple syrup, and tahini, this flavorful Asian-inspired sauce is the perfect combination of sweet, tangy, and savory. Hints of garlic and soy sauce make it ideal for stir-fries, marinades, and dipping sauces. Add a dash of chili sauce to achieve the perfect amount of spice. Get ready to impress guests with this delicious, unique sauce at your next gathering.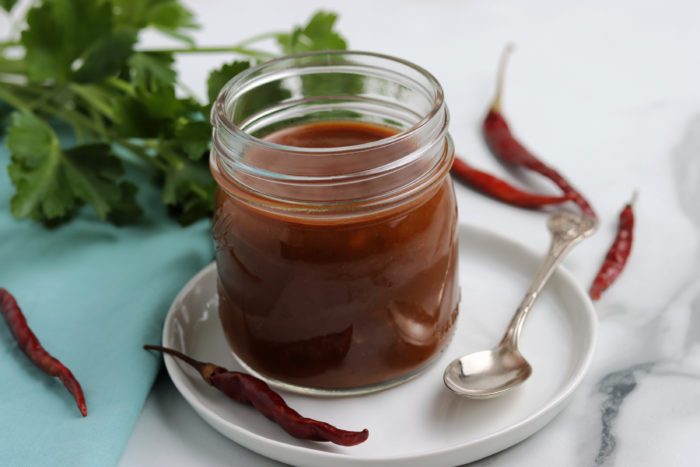 Have you been looking for an easy way to add a big flavor to your favorite recipes? Look no further than hoisin sauce! Whether you're cooking rice, noodles, or even meats, hoisin sauce is sure to take any dish to a new level! This delectable, zesty, and enticing sauce is the perfect way to liven up any recipe.
Anyone who loves Asian cuisine is sure to love hoisin sauce. This famous sauce is used in many dishes, adding a delicious and savory flavor. But what if you don't have any hoisin sauce on hand and you're in the mood for tasty Chinese food? Never fear, because you can easily make your own hoisin sauce at home. Homemade vegan hoisin sauce only takes a few minutes to prepare, and the results are better than anything you could buy at the store! You won't be disappointed! So give this easy homemade recipe a try the next time you're in the mood for some delicious Chinese food.
Why You'll Love This Homemade Vegan Hoisin Sauce Recipe
Delicious- This hoisin sauce is perfect for adding an extra Asian flair to your favorite dishes with its unique taste and savory flavors.
Versatile- This savory sauce can be used as a marinade, dipping sauce, a glaze, or condiment.
Easy To Make- Requiring just a few simple ingredients, this homemade hoisin sauce can be made in less than 10 minutes!
Freezes Well- Make a big batch and freeze it for later. This homemade hoisin sauce will keep in the freezer for up to 6 months.
Better Than Store-Bought- Once you taste this delicious sauce, you'll never want to buy hoisin sauce at the store again.
Equipment Needed To Make Homemade Hoisin Sauce
Small Saucepan
Whisk
Measuring Cups
Measuring Spoons
Ingredients For Your Hoisin Sauce
Soy Sauce
White Distilled Vinegar
Vegetable Oil
Garlic
Maple Syrup
Tahini
Chili Sauce
Salt
Pepper
How To Make Vegan Hoisin Sauce
Making hoisin sauce at home is easier than you'd think! In a small saucepan, whisk together all of the ingredients. Bring to a low boil until the maple syrup is melted and the components combine and begin to thicken. Once thickened, refrigerate homemade hoisin sauce in an airtight container for up to 1 week.
What to Serve/Pair with Your Hoisin Sauce
Hoisin sauce is a versatile condiment that can be used with a variety of dishes. Some great pairings include rice noodles, tofu, and stir-fried vegetables. If you're looking for something light and refreshing, try pairing this hoisin sauce with fresh summer rolls or cold sesame noodles.
No matter what you pair it with, this hoisin sauce is sure to be loved by everyone!
Popular Substitutions & Additions
Use black bean sauce in place of the tahini for a more authentic Asian flavor.
If you don't have tahini or black bean sauce, peanut butter can also be used in place of the tahini.
Try adding sesame oil and grated ginger to enhance your flavors.
Use coconut milk or rice wine vinegar if you're out of distilled white vinegar.
Add agave if you don't have maple syrup on hand.
For a smoky flavor, try adding smoked paprika or chipotle powder.
Substitute soy sauce with tamari or coconut aminos.
Try adding extra chili sauce or sriracha to take your hoisin sauce up a notch!
How To Reheat & Store Homemade Hoisin Sauce
What Is The Best Way To Store Hoisin Sauce?
Hoisin sauce should be kept in the refrigerator in an airtight container or jar with a lid.
How Long Will Homemade Hoisin Sauce Last In the Fridge?
When properly stored, homemade hoisin sauce will last up to 1 week in the refrigerator.
Can I Freeze Hoisin Sauce?
Yes. You can freeze hoisin sauce in an airtight container for up to 6 months. When you're ready to use it, thaw the sauce in the fridge overnight and reheat it in the microwave or on the stove.
How To Reheat Homemade Vegan Hoisin Sauce?
To reheat hoisin sauce, simply heat it in the microwave for approximately 30 seconds or on the stovetop on low heat.
Homemade Vegan Hoisin Sauce FAQs
What exactly is hoisin sauce?
Hoisin sauce is a type of Chinese condiment made from soybeans, garlic, and other spices. It is often used as a dipping sauce or marinade. Hoisin sauce is often used in Chinese cuisine, but it can also be found in Vietnamese, Thai, and Korean dishes.
Is store-bought hoisin sauce vegan?
No. Typically, store-bought hoisin sauce is not vegan; however, when made exactly as written, this recipe is vegan friendly.
What does hoisin sauce taste like?
Hoisin sauce has a slightly sweet, slightly spicy, and tangy flavored condiment used like barbeque sauce or ketchup in American dishes. It is commonly used as a dipping sauce for spring rolls or dumplings.
How long does hoisin sauce last once it's made?
When stored properly in the fridge, hoisin sauce will last up to 1 week. You can also freeze it for up to 6 months.
Can I make this hoisin sauce recipe spicer?
Yes. If you want a spicier hoisin sauce, you can add more chili sauce or add a bit of sriracha. Just remember to taste and adjust as needed to balance the flavors.
Is this homemade vegan hoisin sauce gluten-free?
No. This recipe, as written, is not gluten-free as it uses soy sauce which contains gluten. However, you could substitute the soy sauce for tamari or coconut aminos to make it gluten-free.
Don't Forget To Come Back And Let Me Know How Your Vegan Hoisin Sauce Turned Out!
Vegan Hoisin Sauce
Garlic, soy sauce, and chili sauce are combined with maple syrup, tahini, and vinegar make a delicious sweet-sour-spicy sauce that's ideal for endless recipes.
Ingredients
⅓

cup

soy sauce

2

tbsp

white distilled vinegar

2

tbsp

vegetable oil

3

cloves garlic

minced

3

tbsp

maple syrup

2

tbsp

tahini

1-2

tsp

chili sauce

Salt and pepper

to taste
Instructions
Add all ingredients to a small saucepan and whisk to combine.

Heat over medium-low heat until maple syrup melts and flavors come together.

Store in airtight container in refrigerator.
Nutrition
Nutrition Facts
Vegan Hoisin Sauce
Amount Per Serving
Calories 488
Calories from Fat 387
% Daily Value*
Fat 43g66%
Sodium 4402mg183%
Potassium 357mg10%
Carbohydrates 15g5%
Protein 14g28%
Vitamin A 55IU1%
Vitamin C 5mg6%
Calcium 78mg8%
Iron 3mg17%
* Percent Daily Values are based on a 2000 calorie diet.