This Vegan Carrot Cake recipe is moist, rich, and loaded with lots of fresh carrots. It is amazing on its own but even better when topped with the creamy dairy-free cream cheese frosting.
Carrot Cake is thought to have originated from Europeans making carrot puddings and using carrots as a swap for sugar when regular sugar was too expensive.
Today, carrot cake is a favorite of many and for good reason!
You can see by just looking at the photo how moist and fkavorful this cake is. It's not a quick bread but three layers of light and moist layers with frosting inbetween each layer and then again on top.
It's a huge cake and the slices can be very substantial. You can see in the photos there are nice big fat slices on the plates. You can cut the cake slices thinner if you'd like to cut down on the calories.
Jump to:
The spices will blow your mind and they are very much like pie spices. And no eggs needed. Flaxseed meal is the egg substitute here and I think their texture is also perfect for this vegan carrot cake recipe.
Helpful information for ingredients
Spices: Ground Cinnamon, Ground Nutmeg, Ground Ginger bring the level of flavor up five notches!
Flax Seed Meal is mixed with water to make flax eggs.
Oil - I like to use extra virgin olive oil. Especially the California variety and this version is light in taste so it doesn't fight with the flavor of the cake.
Grated Carrots - buy fresh carrots and shred by hand for best results.
Crushed Pineapple - but it canned and make sure to drain well to remove excess moisture. You could even blot it a bit.
Chopped Nuts - Either walnuts or pecans would be excellent in this cake.
Cream cheese frosting tips
Dairy-Free Cream Cheese - softened so it can be creamed
Dairy-Free Butter - also softened to room temperature
Organic Powdered Sugar - sifted to remove any lumps
Clear Vanilla Extract - you can also use regular vanilla extract. Using clear vanilla just keeps the frosting a bright white.
Baker's Tips
Fresh Carrots are Best! I recommend freshly shredding the carrots yourself vs buying pre-shredded carrots. Fresh carrots have more moisture and will result in a more moist carrot cake.
When you're grating the carrots, finely shred them into a uniform texture with no large chunks.
Measure Carefully. Like most baking recipes, it's important to properly measure the ingredients and follow the recipe amounts.
Avoid Over Mixing. Try not to over mix the cake batter. After you add the flour and shredded carrots, you want to mix until combined. Over-mixed cake batter can result in a spongy cake that doesn't rise as high.
Make sure to grease the pans! I recommend greasing, lining with parchment paper, and then greasing again (the parchment paper) and dusting with flour. This will ensure the cake will not stick and it can be removed from the pan super easily.
Use Cake Strips. You can also use cake strips wrapped around the pan. This helps the layers have a higher rise. Don't forget to soak them in water before using.
Avoid Over Baking. Be careful not to over or under bake. Bake the carrot cake until it is just cooked through - a toothpick inserted in the center should come out clean. If it's over-cooked it will be dry but an under-cooked cake will collapse in the middle.
How to make dairy-free cream cheese frosting
First, make sure your dairy-free cream cheese and dairy-free butter are softened to room temperature. It's really difficult to make a creamy frosting with cold butter and cream cheese.
Sift the powdered sugar into a bowl - this helps remove any clumps and results in a creamier frosting.
In a large bowl with a hand mixer or using a stand mixer, beat the softened cream cheese until smooth then add the softened butter and beat until fluffy and combined.
Slowly add in the sifted powdered sugar and beat until smooth and combined. Start your mixer on the lowest setting and gradually increase so powdered sugar doesn't go flying.
Finally add in the vanilla extract and beat until smooth and combined.
Carrot cake variations
This Vegan Carrot Cake recipe is great as-is, or try one of the below variations. To the batter try adding:
1 cup shredded coconut.
Replace half of the shredded carrots with shredded zucchini.
Try adding other spices like a little allspice, cloves or anise.
Use two layers for the cake and save the third layer to make Carrot Cake Truffles.
How to make a two layer carrot cake
As you can see this is a big cake. All you need to do is cut the ingredients in half.
This is a tall cake and the layers are fat so don't worry about the measurements.
The cake pans are also 9" not 8".
Just cut the measurements in half and pour into two pans. Check if it is done with the toothpick test at 30 minutes. If not done check at 40 minutes.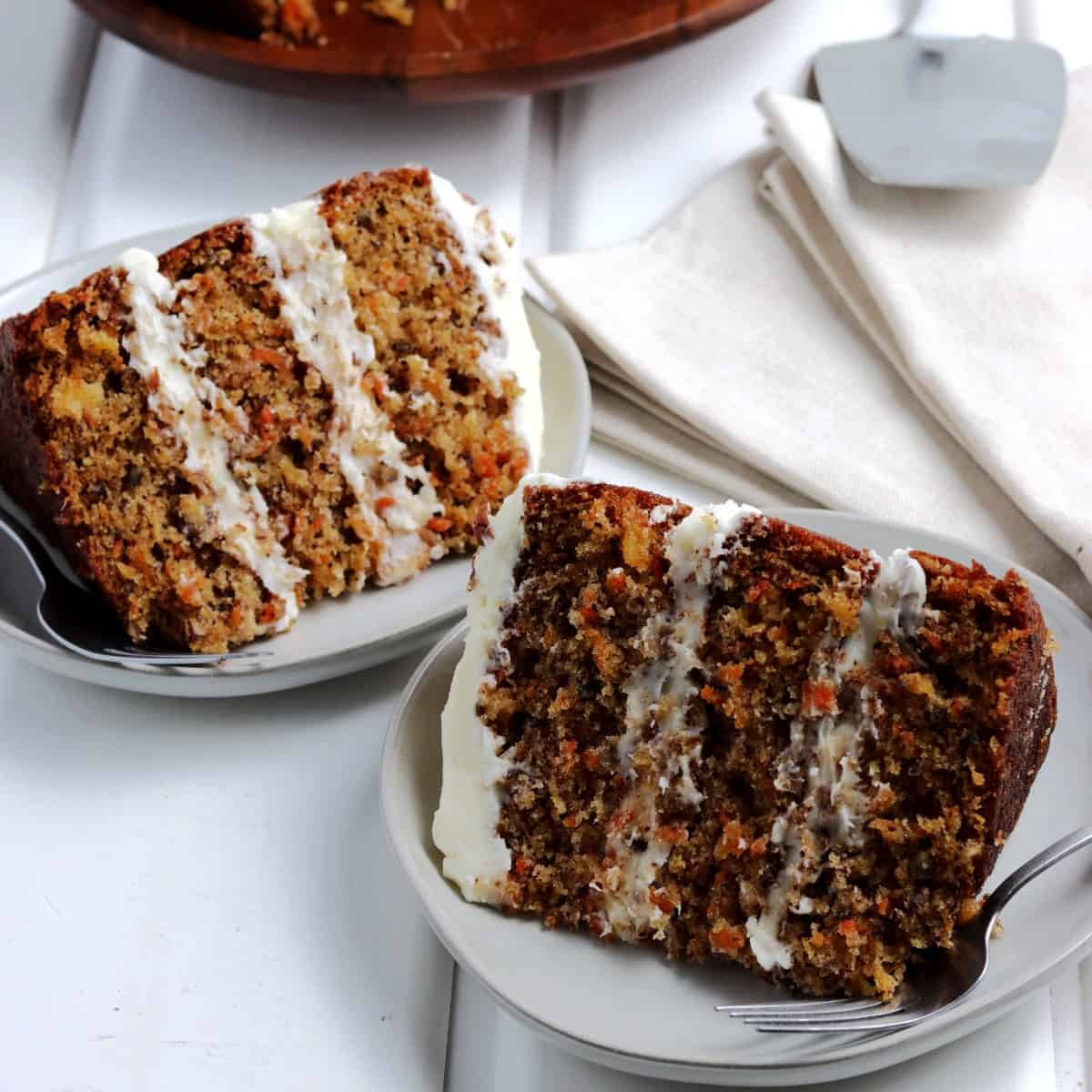 FAQ's
Can raisins be added to carrot cake?
By all means add ½ cup to the batter if you'd like raisins.
Can I use chia seeds for the egg substitute?
Yes, just use the same measurements as the flax seed meal.
Can I substitute applesauce for the crushed pineapple?
Yes, you can. The taste will be different but it will still be very delicious.
Can a different oil be used?
Yes, you could also use canola oil.
What makes the carrot cake moist
There are several things that make this super moist.
The shredded carrots! Especially if you use extra fresh carrots and grate by hand.
Carrot cake is typically made with oil which helps produce a moist cake.
The use of crushed pineapple not only gives it extra sweetness but it adds additional moisture.
And of course, avoiding over-baking the cake keeps it perfectly moist.
Instead of a layered cake, can this be baked into vegan carrot cake cupcakes
Absolutely! Line a muffin pan with paper liners or grease well and add the carrot cake batter so the cups are about ¾ full.
Bake at the same oven temperature for about 15-20 minutes or until done.
Use a toothpick to check for doneness - it should come out clean when inserted in the center of the cupcakes.
How should the leftovers be stored
I recommend covering the carrot cake and storing in the fridge. It will keep for up to a week! Because carrot cake is so moist, it keeps well unlike other cakes that can dry out quickly.
Vegan carrot recipes
Maple Glazed Carrots are a special treat and if you roll cut them they are extra pretty too.
Quick and Easy Pickled Carrots are a nice extra finger food to have for the table and at barbecues.
These Carrot Applesauce Muffins feature grated carrot inside and they are delicious at breakfast or as a snack.
📋 Recipe
Vegan Carrot Cake
This Vegan Carrot Cake recipe is moist, rich, and loaded with lots of fresh carrots.
Ingredients
Cake Ingredients
3

cups

organic all-purpose flour

2

teaspoons

baking powder

2

teaspoons

baking soda

1

teaspoon

salt

2

teaspoons

ground cinnamon

¼

teaspoon

ground nutmeg

¼

teaspoon

ground ginger

4

tablespoons

flaxseed meal

- mixed with 12 ounces water

2 ½

cups

organic granulated sugar

1 ½

cups

extra virgin olive oil

- light or everyday evoo

1

teaspoon

vanilla extract

2

cups

grated carrots

15

ounces

crushed pineapple

- drained well - can be 15.25 oz.

1 ½

cups

nuts

- chopped, walnuts or pecans
Frosting
8

ounces

dairy-free cream cheese

- softened

½

cup

dairy-free butter

- softened

4

cups

organic powdered sugar

- sifted

1

teaspoon

clear vanilla extract
Instructions
Cake Instructions
Preheat oven to 350 degrees F.

Grease and flour three round 9-inch cake pans.

In a medium bowl, whisk together flour, baking powder, baking soda, salt, cinnamon, nutmeg, and ginger.

In a large mixing bowl, beat the prepared flaxseed meal 'eggs', sugar, oil and vanilla until smooth.

Add flour mixture and beat on low until well combined, but don't overbeat.

Fold in the carrots, pineapple, and nuts until well combined.

Divide into prepared pans.

Bake for 30-40 minutes or until a toothpick inserted in the center comes out clean.

Remove from oven to wire rack and allow to cool completely.
Frosting
Sift powdered sugar into medium size bowl to remove any large pieces. You don't have to do this step, however, it does make the frosting creamier.

In a large bowl, beat the cream cheese until fluffy and smooth.

Add butter and beat until fluffy and smooth.

Gradually add powdered sugar, beating after each addition.

Beat in the vanilla until smooth.
Decorating
Add one layer of cake to a plate or cake stand.

Add ⅓ of the frosting, spread evenly.

Repeat with another cake layer.

Chop nuts and decorate cake in a circle as seen in the photos.
Notes
Vanilla - regular vanilla can be used, clear vanilla will keep the frosting white.
Nutrition
Serving:
1
Serving
Calories:
841
kcal
Carbohydrates:
101
g
Protein:
8
g
Fat:
40
g
Saturated Fat:
6
g
Trans Fat:
1
g
Sodium:
528
mg
Potassium:
346
mg
Fiber:
6
g
Sugar:
88
g
Vitamin A:
3585
IU
Vitamin C:
5
mg
Calcium:
82
mg
Iron:
3
mg