Applesauce Muffins are the perfect breakfast or snack. They also happen to be healthy carrot muffins with raisins. That's right! They're egg-free and dairy-free and the sweetness is just right.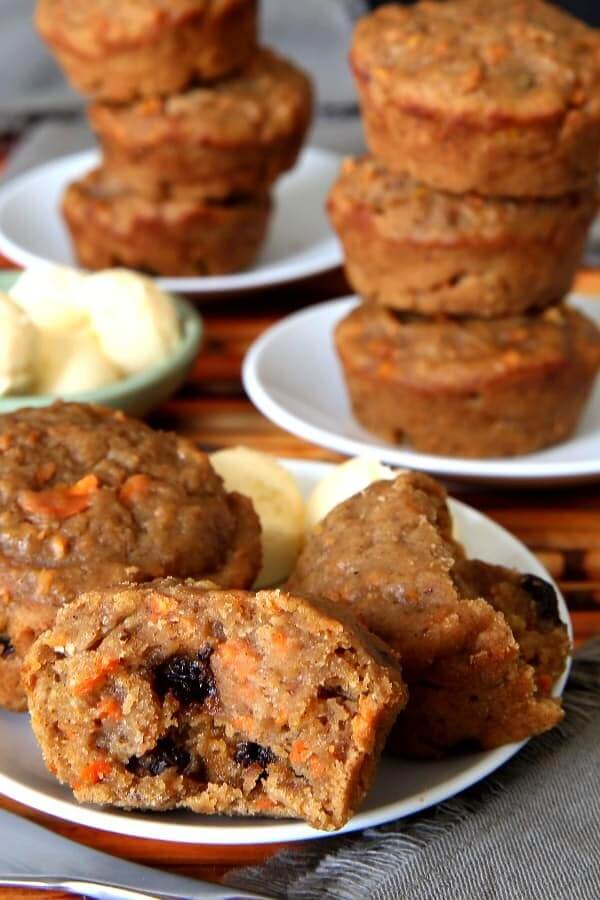 Don't you love healthy and warm spiced muffins that are also super easy to make? Yep, me too, and you are going to love this simple recipe.
Each bite has a ton of naturally sweet flavors from the carrots, raisins, and applesauce. You also get a hint of cinnamon and vanilla at the end. YUM!
It is also one of those recipes that is fun to make with children or new cooks.
Jump to:
They are so easy to make because everything gets put in one bowl and mixed together. Period.
Pulse the carrots lightly in a food processor before combining and the little pieces will be just right. Make a batch of these muffins and enjoy them anytime.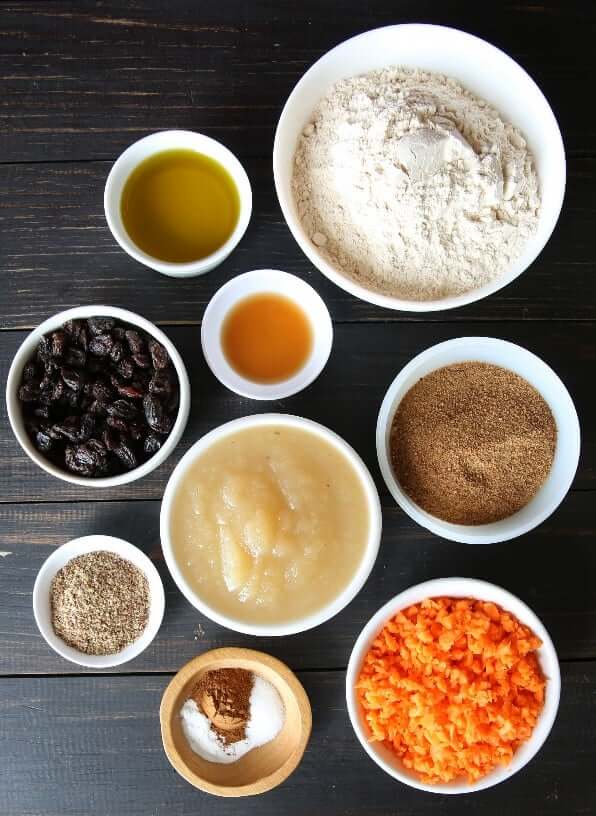 🥘 Ingredients
Whole wheat pastry flour - adds more nutrition to your muffins. You can use whole wheat flour.
Flaxseed meal - is used for an egg substitute.
Coconut sugar - is a bit of a healthier sweetener and it has a brown sugar type of flavor.
Baking powder - is a leavening agent.
Cinnamon - a spice that goes so well with the veggies and fruit.
Salt - seasoning everything just right.
Applesauce - acts as another sweetener and it helps the muffins be light and fluffy.
Extra virgin olive oil - adds the necessary liquid with extra flavor.
Vanilla extract - goes perfectly with most baked goods.
Carrots - give a fun way to enjoy some veggies.
Raisins - add a chewy texture every now and then.
My family loves carrot applesauce muffins for breakfast but also as a grab-and-go snack. They're so easy to grab.
And if you want to make them, even more, delicious, break them open and enjoy with some nut butter (especially when they're warm) or jam. SO. GOOD!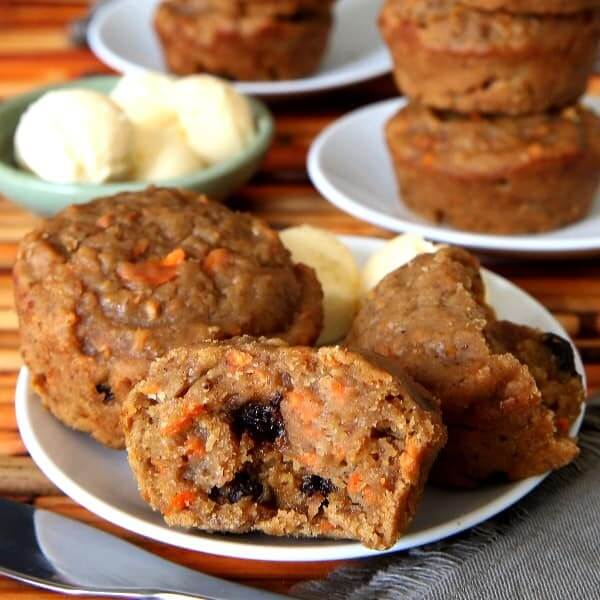 💭 Baker's tips
Pulsing the carrots - Cut the carrots in chunks and then add to your food processor.
Pulse for about 3 to 5 seconds. Keep doing this until you have small pieces of carrot - not grated.
You can see in the photo above (and in one below) what I mean by this. The muffins also show some pieces.
The carrot won't be crunchy because they cook while the muffins cook. If you grate the carrots you will have very very very orange muffins.
Believe me, I've done that.
🔪 Instructions
There isn't a lot to it, but it is good to follow the order of the recipe, and here are a few things to remember.
Mix the flaxseed meal and water together and set aside for it to gel.
Combine the flour, coconut sugar, baking powder, cinnamon and salt in a large mixing bowl. Mix well.
Add the applesauce, oil, prepared flaxseed 'egg' and vanilla. Mix well.

Lastly, add the carrot and raisins and fold them into the batter. Make sure it is evenly combined.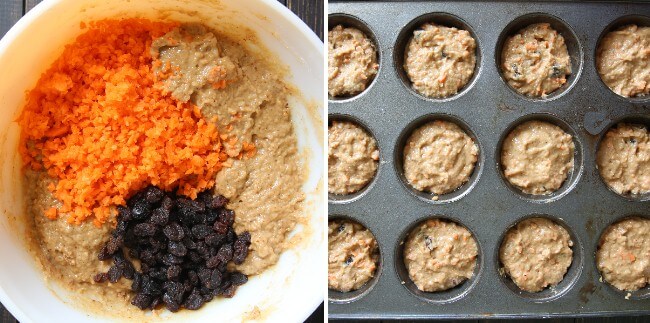 They'll go in the oven for just 15 minutes ay 400 degrees F. Yep, that's it, and your kitchen will smell AMAZING!
🥣 Let's talk applesauce
Now let's talk applesauce! Have you ever tried it in baking? It can be the perfect butter, milk, egg or shortening alternative.
It also adds a naturally sweet flavor and makes these healthy carrot muffins beautifully moist and it can also contribute to a lighter batter as eggs do.
Applesauce is healthy, tasty and nutritious. Can you believe applesauce can do all that!
🍎 Fab fruit muffins
📋 Recipe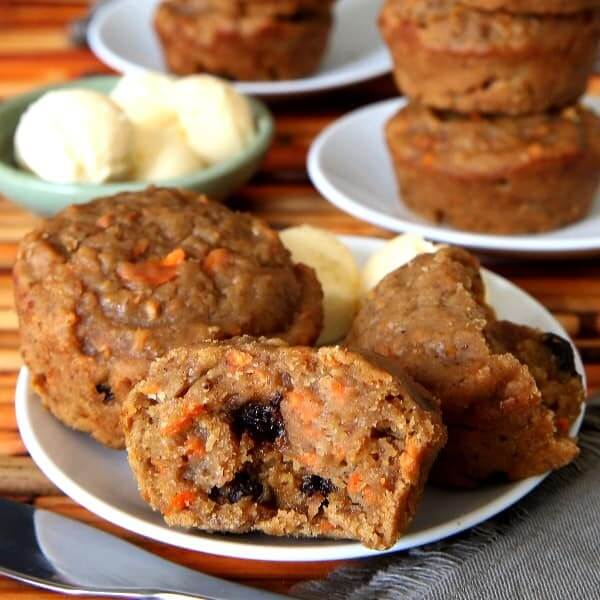 Applesauce Muffins
Carrot Applesauce Muffins are reminiscent of Carrot Cake without the icing.
Ingredients
1 ¾

cups

whole wheat pastry flour

1

tablespoon

flaxseed meal mixed with 3 tablespoons water

½

cup

coconut sugar

1

teaspoon

baking powder

1

teaspoon

cinnamon

½

teaspoon

salt

1

cup

applesauce

¼

cup

extra virgin olive oil

1

teaspoon

vanilla extract

1

cup

carrots, pulsed in pieces - about 2 carrots

½

cup

raisins
Instructions
Preheat oven to 400°

Lightly oil muffin tin to hold 12 muffins.

Mix the egg replacer with the water and set aside.

Mix the flour, sugar, baking powder, cinnamon and salt in a large bowl. Mix well.

To the large bowl add the applesauce, egg replacer, oil vanilla. Blend until combined.

Fold in the carrots and raisins. Make sure it is mixed evenly.

Divide the batter between 12 muffin tins.

Bake at 400° for about 15 minutes or until a toothpick inserted comes out clean.


Let cool 10 minutes and then remove the muffins to a wire rack to cool completely.

Notes
TO FREEZE:
After they have cooled you may freeze them in any of the methods shown in my article
Preparing Food for the Freezer.
They defrost quickly so it really doesn't take any planning. The microwave will also zap them in 20 seconds.
Nutrition
Serving:
1
Muffin
Calories:
157
kcal
Carbohydrates:
27
g
Protein:
3
g
Fat:
5
g
Saturated Fat:
1
g
Sodium:
120
mg
Potassium:
201
mg
Fiber:
3
g
Sugar:
7
g
Vitamin A:
1788
IU
Vitamin C:
1
mg
Calcium:
29
mg
Iron:
1
mg