Carrot Cake Truffles are fun spring dessert truffles and a holiday treat. These cake balls are perfect to make in advance and a great use for one of the layers of this blogs 3 layered carrot cake.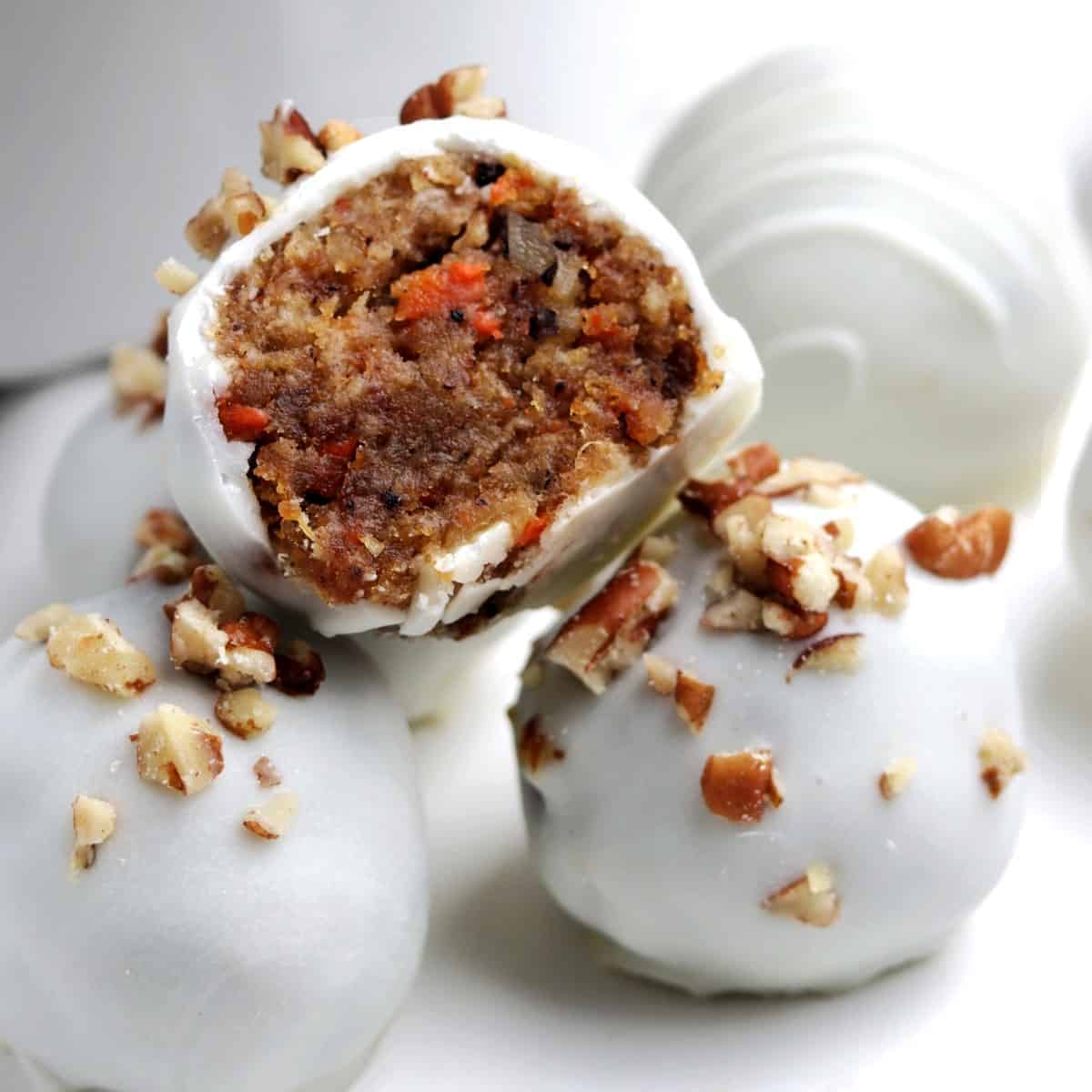 How can you resist a three ingredient candy. Truffles are so special and these take advantage of one of the layers of our 3 layered Vegan Carrot Cake.
Yes! Just three ingredients - carrot cake, dairy free cream cheese, and vegan almond bark or vegan white candy melts. You can also add chopped nuts or sprinkles for the pretty decoration!
Jump to:
What are cake truffles
Cake balls and cake truffles are both a dessert truffle made of cake crumbles. They're blended with frosting or dairy-free cream cheese and then dipped in melted chocolate.
This recipe uses white chocolate for but you can sure cover cake balls with chocolate-chocolate. Either way, they're also pretty.
Since they're kid friendly get a little session together so you can have extra fun with the kids.
Ingredients
Carrot Cake and this recipe is the perfect use for the third layer that is used for this Vegan Carrot Cake!
Dairy Free Cream Cheese holds the crumbles together to roll into balls.
Vegan White Almond Bark will be melted in the microwave to dip the cake balls in.
Chopped Nuts are optional for decorating. I like to use chopped pecans or chopped walnuts.
Instructions
Make Cake Balls. Crumble the carrot cake and add to a large bowl. Add the softened dairy-free cream cheese and stir to combine.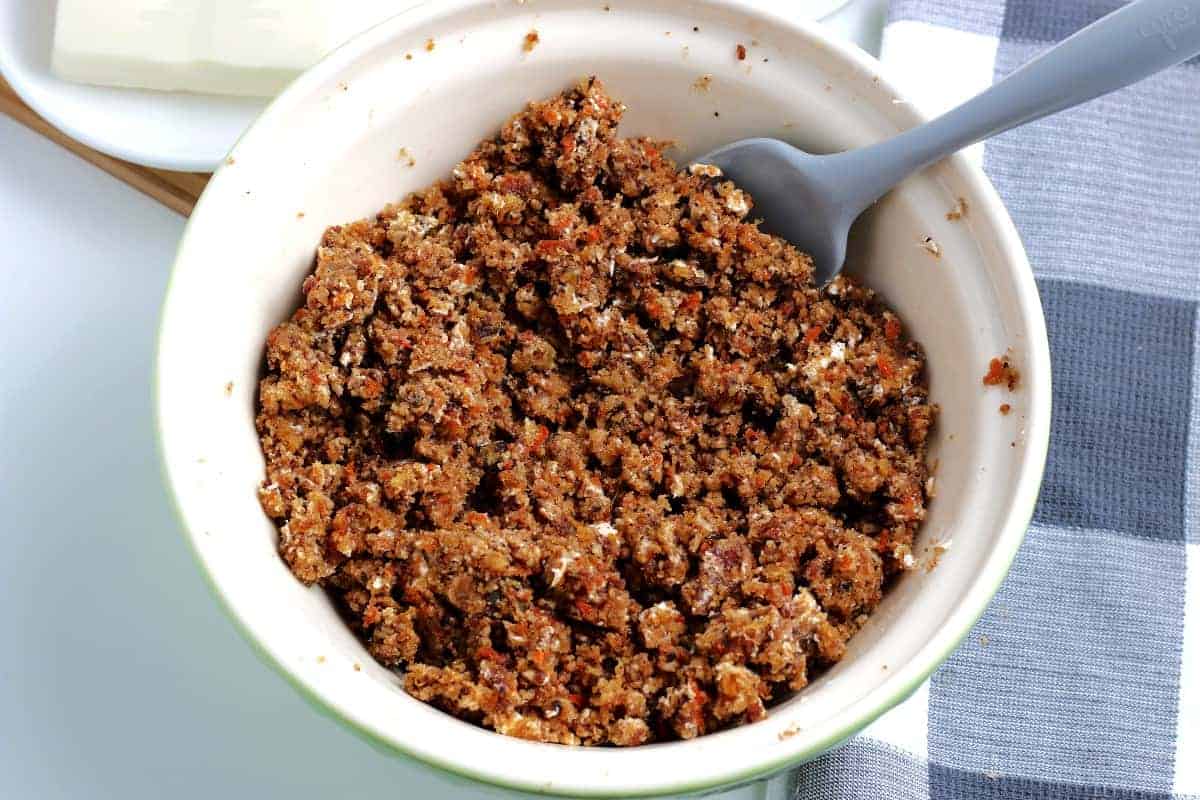 Use a cookie scoop to scoop the truffle mixture. Roll into balls and place on a parchment-lined baking sheet.
Chill the Cake Balls. Place the baking sheet in the fridge to chill for at least an hour. This hardens the cream cheese for easy dipping and handling.
Dip the Balls: Melt the almond bark or candy melts. I like to do this in the microwave by heating in intervals and stirring after each interval until melted and smooth.
Remove a few balls from the fridge and use one or two forks to dip into the melted bark.
Finish the Cake Balls. Sprinkle with chopped nuts and repeat with all the truffles.
Let set until completely hardened. Store in the fridge until ready to serve.
Tips and tricks
Make them in advance! Truffles are the perfect make-ahead dessert. Make a batch the day before the celebration and just store in the fridge until ready to serve.
You can also chill the un-dipped truffles in the fridge for two days before dipping.
Easily adjust the number of truffles. Depending on how much carrot cake you have, you can make more or fewer balls. Just use more or less cream cheese and candy coating.
Melt the almond bars or candy melts in intervals. When melting chocolate in the microwave, it's best to do so slowly to avoid burning.
I like to add the bark or candy melts to a bowl and microwave for one minute, stir, then microwave in 20-second intervals stirring after each time until melted and smooth.
Dip the Cake Balls in batches. Instead of removing the entire sheet pan from the fridge to dip, I recommend just removing a few at a time so the rest can stay chilled in the fridge. Keeping the truffles chilled makes them hold their shape better for dipping.
Instead of chopped nuts, you can also use sprinkles! Of course, these dessert truffles can be left plain, but chopped nuts or sprinkles help make them more festive. Have your kids help sprinkle the nuts or sprinkles on top!
If the cream cheese/cake crumb mixture is too sticky to roll into balls you can stick the bowl in the fridge for a few minutes to chill slightly before rolling with your hands.
You can also scoop them first into approximately the same size, chill and then roll with your hands.
How do you dip cake balls
There are many 'methods' but here is a precise instruction.
Start by melting the vegan white candy bar.
Then working in batches, remove a few dessert truffles from the fridge.
Use two forks - place a ball in the melted white chocolate and then lift out with one fork. Allow excess chocolate to drip off.
Use the second fork to gently push the truffle from the first fork onto the baking sheet.
FAQ's
How long do cake truffles last?
Once the balls have set and hardened, place them in an airtight container and store in the fridge. They will keep in the fridge for 5 to 7 days.
Can these dessert truffles be made into cake pops?
Yes! After you roll the carrot cake/cream cheese mixture into balls, stick a candy stick into each ball and then chill in the fridge. Then just dip the chilled carrot cake pop into the melted chocolate.
Can truffles be frozen?
Yes! They can be frozen before or after dipping. Freeze the undipped cake truffles for up to 2 months and allow to thaw overnight in the fridge before dipping or serving. Or freeze the dipped truffles (after the chocolate coating has fully hardened) for up to 2 months.
More Easter desserts
📋 Recipe
Carrot Cake Truffles
Carrot Cake Truffles are fun spring dessert truffles and a holiday treat.
Ingredients
3

cups

carrot cake layer, crumbled

- I'm guessing at the size of your carrot cake for the nutrition labels

8

ounces

dairy-free cream cheese

- softened

16

ounces

vegan white almond bar

½

cup

pecans

- optional
Instructions
Add parchment paper to a large baking sheet.

Chop nuts and add to bowl for decoration.

Crumble cake into fine crumbs and add to a large mixing bowl.

Add cream cheese and stir until well combined.

Using a cookie dough scoop, form the mixture into balls and place balls on prepared baking sheet

Chill for at least one hour.

In a microwave-safe bowl, add 4 blocks of the almond bar.

Heat for 1 minute, stir and continue heating for 20-30 seconds, stirring after each heating and stop just before the coating is completely melted.

Stir until coating is smooth.

Remove 4-5 cake balls from the refrigerator at a time.

Using two forks, dip truffles in melted coating. Lift out with one fork. Allow excess coating to drip off.

Use the other fork to push the dipped truffle onto the prepared baking sheet.

Immediately add a small amount of chopped nuts, if desired.

Repeat with remaining truffles using additional almond bars if necessary.

Let set until completely hardened.

Store in an airtight container in the refrigerator until ready to serve.
Nutrition
Serving:
1
Truffle
Calories:
118
kcal
Carbohydrates:
9
g
Protein:
2
g
Fat:
4
g
Saturated Fat:
1
g
Sodium:
113
mg
Potassium:
29
mg
Fiber:
1
g
Sugar:
11
g
Vitamin A:
1
IU
Vitamin C:
1
mg
Calcium:
34
mg
Iron:
1
mg