Are you a fan of strawberry shortcakes? If so, then you're really going to love this vegan version! Forget the traditional recipe that uses butter and heavy cream; with this one, all the ingredients are entirely dairy-free, making it an ideal dessert option for those who want to enjoy baked goods without compromising on their ethical or food choices. And don't worry, just because it's vegan doesn't mean it lacks in taste! This strawberry shortcake recipe turns out delicious, with fluffy cakes packed full of strawberry flavor that will excite your tastebuds at every bite. So get ready for some dairy-free baking fun. Let's make a yummy vegan strawberry shortcake with whipped cream that everyone can enjoy!
Why You'll Love This Vegan Strawberry Shortcake Recipe
A Classic- This sweet and creamy treat is perfect for any occasion, from family dinners to potlucks.
Easily Customizable- Add your favorite fresh or frozen fruits for various flavors.
Quick and Easy To Make- You won't believe how quick and easy making a vegan strawberry shortcake can be! These vegan desserts will be ready to enjoy in less than 30 minutes.
Versatile- Serve as an elegant dessert or a sweet snack any time of day.
What Is Strawberry Shortcake?
Strawberry shortcake is a classic dessert made of sweet, fluffy cake, whipped cream, and fresh strawberries. The delicious combination of these flavors makes for an irresistible treat. This vegan strawberry shortcake is made with a delightful flaky biscuit-style cake, creamy vegan whipped cream, and juicy strawberries.
Equipment Needed
Baking Sheet
Parchment Paper
Creamer Jug or Small Mixing Bowl
Medium Mixing Bowl
Large Mixing Bowl
Pastry Cutter or Spatula
Rolling Pin
Cookie Cutter or A Glass
Sharp Knife
Measuring Cups and Spoons
Ingredients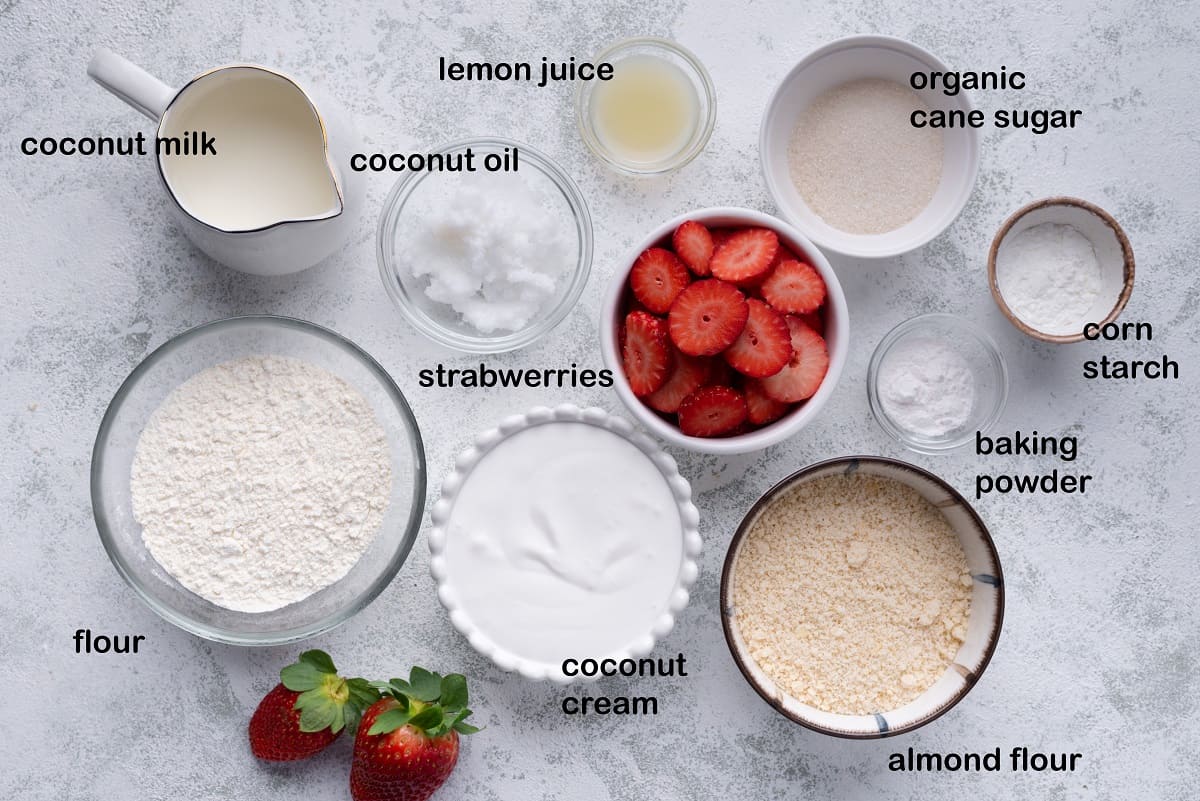 For the Shortcake Biscuits:
Coconut Milk- This milk provides a creamy texture and subtle sweetness to the cake.
Lemon Juice- This adds a bright, tart flavor to the cake.
Plain Flour- Create a fluffy cake.
Almond Flour- Used as a binding agent in the batter.
Organic Cane Sugar- Sweetens the batter.
Baking Powder- Gives the cake a light and fluffy texture.
Cornstarch- Used to thicken the cake batter.
Solid Coconut Oil- Used for binding and creating a moist texture.
For the Strawberries:
Fresh Strawberries- The main ingredient in the cake.
Organic Cane Sugar- Adds sweetness to the strawberries.
For the Topping:
Whipped Coconut Cream- Provides a light, fluffy topping.
How To Make Vegan Strawberry Shortcake With Whipped Cream
Making vegan strawberry shortcake is easy to do! To begin, preheat your oven to 400°F and cover a baking sheet with parchment paper. In the meantime, combine the vegan milk and lemon juice in a creamer jug or small bowl and let it sit for 5 minutes. Now grab some fresh strawberries and slice them into pieces before adding them to a medium-sized mixing bowl; then sprinkle organic cane sugar over them; this will help add sweetness while allowing moisture from the strawberries to seep through!
In a separate bowl, combine the plain flour, almond flour, cane sugar, baking powder, and cornstarch; mix until everything is well incorporated. Now add the coconut oil, and work it in until it has been thoroughly combined into the flour mixture. Fold in the milk mixture and stir until a soft biscuit dough is formed.
Once the dough has been made, roll it out on a floured surface to ½ inch thick. Using a flour--dusted cookie cutter, biscuit cutter, or glass, cut out 6 circles and place them on the parchment-covered baking sheet, making sure they touch each other. Bake for 18 minutes or until lightly golden brown.
Once the shortcake biscuits have cooked, allow them to cool completely before separating them. Now it's time to assemble your vegan strawberry shortcake! Start by cutting each biscuit in half widthwise, and place a few lightly sweetened strawberries on the bottom half of the 6 biscuits. Top each with vegan whipped cream, and close with the biscuit tops.
Serve and enjoy your strawberry shortcake as desired!
How To Serve Vegan Strawberry Shortcakes
Vegan strawberry shortcakes can be served as an elegant dessert at a dinner party or as a sweet snack any time of the day. Top the strawberry shortcakes with a dollop of whipped coconut cream and fresh berries for added flavor. Serve with a scoop of vegan vanilla ice cream or a hot cup of coffee or tea.
Popular Substitutions & Additions
You can make this vegan strawberry shortcakes your own by adding some of your favorite ingredients. Here are a few popular substitutions and additions:
Increase the amount of cane sugar used in the cake batter for a sweeter cake.
If you're looking for an extra fruity flavor, add fresh, chopped, juicy strawberries or other chopped fruits on top of the cake.
Sprinkle toasted coconut shreds or chopped nuts on top of the whipped cream for an added crunch.
Spread vegan butter on top of the warm shortcakes
For a more decadent dessert, drizzle melted vegan chocolate over each slice.
Use gluten-free or wheat flour in place of almond flour.
In place of coconut milk, you can use almond milk, oat milk, soy milk, or any other vegan milk for a different flavor.
Apple cider vinegar can
Coconut sugar can be used in place of organic cane sugar.
Use vegan butter in place of solid coconut oil for more of a buttery-flavored cake.
Can You Freeze Strawberry Shortcake?
Yes, you can easily freeze this vegan strawberry shortcake. After assembling the vegan shortcake, wrap it tightly in plastic wrap and store it in an airtight container. The shortcake will last for up to 3 months in the freezer. When ready to enjoy your frozen dessert, simply thaw it in the refrigerator overnight before serving. Store leftover shortcakes in the refrigerator in an airtight container for up to 4 days.
Vegan Strawberry Shortcake FAQs
Can I use frozen strawberries to make this vegan strawberry shortcake?
Yes, you can substitute frozen strawberries for fresh ones. However, make sure to thaw the berries entirely before adding them to the recipe.
Is it possible to make this recipe gluten-free?
Yes, substitute the all-purpose flour with gluten-free flour and almond flour.
How do I make homemade vegan whipped cream?
Making homemade whipped cream is easy! All you need is canned coconut milk, powdered sugar, and vanilla extract. Let the can of milk sit in the fridge overnight and skim off the cream that has solidified on top. Whip the cream until light and fluffy with a hand mixer or stand mixer, then add the powdered sugar and vanilla extract. Whip for a few more minutes until everything is combined and lightly sweetened. Serve coconut whipped cream as desired.
Can I use other fruits for vegan shortcakes?
Absolutely! You can swap out the strawberries and use any other fresh fruit like raspberries, blueberries, blackberries, or peaches.
📋 Recipe
Vegan Strawberry Shortcake
A delicious combination of juicy strawberries, vegan whipped cream, and two delectably fluffy cake layers. Everyone will come back for more of this sweet treat.
Ingredients
For the cake
¾

cup

coconut milk

1

tbsp

lemon juice

1

cup

plain flour

1

cup

almond flour

3

tbsp

organic cane sugar

2

tsp

baking powder

2

tbsp

cornstarch

3

tbsp

coconut oil

solid
For the strawberries
2

cups

sliced strawberries

2

tbsp

organic cane sugar
For the topping
Whipped coconut cream

as much as desired
Instructions
Preheat oven to 400F. Line a baking sheet with parchment paper.

Combine coconut milk and lemon juice in a jug or a bowl. Set aside for 5 minutes.

Toss the strawberries with the rest of the cane sugar and set aside. This will make the strawberries juicier.

Combine flour, almond flour, cane sugar, baking powder, and cornstarch in a bowl.

Add coconut oil and work it in with a pastry cutter, spatula, or clean hands.

Fold in the coconut milk mixture and stir until the dough comes together.

Transfer the dough onto a floured kitchen surface and flatten it with clean hands or a rolling pin, to ½-inch thick.

Using a flour-dusted cookie cutter or a glass, cut out six circles and place them onto the baking sheet. Make sure they are touching each other.

Bake in the heated oven for 18 minutes. Cool the biscuits completely, before you separate them and cut them in half by width.

Place a few strawberries on the bottom half of six biscuits. Top each with whipped coconut cream and close with the biscuit tops.
Nutrition
Calories:
200
kcal
Carbohydrates:
8
g
Protein:
4
g
Fat:
18
g
Saturated Fat:
3
g
Polyunsaturated Fat:
1
g
Monounsaturated Fat:
5
g
Sodium:
22
mg
Potassium:
137
mg
Fiber:
2
g
Sugar:
1
g
Vitamin A:
0.1
IU
Vitamin C:
1
mg
Calcium:
97
mg
Iron:
1
mg