Healthy Crescent Roll Pesto Appetizers are easy to make and also make a statement in looks and taste. Pre-made crescent rolls are spread with two pesto varieties to make crowd-pleasing finger food.
Hot on the heels of my not-too-long-ago published and top performer Crescent Roll Breakfast Rings and the always most-popular Pesto Tortilla Rollups comes another recipe that is hard to resist.
It's this one right here! Healthy Crescent Roll Pesto Appetizers! There are lots of individual appetizers out of the one recipe. You can either make sixteen twists or thirty-two twists.
This Crescent Roll Appetizer starts with Pillsbury Crescent Rolls. They are vegan but make sure you buy the low-fat ones because then they will not have any trans fats.
Of course, you can use any vegan crescent rolls that you prefer. This is just one that is readily available.
So two cans of crescent rolls make sixteen and four cans of crescent rolls makes thirty-two. The amount of pesto will cover the 32 twists. So it all depends on you, your guests, and if you want leftovers.
You may want leftovers. I sure do.
One of my readers sent me a picture of Pillsbury crescent dough sheets. I have never seen these but Julie says she usually sees them around the holidays. If you happen to see them than they would absolutely work.
You wouldn't have to do any sealing of the perforations. A step faster.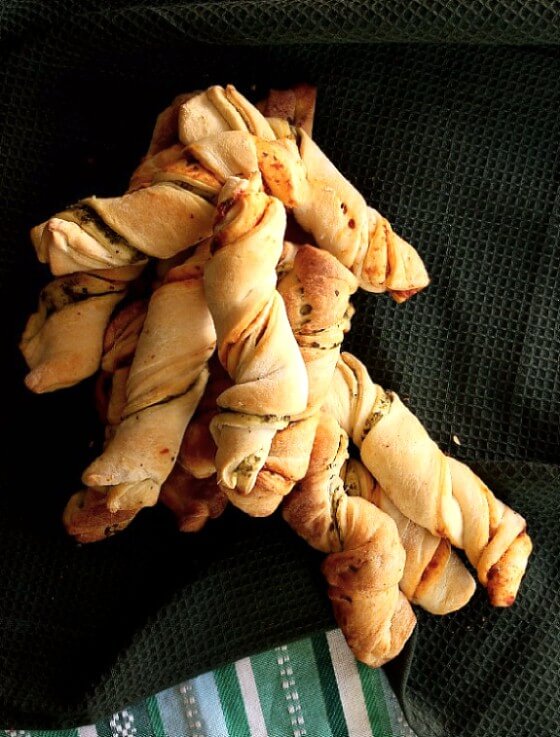 Here are some visual steps for making Crescent Roll Pesto Appetizers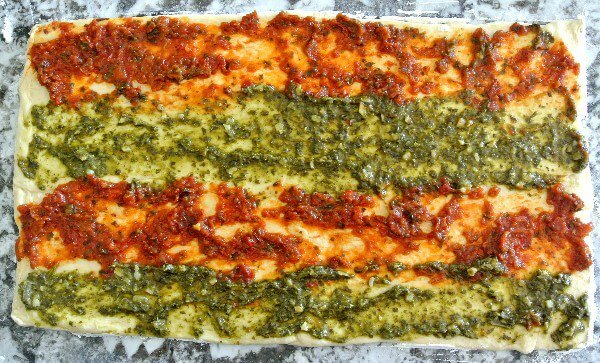 The photo above shows the four rows of pesto and the thickness that you'll be aiming for. Not less and you could do just a little more but not to much.
This photo above is about 3-4 ounces of each variety of pesto total.
I tried making this without a top layer the first time. It was just too messy. The top layer really helps hold it together and you can still see some of the pesto colors after it bakes.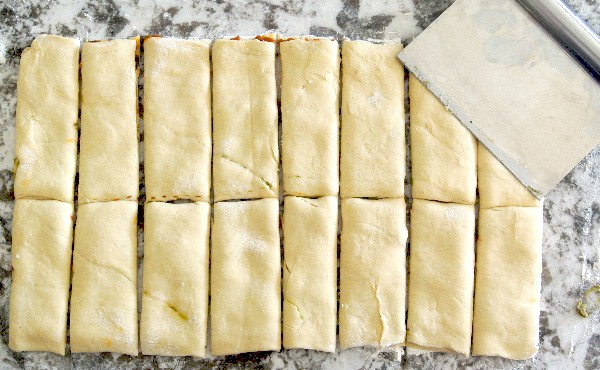 Above shows the little rectangles that you'll be twisting. See what I mean about how neat it is using the
dough scraper
?
You just push straight down and move the cutter against the surface back and forth about a quarter of an inch and it's done.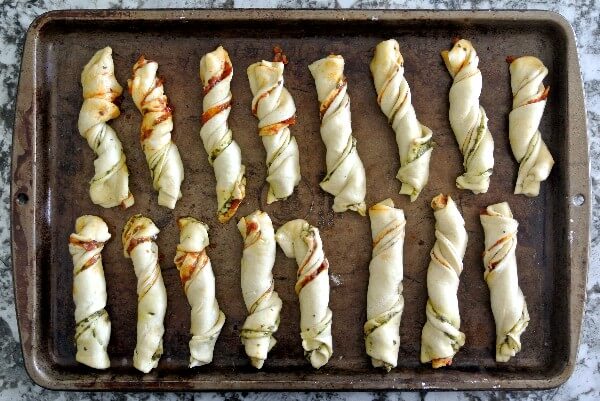 Now you can see what they little appetizers look like on the baking sheet. Remember this is only half of the recipe. You'll do another sheet like this while these are baking.
When you twist the strips just lightly twist a couple of times in the opposite direction. Try not to stretch the strips in length. Just twist.
What I mean by 'twist a couple of times in the opposite direction' is this. Take hold of one end with your hand and the other end with your other hand. Now twist one hand forward while twisting the other hand in the opposite direction. There! It's twisted.
Are you or your friends' dunkers? You really don't need to dunk but I find myself liking condiments. Half of the appetizers were eaten as is and the rest were dunked in a variety of dips.
What Dips Can These Pesto Appetizers be Dunked Into?
You can use more of either one of the already on-hand pesto sauces. So, Vegan Basil Pesto (365 has a basil vegan one too) and/or Vegan Sun-Dried Tomato Pesto. You could also lay a little knife next to the twists in case anyone wants to spread the pesto on top.
I mostly used this delicious Dairy-Free Ranch Dressing. If you don't have time (only 10 minutes) or ingredients to make it yourself then Follow Your Heart has a good one. Not great but good 🙂
You can use Just Mayo's vegan Chipotle Mayo and it's delicious but it masks the flavor of the pesto a bit too much for me.
Do you have a favorite salad dressing? There's a really good chance that it will be perfect for these Healthy Crescent Roll Pesto Appetizers.

📋 Recipe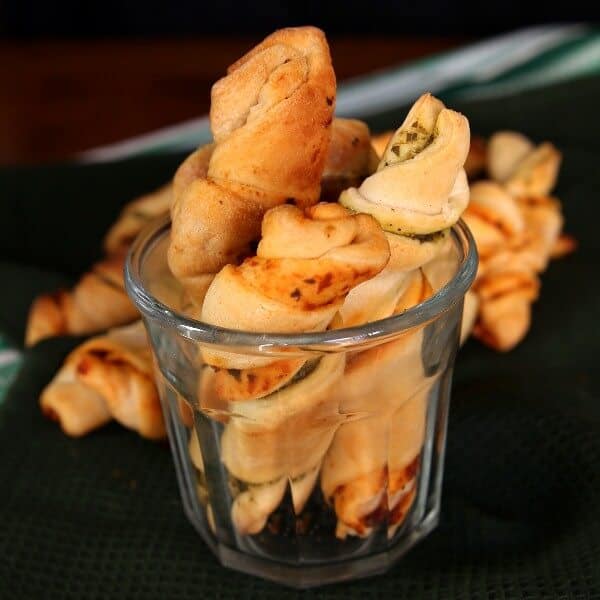 Healthy Crescent Roll Pesto Appetizers
Healthy Crescent Roll Pesto Appetizer are easy to make and also make a statement in looks and taste.
Ingredients
4

containers

Crescent Rolls

8

ounces

basil pesto

8

ounces

sun-dried tomato pesto
Instructions
Open one can of Pillsbury Crescent Rolls and layout on a lightly floured surface.

Press the seams together and press out with your fingers or a rolling pin to 14" x 8" rectangle.

Spread the pesto in four wide strips alternating the colors as in the photo above. You'll use ½ to a little less than half the jay (3 to 4 ounces at the most) for this set of appetizers.

Unroll one can of Pillsbury Crescent Rolls onto a piece of waxed paper or parchment paper.

Seal perforations and press out with fingers or a rolling pin to a 14" x 8" rectangle.

Pick up the waxed paper carefully and invert it over the prepared dough that is spread with the pesto.

Remove the waxed paper, carefully.

Cut crosswise down the middle. I use a dough scraper and it cuts really nice by just pushing down instead of pulling with a knife blade. Then divide each half into eight rectangles that are evenly spaced. Also as seen in the photo above.

Now pick up one rectangle at a time and twist each end in opposite directions. You only need to do two twists in each direction. Lay on an ungreased baking sheet.

Bake at 375 degrees for 12 to 15 minutes until light golden brown.

That will give you sixteen appetizers. Now repeat steps 1 through 10 and you'll be done with 32 appetizers to share and enjoy.
Nutrition
Serving:
1
Appetizer
Calories:
120
kcal
Carbohydrates:
13
g
Protein:
3
g
Fat:
3
g
Saturated Fat:
1
g
Cholesterol:
1
mg
Sodium:
220
mg
Vitamin A:
190
IU
Vitamin C:
0.2
mg
Calcium:
18
mg
Iron:
0.1
mg
You can actually freeze these. Just like you would any muffin or other pastry. I can't believe you'll have any leftover though.
They will keep in the refrigerator about 5 days and in the freezer 4 months for best quality.