Crescent Roll Breakfast Rings are easy to make and are filled with great ingredients. Perfect treats and all throughout the year.
This is an important month for me. It is six years ago this month that I posted my first recipe on Vegan In The Freezer. I never, in my life, thought that such a job could be so rewarding and fulfilling.
It seems every day is spoken for but I love everything that is involved. The extra bonus is you, the reader. You who have welcomed me with open arms and offered me so many warm compliments.
Your humor has been a pleasant surprise too. So I say, thank your friends. A little gift for you is this easy and delicious breakfast recipe that I am sure you will love - Crescent Roll Breakfast Rings!
Easy to make and they look very impressive. Tastes darn good too.
This Crescent Roll Breakfast starts with Pillsbury Crescent Rolls. They are vegan but make sure you buy the low-fat ones because then they will not have any trans fats.
Of course, you can use any vegan crescent rolls that you prefer. This is just one that is readily available.
These bakery goodies are easy to make and are filled with a few ingredients that blend perfectly together. Your breakfast will be 'the best'.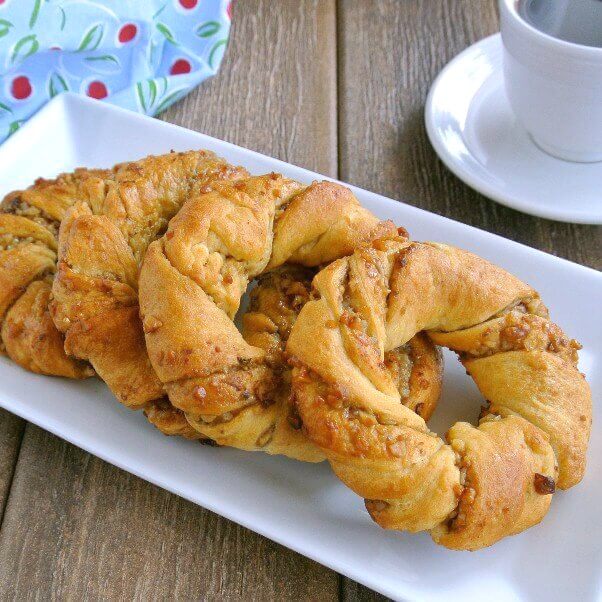 Crescent Roll Breakfast Rings Hints and Tips
Just follow the instructions step by step. The process really easy especially because of the ready-made dough.
You use the rolls as a flat sheet, not to roll up. It's really a wonderful way to use this delicious dough and turn it into a pastry treat.
In the first process, add the required ingredients into a small to a medium-sized saucepan. Heat over medium-high heat just until the sugar is melted.
When you twist the strips before making into a ring don't stretch it. Just lightly twist a couple of times in the opposite direction and then bring around to a circle.
What I mean by 'twist a couple of times in the opposite direction' is this. Take hold of one end with your hand and the other end with your other hand. Now twist one hand forward while twisting the other hand backwards. There! It's twisted.
No need to speed through any of the steps. Nothing can go wrong.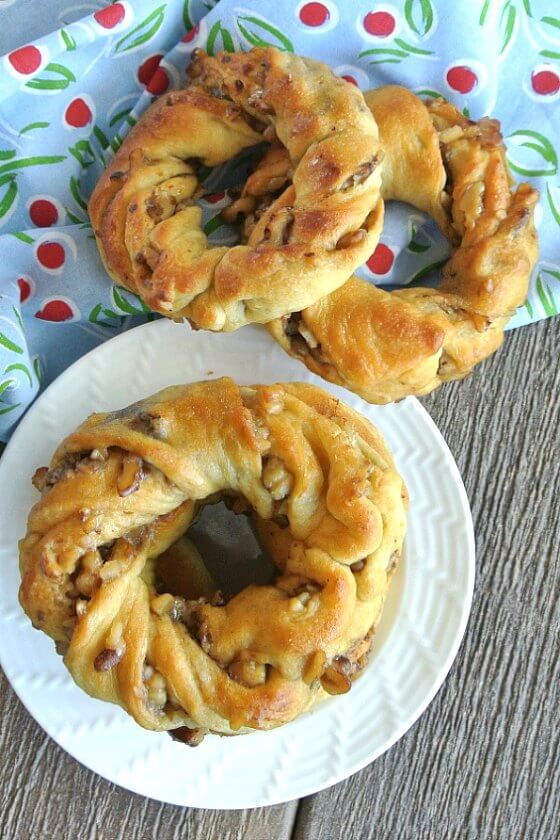 After you make these crescent roll rings you might want to try another simple breakfast treat using ready-made crescent rolls.
Easy Mini Cinnamon Rolls can be made for the holidays too or year-round. Try not to eat too many.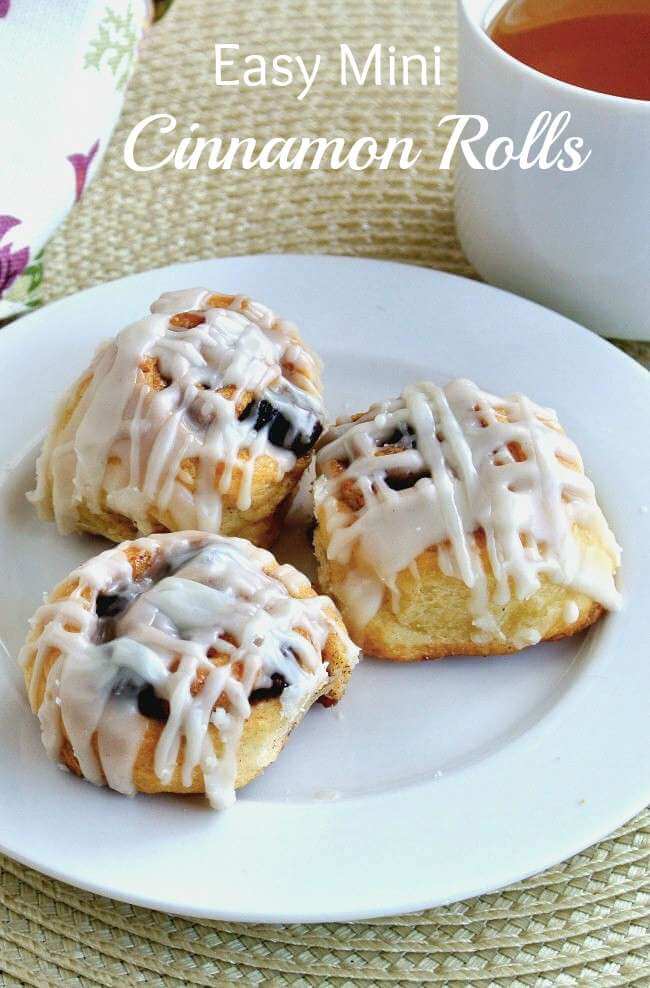 What Can Be Used Instead of Walnuts?
If you don't like walnuts then there are many others you can try. Almonds, pecans and pine nuts come to mind.
Pine nuts are actually seeds but if your allergic to nuts you still may be allergic to pine nuts so be careful.
I can't really think of a seed that would be a good substitute. Offhand, the only one I can think of that are in a bigger size are pepitas or pumpkin seeds. Not sure they'd work though. If you're game to try it then please go ahead.
Helpful Tools for Making Crescent Roll Breakfast Rings:
Crescent rolls are so easy to work with and there is an array of ideas for different types of recipes. Here are a couple you might be interested in.
Crescent Roll Recipes!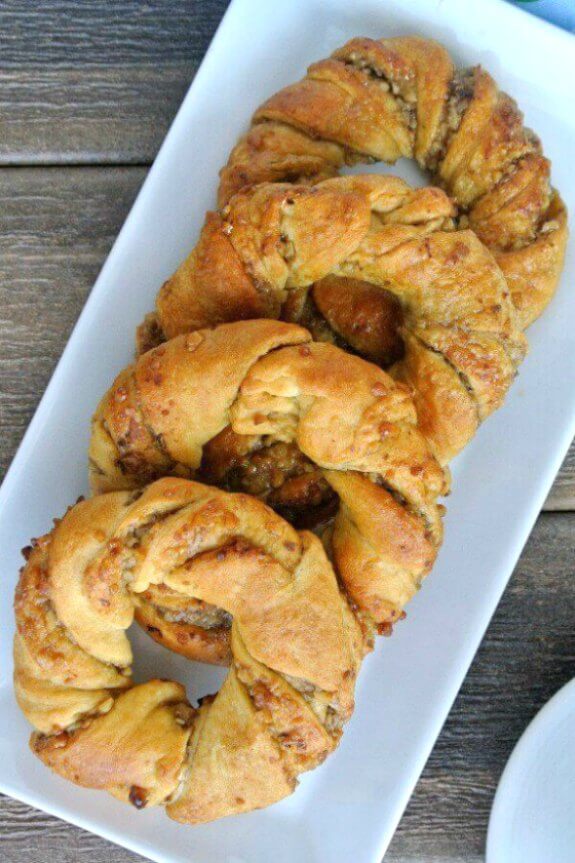 This post contains affiliate links. Read my disclosure policy here.
What Do You Think?
If you take a photo of your delicious crescent rings I would love to see it. Follow me over on Instagram and tag me on your photo @vegan_in_the_freezer.
Your opinion means a lot to me and if you'd like to leave a comment and possibly a star rating I'd love to hear your thoughts.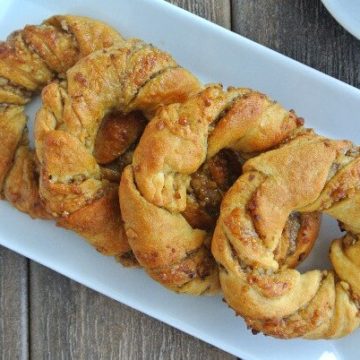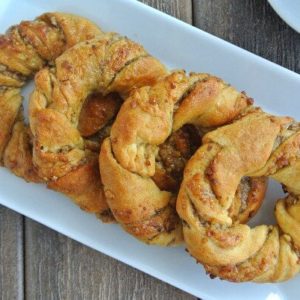 Crescent Roll Breakfast Rings
Crescent Roll Breakfast Rings bakery goodies are easy to make and are filled with a few ingredients that blend perfectly together.
Ingredients
16

ounces

crescent rolls

2 - 8 cans ounce crescent rolls

1 ½

cup

walnuts

finely chopped

¼

cup

dairy-free milk

½

teaspoon

organic vanilla extract

2

tablespoon

sugar, organic

½

teaspoon

ground cinnamon

2

tablespoons

maple syrup
For the Glaze
2

tablespoons

maple syrup

1

tablespoon

dairy-free butter
Instructions
Mix walnuts, almond milk, vanilla extract, sugar, ground cinnamon, and maple syrup in a small saucepan.

Heat to melt the sugar and blend all ingredients. Set aside and let cool.

Open one can of Pillsbury Crescent Rolls and layout on a lightly floured surface.

Press the seams together and press out with your fingers or a rolling pin to 14" x 8" rectangle.

Spread the walnut mixture, that is in the pan, evenly over the whole surface.

Unroll the other can of Pillsbury Crescent Rolls onto a piece of waxed paper or parchment paper.

Seal perforations and press out with fingers or a rolling pin to a 14" x 8" rectangle.

Pick up the waxed paper carefully and invert it over the prepared dough that is spread with the walnut filling.

Remove the waxed paper, carefully.

Press and seal all the edges.

Cut crosswise into 8 strips along the short side so that the strips are 8" long.

Twist each strip and bring around the ends and seal into a circle.

Lay on an ungreased Baking Sheet.

Bake at 375 degrees for 12 to 15 minutes until light golden brown.
For the Glaze:
In a small saucepan add the maple syrup and vegan butter. Heat through.

When the rings come out brush each one generously with the glaze.
Nutrition
Serving:
1
Danish
Calories:
395
kcal
Carbohydrates:
35
g
Protein:
5
g
Fat:
28
g
Saturated Fat:
6
g
Sodium:
468
mg
Potassium:
119
mg
Fiber:
1
g
Sugar:
15
g
Vitamin C:
0.2
mg
Calcium:
42
mg
Iron:
1.4
mg
I kinda don't think you'll need to do any freezing for these rolls but in case you made them just for yourself - you deserve it! - then YES they do freeze well.
Just pack into rigid sided freezer containers or double bag in freezer bags and they will keep up to 6 months.
Defost in the fridge and then eat up.