Apple Strawberry Popsicles taste as good as they look. There are only three ingredients and are so very fast to get done. Cold, fruity, refreshing.
Having more popsicles packed in my freezer is a good thing. It must be psychological but when I have something sweetish, cool and refreshing in the freezer, that I can get at any time, my life is less stressful.
Maybe it really is! If I get a craving, there is that popsicle, right there.
I want summer to go on forever and thank goodness there are still a few weeks left.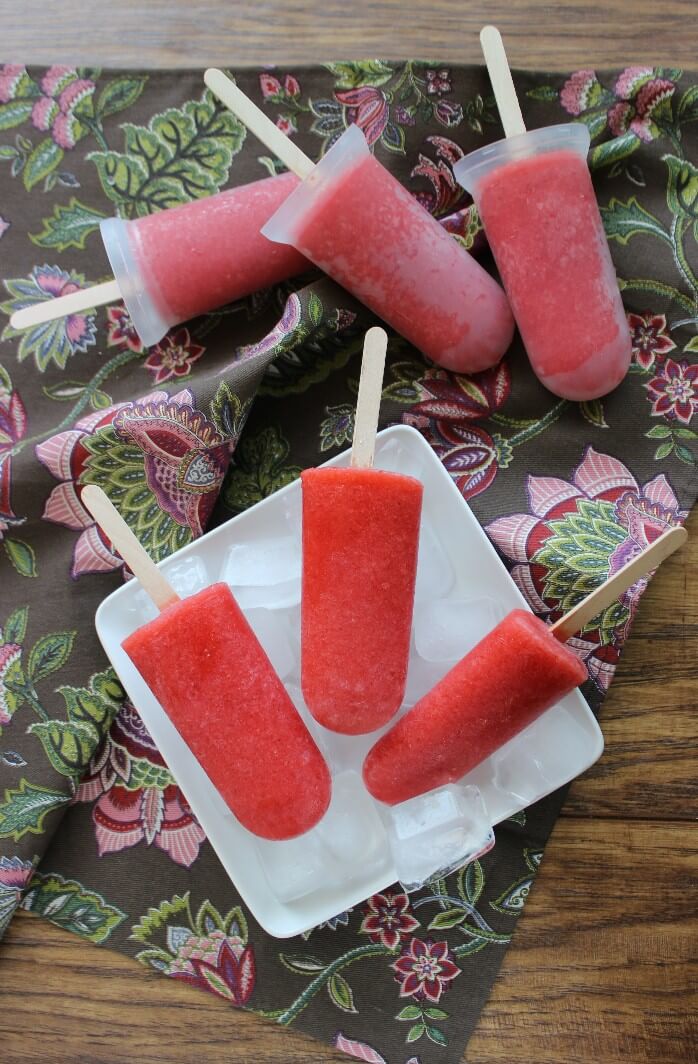 The picture above shows some of the popsicles still in their holders. They are so easy to use.
It is so funny but it seems like any season that I am in is my favorite. Don't you love them all for some reason or another?
It is exciting to me that fall is coming but I am also very good at living in the moment. I mean, who wants to miss something!
There is still a summer holiday to celebrate so hold on to your hats, cool off and have a popsicle.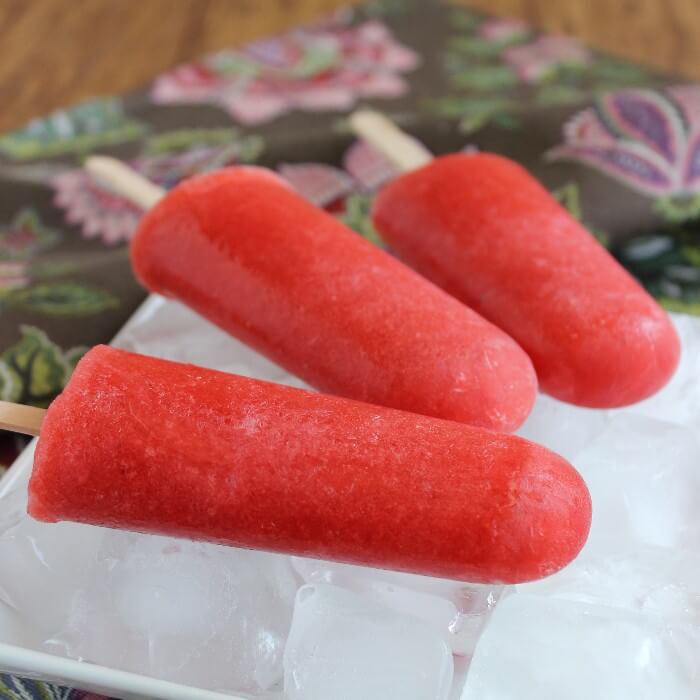 This post contains affiliate links. Read my disclosure policy here.
Print
Apple Strawberry Popsicles
Apple Strawberry Popsicles taste as good as they look.
Total Time
6
hours
15
minutes
Ingredients
2

cups

frozen or fresh strawberries

1 1/2

cups

organic unsweetened apple juice

3

tablespoons

maple syrup
Instructions
Here ya go. Simple and wonderful popsicles!

Put all of the ingredients in your blender. I use a Ninja Master Blender but there are many great blenders that will do the job.

Process until everything is mixed and blended well.

Pour into you popsicle molds and freeze at least 6 hours.

You will have a couple of popsicles worth of extra filling. Put it in the fridge and save to make more popsicles after you remove the first set. Or ... drink it as a smoothie. Delicious!

Here is that clickable link for the popsicle mold that I used = Classic Pop Molds. I have used them many times and they work really well.

You can see in the Amazon photo that they come with a popsicle stick insert and that is great but I am a traditionalist, in many ways, so I use wooden sticks.

I actually stick a little piece of scotch tape on the lid and up along the side of the stick to hold up the handle at the length that I want.

To get the popsicles out of the mold I ran hot water on the sides first. They slide right out really easily.

Freeze for about 6 hours.

In the photo above the ingredients you can see the plastic holders on the three popsicles at the top.

After you take the frozen popsicles out of the molds - put them in a freezer bag.

Replace in the freezer.

Enjoy everyday!
Nutrition
Nutrition Facts
Apple Strawberry Popsicles
Amount Per Serving (1 Popsicles)
Calories 38
% Daily Value*
Sodium 1mg 0%
Potassium 87mg 2%
Total Carbohydrates 9g 3%
* Percent Daily Values are based on a 2000 calorie diet.