Blackberry Grape Popsicles- Fresh blackberries and grapes are blended until smooth, poured into popsicle molds, and placed in the freezer until frozen. These popsicles are unbelievably easy to make and even more delicious than anything you can buy at the store. They make a sweet tasty treat for kids of all ages.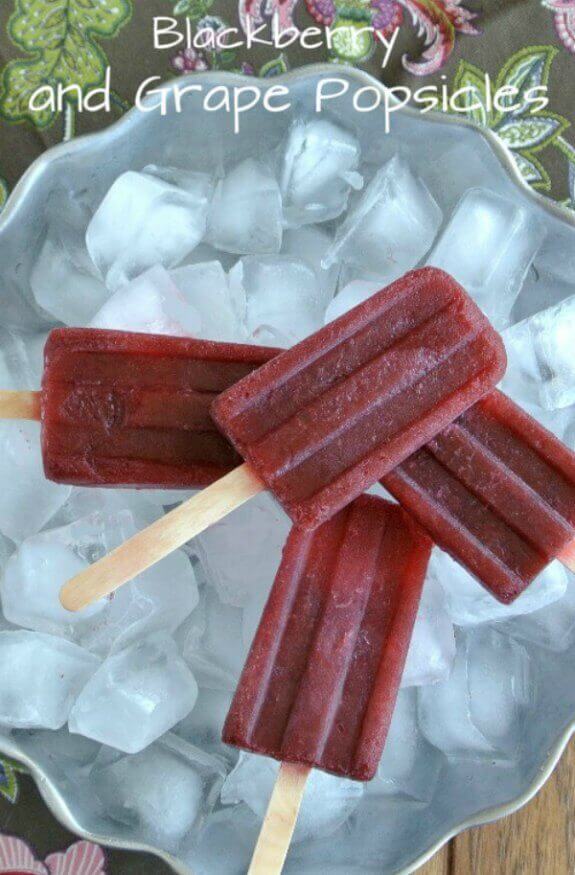 I love summer because it means popsicle weather! Popsicles are the perfect summer treat because they're great for cooling off and easy to eat. I always have a stash of popsicles in my freezer to enjoy anytime I want. If you haven't tried making your own popsicles at home, you should definitely give it a go. Homemade popsicles are even tastier than store-bought ones, and you can experiment with all sorts of interesting flavor combinations.
Blackberry grape popsicles are a refreshing and delicious summer treat. Made with just blackberries and grapes, they are perfect for satisfying your sweet tooth on a hot day. These popsicles are also healthy, as blackberries and grapes are packed with nutrients. Best of all, blackberry grape popsicle recipes are easy to make at home, so that you can enjoy them anytime. So next time you're looking for a tasty and healthy treat, make sure to try these blackberry grape pops!
Jump to:
Why You'll Love This Grape And Blackberry Popsicle Recipe
Minimal Ingredients- These popsicles only require 2 ingredients, grapes, and blackberries. That's it! It can't get any more simple than that.
Refreshing- Fresh fruit popsicles are the perfect way to refresh and cool off on a hot day.
Easy to Make- These popsicles are quick and easy to make at home, so you can enjoy them anytime.
Healthier- This recipe is a healthier alternative to store-bought popsicles, as they contain no added sugar or artificial flavors.
Kid-Friendly- Kids will love these sweet and tasty popsicles. They make a great healthy snack or dessert!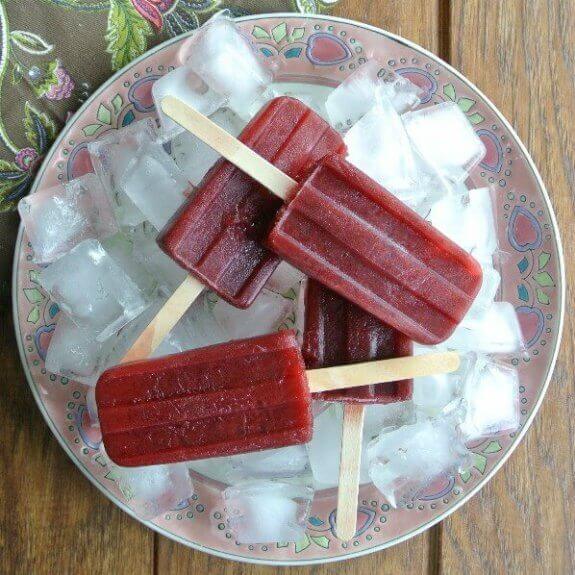 Equipment Needed To Make Sugar-Free Grape Popsicles With Blackberries
Food Processor
Sieve
Popsicle Molds
Popsicle Sticks (If your molds don't come with any)
Ingredients For Blackberry Grape Popsicles
How To Make Homemade Blackberry And Grape Popsicles
With just 2 ingredients, these grape blackberry popsicles couldn't be any easier to make! To start, destem all the grapes, add them to a food processor with fresh blackberries, and blend until smooth. Once the fruit is blended, pour it through a sieve. Running your finger around the sieve will help you get as much juice as possible.
Pour the juice into your popsicle molds, insert popsicle sticks, and freeze for at least 6 hours. When the popsicles are completely frozen, serve and enjoy!
Note: Depending on the type of popsicle molds you have, you may need run hot water on the side of the molds before you can remove the pops.
What to Serve/Pair With Grape And Blackberry Popsicles
These grape blackberry popsicles are the perfect summer treat! Serve them on their own or pair them with other fresh summer fruits like watermelon, cantaloupe, or honeydew.
Try serving them with a scoop of vanilla ice cream for a fun and festive twist. Or, for an extra-special treat, dipped in chocolate!
Popular Substitutions & Additions
As with any recipe, feel free to experiment and make substitutions to suit your taste. Here are a few ideas to get you started:
Use other berries in place of the blackberries. Try raspberries, strawberries, blueberries, or a combination of berries.
Add a splash of lemon or lime juice for a tart and tangy popsicle.
For a warm and spicy pop, add a pinch of ground cinnamon, nutmeg, or cloves.
Substitute red grapes for green grapes.
For an extra-fruity popsicle, add diced fruits like pineapple, peaches, nectarines, or apricots.
What Is The Best Way To Store Blackberry And Grape Popsicles?
Popsicles are best stored in resealable freezer bags in the freezer.
How Long Will Grape Popsicles Last In The Fridge?
Because popsicles are best stored in the freezer, refrigerator storage is not recommended.
Can I Freeze Homemade Blackberry And Grape Popsicles?
Yes, you can freeze blackberry grape pops. Simply store the popsicles in a resealable freezer bag after they are frozen. When properly stored, they will keep for up to 3 months.

Sugar-Free Blackberry Grape Popsicle FAQs

Do I have to strain the grape and blackberry mixture?
No. If you prefer a smoother popsicle, then straining is recommended. Straining the grape and blackberry mixture is entirely optional. You can skip this step if you don't mind a little bit of texture.

I can't find popsicle molds. Is there something else I can use in their place?
Of course! If you don't have popsicle molds, try using small paper cups or plastic yogurt cups. Insert a popsicle stick into the center of each cup and freeze until solid. Once frozen, peel away the cup to reveal your homemade popsicle!

Can I make popsicles without a food processor?
Yes! You can use a blender if you don't have a food processor. However, you may need to add a little bit of water to get more of a juice-like consistency.

Do I have to have a sieve to make these popsicles?
No, you don't have to have a sieve to make these grape and blackberry popsicles. However, using a sieve will help to remove any large pieces of fruit and ensure a smooth and creamy popsicle.

Can I add other fruits to these popsicles?

Yes, feel free to add other diced fruits like peaches, nectarines, or apricots. You could also add a splash of lemon juice or lime juice for a tart and tangy popsicle.
📋 Recipe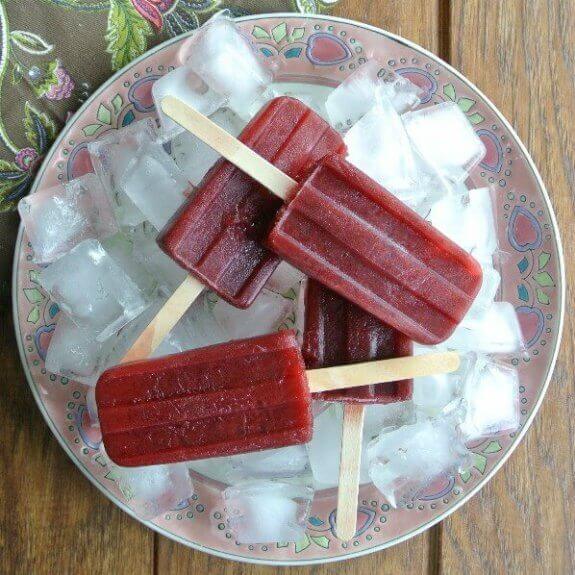 Blackberry and Grape Popsicles
Blackberry and Grape Popsicles are the perfect blend for a delicious popsicle.
Ingredients
6

ounces

blackberries

16

ounces

grapes

red, seedless
Instructions
That is it! 2 ingredients. Pick the grapes from the stems.

Add the grapes and blackberries to a food processor, chopper, blender. I used the Ninja and it really makes a smooth job of this process. Here is a link to the exact one that I have Ninja Master Blender

After the fruit is all blended put through a sieve. I also rub my finger around in the sieve and get as much juice as I can. There will be pulp leftover when you are done. Do not worry about exact measurements.

Pour into your popsicle molds, stick in your popsicle sticks and freeze at least 6 hours.

Take the frozen popsicles out of the mold and put in a freezer bag.
Notes
Depending on your popsicle molds you may have to run hot water on one side of them for a second before you can remove the pops.
Nutrition
Serving:
1
Popsicle
Calories:
42
kcal
Carbohydrates:
10
g
Sodium:
1
mg
Potassium:
126
mg
Fiber:
1
g
Sugar:
8
g
Vitamin A:
75
IU
Vitamin C:
5.6
mg
Calcium:
11
mg
Iron:
0.3
mg