Pineapple Kiwi Popsicles are a perfectly fruity treat. So refreshing and there are only two ingredients for this recipe. They'll have lazing in the afternoon sun in no time.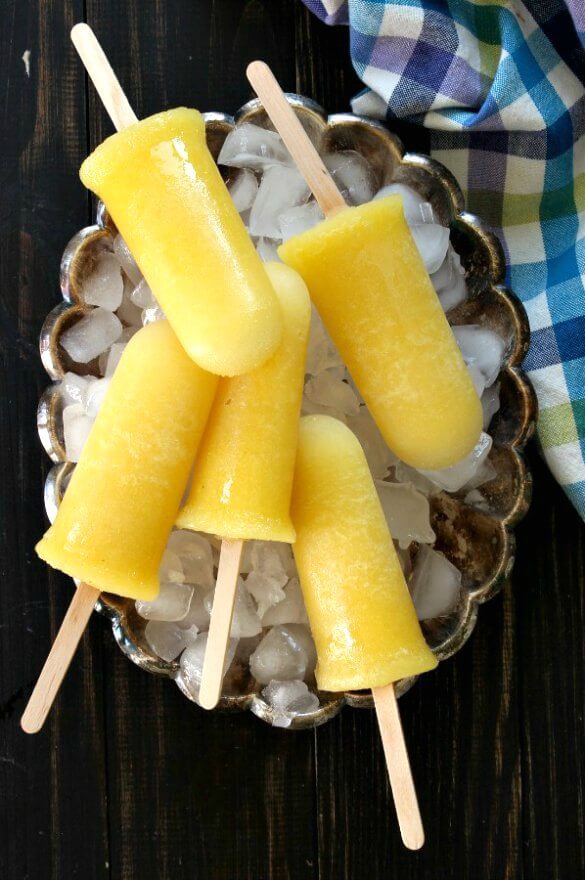 Do you know I had never made popsicles until I was pretty dang old-ish. Now it is like my favorite thing to do. Especially in the hot summer.
Any fruit can be used and what could be healthier than fruit on a stick?
My new creation is – TaDa – Pineapple Kiwi Popsicles. Fresh fruit is used for these popsicles and they take about 15 minutes.
The time is from cutting up the pineapple so if you can do it in 10 minutes then … great!
Can you just imagine the two ingredient fruit combo? Pineapple and kiwi are perfect together! Sweet pineapple and mildly tart kiwi are a match made in heaven.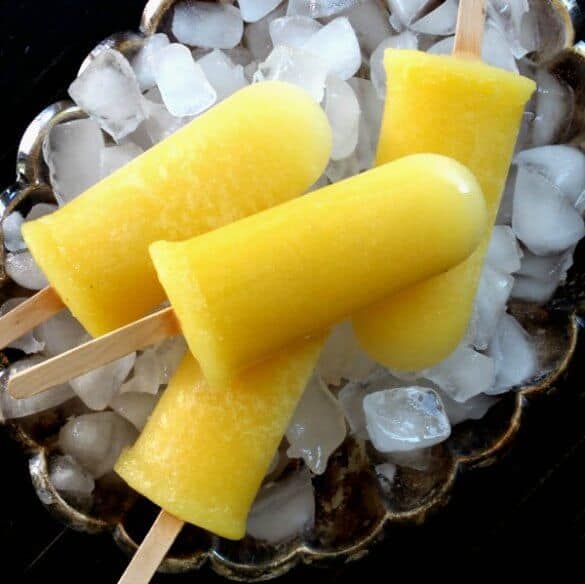 I've been making these popsicles for over 5 years. It's true that I make other ones too but that's because popsicles are so darn delicious. I mean how can you beat fresh cold fruit on a stick.
Another popsicle that I started making way back then are Blackberry and Grape Popsicles. They are pictured here in the classic mold so you can see the difference.
Majorly different in color and taste too but none the less delicious!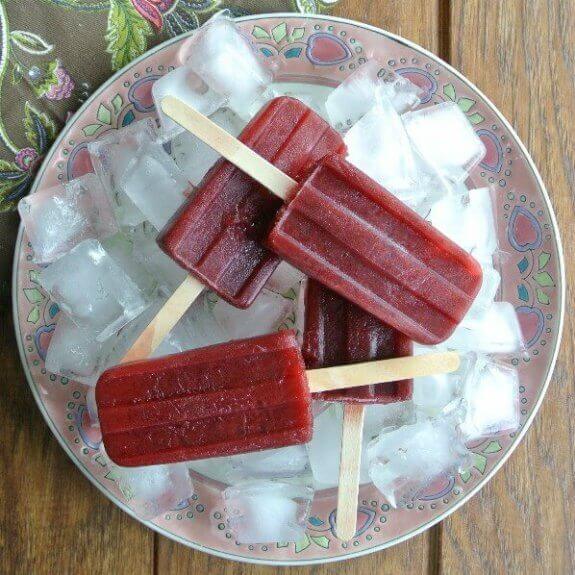 What Molds are there for Popsicles?
I have two favorites and there are lots of good small popsicle molds for kids too!
The first one was used for the Blackberry and Grape Popsicles above. It's Norpro Frozen ice Pop Maker. You have to hold it under hot water a bit longer than Zoku's mold. It has more ridges so that must be why.
Now you have a nice long stick to hold on to. And it's so classic. I have seven different popsicle recipes using this popsicle mold on the blog.
My favorite is the one that is used for these Pineapple Kiwi Popsicles. They are Zoku Popsicle molds. You can see how easily the pops slide out of the mold.
I use popsicle sticks with those too but the molds come with their own stick that works perfectly.
You can see what the popsicle sticks look like that come with the molds at this link for Dairy Free Strawberry Frozen Yogurt Popsicles. They look nice.
These smaller popsicle molds are perfect for little ones. You even get 18 Whonline molds so that you can use up all of your recipe at once.
You really do need a food processor to handle all of the fruit for this recipe. It's a lot and you don't want to add any liquid.
The shape of the food processor is nice and wide with powerful blades and motors. A blender just won't take care of the job.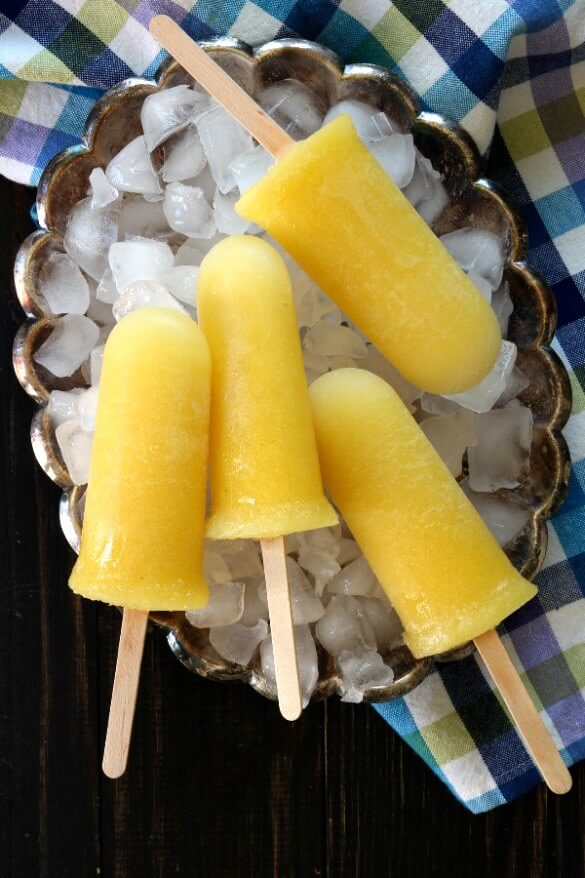 This post contains affiliate links. Read my disclosure policy here.
This recipes says it makes 8 popsicles. I've actually made 10 with the classic molds and you know it depends on the size of the pineapple.
This time around I made 7 popsicles with these larger molds but my pineapple was on the smaller size. So anyway, just explaining.
If you have extra juice than you have popsicle molds just put the extra in the refrigerator. When the first set of popsicles freeze remove one or two popsicles, or whatever you need, from the molds and place them in a freezer bag.
Now pour your extra popsicle juice into the molds and freeze those too.
See? Easy to work with and you get to use all of your pure fruit popsicle juice. So get on to the actual recipe so pull out your cutting board and take care of that pineapple.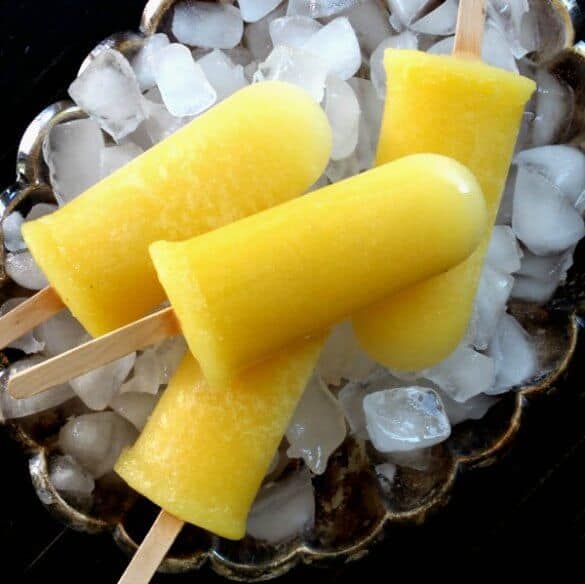 Print
Pineapple Kiwi Popsicles
Pineapple Kiwi Popsicles is a two fruit ingredient recipe that will have you lazing in the afternoon sun in no time.
Ingredients
1

pineapple

peel and core the pineapple

2

kiwi

peeled
Instructions
That is it! 2 ingredients.

Cut the pineapple and kiwi into chunks.

Place in a food processor, chopper, blender. I used the Ninja and it really makes a smooth job of this process. Here is the one that I have.

Ninja Master Blender.

After you have your pineapple all blended - pour it through a sieve. I also rub my fingers around in the sieve and get as much juice as I can. You won't have very much pulp left when you are done. Don't worry about exact measurements. Set aside.

Pour into you popsicle molds and freeze at least 6 hours.

To get the popsicles out of the mold I ran hot water on the underside first.

You can either leave the popsicles in the molds until you're ready to eat them or you can take the frozen popsicles out of the mold and put them in a freezer bag. Replace in the freezer.
Nutrition
Nutrition Facts
Pineapple Kiwi Popsicles
Amount Per Serving (1 Popsicles)
Calories 56
% Daily Value*
Sodium 1mg0%
Potassium 155mg4%
Carbohydrates 14g5%
Vitamin A 70IU1%
Vitamin C 60.1mg73%
Calcium 18mg2%
Iron 0.3mg2%
* Percent Daily Values are based on a 2000 calorie diet.
Can you believe how easy that was? If you just read through and didn't get to make the pops yet you still got to see how two varieties of fruit can come together so perfectly.
Use your imagination and think up two kinds of fruit that you think would go well together. I bet you can create a recipe too!