Seedless Blackberry Apple Popsicles have only 3 ingredients and are show stoppers. An easy and naturally sweet refreshment for hot summer days.
There should be popsicles in every refrigerator during the hot months of the year.  I am the new cheerleader of all things cool and refreshing.
Pops are so simple and the flavors are just about endless.  They are an ultimate pleasure for helping a person cool off during hot summer days. When you have a popsicle it feeds all your cravings for a sweet with minimal calories.  You can't beat that!
I tried to make citrus orange sangria popsicles a couple of months ago and found out that liquor doesn't freeze. Didn't I know that?  I mean, I remember Martha Stewart when she froze a bottle of vodka in a block of ice.  Ding-a-ling here.  It sure was a good slushie.  Hey!  Guess what I am going to have on the blog soon?
Back to popsicles …  sweet, refreshing, healthy, heaven.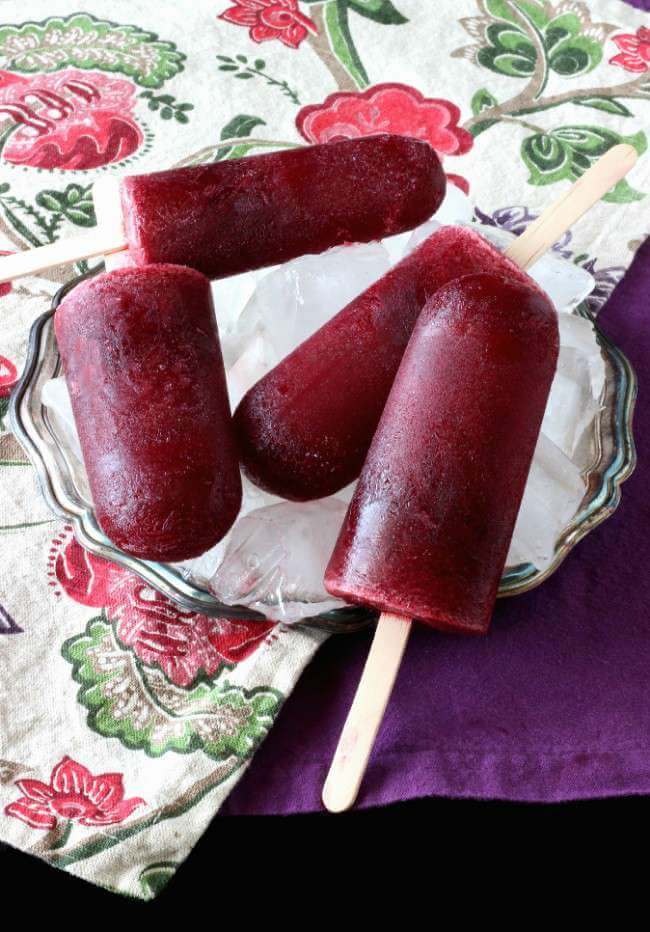 Seedless Blackberry Apple Popsicles
Ingredients
3

red apples such as Gala

1

cup

frozen blackberries

2 1/2

cup

unfiltered apple juice
Instructions
Peel and core the apples.

Place in a blender with 1 1/2 cups of the apple juice and blend until very fine.

Strain through a fine sieve. You can use your fingers to swirl the apple in the sieve to get some of the smallest fibers to go through. There will be some pulp left that you can throw away.

Place the blackberries and 1 cup of the apple juice in a blender and blend until very smooth.

Strain through a sieve and, again, use your fingers to swirl the blackberries to push as much as your can through the sieve. There will be only about 2 tablespoons of the pulp left.

Mix the two strained fruits together and pour into your popsicle molds.

I used Zoku's mold and you can click here to check them out - Classic Pop Molds

Freeze for about 6 hours and enjoy whenever you like.
Here are some more fabulously cool treats!
Pneapple Coconut Popsicles
Apple Strawberry Popsicles