You will love these Lemonade Blueberry Popsicles! Homemade lemonade and fresh blueberry juice morph into cold frozen treats with sweet fruity flavors you can't resist.
You Have Got To Have Pink Popsicles!
You know that I am all about easy-to-make fruit pops and I was missing a pink colored one on my blog. Popsicles are so pretty, delicious and easy to make so I had to get on it.
After experimenting a bit in the kitchen, it turns out that combining the right amount of lemonade with blueberry juice gives you that gorgeous pretty light pink color.
I was tempted to add more blueberry juice to see what colors I could get, but it already tasted so good that I thought I'd better leave it alone.
Besides, I already have another stellar purple-colored pop recipe with rich blueberry flavors. They are Apple Blueberry Popsicles and are deep and rich and delicious. There are lots of blueberries in those frozen treats.
This time I wanted the sweet lemon flavors to dominate using a quick homemade lemonade recipe. A lemonade with perfect refreshing and sweet lemony taste with just a hint of blueberry flavor that would make these pops unique.
How to Make Lemonade with Lemon Juice
You can, of course, always use your favorite version of a store-bought organic lemonade. But making your own concoction for this recipe is super easy.
Seriously all you'll need is:
Freshly squeezed lemon juice
Organic granulated sugar (to be sure it's vegan and non GMO)
A cup of hot water for dissolving and then more water for thinning.
That's it!
The complete popsicle recipe is only three ingredients not counting the water. And you really do need sugar for lemonade. I always try to substitute coconut sugar or maple syrup in my recipes when a sweetener is needed.
So I tried the sub with this recipe too and this is what happened -
First I took a picture of the ingredients with the coconut sugar. Just to make a better visual for you.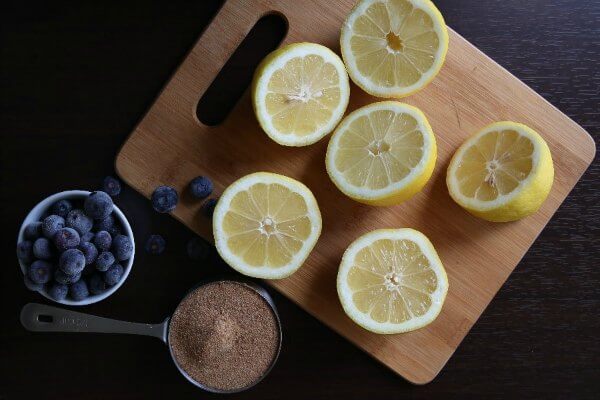 Then I dissolved it in water and the color was pretty darn brown. There went my pink idea but I thought 'let's try it anyway, root beer popsicles are pretty".
So I made the lemonade with coconut sugar syrup and It was Not good! I mean 'really not good' and it wasn't a pretty root beery brown either. It was murky dark brown.
And I couldn't drink it. Moving on!

So now with this recipe, you get the perfect pink lemonade popsicles. Use white organic granulated sugar!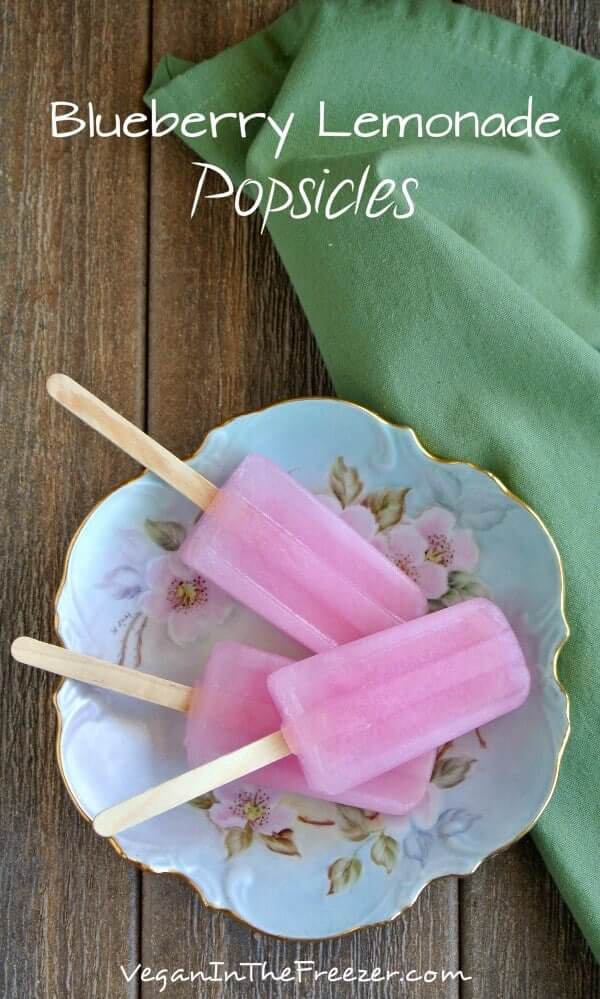 Tips for Blueberry Popsicle Frozen Treats
Squeeze the lemon juice right into a glass measuring cup and that's strictly so that you don't spill any of the precious liquid.
Sugar is easier to get a measurement with a scoop type of measurer.
I use the back of fork tines to smash the blueberries and then push through a sieve. There will be residue in the strainer.
Let the hot sugar syrup cool before making your lemonade.
Pour the popsicle mix into your popsicle molds. I used the Norpro Frozen Ice Pop Maker molds. This recipe measurement does fill up all of the molds for 10 popsicles.
I like to have perfectly straight sticks that stick out enough for an adult to hold so I actually use scotch tape to hold the wooden sticks higher in the molds. The mold only allows the sticks to stick out about 2".
These sweet treats hold their shape really well, and they last a very long time.
They are super kid friendly and I can even remember that from when I was a kid myself. I always went for the pure fruit flavored popsicles. No pieces of fruit just pure fruit juice.
I love to buy the freshest fruit in the summer months and make a lot of frozen treats so we get to enjoy them even during colder days. They are:
Refreshing
Healthy
Super easy to make
Incredibly hydrating
And they look amazing
Now it is time for you to try them out and let me know what you think.
Mix some up and I guarantee everyone will love them and have a smile on their face - all at the same time.
What Do You Think?
If you'd like to leave a star rating along with a comment for these pretty in pink blueberry popsicles, it would really be appreciated.
And if you take a photo of your homemade recipe, follow me over on Instagram and tag me on your photo @vegan_in_the_freezer. You could even use my hashtag #VeganInTheFreezer. I'd love to see it!
📋 Recipe
Blueberry Lemonade Popsicles
Make these Blueberry Lemonade Popsicles and I guarantee everyone will love them and be smiling.
Ingredients
½

cup

lemon juice

- about 3 lemons

½

cup

sugar

- organic

1

cup

hot water to dissolve the sugar

2

cups

cold water

½

cup

blueberries
Instructions
Have the lemon juice ready.

Squeeze all the juice you can out of the blueberries.

There won't be much.

Strain both the lemon juice and the blueberry juice through a strainer for a clear juice.

Heat the cup of water to boil in a small saucepan. Add the sugar and stir to dissolve.

Let cool a bit.

In a large bowl add the lemon and blueberry juice mixture, sugar water and 2 cups cold water.

Let cool before filling your Popsicle molds.

I used the Norpro Icepop Maker mold.

Fill up the mold with the juice.

Freeze at least 6 hours.
Nutrition
Serving:
1
Popsicle
Calories:
45
kcal
Carbohydrates:
11
g
Potassium:
18
mg
Sugar:
11
g
Vitamin C:
5.4
mg