Blueberry Apple Healthy Popsicles are fruity, clean, fresh and cold. Only 2 ingredients and these beautiful deep purple treats are bursting with natural blueberry flavors and perfect to cool you down on hot summer days!



The season is here to enjoy fresh, cool popsicles and I have another great flavor combination for you. You are going to love this fruit popsicle recipe!
They are super easy to make.
The ultimate guilt-free treat.
They're all natural, sugar-free and made with the king of antioxidant foods, blueberries!
I also have to add that the flavors of these two healthy fruits make one incredible tasting pop.
The color is gorgeous and just invites you to take a bite. Kids will have a blast with making a purple popsicle tongue!
It's the easiest way to get your kids to eat more fruit.
By the way, I'm not kidding that there are only two ingredients.
We love healthy homemade popsicles and when the days get hot that always translates to Popsicles!
We're a little late this year in our neck of the woods, but it finally got warmer. There was a lot of rain not too long ago but now it feels dry and warm. I mean it is getting sweltering outside, and I want you to be able to cool off fast.
It only takes 5 minutes to make these healthy treats, and then the freezer takes over.
Healthy Popsicles:
Blueberries
If you are lucky enough to be able to pick blueberries, then get out there and forage.
Blueberry picking season ranges from late April, mid-May through September. If that isn't happening in your area, then there are fresh blueberries being sold everywhere.
They might be at your local Farmer's Market and then there is always your local grocery store.
Look for blueberries that are:
Firm with smooth skin and have that beautiful frosty blue color.
Avoid the ones that are too soft or wrinkled, or even stick at the bottom of the box. It means that they are no longer fresh.
They should have a nice tangy and sweet flavor with a pleasant juicy burst.
Frozen blueberries work wonderfully too. So you always have that option.

Unfiltered Organic Apple Juice
Blueberries pair well with apples. Ever made a blueberry apple crumble or pie? Then you know what I mean!
If you'd like to try a super simple recipe for a half-moon pie then check out this delicious Blueberry Apple Pie.
I almost didn't get this fruit popsicle recipe made the other day because I wanted to drink the concoction right then and there.
But of course, the blog prevailed.
Besides the incredible flavor and the aesthetic appeal of the color popsicles tend to melt slower when you combine a juice with pureed fruit.
You get the best of both worlds, great icy texture with juicy sweet fruit flavors.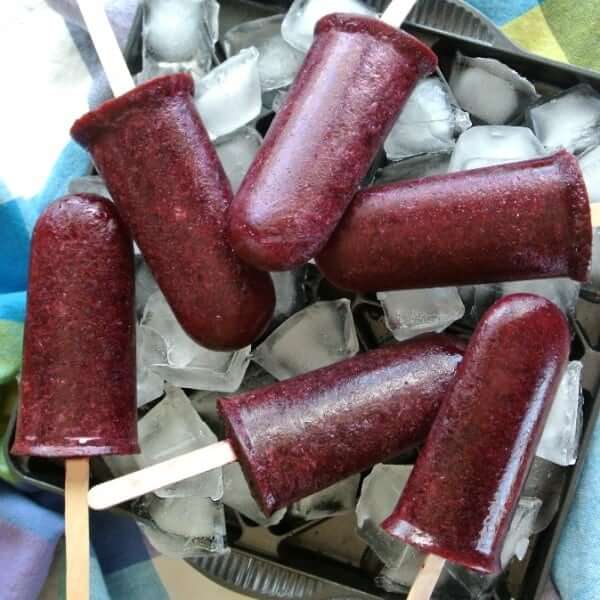 Pop Molds
I have a favorite popsicle mold only because the popsicles can be removed so easily. They've been used many times in our house and they work well for me.
These Zoku Classic Pop Molds are easy to use and super easy to clean. With a quick dip in cold water, the pops slide right out!
Freezing Time
It all depends a little on your freezer and how fast they will freeze solid. At my house, it takes about 6 hours.
If unsure, freeze overnight, and you have guaranteed beautifully set healthy popsicles the next day!
So roll up your sleeves, Nah, you don't even have to do that. Just get out your blender, have fun and enjoy!

This post contains affiliate links. Read my disclosure policy here.
What Do You Think?
If you take a photo of your beautiful and healthy homemade popsicles I would love to see it. Follow me over on Instagram and tag me on your photo @vegan_in_the_freezer.
Your opinion means a lot to me and if you'd like to leave a comment and possibly a star rating I'd love to hear your thoughts.
📋 Recipe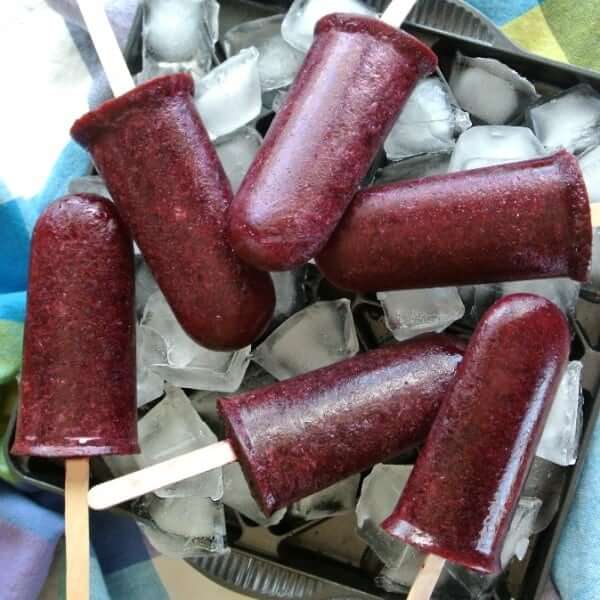 Blueberry Apple Healthy Popsicles
Blueberry Apple Popsicles are fruity, clean, fresh and cold.
Ingredients
2

cups

fresh or frozen blueberries

1 ½

cups

unfiltered organic apple juice
Instructions
Put all of the ingredients into a blender. Blend until completely smooth.

Spoon off any of the air-bubble foam that has floated to the top.

Pour into your popsicle molds and freeze about 6 hours.

The molds that I use are high quality that will last for years. The popsicles slide out so easy too.

To get the popsicles out of the mold I ran cold water on the sides first - just for a few seconds.

Take the frozen popsicles out of the molds and put in a freezer bag.

Replace in the freezer.
Nutrition
Serving:
1
Popsicle
Calories:
56
kcal
Carbohydrates:
14
g
Sodium:
2
mg
Potassium:
100
mg
Fiber:
1
g
Sugar:
10
g
Vitamin A:
25
IU
Vitamin C:
5.4
mg
Calcium:
8
mg
Iron:
0.2
mg