Blueberry Apple Popsicles are fruity, clean, fresh and cold. Only 2 ingredients to take you on your way to a healthy and easy treat.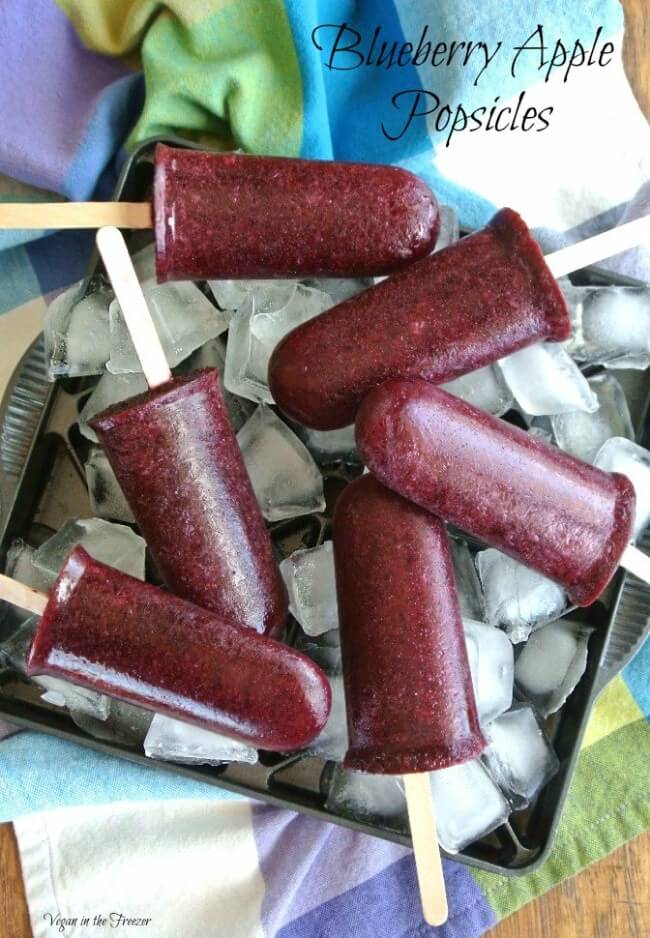 The season is here. A little late this year but it finally got warmer. One day last week we had the most rain, on that day, ever in the history of Phoenix. .003 of an inch is our new record!
In other words it is dry and warm. That translates to Popsicles!
If you are lucky enough to be able pick blueberries then get out there and forage. If that isn't happening in your area then there are fresh blueberries being sold everywhere. Hopefully at a local Farmer's Market but if not then the grocery store is probably right around a couple of corners. Even if it is a little later in the summer – have no fear. Frozen blueberries work wonderfully too.
I'm not kidding that there are only two ingredients. I mean it is getting very hot outside and I want you to be able to cool off fast. The work is done in 5 minutes and then the freezer takes over. It all depends on your freezer how fast they will freeze solid. At my house it takes about 6 hours. I almost didn't get these Blueberry Apple Popsicles made the other day because I wanted to drink the concoction right then and there. The blog prevailed.
So roll up your sleeves, nah, you don't even have to do that. Just get out your blender, have fun and enjoy!
Print
Blueberry Apple Popsicles
Blueberry Apple Popsicles are fruity, clean, fresh and cold.
Ingredients
2

cups

fresh or frozen blueberries

1 1/2

cups

unfiltered organic apple juice
Instructions
Put all of the ingredients into a blender. Blend until completely smooth.

Spoon off any of the air-bubble foam that has floated to the top.

Pour into you popsicle molds and freeze at least 6 hours.

The molds that I use are high quality that will last for years. The popsicles slide out so easy too.

Here is that clickable link if you want to check them out - Classic Pop Molds. I have used them many times and they work really well.

To get the popsicles out of the mold I ran cold water on the sides first - just for a few seconds.

Take the frozen popsicles out of the molds and put in a freezer bag.

Replace in the freezer.
Nutrition
Nutrition Facts
Blueberry Apple Popsicles
Amount Per Serving (1 Popsicle)
Calories 56
% Daily Value*
Sodium 2mg 0%
Potassium 100mg 3%
Total Carbohydrates 14g 5%
* Percent Daily Values are based on a 2000 calorie diet.
I am trying to make this recipe longer but I can't. It is just that easy. You could also not freeze these popsicles and drink it straight as a smoothie. It is pretty irresistible.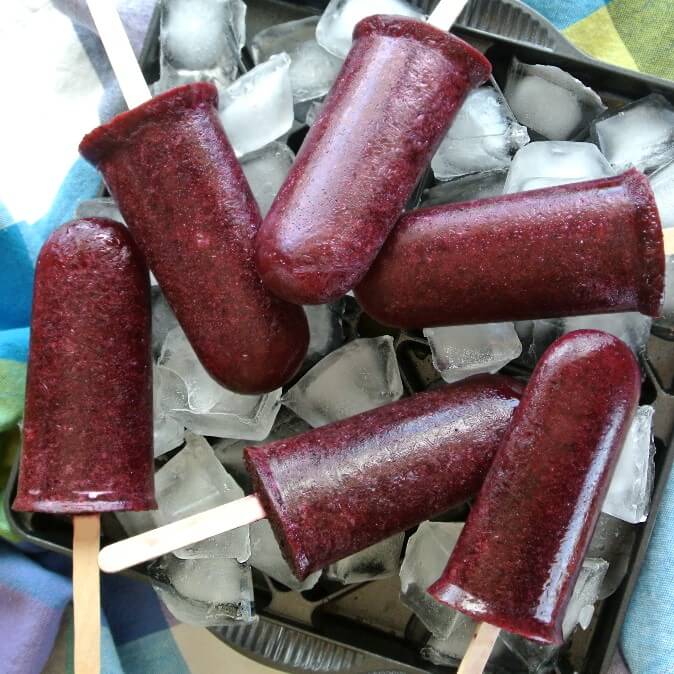 Here are some more fabulously cool treats!
Pneapple Coconut Popsicles