Make a Blueberry Apple Pie the easy way. When you don't have much time and you don't want to bake a big pie, go ahead and make one (or two) of these simple fold-over half moon pies. Serve as a great dessert too!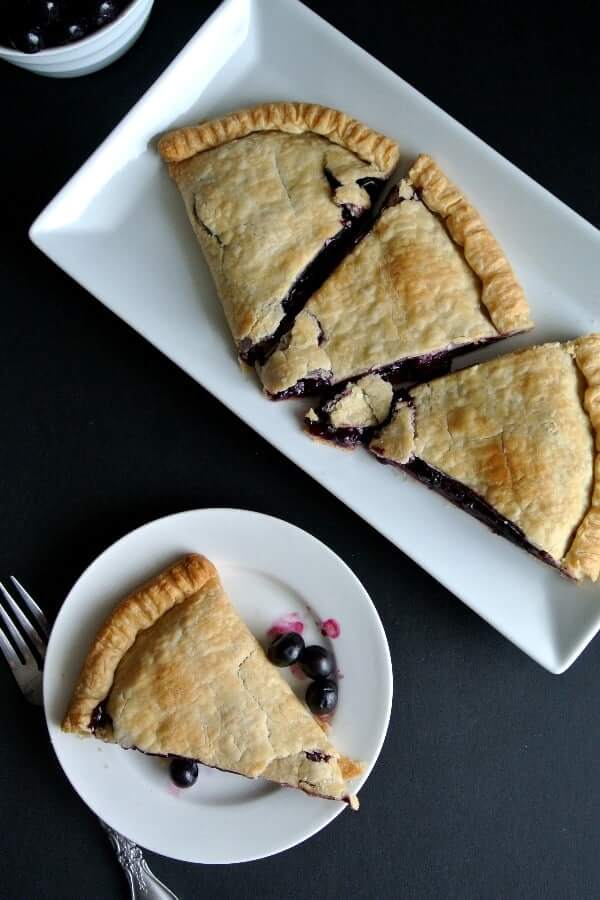 Today is National Blueberry Pie Day! No kidding, April 28th!
I didn't know this until 2 days ago when I was making sure this post was going to be ready for you all this weekend. What a lucky surprise!
This easy pie is actually an apple and blueberry pie but the blueberries are absolutely dominant. And ... the recipe makes two half-moon pies.
Sometimes that craving hits where you would like something sweet. Something fruity and sweet.
How about this simple apple and blueberry pie that can be yours!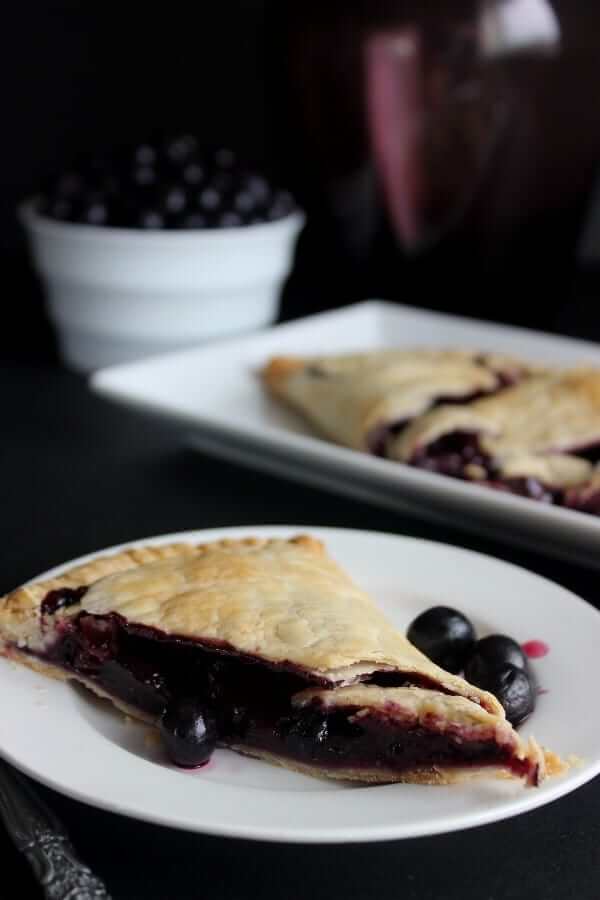 A premade crust is the base and top of the pie and all you have to do is fold the dough over a lovely pile of cooked blueberries and apples.
I always have frozen blueberries in my freezer because they add so much with such little effort. Especially when a few are sprinkled on cereal.
The recipe for this Blueberry Protein Shake is one of my favorites too and will keep you going, literally, for hours.
And, don't forget these Blueberry Apple Popsicles. Eat one a day to keep the doctor away.
You may already have the blueberries and maybe even some apples.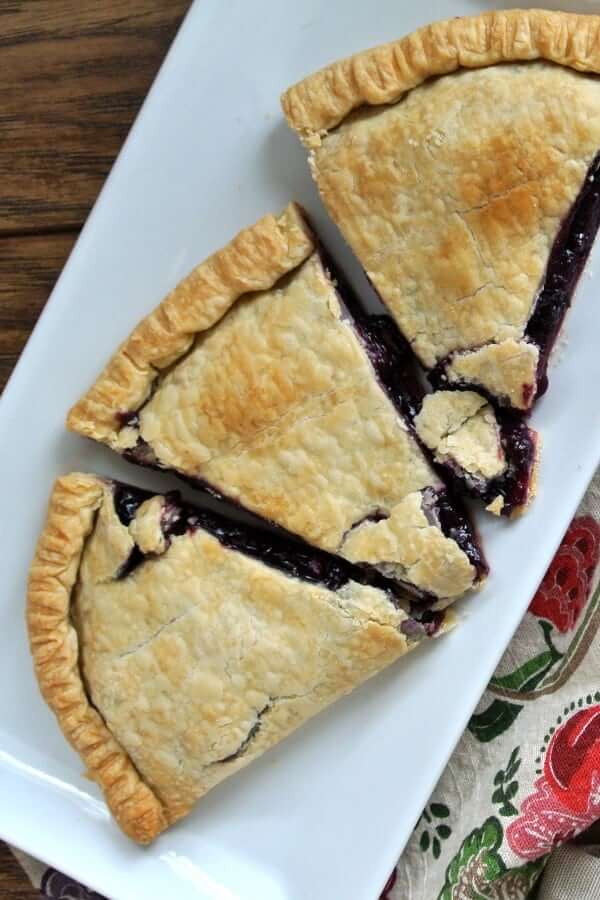 Fun Facts About Blueberries!
Bears love them!
Blueberries Are Low in Calories but high in nutrients.
They're native to North America.
They are a great natural food dye.
Highbush blueberries are the most commonly cultivated variety.
Lowbush blueberries are wild and grow all over the place in Maine and New Jersey (8 other states are blessed too).
Blueberries freeze in under 5 minutes.
Nobody likes free radicals and blueberries fight them by directly increasing antioxidant levels in your body, majorly.
Native Americans called them 'star berries' because the top blossoms are in a little star shape.
They are truly blue. Not a common food color at all.
2 ounces a day of Blueberry juice may lower your blood pressure, and improve your memory and slow down mental aging.
Now combine those lovely wonderful blueberries with an apple and a few other ingredients and you will quickly have a delicious half moon blueberry apple pie to enjoy.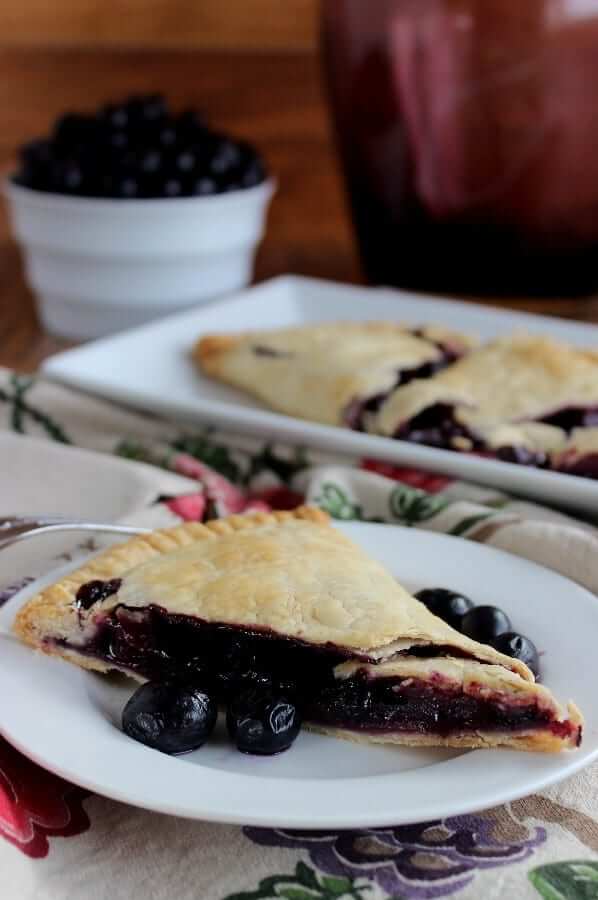 Helpful Tools for a Blueberry Apple Pie!
Chef's Tips
The measurement of coconut sugar to fruit is the right sweetness so if you add a little more fruit add a little more sugar.
You can absolutely use fresh blueberries if that is what you have on hand. Since they're seasonal, frozen blueberries are perfect year round.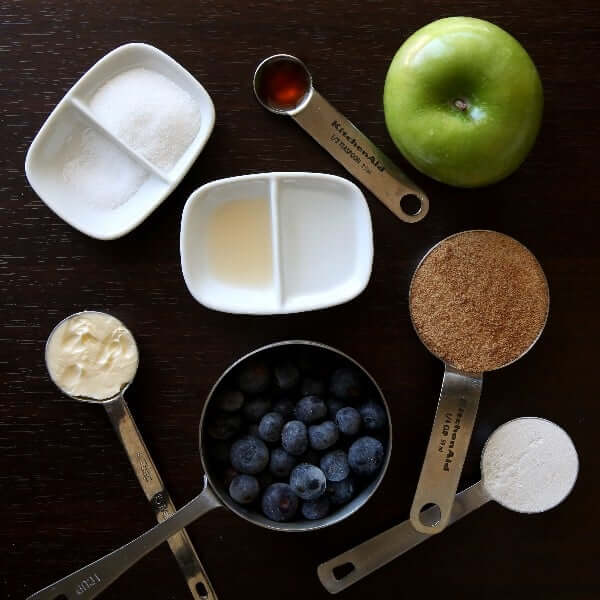 Slice the apple thinly so it gets nice and limp in the filling when cooked.
It's best to fold over the edge of the crust after you fold it over the filling and then crimp it with a fork. That really helps the filling from bursting out in baking.
I used two pie crusts that were rolled and in a circular carton for the photos of the finished product. The fold over was neater with that kind.
In the photo above I used pie crusts that were in the pie tins and you can see the imprint of the edge a bit. The fold over for these pies were a little more rustic when finished but still pretty.
This is a very healthy pie. The sugar is unrefined and if you want to make it completely healthy then you can make your own crust.
Other than that this vegan apple and blueberry pie is a complete thumbs up in the health department.
📋 Recipe
Blueberry Apple Pie
Make a Blueberry Apple Pie for dessert the easy way. When you don't have much time and you don't want to bake a big pie, go ahead and make these simple fold-over pies.
Ingredients
1

cup

about 1 Granny Smith apple, cored and thinly sliced

¼

cup

coconut sugar

2

tablespoons

water, divided

1

teaspoon

fresh lemon juice

1

package 2 crusts

prepared pie crusts - 2 to one package

1

tablespoon

all-purpose flour

1

tablespoon

granulated sugar, organic

¼

teaspoon

salt

1

tablespoon

dairy free butter

½

teaspoon

vanilla extract

1

cup

blueberries, frozen or fresh
Instructions
Preheat the oven to 375°F. You will need two baking sheets.

In a medium-size saucepan, combine the apple, coconut

sugar, 1 tablespoon of the water, and the lemon juice.

Cook over medium heat until bubbly. Cover, lower the heat

to low, and cook for 6 to 8 minutes, stirring every couple of

minutes to make sure the mixture is not sticking.

Take the pie crusts out of their pouch or pans and lay one on each baking

sheet. Let them come to room temperature so that you

can unfold them more easily without the dough tearing.

In a small bowl, mix the flour, granulated sugar, and salt. Stir

into the bubbling apple mixture until the mixture thickens.

This will take about a minute.

Remove from the heat and

stir in the butter and vanilla.

Add the frozen blueberries and

fold into the hot mixture. Let cool for about 10 minutes. The

mixture will become a blueberry color.

Unfold one of the piecrusts on the baking sheet. Set the

other aside on the second baking sheet.

Spoon half of

the cooled fruit filling onto the center of the open

crust.

Carefully fold over the piecrust to meet the other

edge so that you have a half-moon shape.

Press the edge together, roll the edge by over one turn all around

the open edge, and then press the rolled edge with fork

tines for an even better seal.

Cut a few small slits on the

top of the piecrust. Repeat this process with the other

pie crust and remaining filling, on the other baking sheet.

Bake for 25 to 35 minutes, until the crust is golden

brown. Switch the positions of the baking sheets about

15 minutes into baking.

Remove from the oven when

golden brown and let cool on the baking sheets.

Use a metal spatula to loosen the pies from the baking sheets and cut each half-moon pie into fourths.
Notes
Storing in the refrigerator:
Will keep covered in the refrigerator for up to 4 days.
Freezing:
Freeze in airtight containers for up to 3 months. Let defrost in the refrigerator overnight and they are ready to serve.
Nutrition
Calories:
251
kcal
Carbohydrates:
32
g
Protein:
2
g
Fat:
12
g
Saturated Fat:
3
g
Sodium:
268
mg
Potassium:
72
mg
Fiber:
1
g
Sugar:
8
g
Vitamin A:
20
IU
Vitamin C:
2.7
mg
Calcium:
8
mg
Iron:
1.2
mg