Blueberry protein shakes taste amazing and are super fast to make. With minimal ingredients, they are the perfect pre or post-workout drink to give you energy and strength.
Why You'll Love This Blueberry Protein Shake Recipe?
Delicious- The sweet, juicy flavor of blueberries combined with creamy yogurt creates a satisfying and refreshing drink that is perfect for any time of day.
Easy To Make- This blueberry protein shake is perfect for busy people. It only requires 5 ingredients and a few minutes to make.
Great On The Go- Protein shakes are portable and can be taken with you wherever you go, so you can enjoy them on the way to work, while traveling, or during a busy day.
Equipment
Sharp Knife
Cutting Board
High-Speed Blender
Serving Glass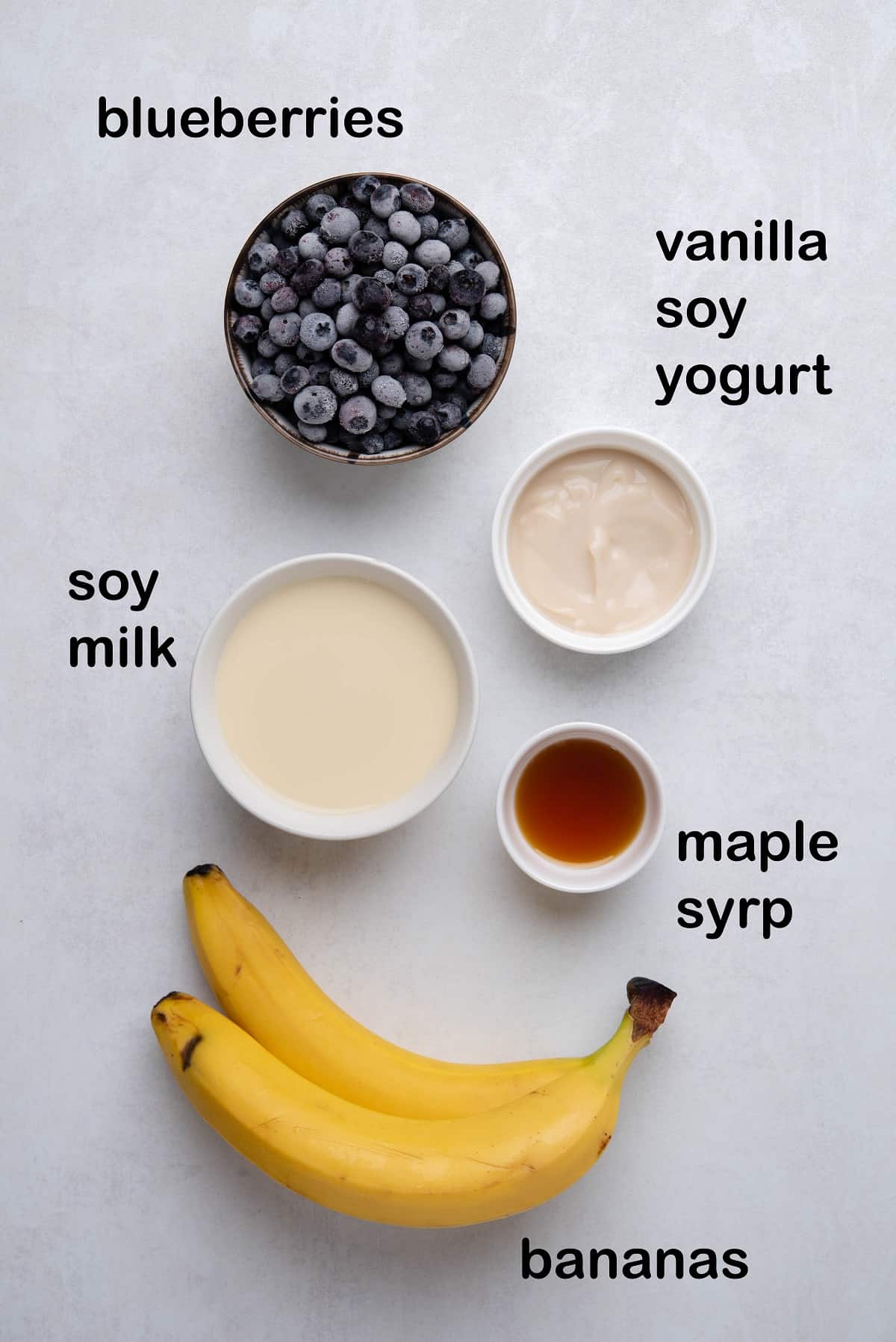 Ingredients
Bananas- Adds a natural sweetness and creamy texture.
Frozen or Fresh Blueberries- Gives the shake a sweet and fruity flavor.
Vanilla Soy Yogurt- Gives the blueberry protein shake density and texture. Use vegan plain Greek yogurt mixed with a tsp of vanilla extract to make your vanilla yogurt.
Maple Syrup- Provides more sweetness.
Unsweetened Soy Milk- Enhances the creaminess of the protein shake.
How To Make A Blueberry Protein Shake
Peel and slice the ripe banana.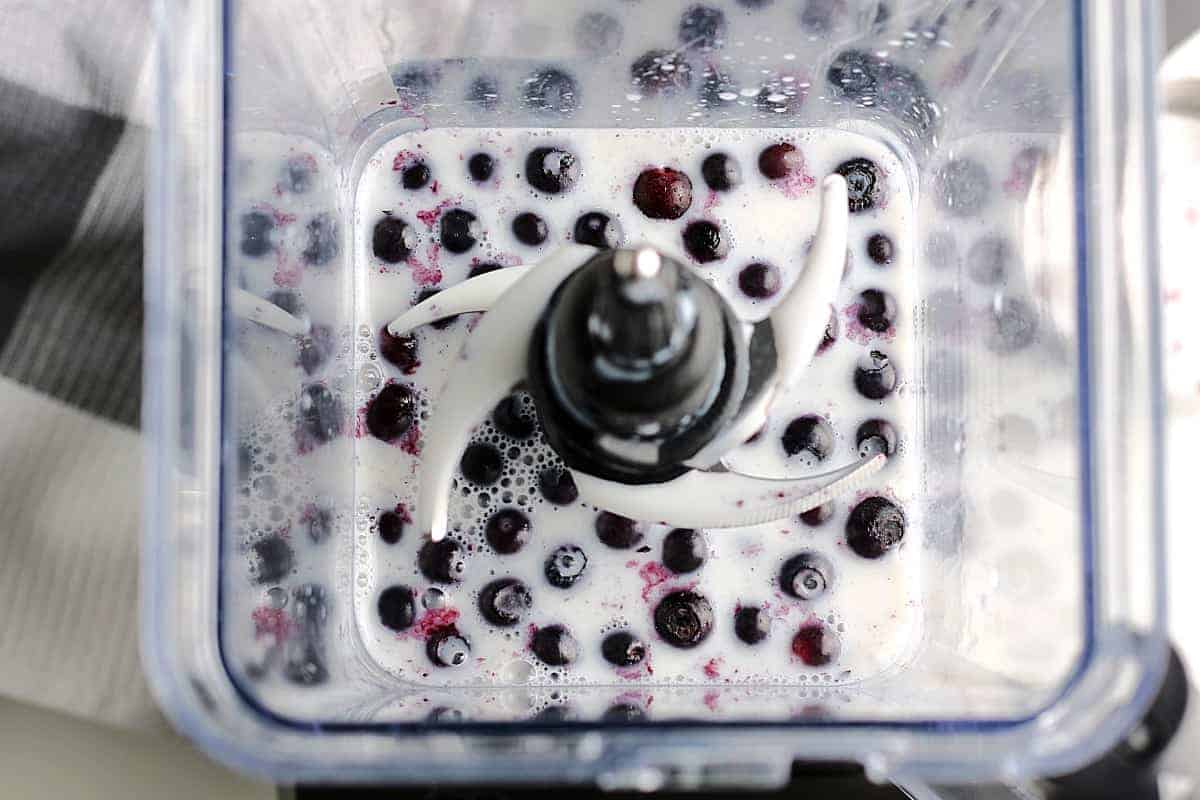 Add the bananas to a high-speed blender with the blueberries, yogurt, maple syrup, and soy milk.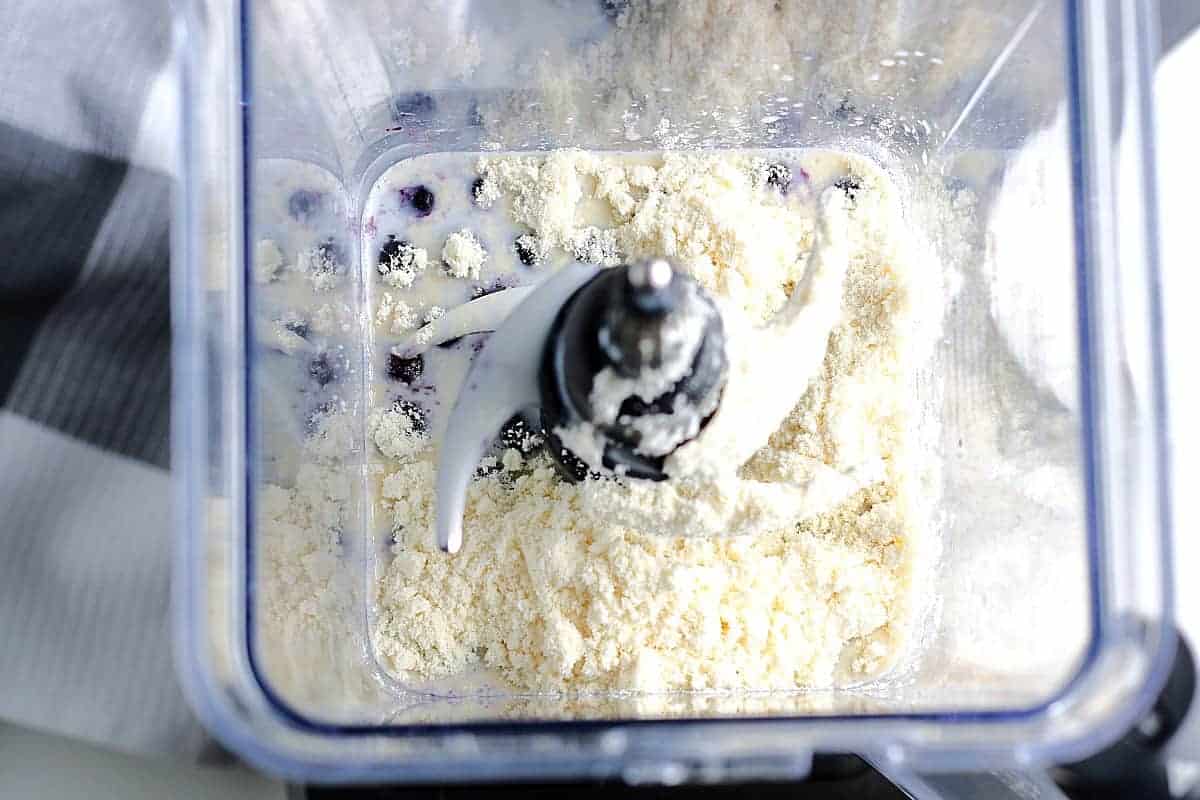 Pulse until the mixture is thoroughly combined and the desired consistency is reached.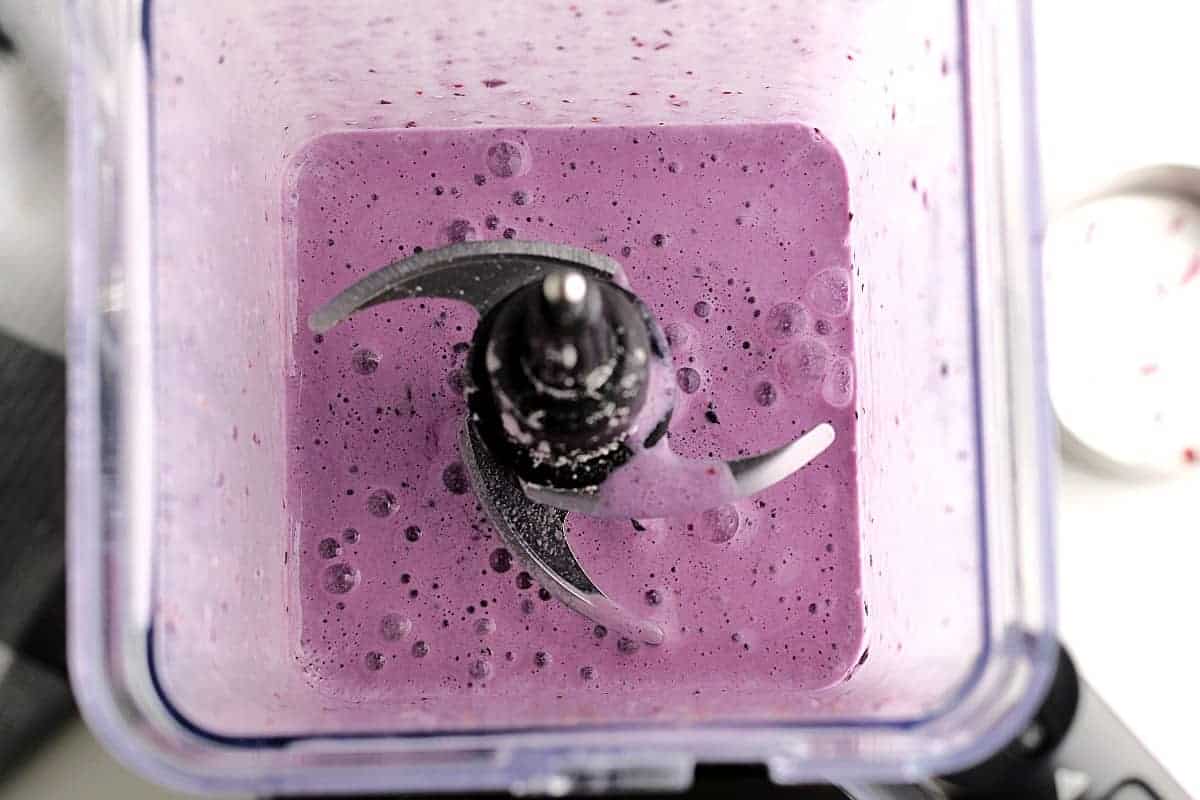 Serve immediately and enjoy!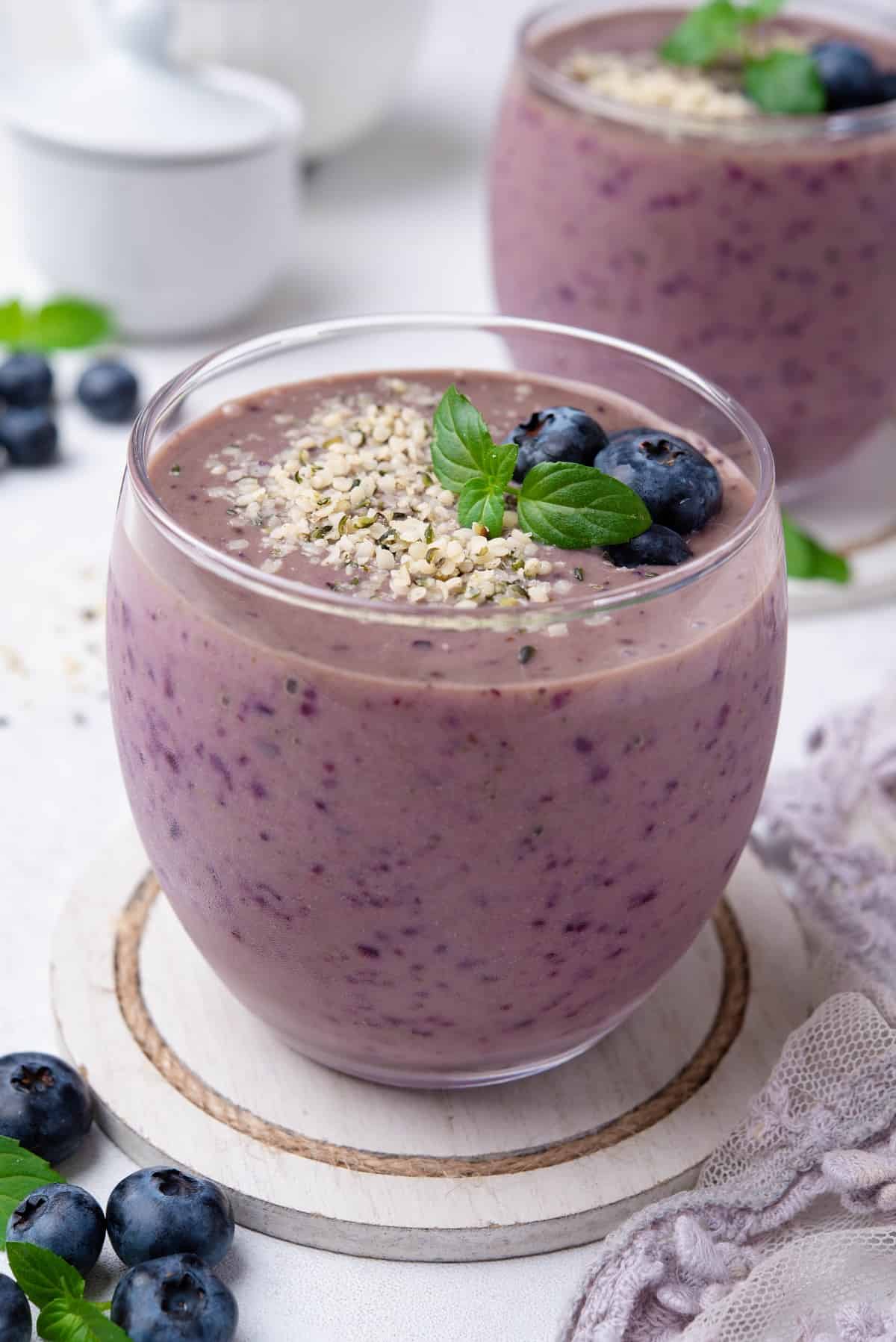 Popular Substitutions And Additions
Add other berries, such as strawberries, blackberries, or raspberries.
Incorporate chia seeds, flax seeds, cocoa powder, or nut butter into the protein shake.
Use unsweetened almond milk, coconut milk, cashew milk, or oat milk instead of soy milk.
Add ice cubes to the blender to create a thicker, colder shake.
To increase the protein content of your blueberry shake, consider including a scoop of vanilla protein powder.
Can I Freeze Blueberry Protein Shakes?
Yes, you can freeze blueberry protein shakes. However, it's important to note that the texture may change once it's thawed. I recommend drinking it immediately after blending to maintain the best texture for your blueberry protein shake.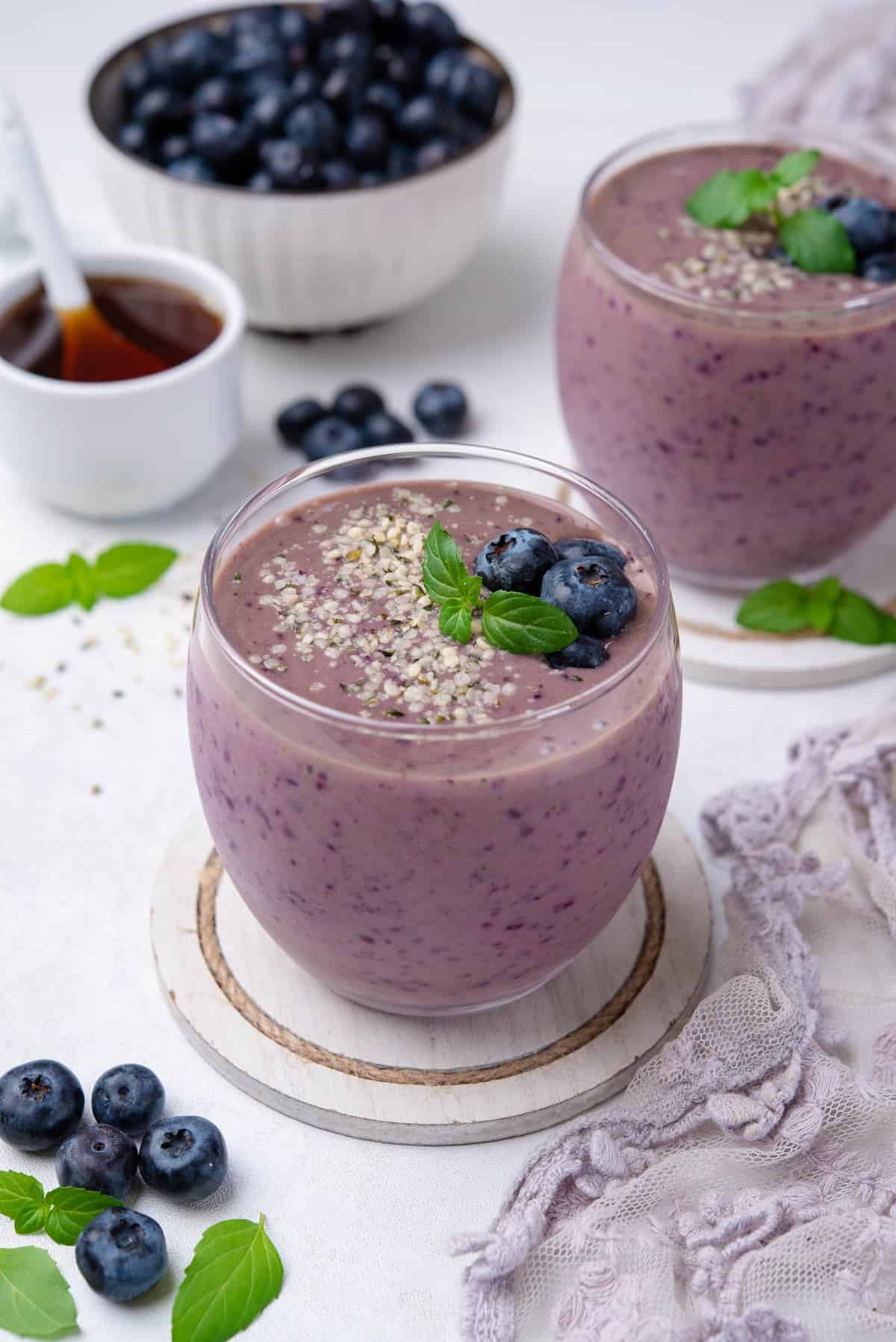 Blueberry Protein Shake FAQs
Can frozen blueberries be used?
Yes! The vegan shake will automatically be chilled and thicker with frozen blueberries or a frozen banana. There's a good chance it will be deeper in color, too.
Is this shake sweet?
The combination of the bananas with the blueberries and a hint of maple syrup gives it the perfect level of sweetness. But if it isn't sweet enough for you, add more maple syrup and blend again.
Can I use ice cubes in this shake?
Yes, but I would blend them with the other ingredients. You can add a few ice cubes while blending if you'd like it cold. This is a great option when blueberries are in season.
What is the best vegan protein powder?
There are a lot of excellent options! I like using a powder with cleaner ingredients, but it still tastes great. I love this Vega Vanilla Protein Powder.
More Recipes For Vegan Shakes And Smoothies
📋 Recipe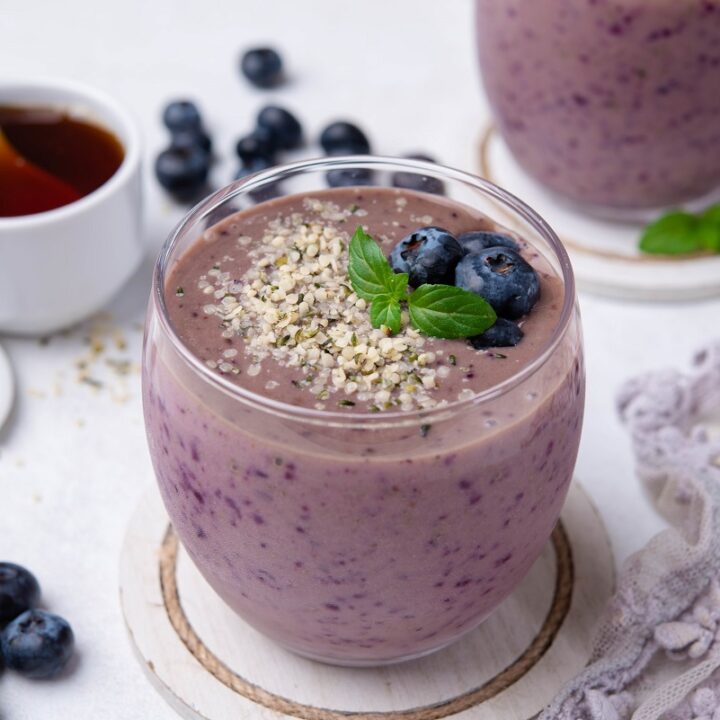 Blueberry Protein Shake
A blueberry protein shake tastes great and is super easy to make. Blend together 5 ingredients for a pre or post-workout refresher to keep you going all day!
Ingredients
2

ripe bananas

1 ½

cups

frozen blueberries

⅓

cup

vanilla soy yogurt

(Silk Dary Free Vanilla Soy Yogurt Alternative)

2

tbsp

maple syrup

(oragave nectar)

¾

cup

unsweetened soy milk

(Vitasoy Soy Milk Protein Plus)
Instructions
Peel and slice the bananas.

Add to a blender along with the remaining ingredients.

Pulse until fully combined.