Blueberry Protein Shake tastes great and is uber-fast. Blend 3 ingredients to enjoy a protein shake before or after workout to get you fortified with vim and vigor!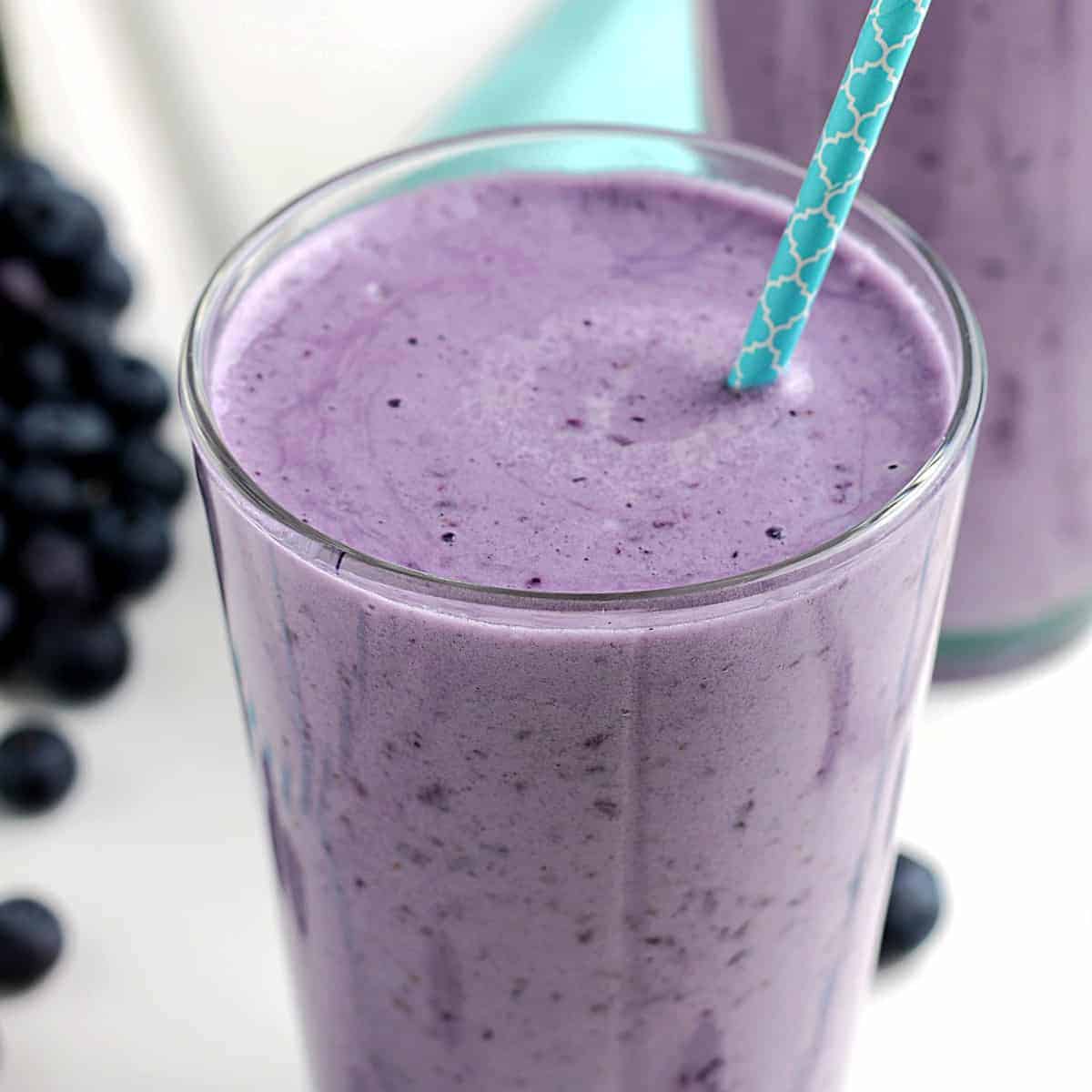 This Blueberry Protein Shake is so simple and it tastes absolutely delicious. It's perfect for pre or post-workout or even for a quick and easy healthy breakfast on the go.
I think exercising is fun! That's right. It takes some willpower to pull yourself away from what you are doing but once you make that move you are on a very good path. What a great feeling.
No matter how busy the day gets there are two things that I just can't miss. A short treadmill walk (or a walk outside if I can get it together) of just 20 to 30 minutes and then there is under 10 minutes worth of yoga power poses.
The cool thing about the power poses are that they can actually be tucked in here and there throughout the day. Think I'll sit up straight for a couple of minutes and do one right now. Done.
Jump to:
Then there is the all-important pre-workout snack. My favorite is this Dairy Free Blueberry Protein Shake. It is light and filling and so packed full of protein that it keeps me going for a very long time. And it will you too.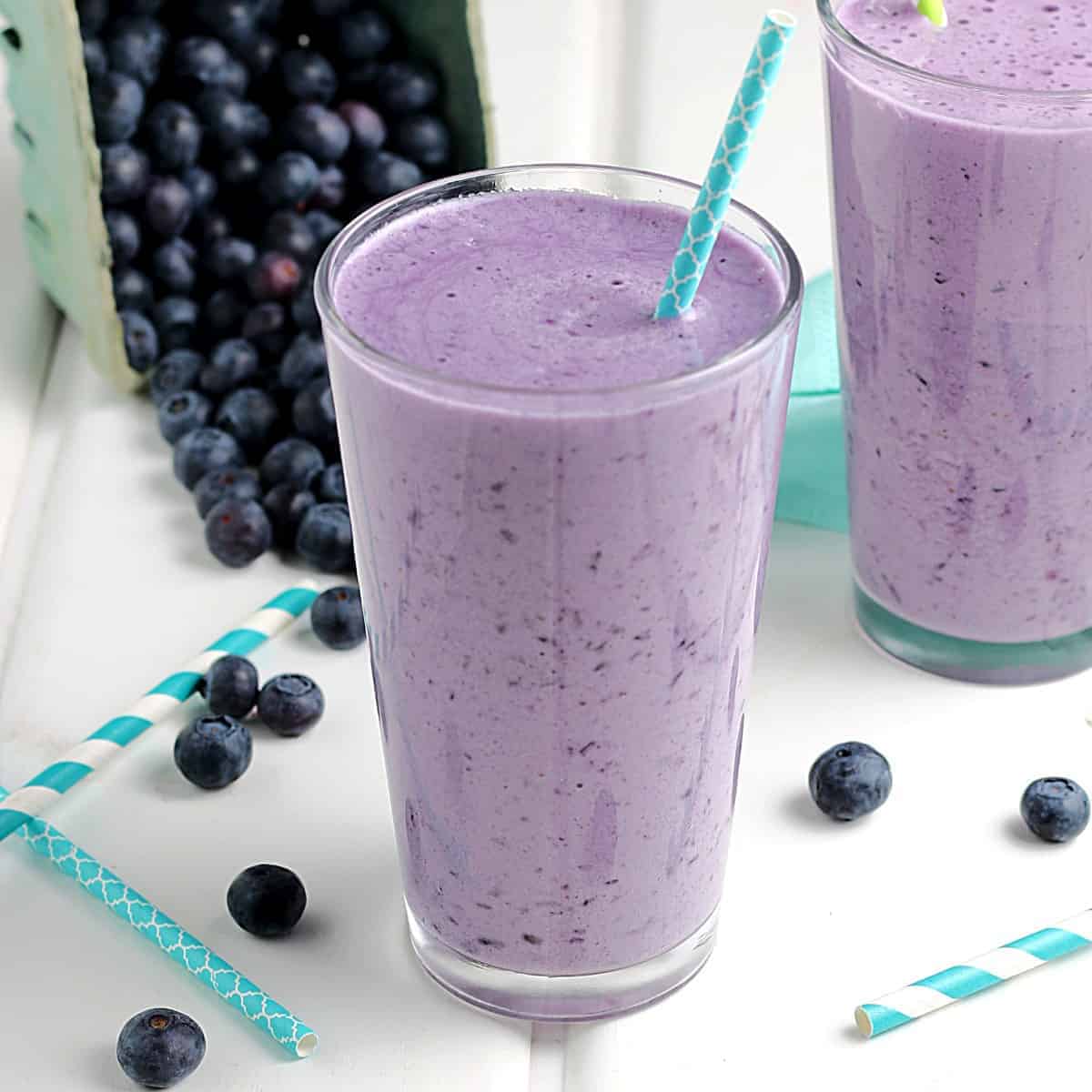 3 Ingredients
Dairy-Free Milk - use your favorite dairy-free milk such as soy milk, almond milk, cashew milk, or oat milk. I like to use vanilla flavored dairy-free milk for the added sweetness, but you can use unsweetened as well. If the smoothie isn't sweet enough, just add a tablespoon of maple syrup to sweeten it up.
Fresh or Frozen Blueberries - Blueberries are not only a fantastic source of protein and antioxidants but also dietary fiber.
Vanilla Protein Powder is an easy way to get a boost which is so important for a protein shake before or after workout. I like to use vanilla for the added sweetness and flavor in my shake.
Instructions
Add the dairy-free milk, blueberries, and powder to a blender. In that order. Blend until smooth. If you prefer a thicker shake colder shake, you can add a couple of ice cubes.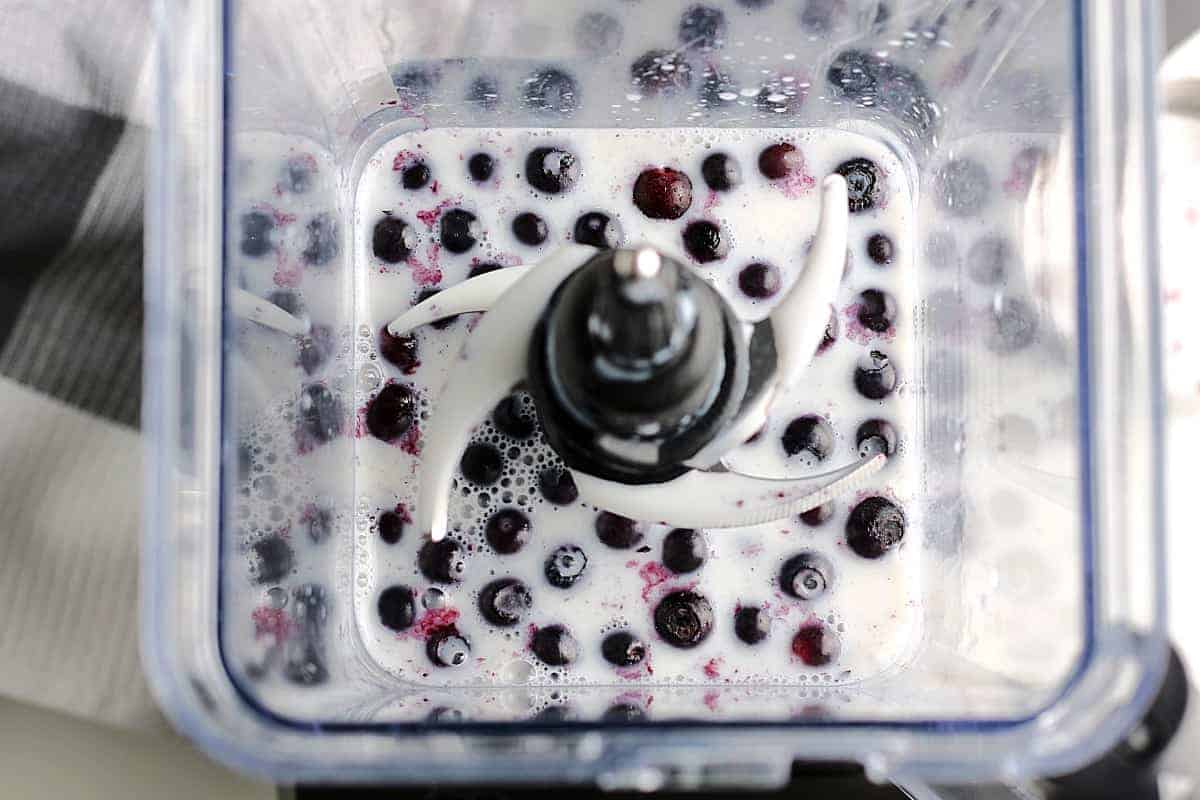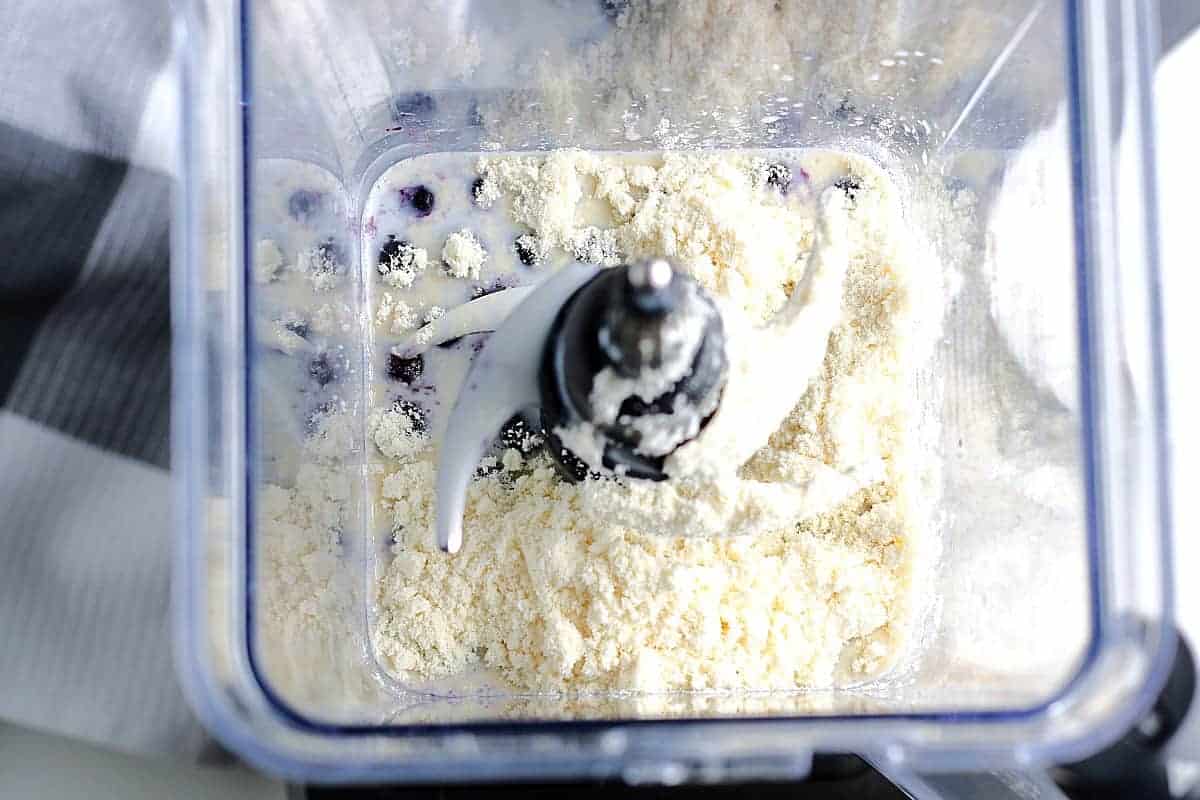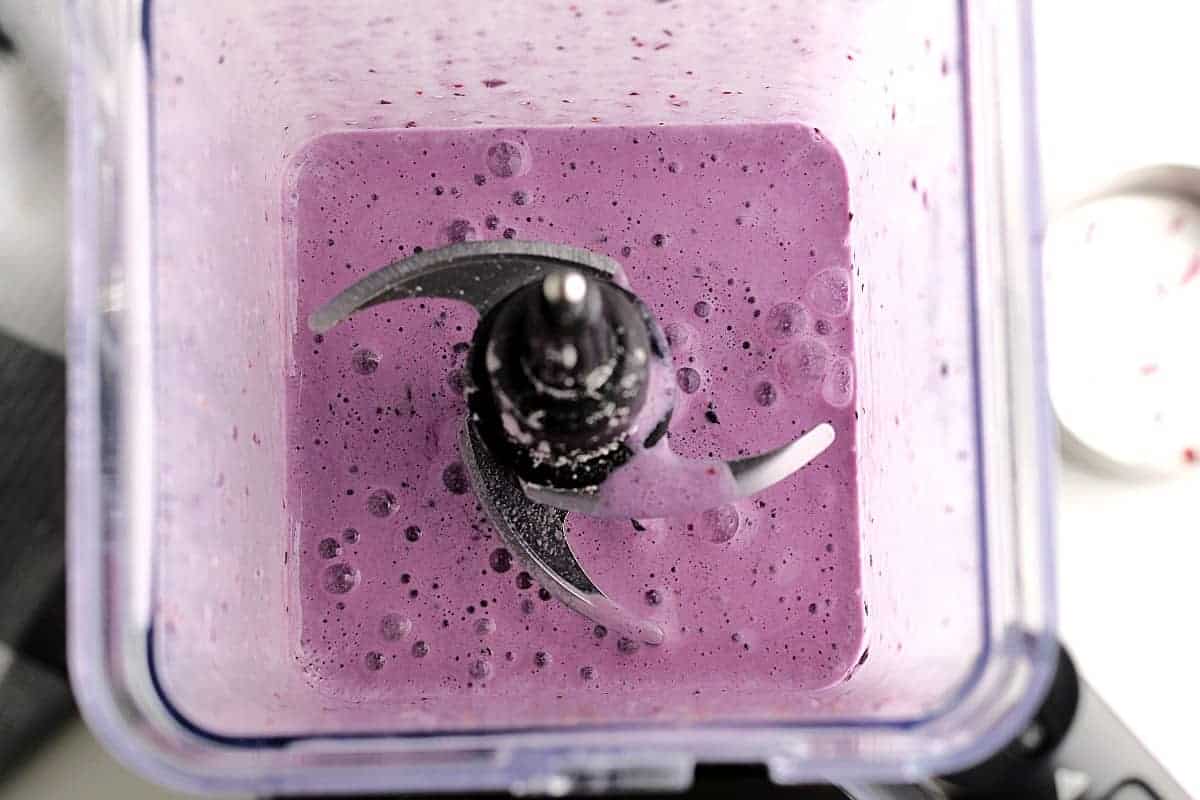 What is vegan protein powder made out of
It can be made of a variety of plant-based ingredients. The most common plant-based ones are soy, rice, hemp, and pea.
Compared to whey, vegan protein powder can be easier on your digestive system.
Protein is such an important part of a healthy diet, even more so when trying to build muscle. Vegans, and especially those new to following a vegan diet, are often concerned about getting enough.
Although it is actually quite easy to get enough daily protein in your diet, having a good vegan powder in your pantry is a great way to get an extra boost.
What are the common protein sources in vegan protein powder
Pea Protein is made from yellow split peas. It is rich in BCAAs and research suggests that it's just as effective as whey in terms of building muscle.
Hemp Protein is loaded with fiber, iron, zinc, and magnesium.
Soy Protein - Soy is a complete protein which isn't the case for many plant-based sources. It is also rich in BCAAs to support muscle growth. It can also help lower cholesterol.
Brown Rice Protein - On its own, brown rice is rich in BCAAs and is also known to be as effective as whey.
What is the best dairy-free milk to use
There are many non dairy milk alternatives out there - here are some of the most popular options!
Soy Milk - Soy milk has a level of protein (7-9 grams per cup) that is close to cow's milk and it is one of the few milk alternatives that is a 'complete' protein with all the essential amino acids.
Almond Milk- Almond milk has a slightly sweet and nutty flavor. It has lower protein amounts but it is also one of the lowest calorie dairy-free milk options. It's also a natural source of Vitamin E.
Oat Milk - Oat milk has about half the protein as cow's milk but is high in fiber and beta-glucan (a type of soluble fiber). Beta-glucan can help reduce cholesterol levels.
Cashew Milk - Like almond milk, cashew milk is lower in protein than soy or oat, but it is lower in calories. It is also low in carbs and sugar, so it's a great option for those monitoring their carbs.
FAQ's
Can frozen blueberries be used?
Yes! The vegan shake will automatically be chilled and thicker with frozen blueberries. There's a good chance it will be deeper in color too.
Is this shake sweet?
I find that the combination of the vanilla protein powder with the blueberries gives it the perfect level of sweetness. But if it isn't sweet enough for you, you can add a little maple syrup and blend again.
Can I use ice cubes in this shake?
Yes, but I would blend them with the other ingredients. You can add a few ice cubes while blending if you'd like it cold. This is a great option when blueberries are in season.
What is the best vegan protein powder?
There are a lot of really good options! I like to use a powder that has cleaner ingredients but still tastes great. I love this Vega Vanilla Protein Powder.
Great Vegan Shakes or Smoothies
📋 Recipe
Blueberry Protein Shake
Blueberry Protein Shake tastes great and is uber fast. Blend 3 ingredients and done!
Ingredients
1

cup

Dairy free milk

1

cup

frozen blueberries

- or fresh

1

scoop of your favorite vanilla protein powder
Instructions
Add the dairy-free milk, blueberries and protein powder in a blender. In that order.

Blend until smooth. Just a minute.

Drink up the delicious protein!
Nutrition
Serving:
1
Serving
Calories:
188
kcal
Carbohydrates:
29
g
Protein:
8
g
Fat:
4
g
Cholesterol:
2
mg
Sodium:
123
mg
Potassium:
414
mg
Fiber:
4
g
Sugar:
20
g
Vitamin A:
585
IU
Vitamin C:
14.4
mg
Calcium:
300
mg
Iron:
1.5
mg