Our Patriotic Passion Cocktail will get you in the spirit! Cool refreshing flavors with stars and raspberries. Mix it by the glass or pitcher.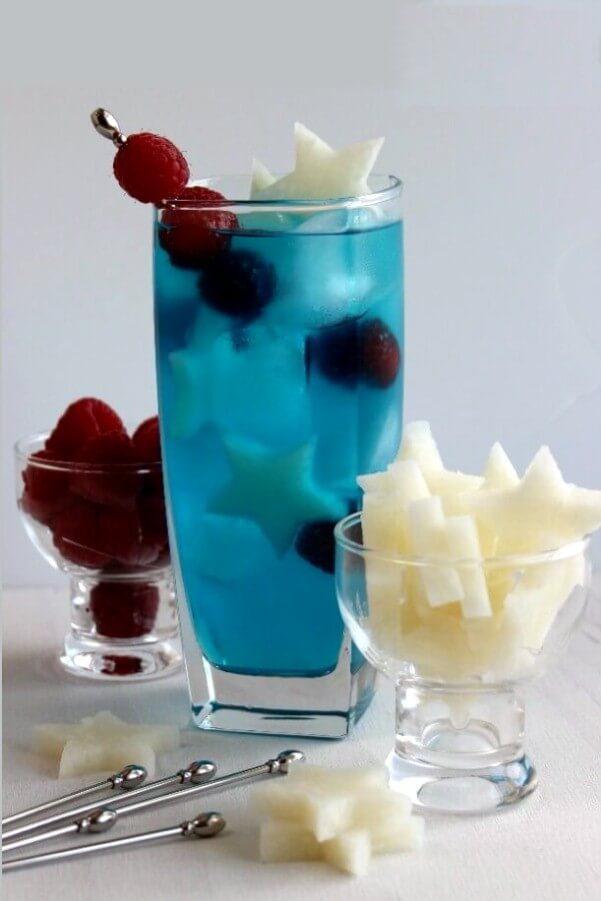 Do you like to create cocktail recipes? It seems like a lot of fun to me especially when the concoction is being made for a special holiday.
First comes the color scheme. Red, white and blue is challenging but to me that also adds to the fun.
Blue Curacao is always in my cupboard but mostly because I am never sure what to do with it. So it is always there. The color is just so pretty. Finally, I get to use it!
Now comes red. Red is an easy one. Whether it is juice or fruit you can easily figure in red somewhere. Since raspberries are a favorite it's a go.
Have you had jicama? You must, must, must try it if you haven't.
What is Jicama!
It is a root vegetable but it also seems like a fruit.
Slightly sweet and sort of crispy and juicy like an apple.
Truly, it is one of my favorites and I often use it, as spears, to dunk in dips. You can lay it on a platter with other dippers or stand it up in a glass with a little water as you can carrots.
Well, this time I have another chance to use it and in a very special way. I jumped at the challenge.
Are you tempted yet? I mean to use jicama for more than for this cocktail? I mean when you finally try it you are going to be so happy. It's a unique and refreshing vegetable.
How Can I Prepare Jicama Especially for Shapes?
After you peel jicama you have a large white round shape.
Slice it in thin slices (about 1/4″ thick or so) and this leaves you with slabs.
Now it is the perfect medium to use with cookie cutters.
Choose and cookie cutter you like and press straight down. It is a little firmer than an apple but cuts easily.
Do you see what I've done for this recipe? Check out the cute little jicama stars.
They are crispy cool and they turned out to be a great pairing with this refreshing Patriotic Passion Cocktail.
A couple more ingredients and you have quite a tasty drink. Does that look festive or what!
Don't forget to have some pretty little star cookies as a treat for everyone also. Stars Shortbread Cookies melt in your mouth!
I gotta show you! You can buy vegan food sprinkles in some grocery stores and they are also on amazon.
I sprinkled them for a very showy impact but you can go lighter if you so choose. They taste wonderful one way or the other.
Blue Curacao is a citrus based liqueur such as Triple Sec and Vodka is, well, vodka. Apple and lime juices add even more flavor to this delicious libation.
Everything tastes fruit and light and Patriotic passion is a pleasure to sip on. Check out how easy it is and you can even make a pitcher.
In fact, before you scroll down to the recipe card for one tall drink here are the ingredients for a pitcher to serve four.
What are the Measurements for a Pitcher of Patriotic Passion Cocktails?
1 1/4 cup vodka
1/4 cup Blue Curacao
10 ounces unfliltered apple juice
6 ounces lime juice
A few raspberries and some jicama stars
Print
Patriotic Passion Cocktail
Our Patriotic Passion Cocktail will get you in the spirit!
Ingredients
3

ounce

vodka

1

ounce

Blue Curacao

2 1/2

ounce

unfiltered apple juice

1 1/2

ounce

lime juice

1

ounce

jicama

buy the whole jicima, 1 ounce is for the nutrition label

2

tablespoons

raspberries

buy the small box of raspberries, 2 tablespoons is for the nutrition label
Instructions
Let's prepare the jicama first.

Cut a jicama in half and save the other half in the fridge.

Lay the cut side down on a cutting board.

Use a chef's knife to cut down at an angle to cut the skin off. You will take a bit of the jicama with it but that can't be helped. Now you have a skinned jicama.

Keep the jicama with the cut side down and make slices that are about 1/4" thick. See the photo for an idea of the thickness.

Now push straight down with a small star cookie cutter.

Put all of the jicama stars and pieces in a container such as a measuring cup and cover them with water. They will keep days in the fridge like this.

Now for our cocktail.

Mix the vodka, Blue Curacao, apple juice, lime juice together.

It's potent!

Fill a tall glass with ice and intersperse with a few raspberries and jicama stars.

Pour the cocktail mix over the ice and serve with raspberries on a toothpick and a star on the rim.
Nutrition
Nutrition Facts
Patriotic Passion Cocktail
Amount Per Serving (1 Drink)
Calories 265
% Daily Value*
Sodium 5mg 0%
Potassium 208mg 6%
Total Carbohydrates 17g 6%
* Percent Daily Values are based on a 2000 calorie diet.
This post contains affiliate links. Read my disclosure policy here.