Do you want to show off your patriotic pride at your next summer barbecue? Why not do it with a refreshing drink? Nothing says America more than the colors of our nation's flag made into a summer cocktail. Whether you are hosting a 4th of July party, Memorial Day party, or just an ordinary summer day, you can make it special by crafting up a bright red, white, and blue cocktail in honor of our country.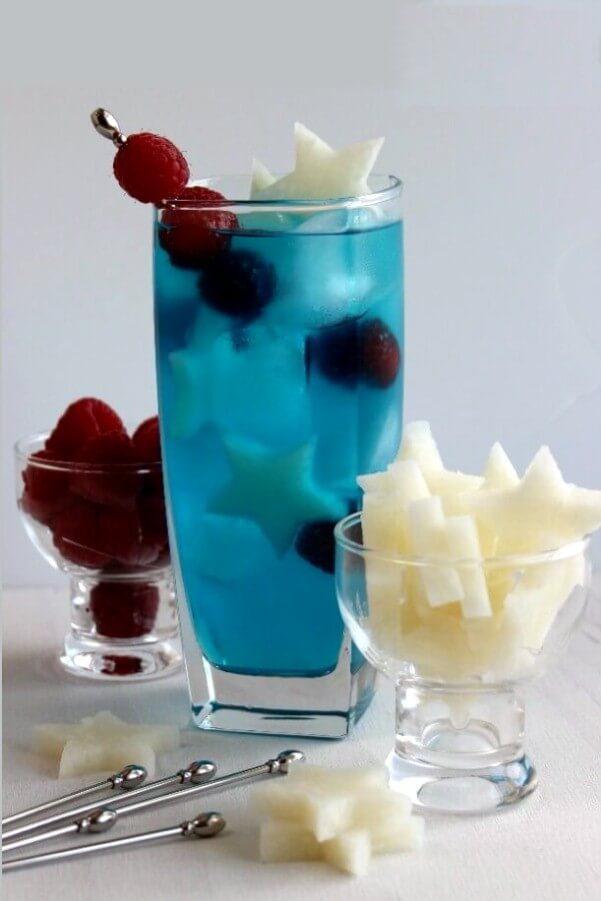 Why You'll Love This Red, White, And Blue American Cocktail
Patriotic- A blend of sweet, tart, and citrus flavors come together in one perfectly balanced drink that could be served at any American-style gathering.
Easy- This cocktail is quick and easy to make, so even if you're not an experienced mixologist, you can still whip up a great drink in just a few minutes.
Pretty- Bright red raspberries, white jicama stars, and blue curacao create an eye-catching presentation that's sure to impress your guests.
Delicious- Sweet berries, tart limes, and a hint of apple juice give this cocktail a flavorful blend that will be sure to satisfy even the pickiest of palates.
What Is A Patriotic Red, White, And Blue Cocktail?
This blue drink is a super festive drink that can be enjoyed during any patriotic holiday. The colors are derived from red raspberries, white jicama stars, and blue curacao. These brightly-colored components are combined to make the signature red, white, and blue combination. Commonly used ingredients also include vodka, lime, and apple juice. The result is a delicious and eye-catching blue layered drink that's sure to please all your party guests at patriotic parties!
Equipment Needed
Chef's Knife
Cutting Board
Star Shaped Cookie Cutter
Toothpicks
Measuring Cups and Spoons
Cocktail Shaker or Pitcher
Serving Glasses
Ingredients
Vodka- The foundation of this cocktail, providing a punch.
Blue Curaçao- An orange-flavored liqueur that gives the cocktail its signature blue color.
Unfiltered Apple Juice- An additional flavor enhancer that also helps to mellow out the vodka.
Lime Juice- Adds a tart and citrus flavor to the cocktail.
Jicama- Adds a crisp texture to the drink and can be cut into star shapes for garnishing.
Raspberries- Adds a sweet and slightly tart flavor to the cocktail as well as extra color.
How To Make This Patriotic Cocktail
Prepare your jicama stars first by cutting the vegetable in half and saving the other portion in the refrigerator for later use. While laying it cut side down on a cutting board, take a sharp chef knife to slice off its skin at an angle. You may remove some of the jicama "meat" with its exterior layer; however, there is no way around that! For best results, cut your jicama in sections that are ¼ inch thick. Be sure to keep the cut side facing downwards while you press straight down with your cookie cutter. Although firmer than an apple, slicing through jicama should be easy and hassle-free. After cutting out all of your stars, set them aside until they're ready to be enjoyed!
Crafting this festive blue-layered cocktail is simple! In a cocktail shaker or drink pitcher, mix together the vodka, blue curaçao, apple juice, and lime juice. Afterward, fill a tall glass with ice (ice cubes or crushed ice) layered with fresh raspberries and jicama stars. Finally, gently pour your prepared beverage over the tasty mixture of fruit and vegetables. To add an extra touch of flair to the already pretty drink - be sure to garnish each glass with some raspberries on a toothpick as well as one delectable jicama star adorning the rim of each cup! Serve immediately and enjoy!
What To Serve With Patriotic Cocktails
This classic American cocktail pairs perfectly with a platter of vegan appetizers. Try serving some homemade guacamole, chips, salsa, or veggie sticks. You can also whip up some fresh fruit skewers for an extra splash of color! Shortbread cookies, mini cupcakes, or brownies are also excellent choices to accompany this festive beverage.
Enjoy other blue cocktails such as blue sangria, berry vodka, blue jello shots, and a blue pina colada.
Popular Substitutions & Additions
This cocktail is highly customizable, and you can make it your own with some simple substitutions or add-ins.
Add fresh mint leaves or a dash of bitters for extra flavor.
Use fresh strawberries in place of raspberries.
Swap out the vodka for a sparkling white wine.
Add a splash of coconut cream for a tropical twist.
Replace the apple juice with sparkling apple juice, orange juice, or pineapple juice.
Instead of the blue curacao, try blueberry or blackberry liqueur.
No matter what additions you make, this red, white, and blue layered cocktail with a patriotic twist is sure to be a favorite recipe that you'll want to enjoy for every independence day celebration!
Can You Freeze This American Cocktail?
Yes, you can definitely freeze this patriotic blue drink. Bring your beverage to room temperature, then pour it into an ice cube tray or any other freezer-safe container. Make sure to leave enough space in the container for expansion as the liquid freezes! After several hours (or overnight), remove the frozen cubes and store them in an airtight bag or container in the freezer. When you're ready to enjoy it, simply thaw it out and pour it into a glass of your choice.
Red, white, and blue cocktails can also be frozen into popsicles or slushies that are perfect on hot summer days! Simply mix all the ingredients together in a blender and pour them into ice pop molds. Let them freeze overnight and enjoy the next day.
Leftover American cocktails can be stored in the fridge for up to a week in an airtight container.
Red, White, and Blue Cocktail FAQs
What type of alcohol can be used in a red, white, and blue cocktail?
This drink is traditionally made with vodka and blue curacao; however, you can use any type of flavored liquor and spirits you prefer. Rum, tequila, gin, or whiskey all work great as well!
How can I make a non-alcoholic version of the drink?
For a delightful mocktail version of this delectable beverage, switch out the blue curacao liquor for some blue curacao syrup or blue Gatorade and ditch the vodka - swap in lemon-lime soda, sparkling cider, or ginger beer instead! To add an extra zing to your drink, top it off with juice or refreshing bubbly water.
Is there any way to make this patriotic drink gluten-free?
Yes! To make a gluten-free version, use a gluten-free vodka and substitute the apple juice with either sparkling cider or your favorite gluten-free juice
Does the apple juice need to be filtered?
Unfiltered apple juice can give the drink a more robust flavor profile, but it's not necessary.
📋 Recipe
Patriotic Passion Cocktail
A patriotic twist on summertime cocktails! Not only do the drinks look stunning, thanks to the layer of red, white, and blue hues, but they taste delicious too.
Ingredients
3

oz

Vodka

1

oz

Blue Curacao

2.5

oz

Unfiltered Apple Juice

1.5

oz

Lime Juice

1

Jicama

2

tbsp

Raspberries
Instructions
Let's prepare the stars first.
Cut a jicama in half and save the other half in the fridge. You can use this later for more stars or for a veggie to dunk in a dip or toss in a salad.

Lay the cut side down on a cutting board.

Use a chef's knife to cut down at an angle to cut the skin off. You will take a bit of the jicama with it but that can't be helped. Now you have a skinned jicama.

Keep the jicama with the cut side down and make slices that are about ¼" thick. See the photo for an idea of the thickness.
Now for the Cocktail
Mix the vodka, Blue Curacao, apple juice and lime juice together.

Fill a tall glass with ice and intersperse with a few raspberries and jicama stars.

Pour the cocktail mix over the ice and serve with raspberries on a toothpick and a star on the rim.
Nutrition
Calories:
233
kcal
Carbohydrates:
10
g
Protein:
1
g
Fat:
0.3
g
Saturated Fat:
0.02
g
Polyunsaturated Fat:
0.1
g
Monounsaturated Fat:
0.02
g
Sodium:
3
mg
Potassium:
138
mg
Fiber:
3
g
Sugar:
3
g
Vitamin A:
37
IU
Vitamin C:
26
mg
Calcium:
17
mg
Iron:
0.4
mg