This Vegan Apple Smoothie has a few simple and unusual ingredients. In less than 10 minutes, you'll have an apple smoothie recipe healthy style that will keep you going for hours.
Blender smoothies are one of the easiest ways to get a delicious and healthy meal or snack any time of the day. This one can even be a power smoothie before or after your workout.
High protein ingredients
It has high protein ingredients (no protein powder included) that will help you feel full and energized for longer than the usual fruit smoothie.
One of the tricks is using a nut butter, and this one incorporates peanut butter.
There are oats too, and they also pack extra protein. Everything is blended together to a smooth consistency that you can eat with a spoon or suck through a straw.
I usually prefer almond milk (more extra protein), but you can use any one of your favorite kinds of dairy-free milk. I mean, we are talking healthy here!
Jump to:
If I was going to give a recipe rating for this cinnamon apple smoothie, it would be a 5-star rating. You could even add a few ice cubes or a frozen banana and make yourself an apple cinnamon protein shake!
There's a little bit of maple syrup too. You could leave it out, but I love a lightly sweetened smoothie, especially if the smoothie apple is tart like a Granny Smith.
There are a lot of apples to choose from in the stores, so just use the one you like and/or have on hand.
If you have some other smoothie recipes, breakfast is a great way to use them. People are usually a bit tired in the morning and need something quick to get them going.
A fruit or green smoothie is the answer. It will perk you up!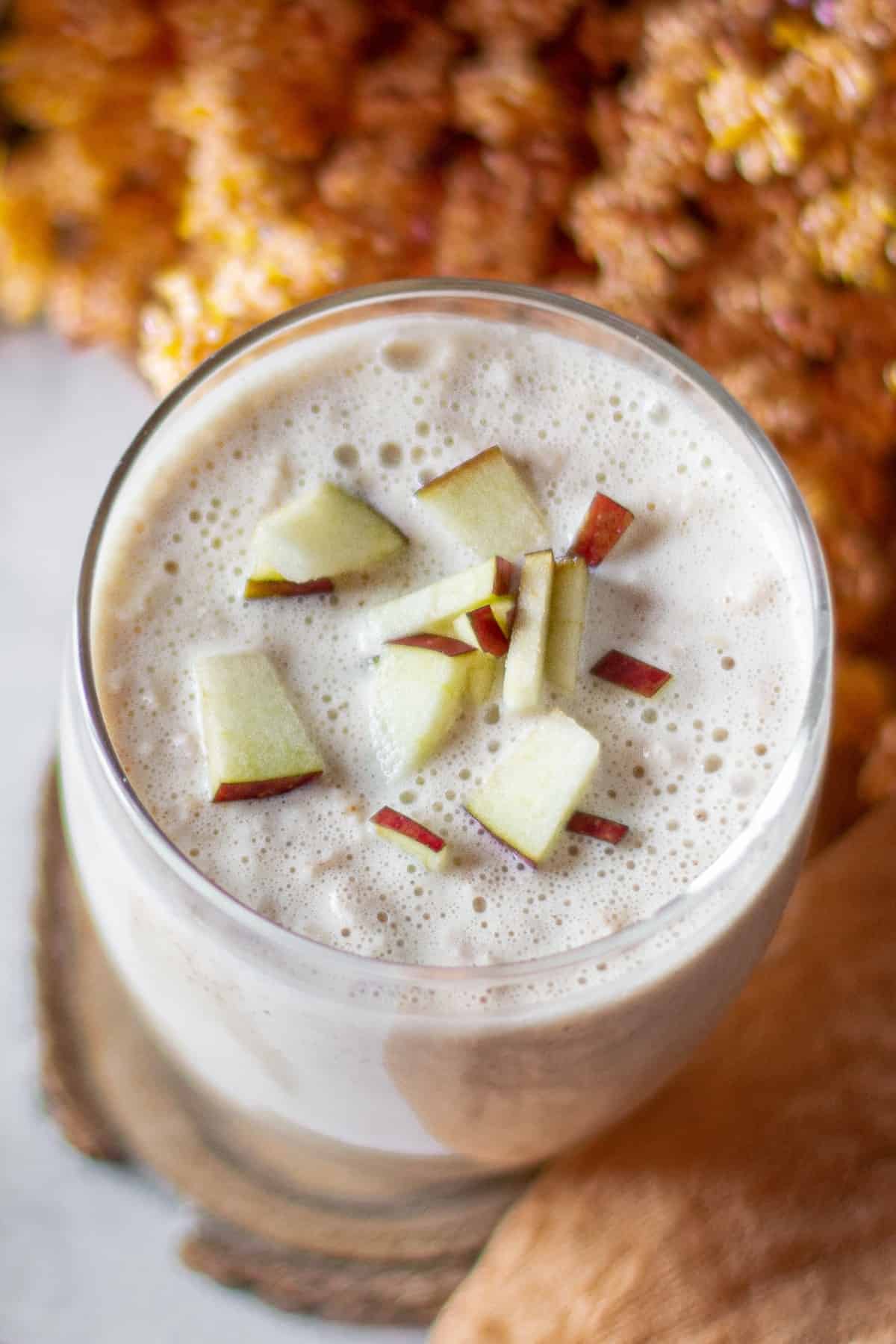 Ingredients
Fresh Apples- Green apples are my favorite, but any apple variety will give this smoothie its classic apple flavor.
Rolled Oats- Add heft and protein to this apple smoothie recipe, healthy style.
Ground Cinnamon- Used for the spice that will remind you of apple pie.
Peanut Butter- Creates a deliciously creamy yet nutty flavor. While peanut butter and apples go amazing together, you could also use almond butter, cashew butter, or sunflower seed butter.
Plant-Based Milk- Almond milk, coconut milk, When mixed with these other healthy ingredients, it creates a fantastic creamy beverage.
Maple Syrup- My sweetener of choice, and this recipe doesn't need much.
How To Make A Healthy Apple Smoothie
You don't need to peel the apple. That option is completely up to you. The texture will be different if you don't peel it, but you will lose some nutrients and vitamins if you do.
Make sure to core it and remove all of the seeds. Kids may not like the consistency of the apple skins, so peel them if you have picky eaters.
This is so easy, and all you have to do is add in the measured ingredients along with the cored and cup up apples to a blender.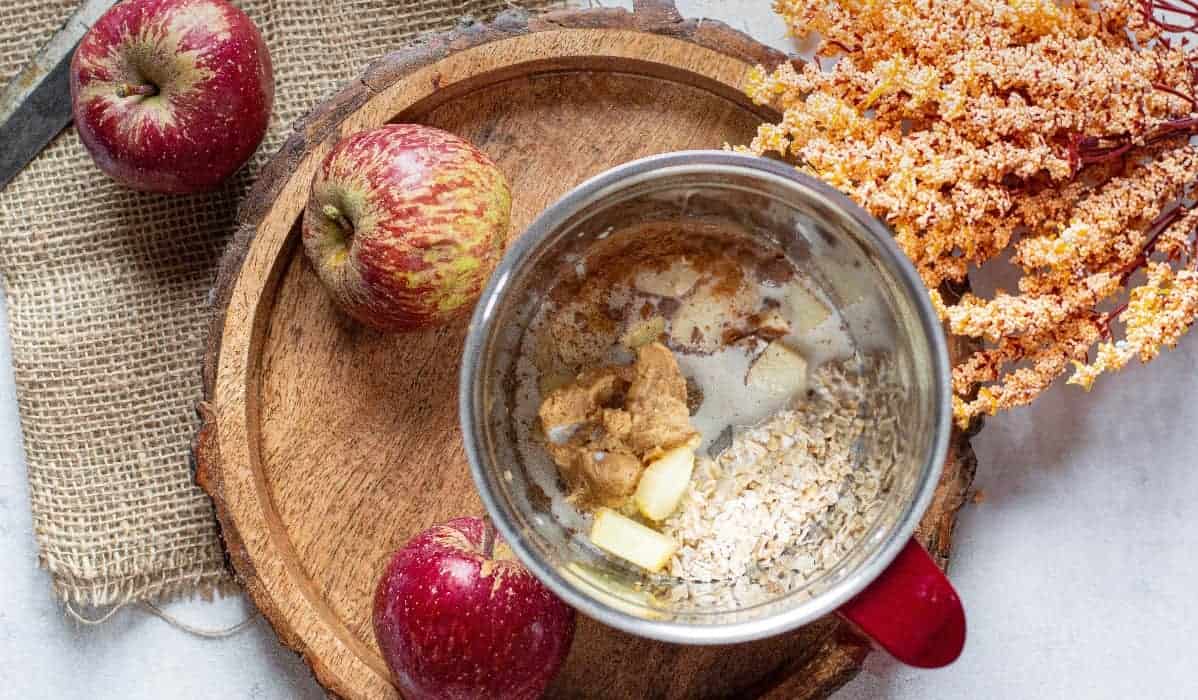 So there you have it. A beautiful and tasty peanut butter apple smoothie to fill you up and get you going.
Popular Substitutions And Additions
Add frozen fruit to change up the flavors. Try using a frozen banana, berries, or pineapple for a tropical twist.
Use vegan yogurt instead of dairy-free milk for an extra thick and creamy smoothie.
Substitute sunflower seed butter or protein powder to make this recipe nut free.
Add ground nutmeg or apple pie spice to turn this treat into a delicious vegan apple pie smoothie.
Vegan Apple Smoothie Recipe FAQs
Are apple smoothies good?
You'd better believe it. This recipe has so many goodies inside that it is actually really really good!
Are apple smoothies good for you?
Yes! You know the saying 'an apple a day keeps the doctor away'. It's probably not 100% true but apples are packed with vitamins and nutrients. They help to balance out your blood sugar and have fiber too. Especially the skin.
What apples are best for smoothies?
My first choices are Granny Smith, Gala, Golden delicious, and Fuji apples. All of these are sweet except the Granny Smith. I still prefer to add a tad maple syrup.

What are the health benefits of making apple smoothies with dairy free milk?
You'll get about half the calories of milk and it will be creamier than if you use water. The different varieties will give different nutrients and vitamins but you'll be sure to be getting healthier fats.
Do you know I have over 20 apple recipes on the blog? It's so hard to choose which ones to show you, but I'm going to give it a try.
Fantastic apple recipes
Apple Waffles fill the bill when you're looking for a sweet breakfast. The grated apple is inside the batter.
There is hardly any prep work for Slow Cooker Apples and Oats, and you will love this bowlful for breakfast or lunch.
Apple Pecan Salad with raisins is another meal that is great for lunch or as a side dish.
📋 Recipe
Apple Smoothie
This Apple Smoothie has a few simple and unusual ingredients.
Ingredients
1

cup

Apple

- one medium apple, cored and cut

¼

cup

Old Fashioned oats

¼

teaspoon

Ground cinnamon

1

tablespoon

Peanut butter

½

cup

Dairy-free milk, unsweetened

- any that you like - I use almondmilk

1

teaspoon

Maple syrup

- I go up to a tablespoon sometimes
Instructions
Peel 1 medium-size apple and dice it.

Add rolled oats, cinnamon, peanut butter and maple syrup to it.

Put all the ingredients in a blender and add your preferred milk to it.

Pulse all ingredients till there are no lumps, It should have a smooth consistency.

Garnish it with small apple cubes if you wish.
Nutrition
Serving:
1
Serving
Calories:
237
kcal
Carbohydrates:
35
g
Protein:
7
g
Fat:
10
g
Saturated Fat:
2
g
Sodium:
76
mg
Potassium:
311
mg
Fiber:
6
g
Sugar:
15
g
Vitamin A:
68
IU
Vitamin C:
6
mg
Calcium:
11
mg
Iron:
1
mg