Vanilla Chia Pudding is a healthy recipe that's packed full of protein and other nutrients. It's vegan, gluten free, and a great breakfast or snack. Easy meal prep recipe for the week.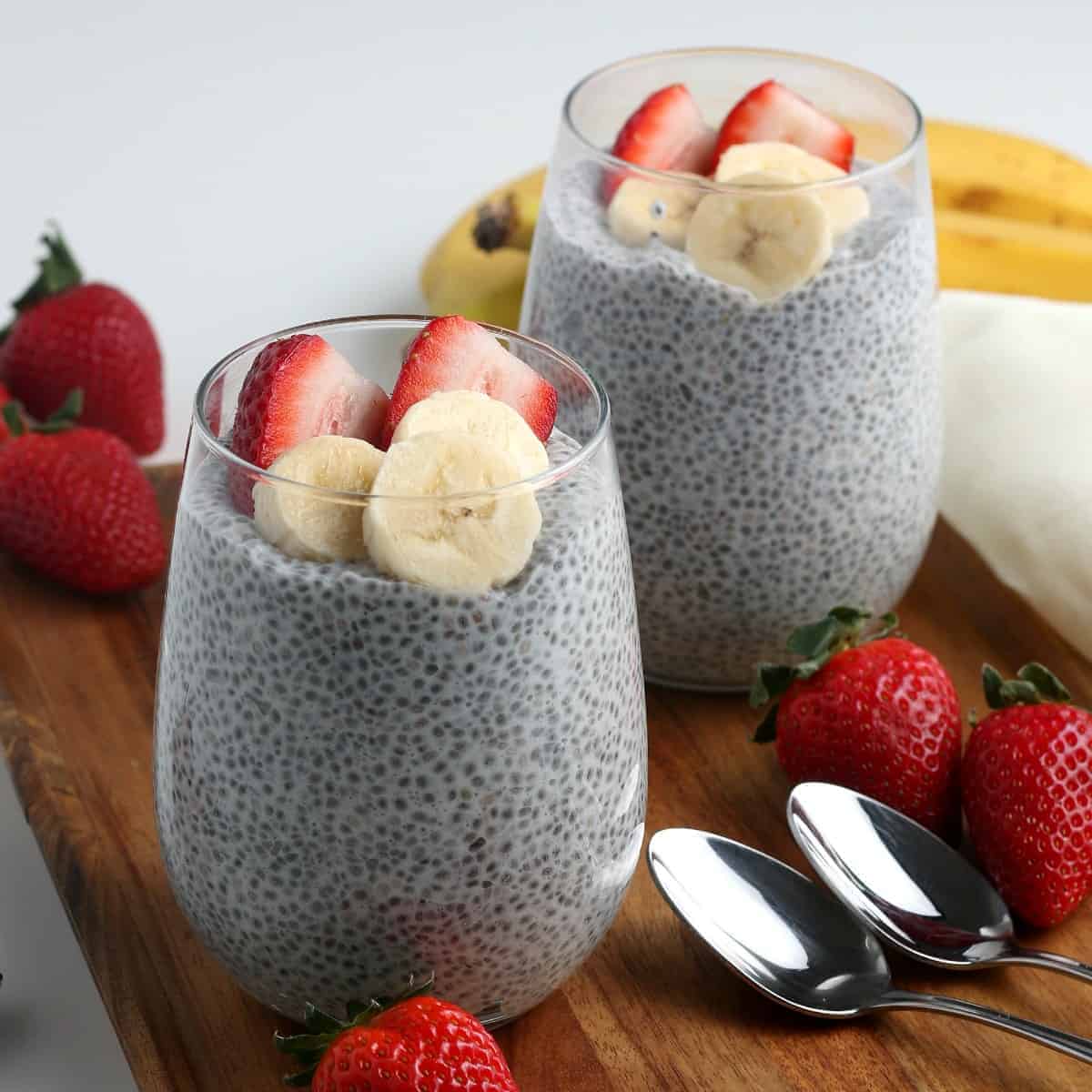 Vanilla Chia Pudding is so simple to make and is easily made in a large enough quality to last you the whole week.
Chia seeds are a little darling when it comes to adding bulk and lightness to many recipes. The seeds gel when they are added to a liquid which makes them a great addition to baked goods.
That also makes them perfect for the creation of endless pudding recipes. This chia seed pudding recipe is a really good basic recipe. You can add any variation of fruit that you like to the top as an added bonus.
Jump to:
In fact, if you include oats in this vegan chia pudding recipe along with plant based milk and other favorite ingredients you get overnight oats after they've set in the refrigerator overnight. That's a nice treat to wake up to.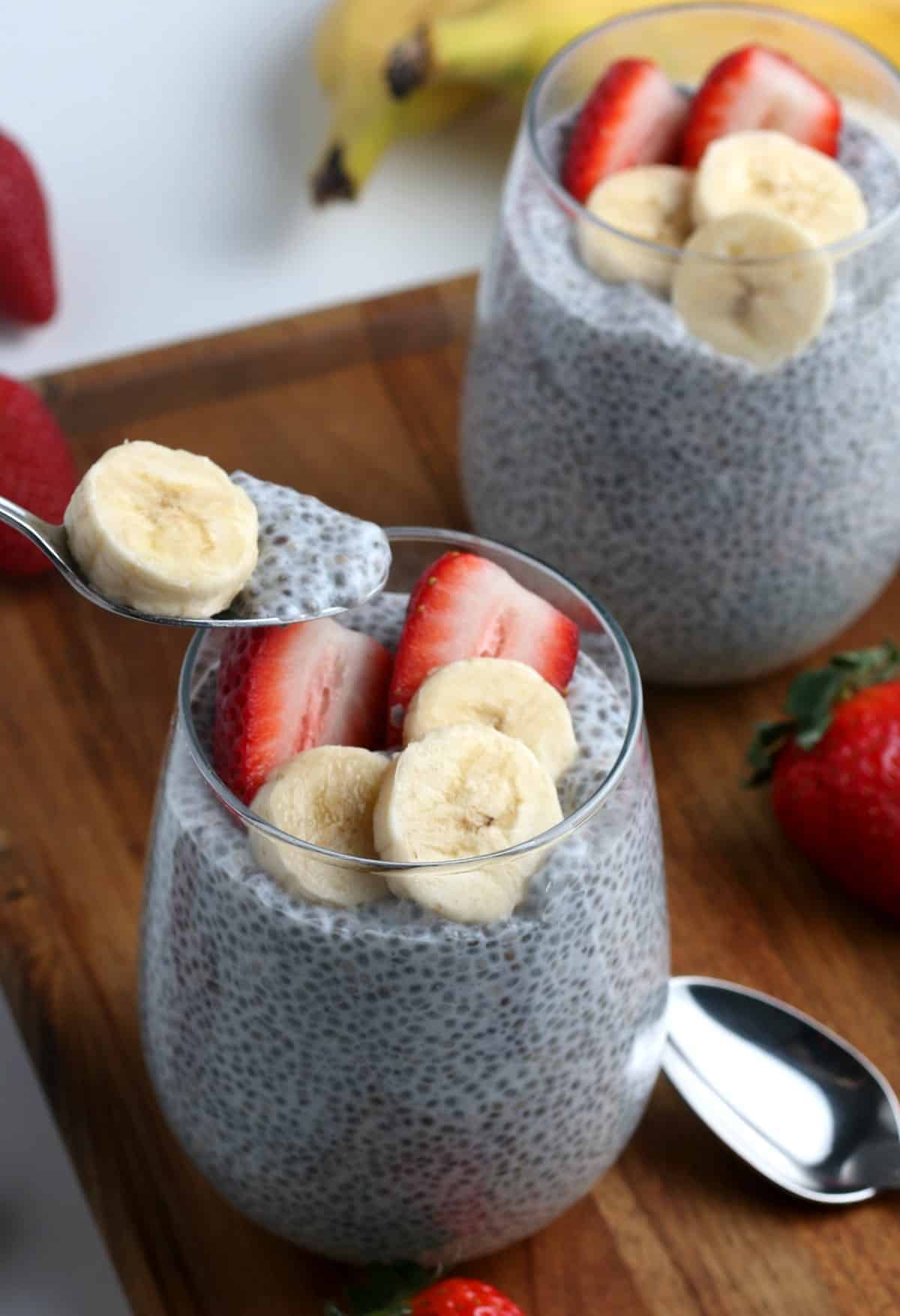 What does this pudding taste like
On their own chia seeds don't taste like anything. What makes everything taste good is the ingredients that you add.
Vanilla chia pudding tastes like vanilla pudding because you have only added non dairy milk, maple syrup and vanilla. The fruit on top also adds more flavor. Granola would also be really good added to this recipe.
The texture is very similar to tapioca pudding and if you'd like it smoother you can always add the mix to a blender or use an immersion blender.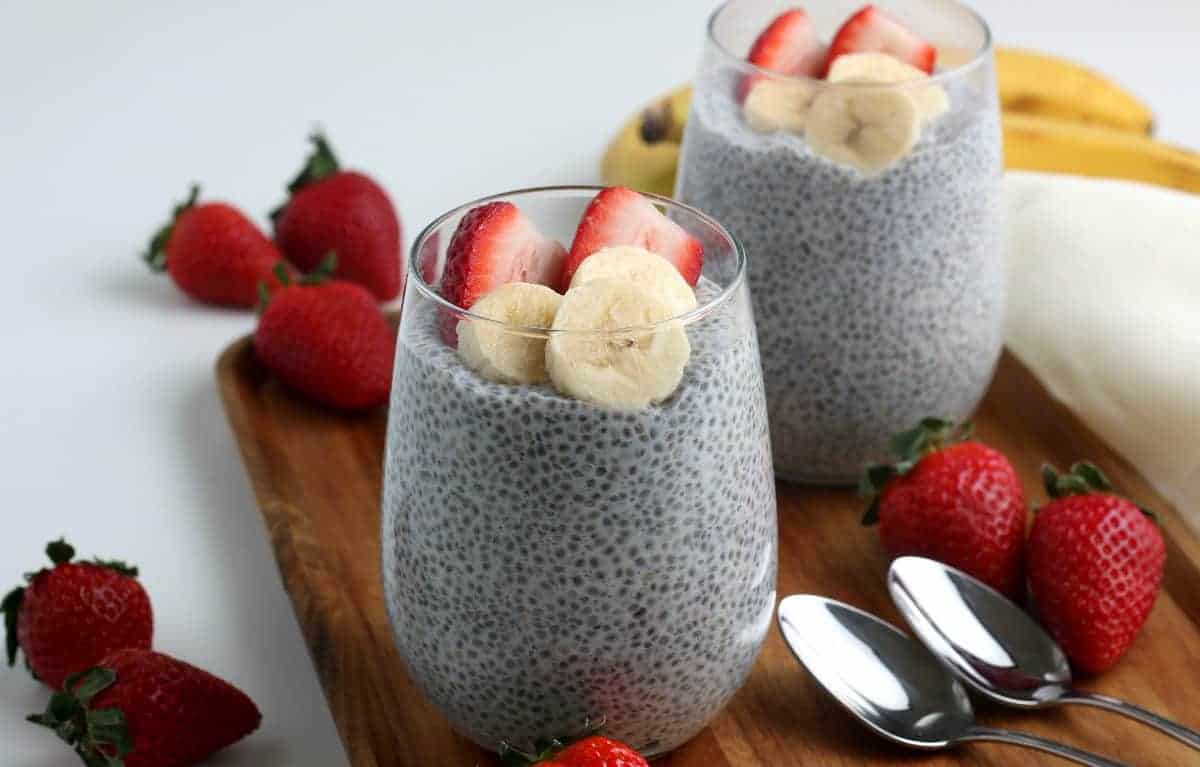 Chia seed pudding combinations
Along with the seeds and maple syrup you can add:
Almond milk, cocoa powder, and raspberries on top.
Nut butter, and your favorite berries.
Blueberries, shredded coconut, and coconut milk.
Peanut butter, and cocoa powder.
Use canned coconut milk if you'd like something a little more decadent. You will feel fuller and the pudding will be thicker with the same amount of chia seeds.
FAQ's
Can you use ground chia seeds?
Yes! in fact I often do that. I ground a batch and keep it in a small freezer jar in the freezer. There it is always ready and you will have a smooth textured vanilla chia pudding.
Can I buy ground chia seeds?
Yes, it comes in small packets and packages.
Chef tips and instructions
It is so simple that the process is done in less than 5 minutes. Then all you have to do is wait for everything to thicken and get cold.
You can see in the photo below that there are only four ingredients for the vegan chia pudding.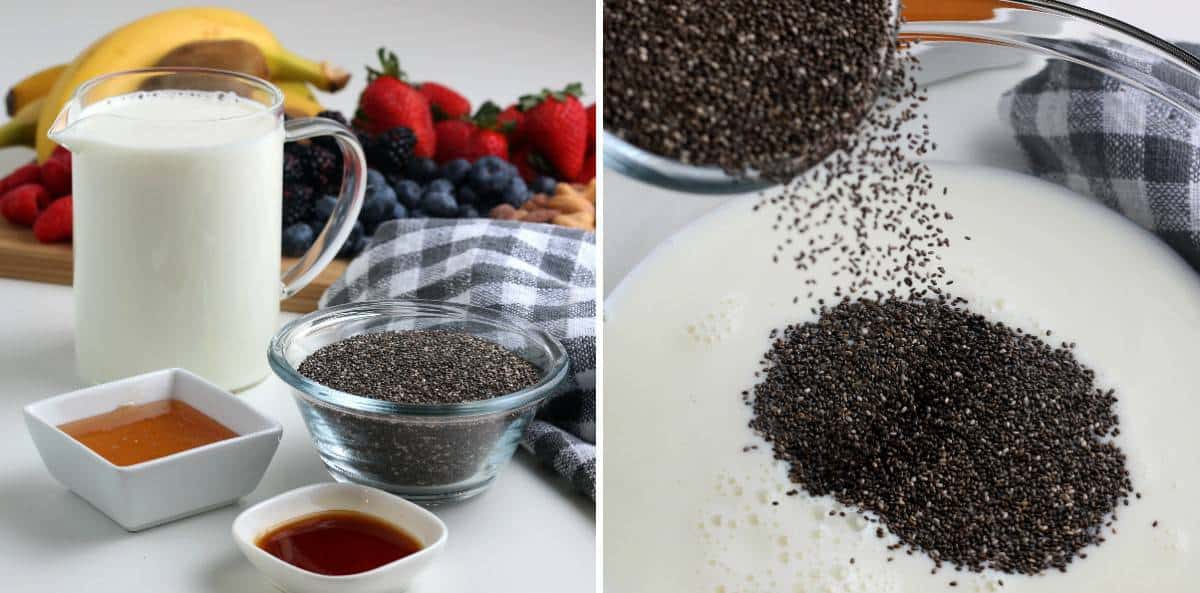 Simply measure the dairy-free milk into a bowl and add the chia seeds, maple syrup, and vanilla.
Whisk it all together and you will see it mix into a nice color as in the photo below on the right.
Now cover with plastic wrap and put it in the refrigerator to get cold and thicken. that only takes an hour or two but you can sure let it sit overnight.
If you'd like it a little thicker when you take it out of the fridge you can add a teaspoon to a tablespoon more of chia seeds.
If you'd like it thinner add a little bit more non-dairy milk. let it sit another half hour if you've made additions.
I like 3 to 4 tablespoons chia seeds to each cup of liquid. Not counting the maple syrup.
It doesn't really take that long to thicken. In fact, when I'm making an egg it only has to sit a couple of minutes. But with this amount of liquid give it more time. You want it nice and cold anyway.
Meal Prep
There really isn't anything different for the meal prepping except that you can evenly divide the pudding into mason jars. It stays good in the refrigerator for 5 to 7 days.
Make it on the weekend for a healthy breakfast or pick me up throughout the week. It can be vegan, gluten-free, paleo and even a keto chia pudding. It just depends on what you mix into the recipe.
It's loaded with fiber, protein and healthy fats, low in sugar and super filling!
What are chia seeds healthy benefits
I've already mentioned that it packs a wallop in the protein department and becasue of that it keeps you feeling full.
It has lots of fiber and the highly sought after omega-3fatty acids.
There is also quite a list of essential minerals and antioxidants such as manganese and calcium.
More healthy breakfasts
📋 Recipe
Vanilla Chia Pudding
Vanilla Chia Pudding is a healthy recipe that's packed full of protein and other nutrients.
Ingredients
2 ½

cups

Dairy-free milk

¾

cup

Chia seeds

1 ½

teaspoon

Vanilla extract

3

tablespoons

Maple syrup

Fruit toppings

- optional
Instructions
In a large mixing bowl add milk, chia seeds, vanilla and maple syrup.

Whisk together until well combined.

Cover and refrigerate for 2 hours or overnight.

Enjoy on its own or add in your choice of addition fruit, nuts or granola.
Notes
If pudding is not thick after refrigeration add more chia seeds, mix and refrigerate for an additional hour or more.
Nutrition
Serving:
1
Serving
Calories:
127
kcal
Carbohydrates:
11
g
Protein:
4
g
Fat:
8
g
Saturated Fat:
1
g
Trans Fat:
1
g
Sodium:
5
mg
Potassium:
106
mg
Fiber:
9
g
Sugar:
1
g
Vitamin A:
14
IU
Vitamin C:
1
mg
Calcium:
161
mg
Iron:
2
mg