Slow Cooker Red Lentil Soup is so easy and the flavors are diverse and rich. It's a soup the whole family will love and they'll also want it over and over again.
Slow Cooker Red Lentil Soup is so tasty and it came out so good! The flavors are diverse and rich and my husband loves it.
There is something I have to tell you about Ed. He puts saltine crackers in every soup or chowder that he sees.
No question or thought – he just adds the saltines. Thank goodness he loves this with his signature saltines (oh, well). I love it too, sans the crackers, and so will you. 🙂
You can easily double this recipe. Just make sure your crock~pot will be big enough. That would be 8 servings.
This plant-based stew is loved by everyone and if it isn't gone on the first night the leftovers will be just as good.
If you serve it with grilled panini sandwiches on the side then you will definitely have leftovers – or go back to the original recipe that serves 4.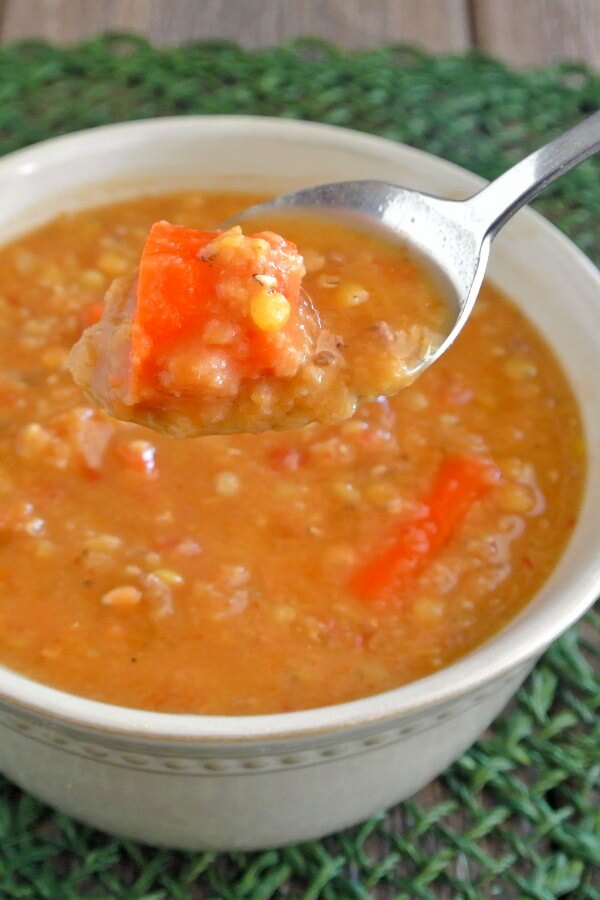 And, of course, you can freeze leftovers for another night. That's always a good thing. Just reheat and serve – to all.
I have a few more slow cooker soup recipes on the blog and here is another lentil one you might want to take a peek at.
It is Slow Cooker Lentil Vegetable Soup. Just a heads up. And how about a peek at what it looks like too?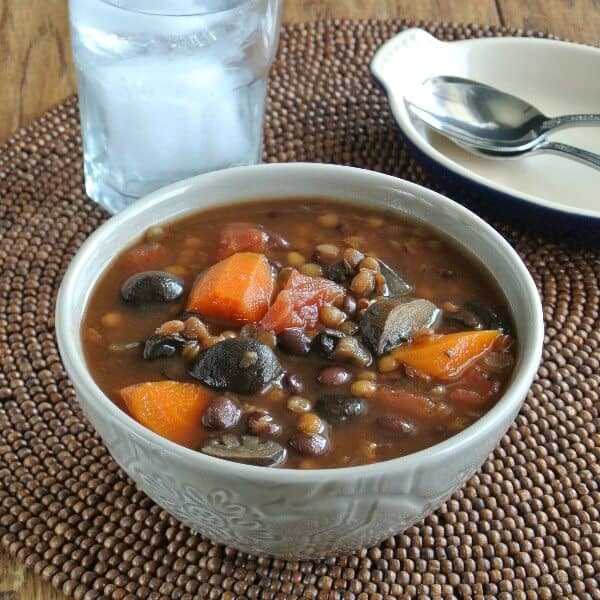 Well Heck! I Can't Resist. Here a Few More Great Soup Recipes From the Crock Pot!
Slow Cooker Exotic Mushroom Soup makes for a perfect romantic meal.
A classic – Slow Cooker Navy Bean Soup.
Slow Cooker Tomato Soup from Scratch is addictive.
You see, I love soup. I think everybody does and I'm not even at the end of making the ones I have swirling around in my mind.
There are already 22 soup recipes on my blog. Ha! Yeah, soup's good stuff!
Red lentil soup is also more of an unusual one and you get an extra bonus because it has so much protein.
Want to try this Slow Cooker Red Lentil Soup?
PIN IT

to your Main Dish or Soup board to save for later!
Find me on Pinterest for more great recipes!
Have you ever heard of a 'dump' recipe? I think it all started with cakes where you mix everything in a pan and then bake.
Well, cooking has evolved and there are 'dump and go' recipes for slow cookers too. That is what I would call this recipe.
There is nothing missing and all the texture and spices are there. The difference is that you don't have to do any pre-sautéing or soaking.
The flavors and quality all come through.
All the flavors meld over the long period so that you can walk into your home smelling the great aroma of a home-cooked meal. It is truly a 'dump and go' soup and it tastes delicious.
How Do You Freeze Slow Cooker Red Lentil Soup?
IF FREEZING:
Let cool to room temperature. Package in rigid sided containers.
TO PREPARE AFTER FREEZING:
Remove from the freezer and put in the refrigerator overnight because it is a pretty solid mass and will take longer to defrost.
THE NIGHT OF SERVING:
Put all in a large saucepan and heat through. You can add more broth if you think it is too thick. Ready to serve.
Print
Slow Cooker Red Lentil Soup
This Slow Cooker Red Lentil Soup came out great!
Ingredients
2

cups

red lentils

dried

6

cups

vegetable broth

3

carrots, cut into chunks

14

ounces

tomatoes, canned, another ounce more is good too, depends on your can size

6

ounces

tomato paste

1

onion, diced

3

cloves

garlic

very finely diced or minced

1

tablespoon

lemon juice

2

teaspoons

ground cumin

1

teaspoon

dried basil

1

teaspoon

dried thyme

1/4

teaspoon

chili powder

1/4

teaspoon

black pepper
Instructions
You don't have to pre-soak lentils. That makes this an even easier soup.

Put everything in the

slow cooker

and cook on low 8 hours or on high 4 hours.

Add salt to taste, if needed.

This is what you could call a dump and go recipe.
Nutrition
Nutrition Facts
Slow Cooker Red Lentil Soup
Amount Per Serving (14 ounces)
Calories 282
Calories from Fat 9
% Daily Value*
Fat 1g2%
Sodium 1290mg54%
Potassium 1153mg33%
Carbohydrates 52g17%
Protein 17g34%
Vitamin A 6605IU132%
Vitamin C 21.5mg26%
Calcium 77mg8%
Iron 6.2mg34%
* Percent Daily Values are based on a 2000 calorie diet.