You will love this rich and well-seasoned slow cooker soup which is taken up a notch with wild mushrooms. A splash of Chardonnay wine and herbs highlight those beautiful earthy flavors of mushrooms in this irresistible dish.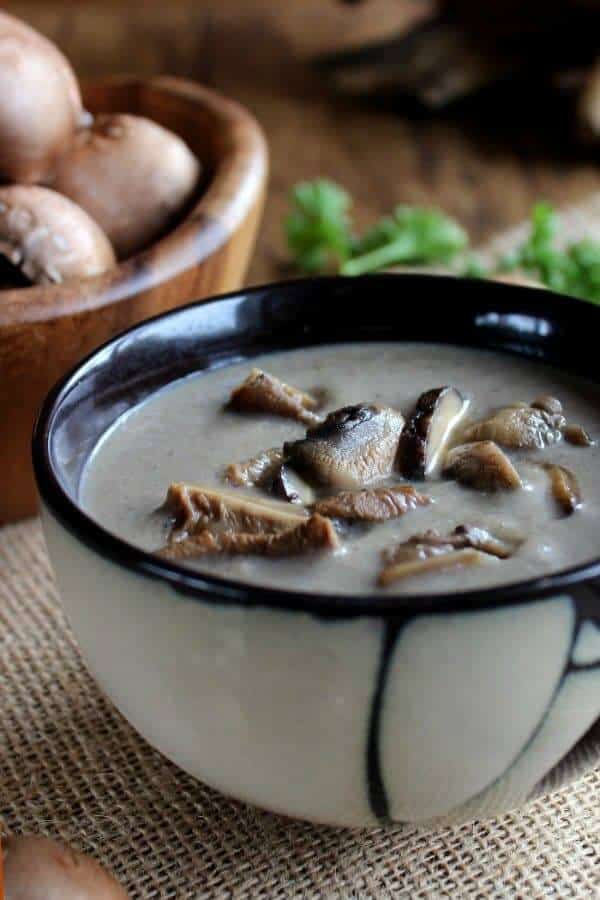 Soup is such a comforting meal. It can be the beginning of a larger meal or the entree itself. Just add crusty bread and a salad.
In this recipe, slow cooker mushroom soup is being turned up a notch by adding the power of exotic mushrooms!
You know? Those wild dried mushrooms that you have always wanted to try. It all turns out rich, beautiful, creamy and easy.
This crockpot recipe has a wonderful creamy base and combines all the right characteristics of a perfect fresh homemade mushroom soup.
It is one of my favorite low-maintenance dishes and it doesn't even take that long to slow cook.
What Makes This Wild Mushroom Soup So Good?
The pleasant fragrance, comforting taste and silky texture of this soup gives you all the enjoyment of good home-cooked food.
It's such an easy recipe and effortless to make using the slow cooker.
This Dried Mushroom Soup has a beautiful, down-to-earth look and it can be served at a casual rustic spread as well as an elegant dinner.
It's a delicious meal for you and your family for cozy evenings at home. Just add crusty bread or this Herbed Focaccia and your favorite salad to make a complete meal.
It can also be an appetizer before the main meal. The perfect first course for any dinner party.
You don't have to trade convenience anymore for a made-from-scratch mushroom soup. Flavor abounds!
Canned mushroom soup, step aside!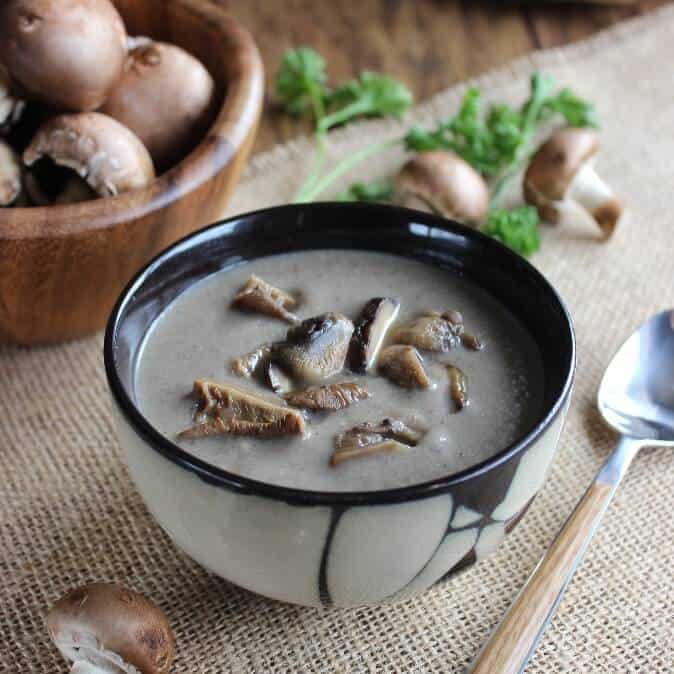 So, fresh button mushrooms are used, but there is also a mix of dried mushrooms because they have a more intensified flavor than the fresh ones.
They also enrich the natural taste of button mushrooms.
Chef Tips:
There are small packages for sale that contain a beautiful blend of earthy dried mushrooms such as Shiitake, Oyster or even Wild Porcini.
You only need a small 1-ounce bag to make this fantastic soup.
Look for a dry forest blend that contains a good mix of savory, umami-rich flavors of mushrooms.
Shiitake and Oyster mushrooms are especially great because of their firm texture and they have a more robust nutty flavor. It makes all the difference in this recipe.
I reconstitute the dried mushrooms by briefly pre-soaking them in warm water. They will reabsorb the moisture and plump up.
You can reserve the soaking liquid for other soups, stocks or sauces. Leave it out for this recipe though because it can be overpowering with the mushrooms that are already in there.
It's about balancing those deep earthy flavors with a tad of sweetness and combining the heartiness of the rest of the ingredients.
How Do You Make Wild Mushroom Soup?
This recipe starts briefly at the stove.
First, sauté the onions to soften them and release their natural sweetness before adding them to the slow cooker.
Then stir in the fresh mushrooms and sauté for five minutes. It allows some of their moisture to evaporate, soften their texture and intensify their delicate natural flavors.
Add to the slow cooker along with the rest of the ingredients. Cook low and slow for 3 to 4 hours.
Let cool and blend to a creamy mushroom soup. Keep a few mushrooms out before blending if you'd like to spinkle some on top as in the photos.
Cooking the right type of mushrooms slow in vegetable broth, with a tad of Chardonnay wine and seasoned with salt, pepper, and tarragon will make the aroma of the mushrooms shine but with that hint of subtle sweetness in the background.
Then add non-dairy cream at the end over low heat and it infuses that creamy richness, but without the guilt!
This Dairy Free Mushroom Soup is:
Delicious
Super hearty
A Healthy Plant-based Soup
Nutritious and immune-boosting
So easy to make
📋 Recipe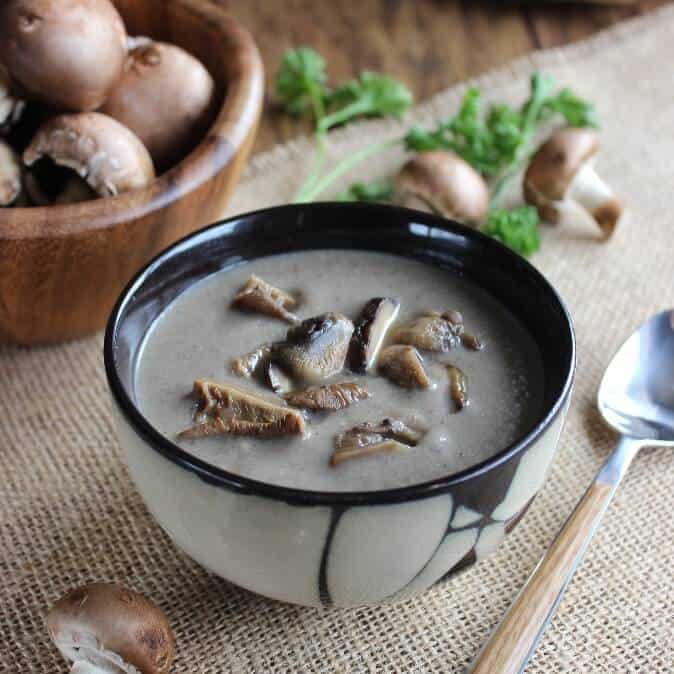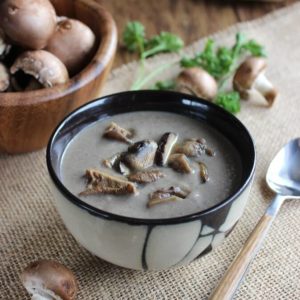 Slow Cooker Wild Mushroom Soup
You will love this rich and well-seasoned slow cooker soup which is taken up a notch with wild mushrooms.
Ingredients
1

tablespoon

extra virgin olive oil

¼

cup

onion

- white onion, chopped

1

cup

mushrooms

- dried mushrooms such as oyster, shiitake or a mix. 1 cup is 1 ounce weight

8

ounces

mushrooms

- button mushrooms, chopped

1 ½

cup

vegetable broth

¼

cup

white wine such as a chardonnay

¼

teaspoon

dried tarragon

½

teaspoon

sea salt

¼

teaspoon

ground black pepper

1 ½

cup

unsweetened dairy-free milk, warmed
Instructions
Bring 2 cups of water to a boil.

Place the dried mushrooms (not the button mushrooms) in a medium sized bowl. Pour the boiling water over the top so that they can become reconstituted. Set aside.

In a frying pan heat the oil over medium-high heat.

Saute the onions for about 5 minutes.

Add the chopped button mushrooms and saute for another 5 minutes.

Drain the reconstituted mushrooms.

Add the exotic mushrooms and the button mushroom mixture to a slow cooker.

Add the vegetable broth, white wine, tarragon, salt and pepper.

Cook on low 3 to 4 hours.

Let cool about a half hour.

You may reserve some mushroom pieces for sprinkling over the top as in my photos but you do not need to do this.

Pour the mushroom mixture in a blender and blend until smooth.

Pour into a big pot (or bowl for the microwave) and add the non-dairy milk.

Heat through on low heat on the stove top.

Taste to see if you would like more salt or pepper.
Nutrition
Serving:
1
Serving
Calories:
187
kcal
Carbohydrates:
16
g
Protein:
9
g
Fat:
9
g
Saturated Fat:
1
g
Sodium:
652
mg
Potassium:
906
mg
Fiber:
4
g
Sugar:
6
g
Vitamin C:
3.9
mg
Calcium:
7
mg
Iron:
1.4
mg