This delicious Navy Bean Soup slow cooker style is comfort food to the max. It's easy to make for dinner and is filled with a great combination of ingredients. This best bean soup recipe is made from scratch and is bursting with flavors that the whole family will love.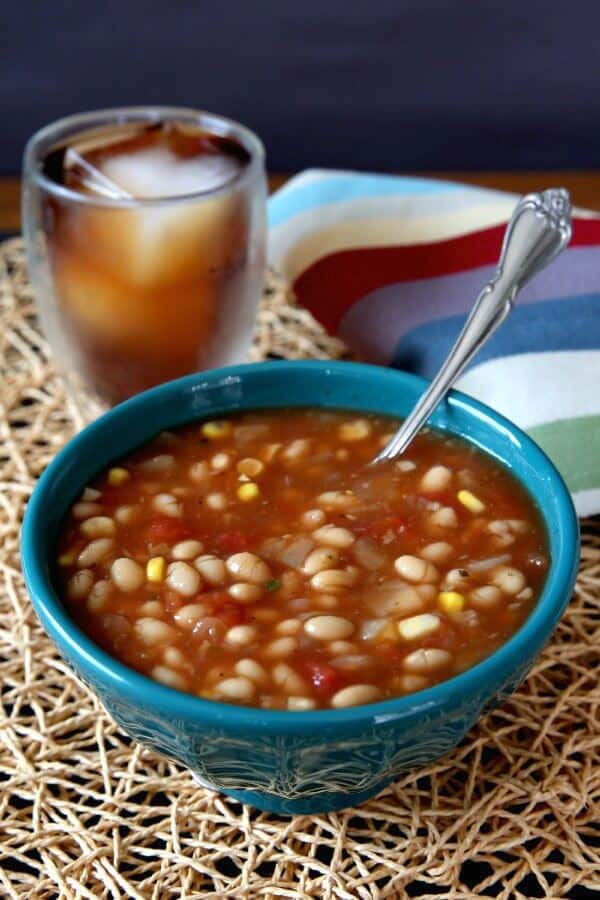 Known as the best Bean Soup recipe in my family, this dinner brings back childhood memories of my mom and all the dinners she made for us over the years! Sound familiar?
Whether you are the mom or the child, the remembrance of home-cooked meals makes them all seem like comfort food.
You know, over the past few years you could only find Navy beans packaged as 'small white beans'. Lately, I have seen that the packages are back with the historical moniker again.
So let's celebrate and make this hearty classic dish extra simple by using the crockpot.
Let me share one fun fact about Navy Beans!
Did you know that this legume got its popular name "Navy Beans" because it became a staple food of the U.S Navy in the 19th and 20th centuries?
Due to its high nutritional value, low cost and long storage life it was perfect for feeding a whole lot of people! And Navy it was.
Chef's Tips for a Hearty Dish!
I love using the slow cooker to make favorite family meals.

This one is especially easy too. All you do is

prep the legumes the night before and let them soak overnight.

The next day you'll have beautiful plumped beans. Now they are ready to be thrown together with the rest of the ingredients in the crockpot.
Check out this photo below. You can see that one cup of dried beans plump to double there size after soaking.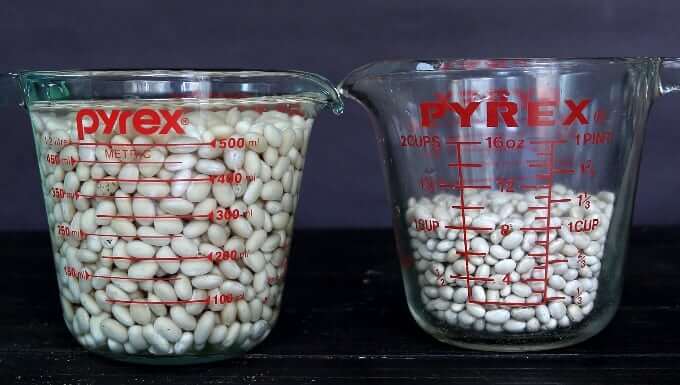 The rest is done by letting all the lovely flavors come together while you go about your day!
The next photo shows the crockpot filled with the measured ingredients. Then stirred together to show that the majority of the ingredients are truly white beans.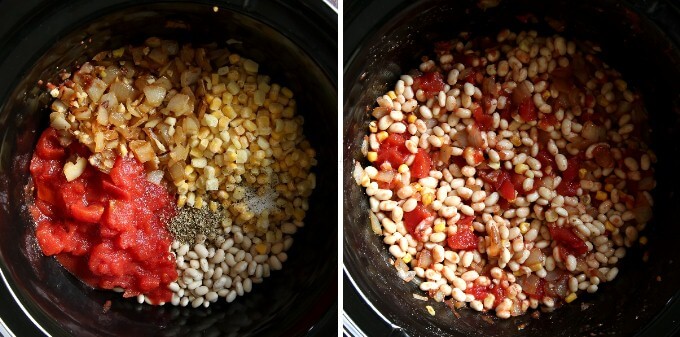 Now to continue on with the soup water being added. The crockpot shows plenty.
Next - hours later - I poured the cooked Navy bean soup into a large bowl to show how much there is with lots of flavorful broth.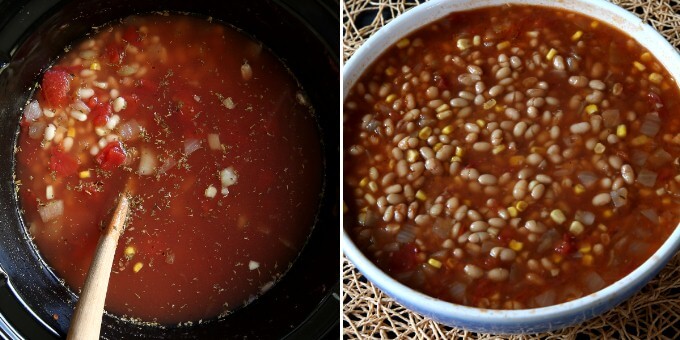 So if you've never cooked dried Navy beans from scratch, this recipe will convince you that it is quite easy to do. Nothing compares to the wonderful taste of perfectly prepared dried beans in a homemade soup or stew.
And when you can make this Bean Soup slow cooker style then it becomes even easier.
It's a classic dish!
Of course, I always keep a few different kinds of canned beans in my pantry to make quick, healthy dinners too.
I often use them when I have little time to plan a meal and need something nutritious to throw together. This Two bean Camp Chili is just one of those recipes.
But when you've got the time, go ahead and use dried beans because the sodium is so much less and it's also so much more economical.
Once prepared they taste super creamy and almost melt in your mouth. Once you get the basics down, the possibilities of using them in your home cooking are endless.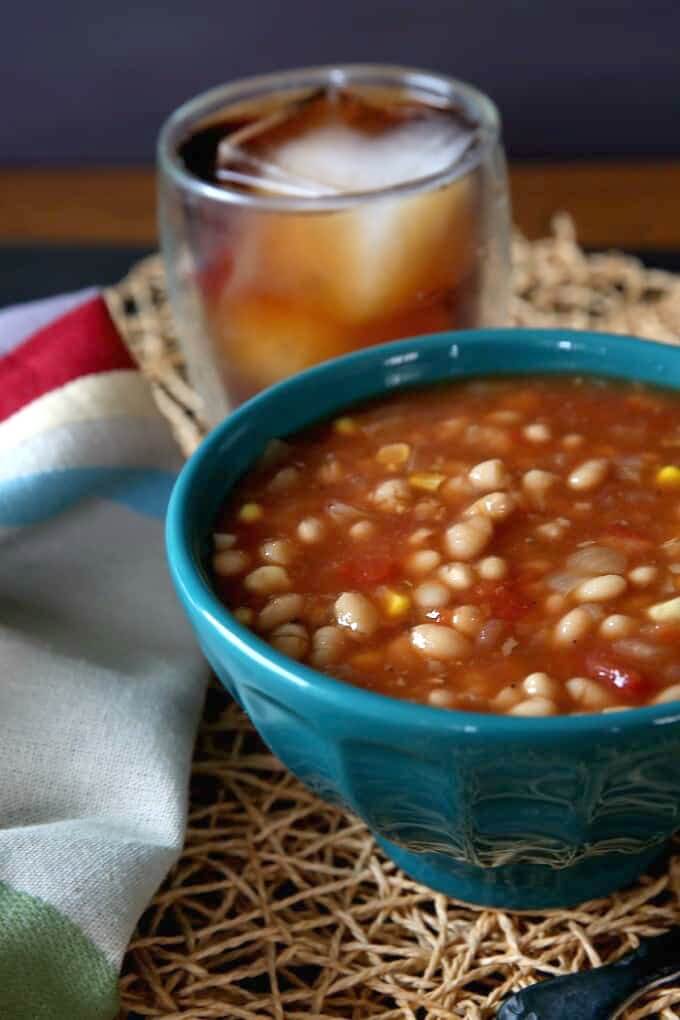 Also cooking beans yourself is very easy with a crockpot, and there is nothing simpler than letting the beans soak while you sleep.
Why Soak Dried Navy Beans or Any Dried Beans for that Matter?
Some beans need to be soaked because they have thicker skins. They will plump up beautifully as in the photo above and they are then much quicker to prepare for meals.

Beans can cause digestive problems for some people and soaking them overnight will remove those indigestible sugars so things will be much 'calmer'.
This beautiful soup is filling and healthy and reheated leftovers taste even better. It is packed with:
Tender and nutritious navy white beans. They are also correctly called Haricot Beans.
A delicate savory vegetable and tomato-based broth spiced with pure herbs like oregano, salt, and black pepper.
Flavorful additions of sautéd onions and corn.
When frozen it keeps well for months. Divide it into individual air-tight containers once cooled and then store it in the freezer.
When I know my day is going to be busy, I take the desired amount of soup out in the morning, place it in the fridge and come dinner time I heat it over the stove. And Voila, dinner is served!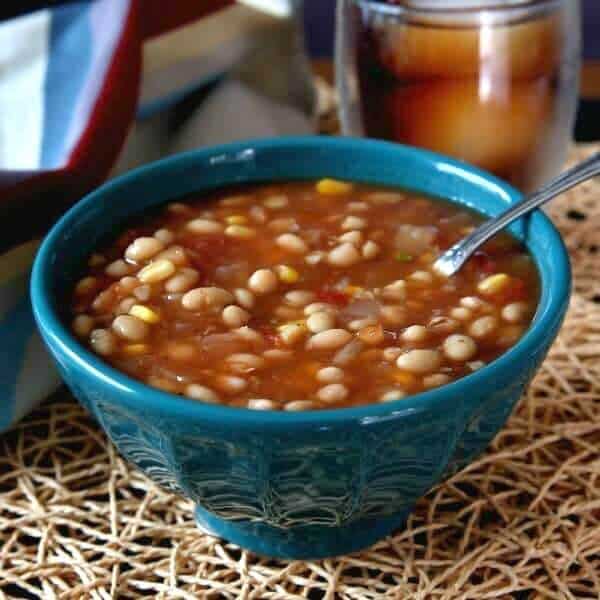 📋 Recipe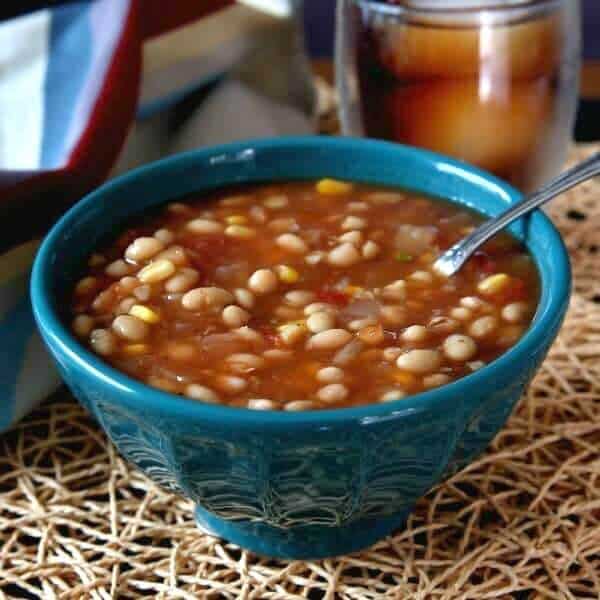 Navy Bean Soup Slow Cooker Style
Slow Cooker Navy Bean Soup is comfort food to the max and has the quality and flavors for all ages. A great dinner so go ahead and serve it to your family and make it a tradition.
Ingredients
16

ounces

Navy beans, dried

5

cups

water

2

tablespoons

extra virgin olive oil

1

onion, large yellow, chopped

4

cloves

garlic, 3-4 to 4 garlic cloves, depending on how big they are, finely chopped

1

corn, on the cob or 1 can Whole Kernel Corn

14

ounces

diced tomatoes, canned 14 to 15 ounces

1 ½

teaspoons

oregano

dried

1

teaspoon

salt

dash

black pepper
Instructions
The Night Before:
Pick over the beans and rinse. Place the beans in a large pot and cover with water by about 2 to 3 inches. Let soak overnight - the beans will swell.

In the Morning:
Drain the beans and place in a large slow cooker.

Heat the oil in a skillet and saute the onion until it is translucent - about 10 minutes.


Shuck the corn and cut off the corn kernels or drain the can of corn.


Add everything to the crockpot and cook on low for 8 to 10 hours or high 4 to 5 hours. All done and ready to serve.

Notes
Will keep in the fridge for 3 days or you can freeze for up to 4 months.
IF FREEZING:
Let the mixture cool to room temperature and freeze in any of the ways I have described in my article Preparing Food for the Freezer
TO PREPARE AFTER FREEZING:
Take out of the freezer and put in the refrigerator a few hours (about 6 hours) before heating. Heat in a large saucepan or in the microwave. Serve hot.
Now, here is another tip for making Navy Bean Soup Slow Cooker Style. If you would like more of a clear broth then you can chop up a couple of small fresh tomatoes instead of using canned tomatoes.
If you're looking for more of a stew than the soup featured in this article then add 4 cups of water instead of 5.
Nutrition
Serving:
1
cup
Calories:
167
kcal
Carbohydrates:
24
g
Protein:
7
g
Fat:
5
g
Saturated Fat:
4
g
Sodium:
493
mg
Potassium:
451
mg
Fiber:
9
g
Sugar:
2
g
Vitamin A:
85
IU
Vitamin C:
8.4
mg
Calcium:
91
mg
Iron:
2.6
mg