Slow Cooker Lentil Vegetable Soup is, to say the least, easy and a flavorfully herbed dinner. You just throw in the ingredients and get a fantastic meal.

Nothing says fill-it-up like a hot pot of Slow Cooker Lentil Vegetable Soup that is all ready to serve.  Bowls will be lined up waiting for their ladles full of flavorfully herbed vegetable soup.   I mean, can you imagine carrots, mushrooms, lentils, corn, black beans, tomatoes and more?  It is loaded!
You will feel like a real chef while preparing this soup.  Even though the ingredients are pretty basic and possibly already in your kithen it is a rewarding recipe.  There is a list of herbs and spices but there again, you probably already have them.  They add so much flavor to the soup – along with aroma.  The crock~pot makes the recipe extremely easy so just add the ingredients, turn on the knob and relax.
Thank goodness my husband loves soups.  I think I have mentioned a billion few times before about his picky selective eating habits.  It always surprises me what he does and doesn't like. He is from a small town and they were, honestly, very poor.  He says they ate a lot out of the garden and so that is where his love for root vegetables comes from.  Lettuce?  No.  But root vegetables?  Yes.
So when I found out he loves likes (somehow he also uses correct English so he never loves an inanimate object) lentils, barley and couscous I was very very happy.  This opened up a whole new array of dishes that I could make and he would 'like'.  So, this wonderful soup was created out of wanting to get praise from my husband.  I'm so needy blessed.
Connect with Vegan in the Freezer
Facebook   |   Pinterest   |   Instagram   |   Bloglovin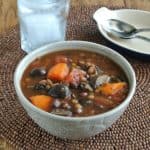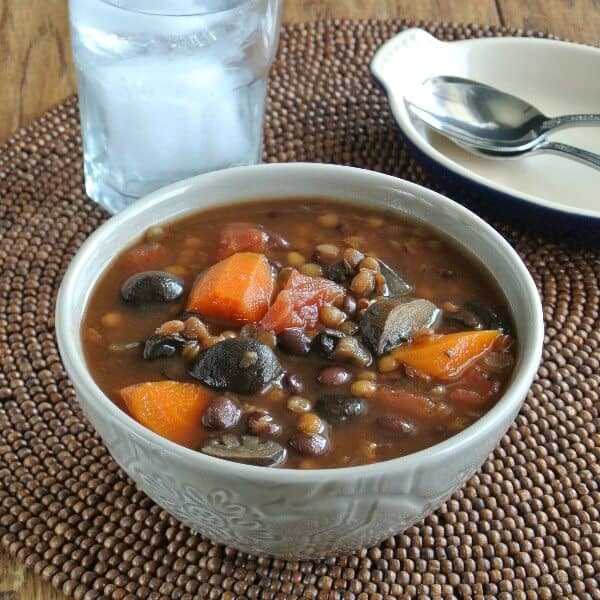 Slow Cooker Lentil Vegetable Soup
Total Time
6
hours
15
minutes
Ingredients
1

white onion, chopped

2

carrots, cut on the bias or rolled cut

1

pound

cremini mushrooms

1/2

cup

dried green lentils

1

can

8 ounces whole kernel corn

1/2

teaspoon

dried basil

1/2

teaspoon

dried oregano

1/2

teaspoon

dried parsley

1/2

teaspoon

sea salt

1/4

teaspoon

black pepper

1/8

teaspoon

garlic powder

1/8

teaspoon

onion powder

1/8

teaspoon

dried thyme

1/8

teaspoon

dried rosemary

32

ounces

vegetable broth
Instructions
As simple as always - Add everything to the crock pot and stir.

Cook on low 6 to 8 hours or on high 3 to 4 hours.
Recipe Notes
IF FREEZING:
Let cool to room temperature.
Package in rigid sided containers as defined in my article How to Prepare Food for the Freezer

TO PREPARE AFTER FREEZING:

Remove from the freezer and put in the refrigerator overnight because it is a pretty solid mass and will take longer to defrost.

The night of serving -
Put all in a large saucepan and heat through. You can add more broth if you think it is too thick.
Ready to serve.