Best Creamy Mushroom Soup is a combo of little white button mushrooms, flavorful cremini mushrooms and coconut cream. All you need is a blender. Fast and smooth in texture.
When I was visiting some of my family in South Lake Tahoe, California we all went to this great little restaurant that served beautiful looking soup.
My niece was saying how delicious their soups were - especially the creamy mushroom soup and the tomato soup. Guess what they ordered?
When the soups were served I saw that both soups were creamy smooth and everybody was ooohing and ahhhing over the flavors.
Of course, I had to ask if they ever share their recipes. The answer was a polite 'no' but they did say that all of their soups have cream as an important ingredient. Oops.
You think I'd know better by now but my brain is challenged sometimes - especially when my family gets me all excited about a restaurant they like.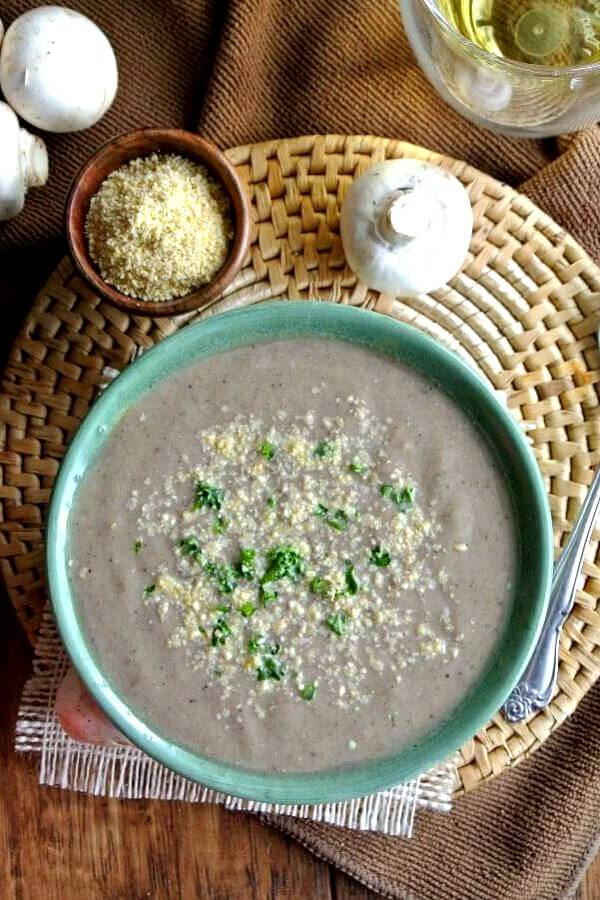 But now to the important part. I got to thinking how I need to create vegetable soups from scratch with a coconut cream base.
Creamy Mushroom Soup became my first choice because there aren't any tomatoes in my garden - yet. And I love mushrooms - big time.
I also thought that little white button mushrooms would be great mixed with flavorful cremini mushrooms. It would make it heartier and give the soup more depth. I was right.
Delicious ingredients blended together and I mean blended. Creamy smooth in texture and so very memorable.
I have to bring up another mushroom soup I have on the blog. It gets featured periodically on MSN in their food section.
It too has a very flavorful soup base but this recipe is from the slow cooker and has whole exotic mushrooms included. Take a look!
The next time you're looking for a delicious soup and an easy mix for the crock pot give this one a try. It's different and impressive.
Speaking of impressive - let's get back to this rich and creamy mushroom soup recipe. You won't forget the flavor.
You Can Freeze This Creamy Soup If You Use Full Fat Coconut Cream!
I always hesitate to tell people they can freeze this soup or others when using coconut cream. Often people try to cut the fats and buy coconut cream lite.
That won't work. There is too much water and it tends to get gritty. Please buy the full-fat kind that is 17% to 22%. It's marked on the can.
Sometimes it says coconut milk on the can and not coconut cream (I think Trader Joe's) so check the fat ingredients on the label.
I make ice cream all the time with full fat and it's creamy and good!
Helpful Tools for Making the Best Creamy Mushroom Soup
A great blender - depending on the size of your blender you might be able to do the whole recipe at once. Mine is smaller and I did it in batches.
A stainless steel skillet would be very nice to take care of the sauteing.
Nice old fashioned type, sturdy glass measuring cups are the way to go.
I hope you can try this recipe because it is also really easy to make. All you need is a blender.
Yes, I said blender. So that makes it fun and easy too!
This post contains affiliate links. Read my disclosure policy here.
What Do You Think?
If you take a photo of your delicious creamy soup I would love to see it. Follow me over on Instagram and tag me on your photo @vegan_in_the_freezer.
Your opinion means a lot to me and if you'd like to leave a comment and possibly a star rating I'd love to hear your thoughts.

Creamy Mushroom Soup
Creamy Mushroom Soup is a combo of little white button mushrooms, flavorful cremini mushrooms and coconut cream.
Ingredients
2

tablespoons

non-dairy butter for sauteing

½

cup

chopped onion

1

cup

button mushrooms

1

cup

crimini mushrooms

1

tablespoon

non-dairy butter for adding later in the recipe

2

tablespoons

all purpose flour

2

cups

vegetable broth

1

can

13.5 ounces coconut cream, that is full fat usually 17% to 22%

1

teaspoon

salt

¼

teaspoon

black pepper

¼

cup

dry white wine such as a chardonnay
Instructions
Saute the onion in the 2 tablespoon of butter for about 10 minutes.

Add the mushrooms and cook until their liquid is cooked out of them.

Add 1 Tablespoon and the flour.

Cook 3 minutes until the raw taste of the flour is gone.

Add the broth.

Bring to medium high - stirring once in a while to a mild boil. Do not let burn.

Turn down the heat to medium and add the coconut milk.

Cook for about 10 minutes.

Add half the wine and seasonings. Taste.

Add more wine and seasonings if you think it is needed.

Let cool for about 15 minutes.

Add one third to half of the soup mixture to a blender and blend until creamy.

Pour into a large bowl and set aside.

Continue with the rest of the mushroom mixture until all is creamy.

If serving now add to a large pan and heat through and serve.
Notes
You can also refrigerate for a couple of days.
Nutrition
Serving:
1
Serving
Calories:
288
kcal
Carbohydrates:
9
g
Protein:
5
g
Fat:
19
g
Saturated Fat:
14
g
Sodium:
461
mg
Potassium:
398
mg
Fiber:
1
g
Sugar:
1
g
Vitamin A:
180
IU
Vitamin C:
3.1
mg
Calcium:
15
mg
Iron:
1.8
mg