This delicious recipe is packed with wholesome mushrooms that burst with umami flavor, coconut cream for richness, and garlic to really amp up any meal. Plus, it's incredibly easy to make - just a few simple ingredients are all you need to whip up your very own bowl of warm creamy mushroom soup!
Why You'll Love This Vegan Mushroom Soup Recipe
Rich and Creamy- The combination of mushrooms and coconut milk creates a creamy, rich base for this vegan mushroom soup recipe that will keep you coming back for more.
Minimal Prep- Making this delicious mushroom soup doesn't require much kitchen time! Just spend a couple of minutes cutting the veggies, add everything to a pot, and let the stove do the rest of the work.
Perfect For Winter- This vegan mushroom soup is especially great during the colder months. It's loaded with hearty ingredients, and it will make your house smell amazing as it cooks.
Nutrient Rich- Mushrooms are a great source of Vitamin D and B vitamins, so you can feel good about getting some extra nutrition in your meals. Plus, this vegan mushroom soup is a great way to sneak in an extra serving of vegetables!
What Is Mushroom Soup?
Mushroom soup is a classic comfort food that's usually made with a creamy base of cream and butter, as well as mushrooms, garlic, onions, and sometimes even a splash of wine. This vegan mushroom soup is just as creamy and flavorful, but it uses coconut milk instead of cream and butter to make it dairy free. It's a great way to enjoy a comforting bowl of soup without any animal products.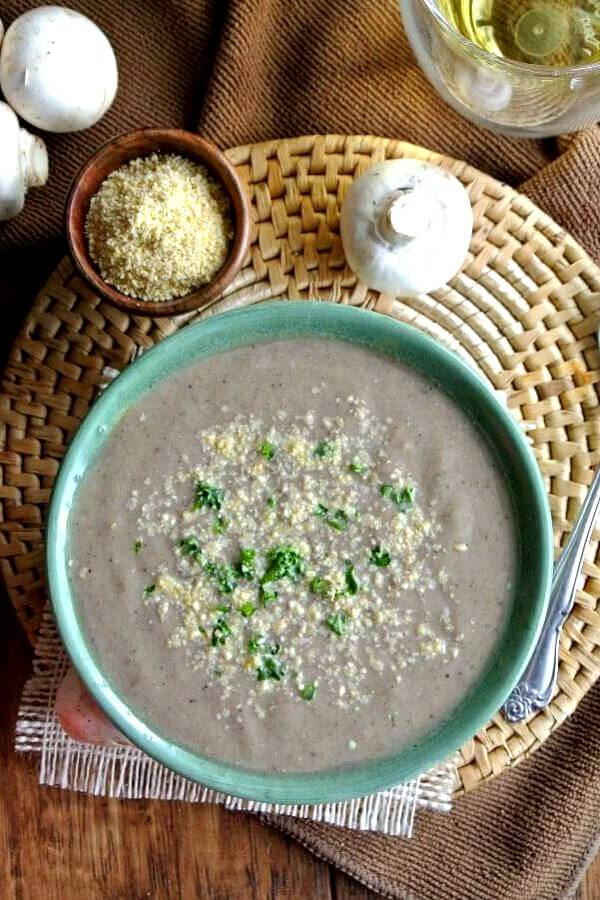 Equipment Needed
Large Pot
Cutting Board
Knife
Stirring Spoon
Blender
Measuring Cups and Spoons
Ingredients
Vegan Butter- Used to sauté the mushrooms and give them a rich flavor.
Onion- Adds flavor and texture to the soup.
White Button Mushrooms- These sliced mushrooms provide the main flavor for the soup.
Cremini Mushrooms- Combined with the button mushrooms, create a richer flavor.
All-Purpose Flour- Helps to thicken the soup.
Vegetable Broth- Veggie broth gives this vegan mushroom soup wonderful flavor and texture.
Coconut Cream- Creates a rich and creamy base for the soup.
Salt- To taste
Black Pepper- To taste
Dry White Wine- For a hint of acidity.
How To Make Creamy Vegan Mushroom Soup
To make the dish, first saute chopped onions and butter in a large pot for about 10 minutes. Then, add mushrooms and cook until all the liquid has evaporated. Next, add 1 tablespoon of flour and cook until the raw flavor disappears. Bring the pot to medium-high heat and slowly add the broth, stirring occasionally to prevent burning. Be careful not to let the mixture burn.
Reduce the stove to medium heat and pour in the vegan cream. Cook for 10 minutes, and then add half of the wine and seasonings. Taste it and add more if required. Let the soup cool for 15 minutes. After it cools down, pour ⅓ to ½ of the soup into a blender and blend until its consistency becomes creamy. Pour the blended soup into a large bowl. Repeat the blending process with the remaining soup and add the creamed soup to the bowl. If you are serving right away, reheat the soup in the pot. Serve warm, and enjoy!
Popular Substitutions & Additions
If you don't have access to the exact ingredients listed, feel free to make some substitutions to this creamy vegan mushroom soup recipe. For example:
If you can't find coconut cream, you can use coconut milk instead.
Any plant-based milk will actually work in this mushroom soup recipe. Almond milk, oat milk, and soy milk. It will need to be mixed with a little corn starch to thicken up the base a little bit.
You can also spice up the vegan mushroom soup with red pepper flakes, hot sauce, or jalapenos.
Vegetable stock can be used in place of vegetable broth in this mushroom soup.
Substitute the wine with a splash of apple cider vinegar, soy sauce, coconut aminos, or balsamic vinegar.
Garnish this amazing soup with fresh parsley, fresh thyme, red onion, or more mushrooms.
Season this creamy soup with onion powder, garlic powder, or salt and pepper to taste.
Use olive oil or coconut oil in place of the dairy-free butter.
Lastly, if you want to make the soup even more hearty, add some cooked lentils or quinoa.
No matter what ingredients you use, this vegan mushroom soup is a great recipe to satisfy your comfort food cravings! Enjoy!
Can You Freeze This Easy Mushroom Soup?
You Can Freeze This Delicious Soup If You Use Full-Fat Coconut Cream!
I always hesitate to tell people they can freeze this soup or others when using coconut cream. Often people try to cut the fats and buy coconut cream lite or lite coconut milk.
That won't work. There is too much water, and it tends to get gritty. Please buy the full-fat kind that is 17% to 22%. It's marked on the can.
Sometimes it says coconut milk on the can and not coconut cream (I think Trader Joe's), so check the fat ingredients on the label.
I make ice cream all the time with full fat, and it's creamy and good!
Helpful Tools for Making the Best Creamy Vegan Mushroom Soup
A great blender - depending on the size of your blender, you might be able to do the whole recipe at once. Mine is smaller, and I did it in batches.
A stainless steel skillet would be very nice to take care of the sauteing.
Nice old-fashioned type, sturdy glass measuring cups are the way to go.
I hope you can try this recipe because it is also really easy to make. All you need is a blender.
Yes, I said blender. So that makes it fun and easy too!
Creamy Vegan Mushroom Soup FAQs
What type of mushrooms should I use?
The beauty of this soup is that it can be made with any type of fresh mushrooms will work. White button mushrooms, portobello mushrooms, baby bella mushrooms, oyster mushrooms, and shiitake mushrooms are all great options. Experiment with different kinds to create a unique flavor!
Can I make this soup creamy vegan mushroom soup gluten-free?
Yes, you can definitely make it gluten-free by using gluten-free flour or cornstarch instead of regular flour.
How do I store leftover vegan mushroom soup?
Leftover soup can be stored in an airtight container and kept in the refrigerator for up to 4 days.
Can I make this soup without wine?
Yes, you can make this soup without wine. You can substitute the wine with apple cider vinegar or omit it altogether.
📋 Recipe
The Best Creamy Vegan Mushroom Soup
This warm and creamy soup is made with just a few simple ingredients like mushrooms, coconut cream, and chopped onion to make it the perfect comforting meal.
Ingredients
2

tablespoons

non-dairy butter for sauteing

½

cup

chopped onion

1

cup

button mushrooms

1

cup

crimini mushrooms

1

tablespoon

non-dairy butter for adding later in the recipe

2

tablespoons

all purpose flour

2

cups

vegetable broth

1

can

13.5 ounces coconut cream, that is full fat usually 17% to 22%

1

teaspoon

salt

¼

teaspoon

black pepper

¼

cup

dry white wine such as a chardonnay
Instructions
Saute the onion in the 2 tablespoon of butter for about 10 minutes.

Add the mushrooms and cook until their liquid is cooked out of them.

Add 1 Tablespoon and the flour.

Cook 3 minutes until the raw taste of the flour is gone.

Add the broth.

Bring to medium high - stirring once in a while to a mild boil. Do not let burn.

Turn down the heat to medium and add the coconut milk.

Cook for about 10 minutes.

Add half the wine and seasonings. Taste.

Add more wine and seasonings if you think it is needed.

Let cool for about 15 minutes.

Add one third to half of the soup mixture to a blender and blend until creamy.

Pour into a large bowl and set aside.

Continue with the rest of the mushroom mixture until all is creamy.

If serving now add to a large pan and heat through and serve.
Notes
You can also refrigerate for a couple of days.
Nutrition
Serving:
1
Serving
Calories:
288
kcal
Carbohydrates:
9
g
Protein:
5
g
Fat:
19
g
Saturated Fat:
14
g
Sodium:
461
mg
Potassium:
398
mg
Fiber:
1
g
Sugar:
1
g
Vitamin A:
180
IU
Vitamin C:
3.1
mg
Calcium:
15
mg
Iron:
1.8
mg