Slow Cooker Tomato Soup is a keeper. Tomato Soup is probably one of your childhood favorites anyway and it will be your kids too so hang onto this recipe.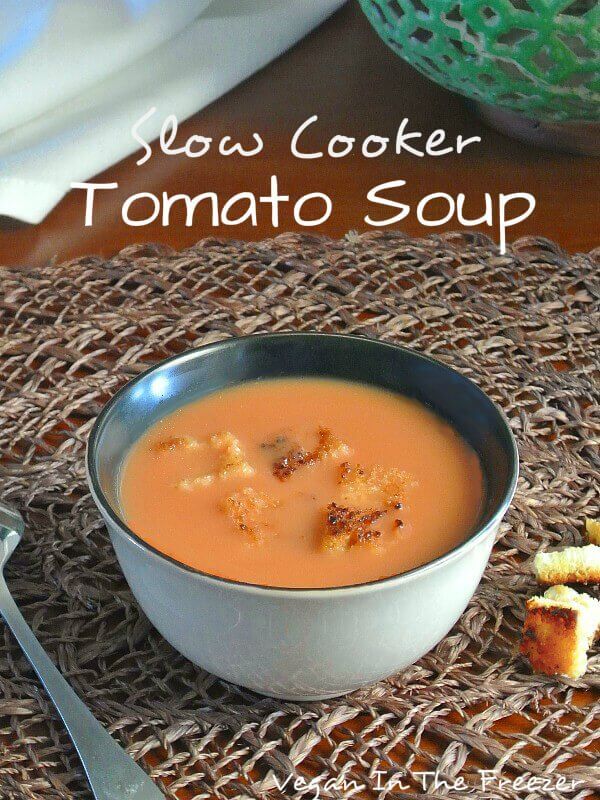 Slow Cooker Tomato Soup is an excellent recipe to add to your families 'meals list'.
Tomato Soup is probably one of your childhood favorites and it will be for your kids too so hang onto this recipe. It will be just as easy for them to make in the future.
The super nice thing about this recipe too is that it was designed to be used with fresh tomatoes. You can use canned but the words 'from scratch' screams 'homemade with the best ingredients'.
Slow Cooker Tomato Soup with Crockpot Ease!
You'll be amazed how easy Slow Cooker Tomato Soup is and it becomes even easier when it is made in the crock pot.
The process is really the same – it is just nice to walk away when the slow cooker is loaded and you can go do something else. It just seems more fun.
I used fresh tomatoes and after everything is cooked in the slow cooker then you put it through a strainer.
This post contains affiliate links. Read my disclosure policy here.
Push all of the ingredients through with the back of a wooden spoon. There will be very little left in the strainer so you can enjoy all of the flavors in this wonderful soup.
Watch how easy it is to make in this video – Right here or at the top of the page if you're on your phone!
Print
Slow Cooker Tomato Soup from Scratch
low Cooker Tomato Soup is a keeper.
Total Time
4
hours
15
minutes
Ingredients
2 1/4

pounds

tomatoes

fresh - if you don't have fresh you can use 2 cans Tomatoes, I used Roma, 28 oz. total - it can be a little more

1/2

onion

chopped

2 3/4

cup

vegetable broth

1/2

cup

white wine

2

tablespoons

tomato paste

2

teaspoons

dried basil

1/2

teaspoon

ground cumin

1

teaspoon

sea salt

1/4

teaspoon

black pepper

2/3

cup

almond milk

unsweetened
Instructions
By the way - you can easily double this recipe for a larger group or for freezing.

Add most of the ingredients. That means all of the ingredients EXCEPT THE ALMOND MILK. Stir well.

Turn on low and cook for 4 hours and go on your merry way.

Turn slow cooker off and take off the lid. Let cool for about 1/2 hour.

When cooler pour the cooked tomato mixture into a blender. You may have to do the blending in batches. Hot mixtures seem to want to blow out the top - no matter how hard you hold the lid down. Ha!

When cooled - put on the lid and hold it down.

Turn on the blender to low then turn it up to medium and process until completely blended.

Strain the tomatoes to get any of the pulp out. This is how I do it - I place a bowl on the counter and set a strainer on top of the bowl. Have the strainer fit on the edge so that you do not have to hold it.

Lift and tilt the strainer until all of the natural liquid strains through. Then take the back of the wooden spoon and push 'most' of the remaining mixture through the strainer. There will only be a little bit left in the strainer when you are done. It only takes a minute.

If you are going to freeze your soup this the the point where you would package in

freezer containers

.

If you are not freezing then continue on ...

Right before serving pour into a large saucepan or large bowl and add the almond milk. Heat through, without coming to a boil.

Sprinkle on croutons and serve. It is good cold too. No kidding!
Nutrition
Nutrition Facts
Slow Cooker Tomato Soup from Scratch
Amount Per Serving (12 ounces)
Calories 65
% Daily Value*
Sodium 1003mg42%
Potassium 493mg14%
Carbohydrates 10g3%
Protein 2g4%
Vitamin A 1730IU35%
Vitamin C 25.2mg31%
Calcium 64mg6%
Iron 1.1mg6%
* Percent Daily Values are based on a 2000 calorie diet.
If you pre-froze the tomato mixture here are the directions
TO PREPARE AFTER FREEZING:
Remove from the freezer and put in the refrigerator overnight because it is a pretty solid mass and will take longer to defrost.
THE NIGHT OF SERVING:
As stated in the directions above Right before serving pour into a large saucepan and add the almond milk. Heat through, without coming to a boil, and serve for lunch, as an entree or for dinner alongside your other dishes.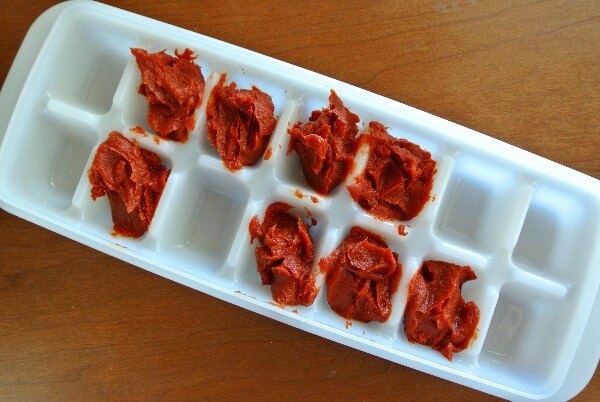 I have a great tip for you on freezing tomato paste. So many times a recipe only calls for only 1 or 2 Tablespoons tomato paste.
Well, those cans are 6 ounces. I have devised a way to easily save the extra tomato paste where you can get at a tablespoon or two anytime you want to.
Get one of your ice cube trays out. Dollop a tablespoon of paste into each compartment (there will be 9 tablespoons from a can – I used one so there are only 8 in the photo). Freeze the tomato paste.
When hard, pop the frozen dollops out of the ice cube trays just like you would ice and freeze in a freezer safe container.
I use a freezer bag for this. Whenever you need some you just take out whatever you need.