Roasted Red Potatoes are easy to make and when they are roasted with added spices that pack some heat you get something special. Top the Mexican potatoes with fire-roasted tomatoes for even more enjoyment.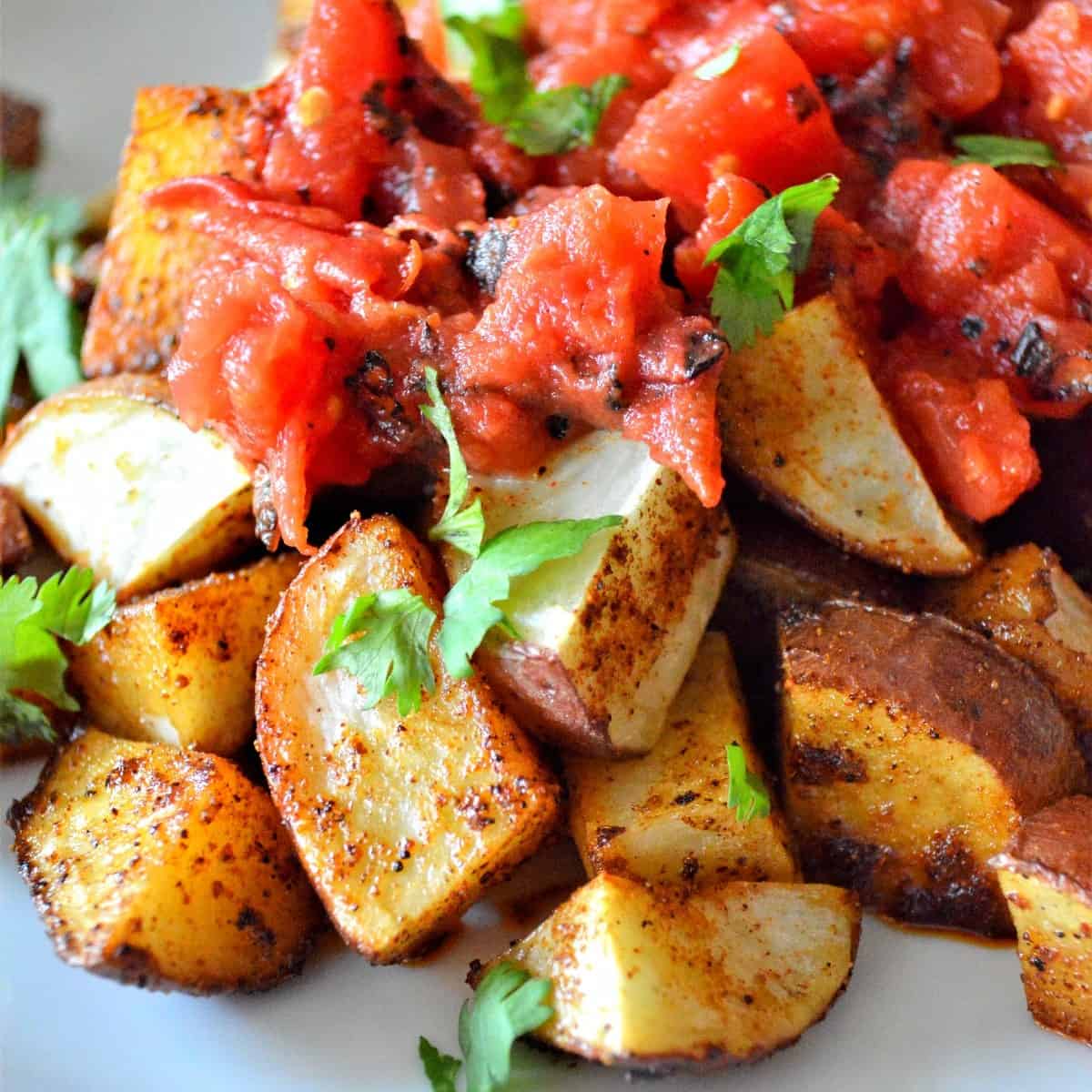 You can never have too many potato recipes. I know this is true because I can't even count all of the potato recipes I have and I'm still looking for more.
For instance. You need to know how to roast potatoes and then you also need to know how to bake, sauté, boil, mash, casserole and fry them. And you need to know all of the variations too.
One of the variations for roasting them is where this new recipe comes from.
It is spicy, quick, easy, and new. You can call them Mexican potatoes because of their spiciness and I can really see enjoying them with scrambled tofu eggs or breakfast burritos. What perfect combinations!
The spices that are included in the mix are cumin and chili powder. You can't beat that! And the fire-roasted tomatoes are already a nice topping and all you have to do is drain them a little bit.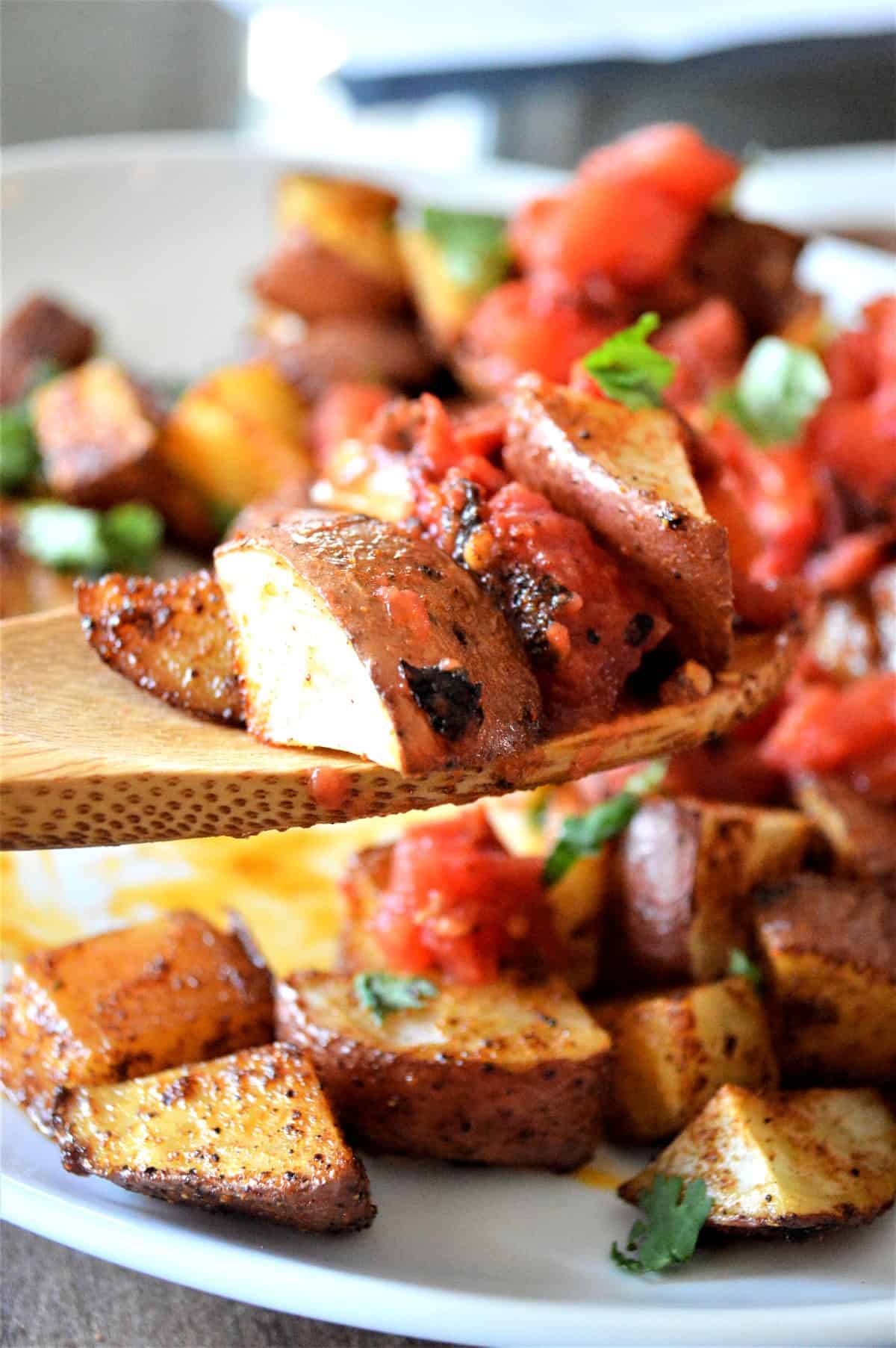 🥔 New or red potatoes
New potatoes are old fashioned words for early harvested potatoes of the new season. Russets generally take a long time to grow. At least 3 months. Usually 4 months. Red potatoes usually take about 2 months.
They aren't actually a variety of potato but a waxy potato that has red skin and comes in earlier in the summertime. New potato was always what they were called.
Now that time has passed and many many more potato varieties have been created the new title of red potatoes has taken over.
One thing I've noticed is that they are grown a lot larger than they use to be. Luckily there is a section in my grocery store for organic produce and there are small bags that have actually small red potatoes in them.
You don't need to buy the really small ones for this recipe but you do need to cut them smaller.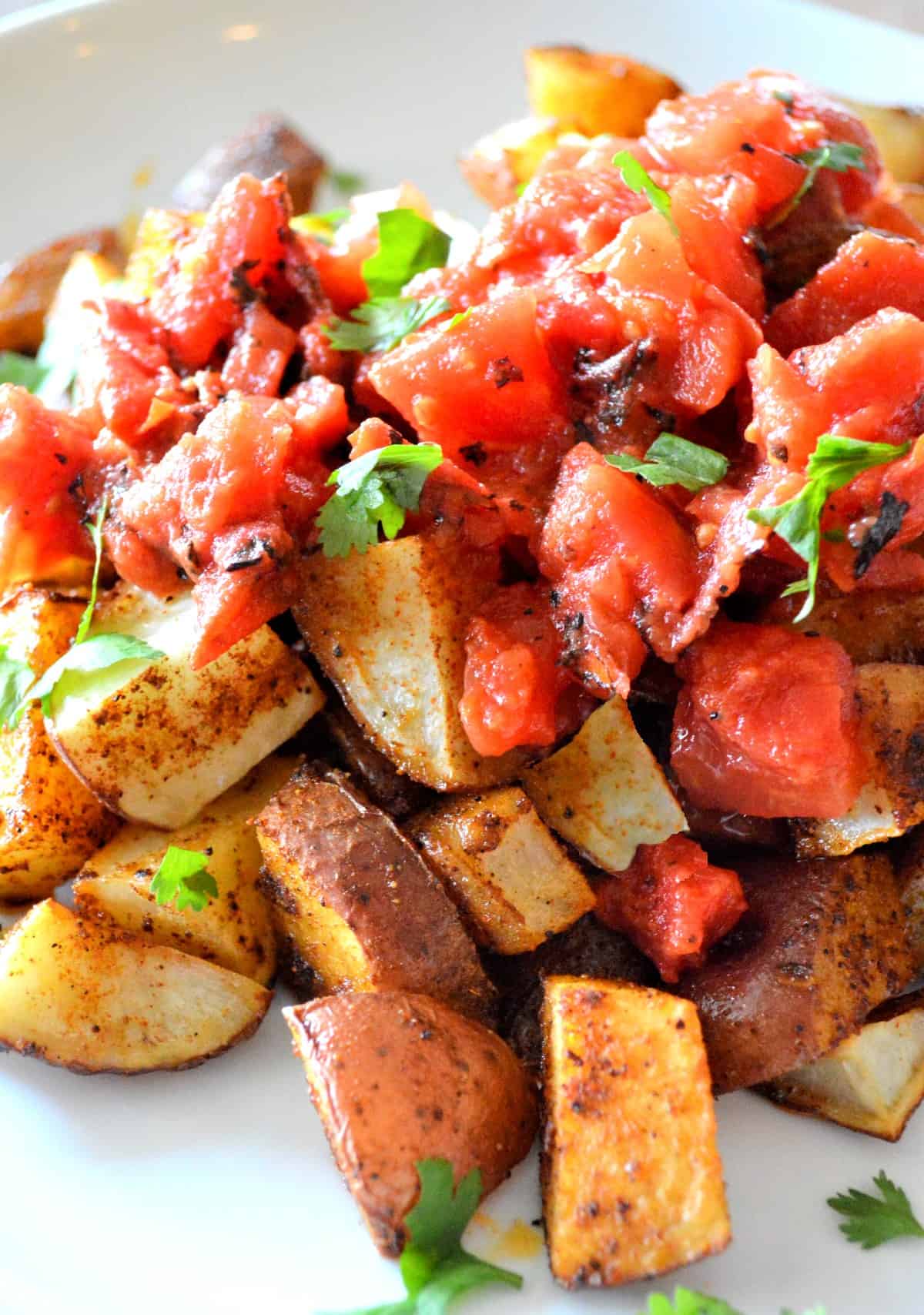 👩🏻‍🍳 How to prepare roasted red potatoes
Wash the potatoes to knock off any dirt. Try to always buy organic so that you don't have to worry about chemicals.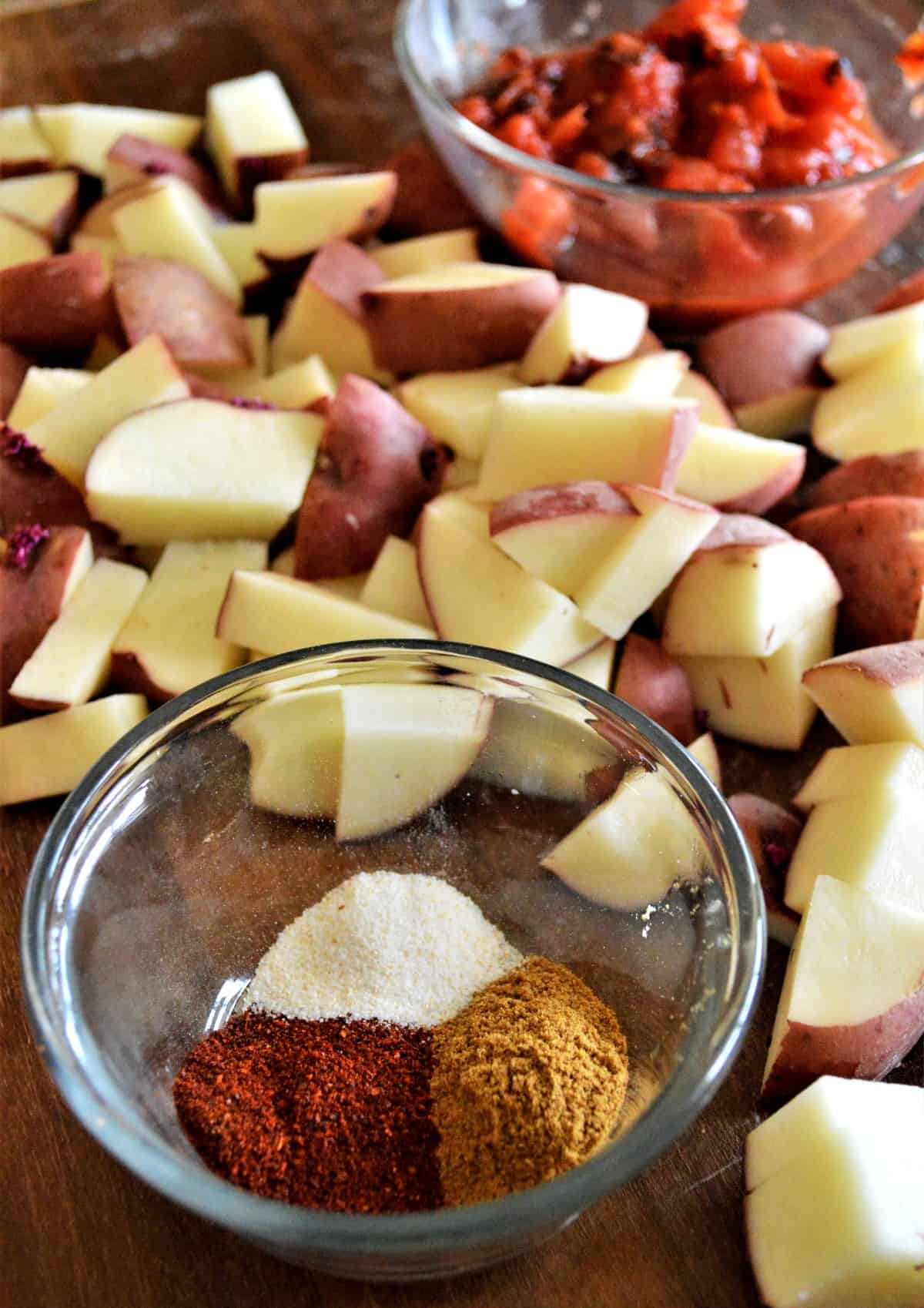 Cut them into bite-sized pieces. Some are so small that you only need to cut them in half.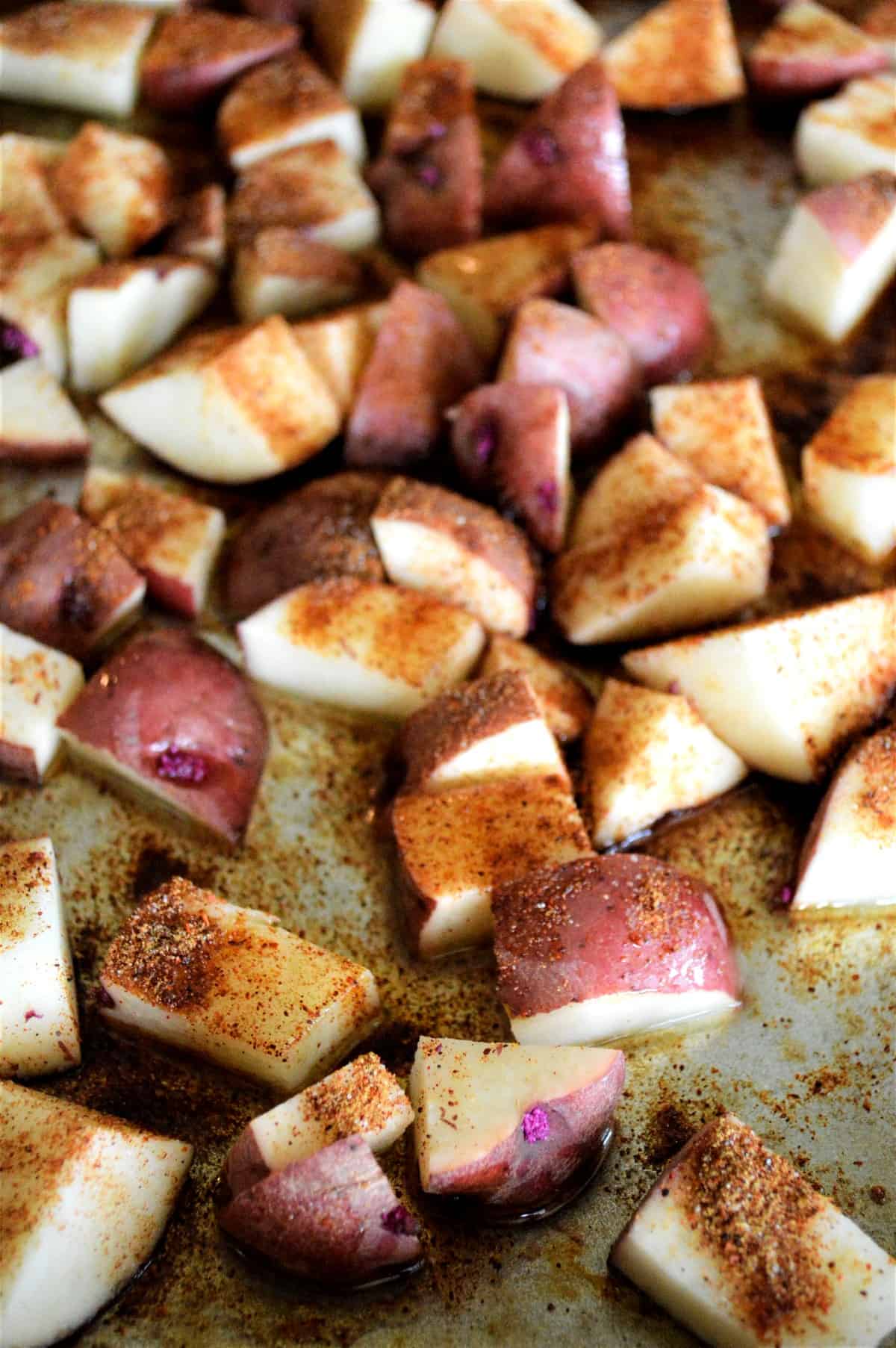 Pat the potatoes dry and then place on a baking sheet. Put them close to each other for this next step. Drizzle oil over the tops and then stir with a spatula to cover all of the sides.
Have them touching each other again. Mix the seasoning together and sprinkle half of it over the veggies. Flip them and sprinkle with the rest of the seasoning. You're getting closer to calling these Mexican potatoes.
Now you can spread them out on the pan and place in a preheated oven at 400°. Bake for 35 minutes, flipping with a metal spatula at 20 minutes. The flipping part will take a couple of minutes so go past 35 minutes a bit.
When done remove from the oven and plate. Drain the roasted tomatoes and sprinkle a few over the top of the pile. The roasted tomatoes add another layer of flavors.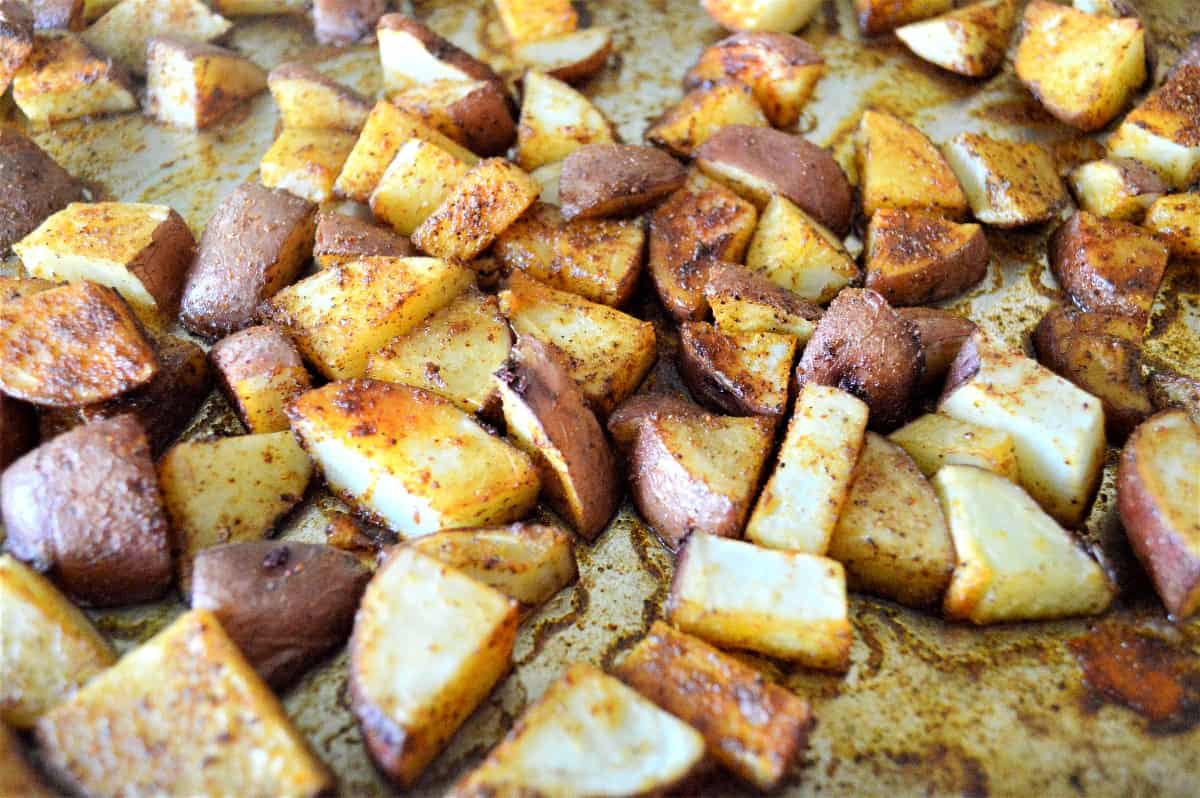 💭 FAQ's
What potatoes are good for roasting?
There are over 4000 varieties and luckily almost all of them are good roasted. Ones with a rich buttery taste such as red potatoes are one of the best. Yukon gold potatoes are easy to find and they are also waxy which makes them especially nice for roasting and becoming caramelized.
How do you make roasted potatoes crispy?
Make sure they're dry and lightly cover the potatoes with oil before roasting and they will become crispy. You don't need much and it also helps the spices to cling to the chopped veggies. Also, cook at a high temperature such as 400° or even 425°.

Should you flip roast potatoes?
Yes! After about 20 minutes take the baking pan out of the oven. With a metal spatula scrape up and flip over. Make sure you are scraping on the pan so you don't accidentally scrape off the roasted undersides.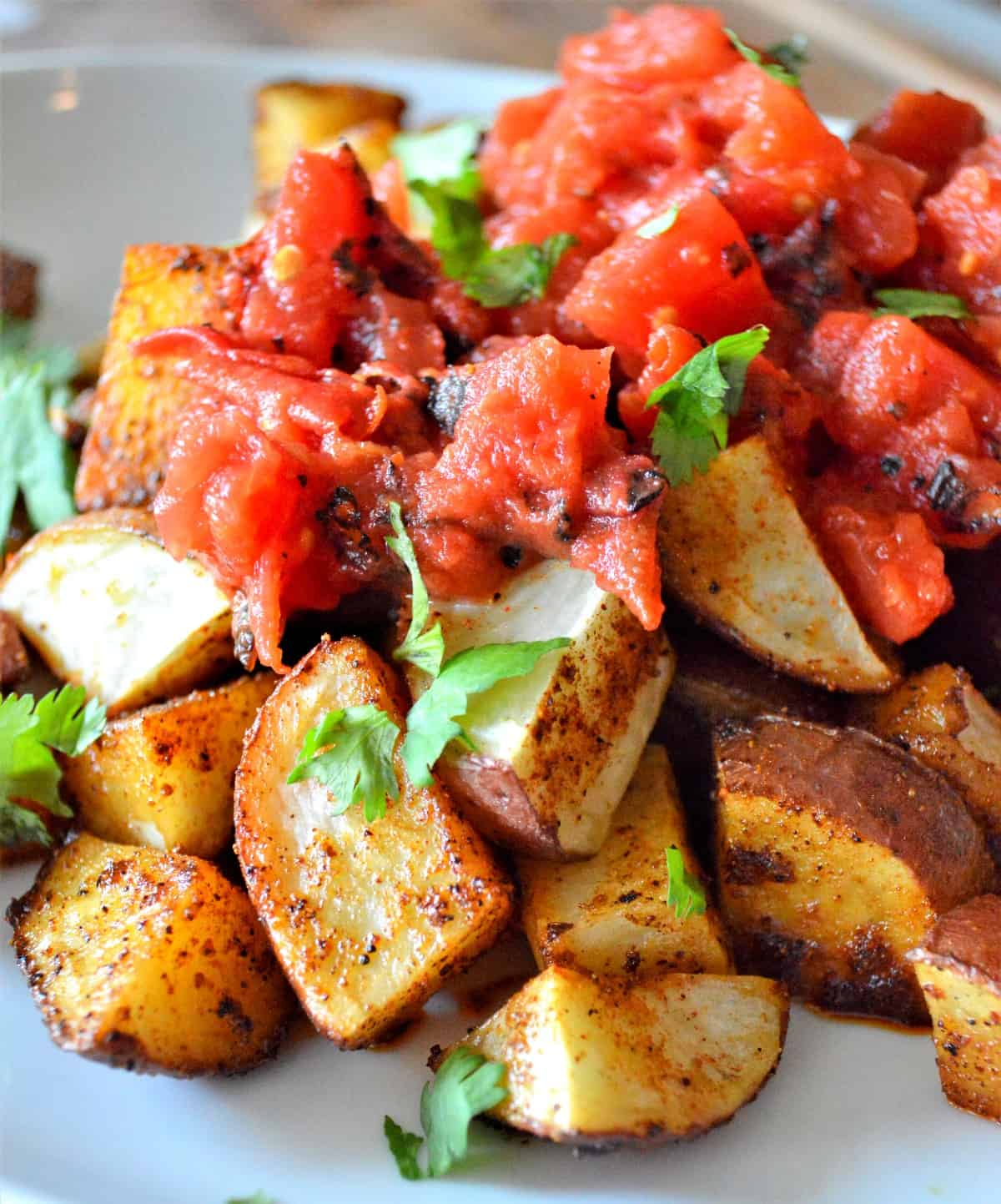 I'd love to mention some other recipes that you would love. The problem is I'm trying to figure out if you want more Mexican style recipes or potato recipes.
Okay, I'm going to go for potatoes. We need to cook every day so the versatile potato helps out a lot.
📖 Great potato recipes
Air Fryer Hasselback Potatoes can also be baked in the oven and they are enhanced with mushroom slices.
Scalloped Potatoes are one of the most popular recipes on the blog. This recipe is onionless but please add onions if your family loves them.
Who doesn't like Twice Baked Potatoes? It's so nice that they can be prepared ahead of time too.
If you take a photo of your roasted red potatoes I would love to see it. Follow me over on Instagram and tag me on your photo @vegan_in_the_freezer.
📋 Recipe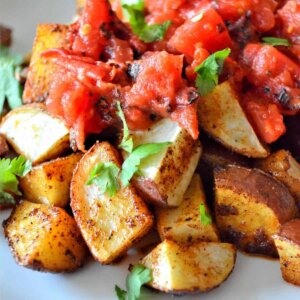 Roasted Red Potatoes
Roasted Red Potatoes are easy to make and when they are roasted with added spices that pack some heat you get something special.
Ingredients
4

cups

red potatoes

- chopped

1

cup

fire roasted tomatoes

- drained

1

teaspoon

ground cumin

½

teaspoon

chili powder

½

teaspoon

garlic salt

2

tablespoons

Extra virgin olive oil
Instructions
Chop red potatoes into bite-sized pieces.

Place them on a baking sheet and drizzle with oil.

In a small bowl, whisk together dry seasonings. Top potatoes with the dry seasoning mixture.

Bake at 400°F for approximately 35 minutes. Flip the potatoes at about 20 minutes.

Remove from the oven, place on a serving dish, then top with fire-roasted tomatoes.
Notes
Each Serving is about 1 ⅓ cups.
Nutrition
Serving:
1
Serving
Calories:
176
kcal
Carbohydrates:
20
g
Protein:
3
g
Fat:
10
g
Saturated Fat:
1
g
Sodium:
546
mg
Potassium:
467
mg
Fiber:
2
g
Sugar:
3
g
Vitamin A:
446
IU
Vitamin C:
10
mg
Calcium:
42
mg
Iron:
2
mg