Twice Baked Potatoes are a great standby for your family and company too. Easy to pre-prepare and all you have to do is slide them in the oven and relax.
Twice Baked Potatoes are a great standby for company.  They are a special treat for your family too.  I can't count how many times I have pre-prepared twice baked potatoes and had them in the refrigerator when company came over.  All I have to do is slide them in the oven and visit with our guests.
If you want to prepare the potatoes way in advance this recipe freezes great. It comes out just like you had freshly prepared them.
All ingredients are put together and stuffed into the potato shell and then placed into the freezer. Your side dish is all done until you are ready to bake them for the second time so that you can eat up.
Connect with Vegan in the Freezer
Facebook | Pinterest | Instagram | Bloglovin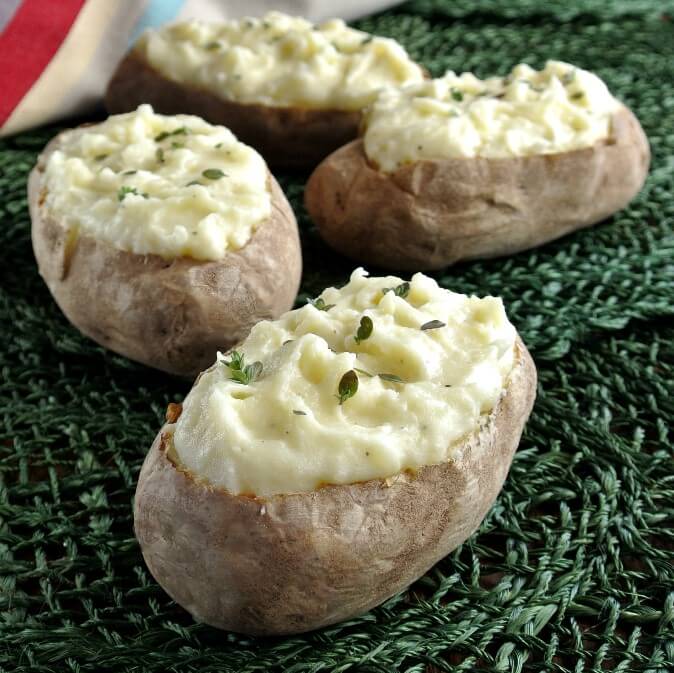 Twice Baked Potatoes
Ingredients
6

baking potatoes such as russets

1/2

cup

dairy-free butter

3/4

cup

dairy-free sour cream

1/2

cup

unsweetened dairy-free milk

2

teaspoons

salt

1/2

teaspoon

ground black pepper
Instructions
Preheat the oven to 350°

Wash the potatoes with a vegetable brush.

Pierce with a fork so that the potatoes do not explode when baking.

Bake at 350° for and 1 hour and 15 minutes.

Remove from oven and let stand 15 minutes.

When you can handle them slice off the top of each potato.

With a large spoon scoop out the potatoes. Scoop out the tops too.

Mash with a potato masher.

Add the non-dairy butter and non-dairy sour cream and 1/4 cup of the non-dairy milk.

Mix well and if you think it is too dry add a little more milk. When they are baked again they will become creamier. It is just that they are cool now and seem stiff. I do usually use the whole 1/2 cup of milk because I buy large potatoes.

Scoop the mashed potatoes back into the potato shells. Mound them up as much as necessary.

At this point you can bake, refrigerate or freeze them.

To BAKE:

Put back into the oven at 350° and bake 25 minutes.

You can sprinkle a little paprika on top to give a little color. I sprinkled them with marjoram leaves for the photos.
Recipe Notes
TO FREEZE:
Pre-freeze the potatoes for about an hour before putting them in a container or freezer bags. This keeps the mashed tops from sticking to anything. When they are firm - take them out and package them according to any of the directions you would like to choose in my article Preparing Food for the Freezer.

TO PREPARE AFTER FREEZING:

Take them out of the freezer and put in your refrigerator in a casserole dish at least 24 hours before baking. I say put them in a dish because there will be some water in the bottom of the dish after defrosting. Just drain and you should even pick up each potato and carefully tilt to drain if necessary. They will bake up perfectly. Place in a preheated oven at 350° for 40 to 45 minutes until they are very hot all the way through.
You can sprinkle a little paprika on top to give a festive color.