Ever hear the saying "you can't have too much of a good thing?" Well, in the case of having so many fresh, juicy blueberries on your hands that you can't possibly eat them before they all spoil, you might find yourself feeling like the reverse is true!
Whether you have picked bushels of fresh blueberries at the local farm, or made an economical decision to buy in bulk at the local market, having an excess of blueberries means you have to get creative on how to prolong their fairly brief shelf life. Thankfully, it's quite easy to freeze fresh blueberries, as doing so requires very little prep work on your end. Stay tuned, we're walking you through how to freeze blueberries, from start to finish!
Blueberry Basics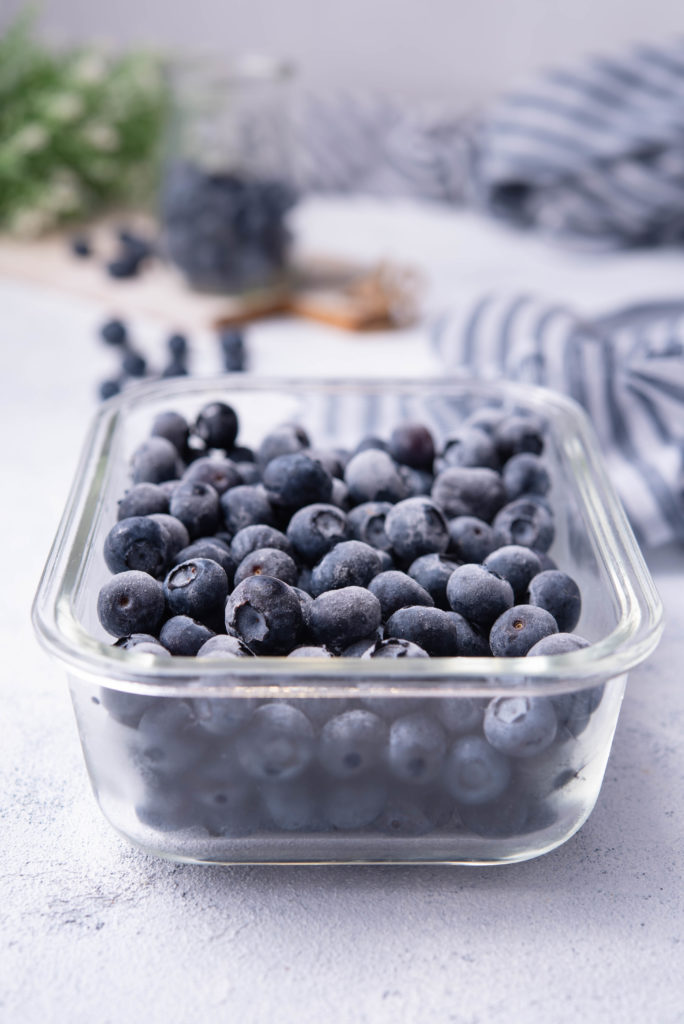 Most folks could pick a blueberry out of a lineup with ease. They're those blue to bluish-purple hued berries that range in size from pea to marble. Blueberries are in the family Ericaceae, also known as the heather family, which includes other notable species such as cranberries and huckleberries.
These blue gems are native to North America, where they continue to grow wildly in the northern United States, Canada, and Alaska. Blueberry bushes thrive in thin, alpine soil and harsh conditions which are inhospitable to many other plant species. Depending on the region, blueberry season occurs for a brief time anywhere between the months of April to September. If this short timeframe leaves you feeling like you want to make the most of blueberry season while it's here, we're right there with you!
Equipment Needed for Freezing Blueberries
The best way to freeze blueberries is also the easiest way--no fancy kitchen equipment (not even a knife!) required. You'll need just a couple of items which you most likely already own, but that can be easily substituted if you don't.
Baking Sheet/Wire Rack
This is the surface upon which you will arrange your blueberries in order to freeze them. The baking sheet can be shiny metal or nonstick, but we do recommend choosing a rimmed baking sheet as this will help the blueberries to stay put during the freezing process. You can also use a wire rack (just be sure the holes in the grid are not too large!) or a large freezer-safe plate. The idea is just to select a flat surface which will comfortably fit into your freezer space--this is the key detail!
Baking Paper/Parchment Paper
After you've selected the sheet pan or plate you plan to freeze your blueberries on, you'll need to line it with something to prevent the blueberries from sticking. The best thing to use for this task is baking paper (also known as parchment paper) but a sheet of wax paper will do the trick here as well.
We don't recommend using paper towels however, as the frozen berries will stick to them, leaving you with small bits of paper towel mixed into your frozen berries. Along those lines, you should also avoid using aluminum foil here as well, as the aluminum is reactive when in contact with acidic foods. Since blueberries have some natural acid content, they could potentially pick up an odd flavor from the foil.
Freezer-Safe Containers
Once your berries are frozen, you'll need some freezer-safe containers to store them in. You can opt for freezer bags, freezer-proof plastic or glass tupperware styles, or another other airtight container. Whichever you choose, just be sure that it seals tightly and makes efficient use of your freezer space.
Should You Wash Fresh Blueberries Before Freezing?
Like many fresh fruits and vegetables, fresh blueberries possess a natural coating which, although invisible to our eyes, is quite important! Rinsing the berries removes this protective film and leaves the blueberries more susceptible to spoilage.
Therefore, we recommend you not wash blueberries before freezing them, rather just give them a quick rinse when you plan to use them. In addition, allowing the protective coating to remain on the berries during the freezing process will also help to prevent them from sticking to one another during freezing.
If you do opt to wash your fresh berries before freezing them (doing so will make your life easier when it comes time to use them--we understand if you choose this route!), just give them a quick rinse under cold water and lay them out on a clean dish towel, allowing them to air dry fully before proceeding with the freezing process.
How to Freeze Blueberries: Step-By-Step
Freezing blueberries is as easy as the following 4 simple steps!
Step 1: Sort the Blueberries
We recommend that once you get your blueberries home, give them the once over. Remove any blueberries that are green (under ripe) or blackened (overripe) as leaving these in the mix stands to compromise the rest of your batch. Also take this time to remove any stems, leaves, or anything else that shouldn't be in there!
Step 2: Arrange the Blueberries
Place the blueberries on your parchment or wax paper lined baking sheet, wire rack, plate, or other vessel. Be sure to arrange the berries in a single layer, leaving adequate space between them so as to prevent the blueberries from freezing together in one giant clump.
Step 3: Freeze the Blueberries
Transfer the baking sheet with your arranged berries into the freezer. Be sure to do so carefully and re-arrange any blueberries that roll around during the journey! Allow them to rest undisturbed for about 2-4 hours until completely frozen. This length of time will vary depending on how large your berries are and how closely spaced they are on the baking sheet.
Step 4: Re-Package the Blueberries
Once the blueberries are fully frozen, you'll want to transfer them into a sealed container as soon as possible so that they don't develop freezer burn. Transfer the frozen berries to your freezer-friendly container of choice such as a freezer bag or freezer-proof tupperware. If using a resealable zip-top bag, be sure to squeeze out as much air as possible.

Our Video on How TO Freeze Blueberries:
How Long Do Frozen Blueberries Last?
While fresh blueberries last for only 7-10 days at best, frozen blueberries can be safely stored for up to 10 months! Keep in mind that they probably will only be at their best for about the first 6 months or so, and that their viability relies on proper freezing and storing techniques.
How to Defrost Frozen Blueberries
In many cases, you won't need to thaw frozen blueberries as they can often be added to recipes straight from the freezer. If you need to thaw your frozen berries though, you can opt for either of 2 easy methods:
Refrigerator Method
Simply transfer your package of frozen blueberries from the freezer to the refrigerator the day before you plan to use them. Allow them to defrost in the refrigerator for about 6 hours or overnight, then use them as you wish!
Cold Water Method
If your frozen blueberries are not in a resealable plastic bag already, transfer them to one and squeeze out as much air as possible. Fill a large bowl with cold water and submerge the bag of blueberries, then leave this setup on your kitchen counter for 15-20 minutes. The blueberries should be defrosted after this timeframe, but if not, refresh the cold water and repeat the process.
Note: Resist the urge to thaw your blueberries with warm or hot water. Not only will this degrade the flavor and texture of the berries, but defrosting any food by way of warm water leaves the door open for harmful bacteria to grow.
Top Tips for Freezing Blueberries
Be Picky With Your Berries
When it comes to selecting which batches of blueberries are going in the freezer, it's wise to be picky. You only want to freeze blueberries which are in excellent condition to start with, as they are certainly not going to get any better after freezing and defrosting.
This means skipping over any overripe blueberries as well as any batches of berries that have signs of mold growth. If the mold is isolated to a single berry or two, it's fine to weed those out and eat the rest, but we do not recommend freezing berries which have been exposed to a significant number of other moldy berries.
Only Freeze Once
You should only be freezing fresh blueberries--this means no defrosting and refreezing! Not only is this a major food safety issue, but those sensitive little blueberries simply won't hold up to being repeatedly frozen and defrosted.
If your blueberries are frozen in a large container or freezer bag, always take the time to remove just as many as you plan to use at that given time.
Label Those Packages!
It always pays to take the extra time to document what is in those carefully packaged containers and when you put it there. No matter how certain you are that you'll know everything that's in the freezer, things have a way of changing shape and appearance during the freezing process, so help yourself out here!
How to Use Frozen Blueberries
Frozen blueberries have got to be one of the most versatile and easy to work with frozen fruits out there. In most of our recipes, you can even use frozen blueberries straight from the freezer!
Two words: blueberry pancakes. Try our favorite recipe for Blueberry Vegan Pancakes!
Use frozen blueberries in place of ice cubes in a refreshing glass of seltzer or try them in our Fruit Infused Water. Adding them to cocktails is a great idea too!
Frozen berries give you an amazing head start towards achieving that perfect thick and icy smoothie texture, as in our Blueberry Protein Shake.
Sprinkle frozen blueberries on top of your next bowl of yogurt, granola, cereal, or ice cream.
Make a decadent Blueberry Sauce for drizzling over waffles, French toast, or English muffins.
Eat them as is! Frozen ripe blueberries are a wonderfully refreshing treat. Eat them fully frozen or defrost them slightly, depending on your preference.
Final Thoughts on Freezing Blueberries
Next time you spy a blueberry vendor at your favorite farmers market, don't hesitate to stock up on this fleeting treat. By making use of your freezer, you can preserve the seasonal bounty of fresh blueberries for months to come. By doing so, you'll not only be saving yourself some money and preventing food waste, but you'll also be setting yourself up to have this healthy fruit on hand anytime you need a boost of flavor, color, and nutrition!
All you need is a baking sheet, some parchment paper, a freezer safe bag (or other airtight container) and a few hours to turn your pile of fragile blue jewels into a long-lasting and ready-to-eat stash. Long live you, and long live your blueberries!
📋 Recipe
How To Freeze Blueberries
With just a few easy steps and a couple of kitchen items, you can easily freeze fresh blueberries, thereby extending the shelf life of this seasonal fruit!
Equipment
Baking sheet/wire rack

Baking paper
Instructions
I do not recommend washing organic blueberries. Instead, rinse your blueberries only when you plan on actually using them. The blueberries have a naturally waxy protective coating. This coating protects them from pests and bacteria, but it is also naturally nonstick.

If you want to rinse your blueberries, make sure you air-dry them before freezing, otherwise, the berries may stick to each other.

Pick out any green or blackened blueberries and make sure to remove the stems.

Place the blueberries on a baking sheet or a wire rack lined with parchment paper.

Freeze the blueberries for 2-4 hours or until firm.

Once frozen transfer the blueberries into a freezer-friendly container.
Notes
Always freeze your blueberries on a flat surface. Freezing the blueberries in a ziplock bag or a container will just make them stick together. Do not keep the blueberries too long on the baking sheet. Too much exposure to the ice-cold air may cause freeze burns. Once they are frozen, store them in a freezer-friendly container, protected from the direct impact of the freezer.
How long to store? Frozen blueberries will keep good for up to 6 months, but can be stored for up to 10 months.