Fruit Infused Water- Hydrating and refreshing, with a satisfying hint of natural sweetness. This fruit-infused water is the thirst-quenching beverage you didn't know you were missing! Choose a variety of your favorite freshly cut fruits, place them on ice in a glass and cover with cool water to let the infusion begin. With its bright colors and endless flavor combinations, you'll want to enjoy this eye-catching fresh fruit-infused water all summer long.
Who doesn't love fruit? It has deliciously sweet flavors, juicy textures, and beautiful colors, plus the nutritional benefits are just an added bonus. So if you've been searching for something to add to your water regimen, look no further than this fruit-infused water. It's a light, healthy, and refreshing alternative to those artificial sugary beverages sold in stores. Fruit-infused water is simple to prepare at home and has endless taste possibilities. It's also a fantastic way of staying hydrated, especially throughout the hot summer months.
We all know how vital drinking water and remaining hydrated is to our health and that dehydration can lead to various health issues. The trouble is that sometimes we get tired of drinking water that is just plain boring; this is where fruit-infused water comes in! It's a great way to add some flavor and exciting variety to your drink while still getting all of the hydration benefits of water.
Why You'll Love This Water Infused With Fruit Recipe
Refreshing- A cold glass of water on a hot day hits the spot, and adding fresh fruit to the mix makes it even more refreshing.
Customizable- From berries to lemons to grapefruit and everything in between, the flavor combinations for fruit-infused water are practically endless.
Simple Ingredients- Water and fruit are the primary ingredients for this recipe, and both are readily available at your local grocery stores or market.
Money saver- Water infused with fruit is much less expensive than caffeinated soda, fruit juices, and other sugary drinks sold at the store.
Equipment Needed To Make This Fruit Infused Water
Ingredients For Your Infused Fruit Water
Any fruit you like:
Lemons
Limes
Oranges
Grapefruit
Blackberries
Red Raspberries
Strawberries
Watermelon
Pineapple
Kiwi
Cucumber
Fresh Mint Leaves
Ice
Water- sparkling, bottled, or tap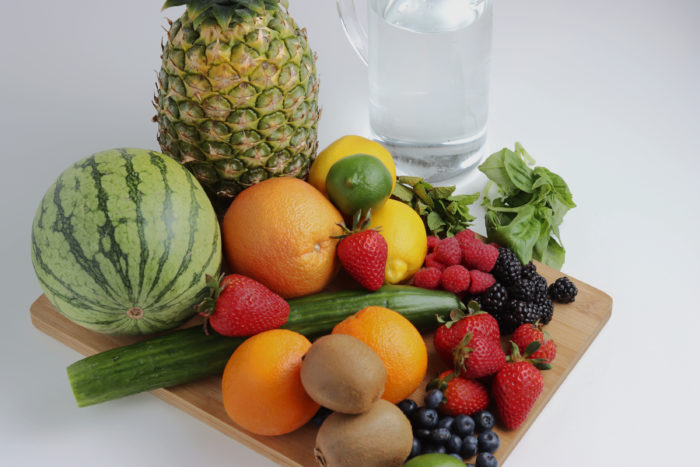 How To Make Water Infused With Fruit
The hardest part of making fruit-infused water is picking which fruit to use! After that, the rest is a piece of cake. Fruit must be washed and cut into pieces. Add a little ice and fruit to a glass; then cover the fruit with water. Add more ice, fruit, and water in succession until the glass is full. Serve then enjoy this delicious drink that's both fruity and refreshing!
What to Serve/Pair with Your Infused Water
Water infused with fresh fruit is an excellent thirst-quenching beverage while unwinding at home. It's also a beautifully refreshing drink to offer during outdoor parties alongside other popular summertime foods like Waldorf Salad, Chickpea Salad Sandwiches, Cowboy Caviar, and Fruit Salsa With Cinnamon Chips.
Popular Substitutions & Additions
If you're looking for a way to infuse your water with a little more flavor, consider adding a few herbs with your fruit. Herbs like mint and basil are perfect for adding a refreshing taste to your drink. And since they contain natural oils, they also have antibacterial properties.
Another option is to use spices like cinnamon or turmeric. These spices not only add flavor but also have health benefits like anti-inflammatory and antioxidant properties.
The sky's the limit for ways to infuse fruit into your water, so get creative and have fun with it!
How To Store Fruit Infused Water
Fruit-infused water should be kept in the refrigerator in a sealed container. Storing fruit-infused water in an airtight container will prevent oxygen from spoiling the fruit. When it comes to selecting a container, glass is always an excellent choice. However, if you're afraid of breaking something, there are many options available that are made of shatter-resistant materials like stainless steel or silicone. If stored correctly, water infused with fresh fruit will last up to four days in the fridge.
Fruit Infused Water FAQs
Can I use frozen fruit in this recipe?
Yes, frozen fruit can be used for fruit-infused water. However, frozen fruit does not release as much flavor as fresh fruit, and once the frozen fruit begins to thaw, it tends to fall apart, leaving tiny bits floating around in your water.
Should I let the fruit infuse in the water for a certain amount of time before drinking?
Yes. To obtain a great flavor, allow the fruit to soak in the water for at least an hour at room temperature or up to four hours in the refrigerator. Allow fruit to infuse in the water overnight if you want an even more vibrant flavor.
Is there a way to keep my infused water from tasting so bitter?
Yes, citrus fruits tend to leave a bitter flavor in the water if infused for lengthy periods of time. To keep the water from becoming excessively bitter, remove the rine from the citrus fruit if you intend to infuse it for more than a few hours.
Can I eat the fruit from my infused water?
Yes. It's totally fine to consume the fruit in fruit-infused water. In fact, consuming the fruit from your infused water can help you fulfill your daily recommended intake of fruits and vegetables. Although eating the fruit from your infused water is perfectly safe, the flavor of the fruit will be lessened as a result of the infusion process.
Can you reuse the fruit from fruit-infused water?
Yes! The fruit from fruit-infused water may be reused. It can be added to a smoothie, used as a topping for yogurt or oatmeal, or used in another batch of fruit-infused water.
Other Thirst-Quenching Drink Recipes You'll Love
Homemade Apple Cider With Fresh Apples
Don't Forget To Come Back And Let Me Know How Your Fruit Infused Water Recipe Turned Out!
📋 Recipe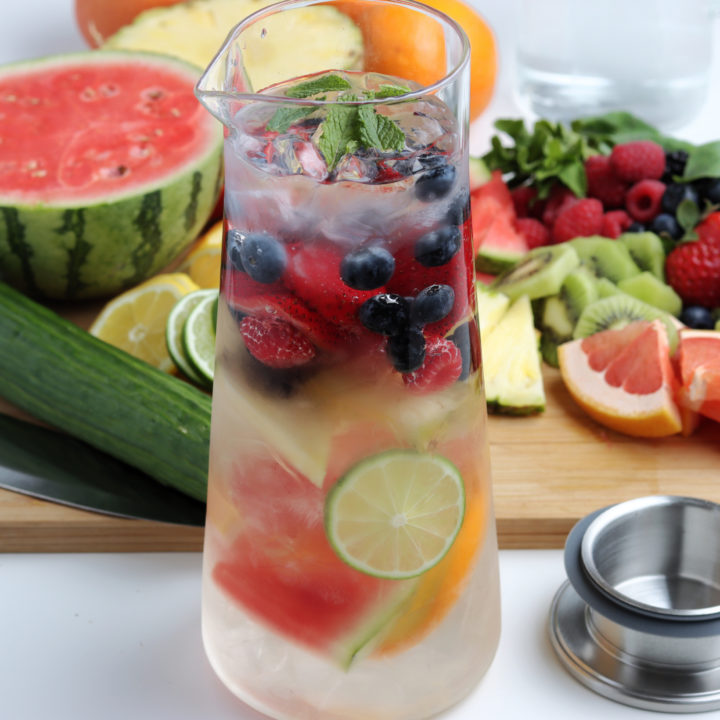 Fruit Infused Water
Ingredients
Any fruit you like, we used:
Lemons

Limes

Oranges

Grapefruit

Blackberries

Red Raspberries

Strawberries

Watermelon

Pineapple

Kiwi

Cucumber

Fresh mint leaves

Fresh basil leaves

Ice

Water, sparkling, bottled or tap,any you like
Instructions
Cut and clean any fruit you are using.

Add ice to glass, about 2 inches, enough to give the fruit something to sit on.

Pour in enough water to cover fruit.

Add more ice, fruit and water until filled to the top.

Serve immediately or store in refrigerator for 3-4 days.
Notes
Flavor combinations we used:
Grapefruit, pineapple and kiwi
Cucumbers, lemons and mint
Blackberries, red raspberries and limes
In the pitcher - watermelon, limes, oranges, strawberries, blackberries, pineapple and blueberries