This Blueberry Sauce Recipe is so delicious. It not only comes together in mere minutes but you can enjoy this blueberry topping on pancakes, ice cream, and so much more.
Have you ever gone blueberry picking? If so, you probably know how easy it is to get caught up in the fun of it and wind up with hundreds of blueberries that you don't know what to do with before they go bad.
Or you've noticed those frozen blueberries in the freezer that you need to use?
I have the perfect solution for you.
This Blueberry Sauce recipe!
It truly does only take about 10 minutes and you can double or triple the recipe with no problem. Then you won't run out too soon.
The obvious choices to use with blueberry sauce are Vegan Pancakes, Vegan Waffles, Ice Cream, and Dairy Free Cheesecake.
But did you know you can even have it on toast. Or have you ever had Swedish pancakes? This blueberry sauce would be ideal wrapped up in one of those beautiful crepes.
Ingredients
Five simple ingredients are all it takes to create a beautiful, delicious topping.
Blueberries - Look for smooth, firm, plump blueberries that have a deep purple to blue color. If the blueberries are a reddish color, they aren't ripe.
Blueberries will not ripen after they are picked, so it's important to choose the right blueberries for this recipe.
Sugar -The amount of sugar the recipe calls for is just enough to sweeten the sauce, without making it overly sweet.
But sugar is important for another reason: it helps prevent spoilage. Adding sugar to fruit increases the osmotic pressure. The high osmotic pressure limits microbial growth in fruit syrups, marmalades, candied fruits, etc.
Water - Water is used in this recipe to help thin out the topping after you've added your cornstarch.
Lemon Juice - Freshly squeezed lemon juice helps amplify the taste of this blueberry topping
Lemon juice is also acidic, so it works with natural fruit pectin to form fibers that promote gel formation.
These fibers absorb the juice from the fruit. So, although we're not making jelly, you don't want your sauce to be runny like a juice.
Cornstarch - Use cornstarch (mixed with water) to become the thickener.
Making fruit topping
This blueberry sauce recipe is easy to make and only requires five ingredients.
Combine the blueberries, sugar and water, and heat on low-medium heat until it begins to boil.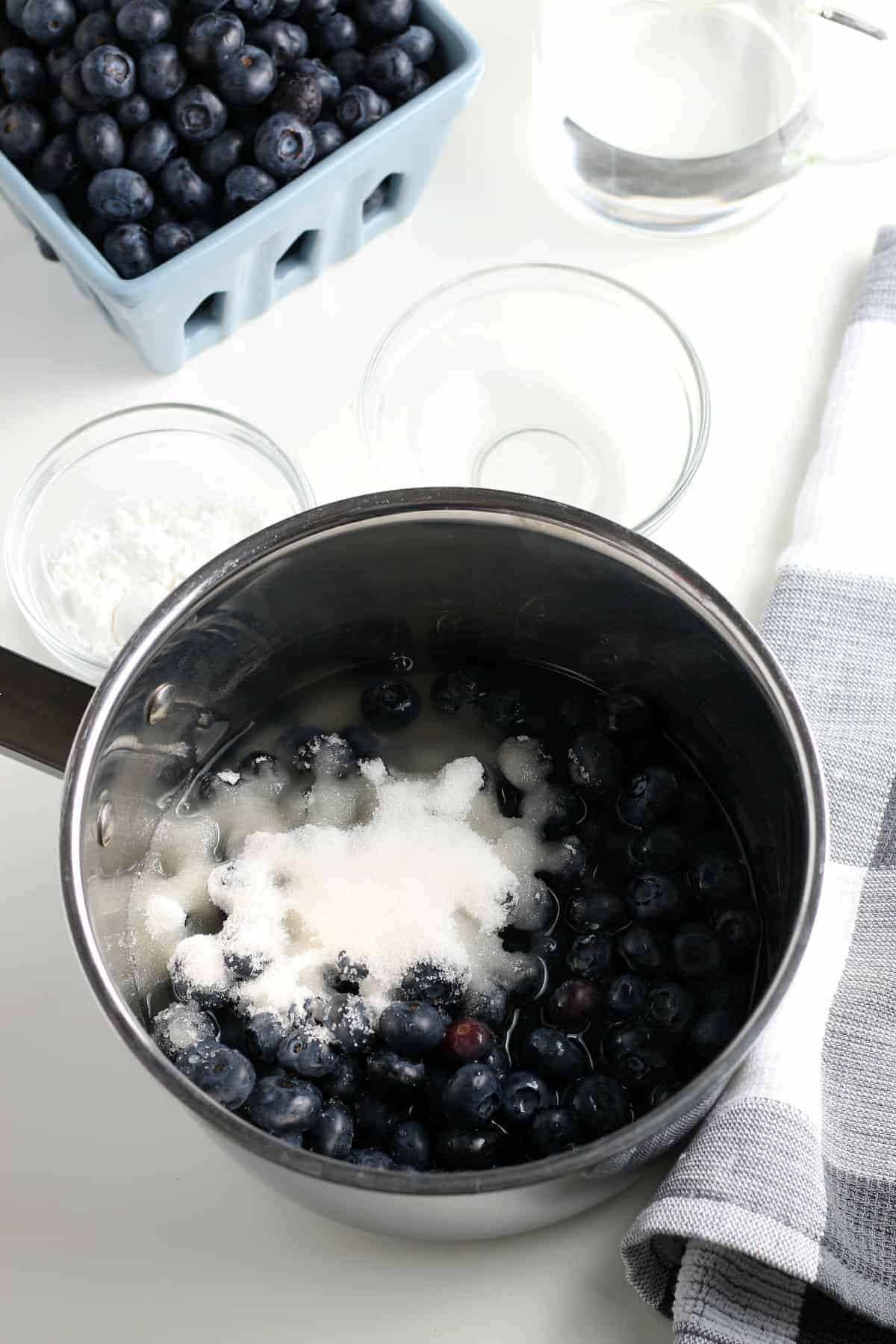 In a small bowl, mix together cornstarch with two tablespoons of cold water.
Cook the blueberry sauce for three to five minutes until it thickens to your liking.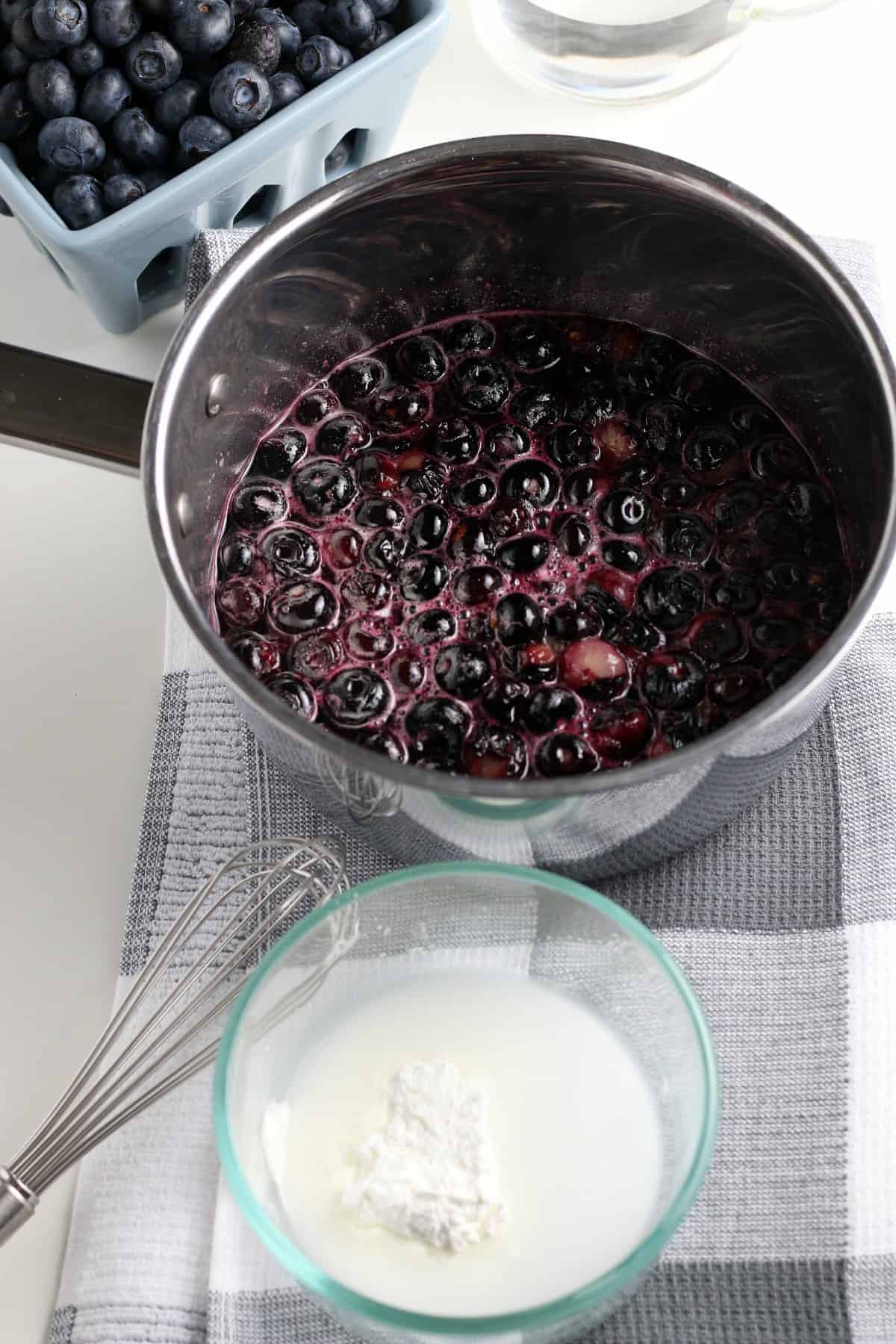 Once it has cooled completely, place the sauce in an airtight container.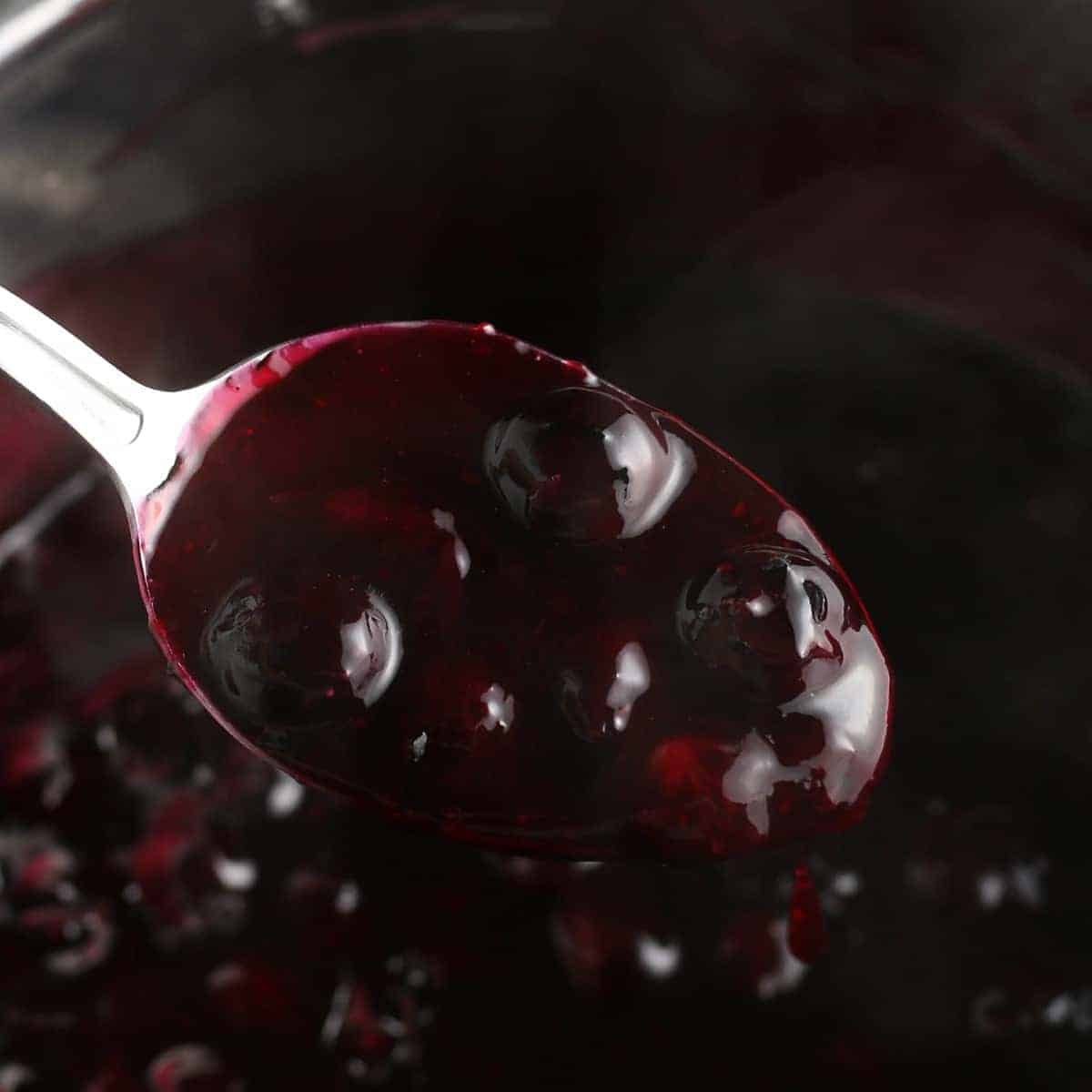 This blueberry sauce can be kept in the refrigerator for up to a week if it lasts that long.
Chef's tips
If you are using frozen berries, be sure to let them thaw in a bowl of cold water before starting this recipe.
I love this recipe because of its versatility. In my household, we use this recipe very frequently during the summer months on ice cream, cheesecakes, and more. Here are even more ways to use this sauce:
What can I use blueberry sauce on
Pancakes — I love replacing traditional syrup with this blueberry sauce. If you love blueberries as much as I do, you can even use it on my favorite blueberry pancake recipe.

Oatmeal — I love hearty oatmeal in the morning, especially before a busy day. This blueberry sauce is the perfect addition to my breakfast. It's like eating a blueberry muffin, but better for you.

Smoothies — Summer calls for cool treats, and I try to keep them as healthy as possible. Adding this blueberry sauce to a smoothie with some added flaxseeds, almond milk, and your favorite protein powder (this is completely optional) and you've got a sweet treat that helps you feel good, too!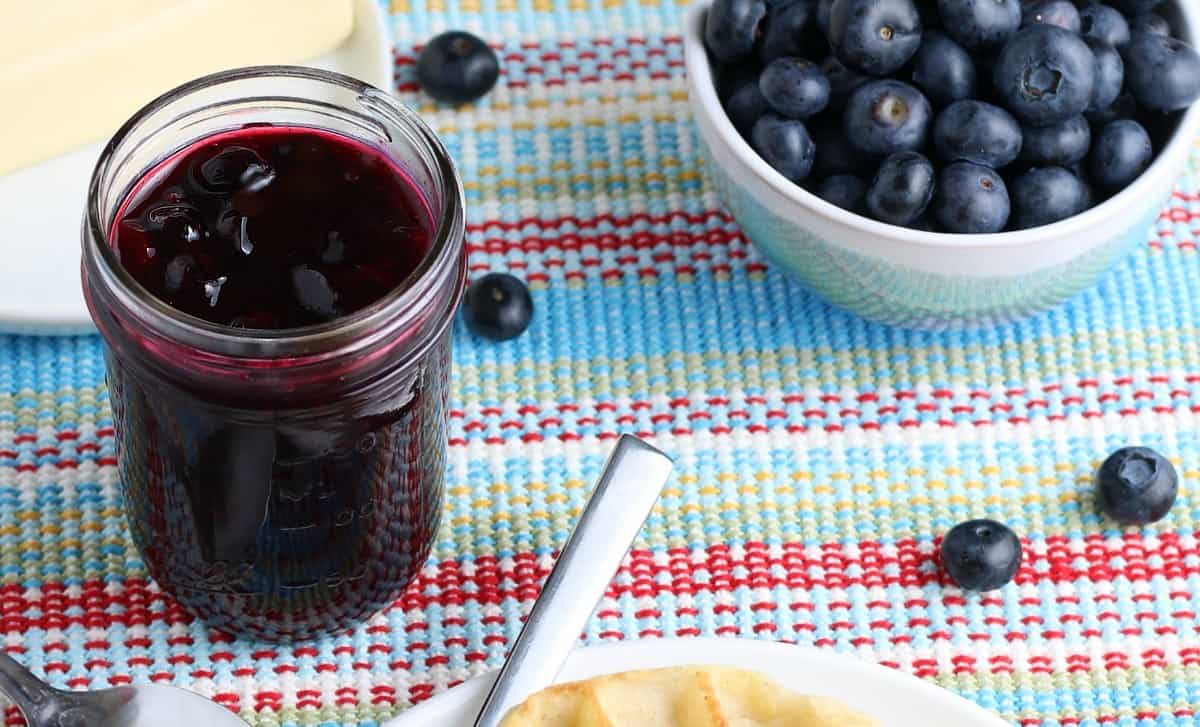 Breakfast or dessert, shakes, or waffles, you name it — we top it with this blueberry sauce.
FAQ's
Can you freeze blueberry topping?
Yes, you can. It's very easy to freeze. After the blueberry sauce has cooled completely pour it into freezer bags or air-tight containers. Use the frozen blueberry sauce within three months.
Can I use peaches in this recipe?
Yes! That would be delicious. In fact, you can use many fruits and berries with this same recipe. I would omit the lemon with peaches though. The sauce would be thick enough because of the texture of peaches.
Whether you're looking for a delicious shortcake topping, or something to add to your summer sundaes — this blueberry sauce is the perfect addition.
More Blueberry recipes
📋 Recipe
Blueberry Sauce Recipe
This Blueberry Sauce Recipe is delicious and it comes together in mere minutes.
Ingredients
2

cups

fresh blueberries

- or frozen

½

cup

organic granulated sugar

½

cup

water

1

teaspoon

Lemon juice

2

tablespoons

cornstarch

- plus 2 tablespoons water
Instructions
In a small saucepan, combine blueberries, sugar, ½ cup water and lemon juice.

Heat over low-medium heat to low boil.

In a small bowl, whisk the cornstarch and 2 tablespoons water,

Slowly whisk cornstarch mixture into the blueberries being careful not to break the blueberries.

Cook for 3-5 minutes or until thick.

Cool completely. Store in airtight container in refrigerator.
Nutrition
Serving:
1
Serving
Calories:
154
kcal
Carbohydrates:
39
g
Protein:
1
g
Fat:
1
g
Saturated Fat:
1
g
Polyunsaturated Fat:
1
g
Monounsaturated Fat:
1
g
Sodium:
3
mg
Potassium:
59
mg
Fiber:
2
g
Sugar:
32
g
Vitamin A:
40
IU
Vitamin C:
8
mg
Calcium:
6
mg
Iron:
1
mg