If you're looking for a decadent, rich, vegan dessert that is both easy to make and delicious, you can't go wrong with a chocolate torte. These delectable and creamy vegan chocolate desserts are perfect for satisfying your sweet tooth.
Why You'll Love This Chocolate Torte Recipe
Decadent- This chocolate torte is rich, chocolatey, and indulgent. It's the perfect dessert for when you want to treat yourself or impress your guests.
Great For Special Occasions- Whether you're celebrating a birthday, anniversary, or any other special occasion, this chocolate torte is sure to be a hit. It's elegant, sophisticated, and delicious.
Easy To Make- Despite its fancy appearance, this chocolate torte is actually quite simple to make. With just a few basic ingredients and some easy-to-follow instructions, you can whip up a rich and creamy chocolate lovers dessert in no time.
A Real Crowd Pleaser- Everyone loves chocolate, and this torte is no exception. Whether you're serving it at a dinner party or bringing it to a potluck, this dessert is sure to be a crowd-pleaser. So go ahead and indulge in a slice (or two) of this amazing chocolate torte!
What Is A Torte?
A torte is a type of cake that originated in Europe. It is typically denser and richer than a regular cake and often contains little to no flour. Tortes are usually made with ground nuts or breadcrumbs, which give them a dense texture. They are often layered with buttercream, fruit, or chocolate filling, then you can decorate with nuts, fruit, or whipped cream.
Overall, a torte is a decadent and indulgent dessert that is perfect for special occasions or when you want to treat yourself to something delicious.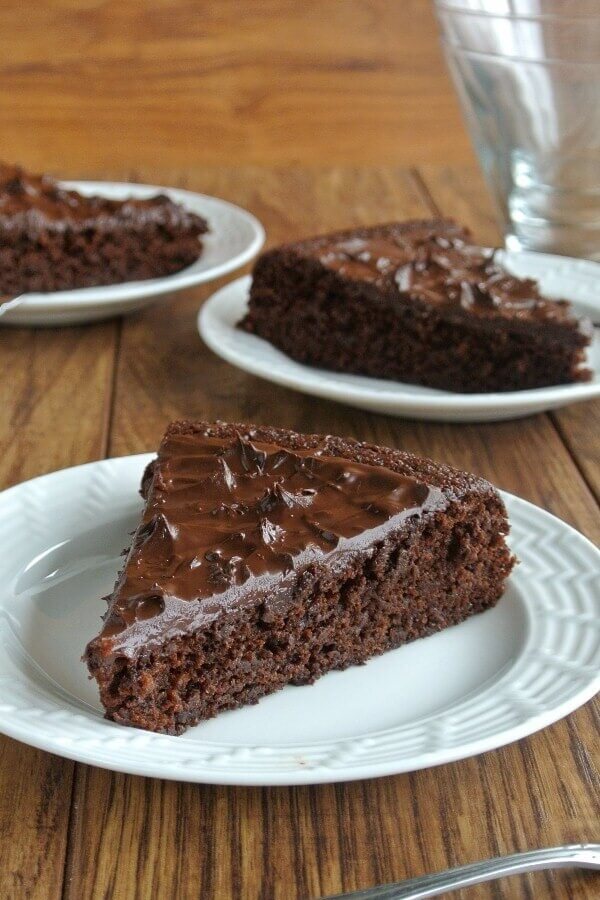 Equipment Needed
Springform Pan
Parchment Paper
Small Saucepan
Stirring Spoon
Food Processor
Large Bowl
Medium Bowl
Flour Sifter
Cooling Rack
Small Microwave-Safe Bowl
Ingredients
For The Cake-Like Torte
Pitted Dates- Dates are a natural sweetener that is high in fiber and essential nutrients. They add natural sweetness and moisture to the recipe.
Coffee Liquor- Coffee liquor, like Kahula, adds a rich coffee flavor to the recipe and can enhance the chocolate flavor.
Instant Coffee Granules- Used to intensify the coffee flavor in the recipe.
Coconut Sugar- Natural sweetener that is less processed than regular sugar. It has a lower glycemic index and contains some essential nutrients.
Almond Milk- A dairy-free milk alternative that adds moisture to the recipe and helps to bind the ingredients together.
Olive Oil- Adds moisture and richness to the cake.
Vanilla Extract- Used to add flavor to the batter and enhances the chocolate flavor.
Whole Wheat Flour- When combined with the wet ingredients, creates the batter for this dairy-free torte.
Unsweetened Cocoa Powder- Cocoa powder is the main ingredient that gives the recipe its chocolate flavor.
Baking Soda- Leavening agent that helps the recipe rise and becomes fluffy.
For The Frosting
Vegan Semi-Sweet Chocolate Chips- These dairy-free chocolate chips add a rich chocolate boost and a bit of creamy texture to the recipe.
How To Make A Homemade Torte With Vegan Chocolate
For this recipe, I suggest using a springform pan measuring 9 to 10 ¼ inches. I used a 10 ¼-inch one, but if you use the smaller one, your torte will just be a little smaller. Lay a square piece of parchment paper down under the pan and draw a circle around it. Cut the circle out, place it inside the pan, and lightly oil the parchment paper. Preheat the oven to 350F
In a small saucepan, add the coffee liqueur and dates. Cook on low heat for about 20 minutes. Once the liquid is hot, stir in the coffee granules. Take the saucepan off the heat and let it cool.
When cool, add it to a food processor and blend until smooth. The mixture doesn't have to be completely smooth, but it should be close.
Next, in a large bowl, mix the pureed date mixture with the coconut sugar, almond milk, oil, and vanilla extract.
Then sift the flour, cocoa powder, and baking soda together into a medium bowl. Add the dry mixture to the date mixture and stir until well combined.
Pour the batter into the prepared pan and bake for about 30 minutes. Remove the tort in allow it to cool in the pan for 10 minutes. Remove the pan then let it finish cooling on a wire cooling rack.
Now it's time to make the frosting! Melt the chocolate chips in a small microwave-safe bowl for a few seconds, stir, and repeat until the chocolate is melted. Watch the chocolate carefully because it can burn very quickly.
Spread the melted chocolate in the center of the cake in a nice round circle. After the chocolate has cooled a bit, take the back of a spoon and pull it up into pretty little peaks.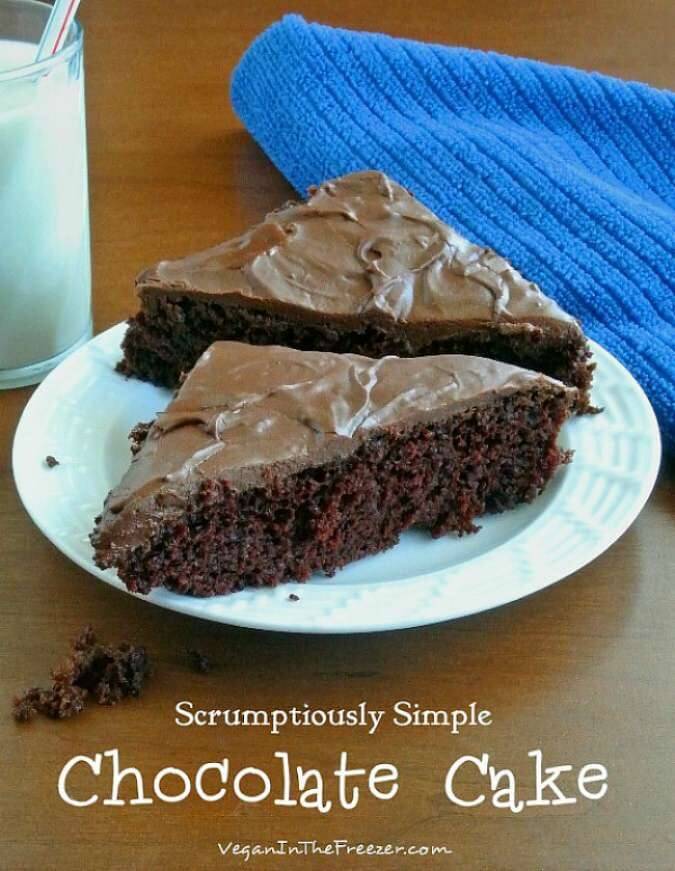 Popular Substitutions And Additions
Use coconut oil, avacado oil, or melted vegan butter in place of olive oil
Top your torte with vegan whipped cream or coconut cream.
For a gluten free version, substitute the whole wheat flour for almond flour or another gluten free variety.
Canned coconut milk, soy milk, oat milk, and vegan cream can all be used in place of almond milk.
Use fresh berries, like strawberries, blueberries, and fresh raspberries to add some fruit to your treat.
Add your other favorite toppings, such as chopped nuts, flaky sea salt, shredded coconut, or a drizzle of caramel.
Maple syrup can be used in place of coconut sugar.
Can You Freeze Vegan Chocolate Tortes?
The short answer to this question is yes, you can freeze tortes with vegan chocolate for up to 3 months! However, there are some important considerations to make before freezing your torte.
When it comes to freezing chocolate tortes, one of the most important things to keep in mind is the type of vegan chocolate used. Chocolate with a higher cocoa content will not hold up as well when frozen and may become brittle or crumbly after thawing. For best results, use semi-sweet or dark chocolate with a lower cocoa content when making your torte. Using full-fat coconut milk also aids in freezing cakes.
In addition, it's important to ensure that your dish is airtight when storing the cake in the freezer. This will help prevent freezer burn and excessive moisture loss during storage. To further protect your dessert from becoming dry or soggy while in the freezer, wrap each piece individually in plastic wrap before storing them together in an airtight container. When it comes time to thaw your frozen chocolate torte, remove it from the freezer and allow it to come back up to room temperature before serving or eating.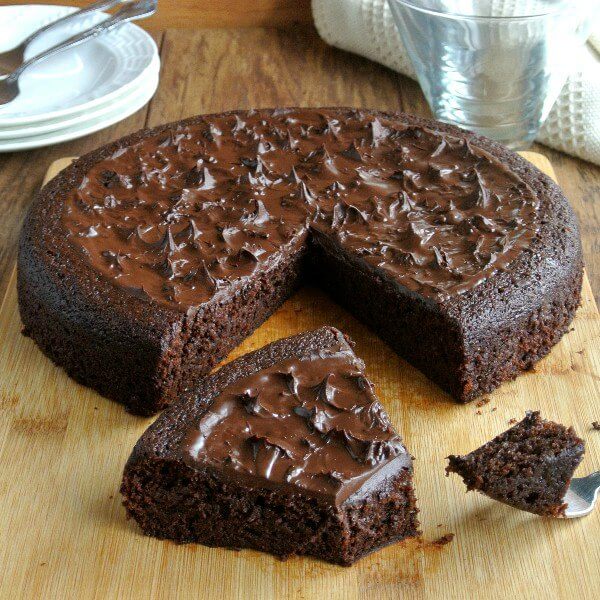 Homemade Toates With Vegan Chocolate FAQs
Are a chocolate torte and a vegan chocolate tart the same thing?
No. A chocolate torte and chocolate tarts are two very different. A torte is a dense, mostly flourless cake with a sweet smooth texture. A vegan chocolate tart recipe usually has a pastry crust made in a tart pan or pie pan and usually contains a silky smooth chocolate ganache filling. A tart can contain savory or sweet ingredients. While a torte and a vegan chocolate tart may include vegan chocolate, the textures, taste, and presentations of these two desserts are vastly different from one another!
Is this torte healthy?
While a torte with vegan chocolate can be healthier than a traditional chocolate cake made with animal products, it should still be considered a dessert and consumed in moderation.
Can I make a torte with vegan chocolate gluten-free?
Yes. This is a great recipe to make gluten-free. Along with almond flour, there are many gluten-free flour options available that can be used in place of traditional wheat flour in this recipe.
How long can a chocolate torte be stored?
These homemade tortes with vegan chocolate can be stored in an airtight container in the fridge for 3-4 days or in the freezer for up to 3 months.
📋 Recipe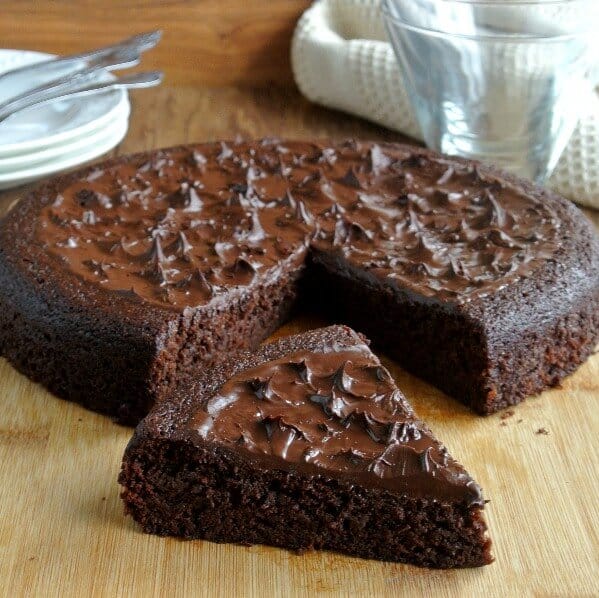 Decadent Vegan Chocolate Torte
The perfect blend of cocoa powder, dates, flour, and vanilla. Plus, a rich chocolate icing to top off the indulgence. It's so good it will blow your guest away!
Ingredients
1

cup

Pitted Dates

1

cup

coffee liquor such as Kahlua

2

teaspoons

Instant Coffee Granules

1

cup

coconut sugar

1

cup

almond milk

¼

cup

olive oil

1

teaspoon

vanilla extract

1 ¼

cup

whole wheat flour

¼

cup

Unsweetened Cocoa

1

teaspoon

Baking Soda
For the Frosting!
½

cup

melted Semi Sweet Chocolate Chips
Instructions
You need a Springform Pan that measures 9" to 10-¼". I used a 10-¼" one. The torte will just be taller if it is smaller.

Cut a circle to fit inside the springform pan. The way I do this is that I lay the springform pan insert on the parchment paper and draw around the edge. Then I cut right inside of the line.

Place the parchment round inside the springform pan. Brush the paper lightly with some coconut oil.

In a small saucepan add the coffee flavored liqueur and the dates. Cook over low heat for 20 minutes.

Stir in the instant coffee granules when the liquid is hot.

Take off heat and let cool.

When cooled - puree in a food processor until smooth. It does not have to be completely smooth but very close.

In a large bowl mix the pureed date mixture, coconut sugar, almond milk, oil and vanilla.

In another bowl sift the flour, cocoa and baking soda together.

Stir into the date mixture until well mixed.

Pour into the prepared springform pan and bake at 350 degrees for 30 to 40 minutes.

If you use a smaller pan, like 9", you should go to the 40 minutes.

Remove from oven and let cool in the pan for 10 minutes.

Remove the sides of the pan and let cool on a rack.

Melt the chocolate in a microwave for a few seconds. Stir and heat in the microwave a few more seconds. Keep a very close eye on the chocolate because it can burn.

It does not have to be completely melted because the chocolate will continue to melt in it's own heat as it sits a minute.

Spread the chocolate in the center of the top of the cake in a nice circle.

After the chocolate cools a bit - take a spoon and with the back of the bowl - tap the chocolate and pull up into little peaks. They will hold themselves up.
Notes
This is very rich and decadent, as I have said, and you can cut the torte into 12 slices but we indulge sometimes and only get 8 slices. A restaurant would get 12 slices out of it.
IF FREEZING:
After the cake has cooled you may freeze the cake or leftovers pieces in any of the methods shown in my article How to Freeze Food.
It will defrost quickly so it really doesn't take any planning.
Nutrition
Serving:
1
Slice
Calories:
335
kcal
Carbohydrates:
53
g
Protein:
3
g
Fat:
9
g
Saturated Fat:
2
g
Sodium:
177
mg
Potassium:
247
mg
Fiber:
4
g
Sugar:
34
g
Vitamin A:
20
IU
Calcium:
53
mg
Iron:
1.6
mg