Decadent Vegan Chocolate Torte is a special dessert. An amazing combo of ingredients and people will think it is from the ritziest of restaurants. But ... You can make it!
Decadent Chocolate Torte is a very special dessert. You won't believe the amazing combination of ingredients.
There are rich deep chocolate flavors that you will think came from the ritziest of restaurants. But .... you can make it!
One necessity is a springform pan. The steps are simple and I think I need to say it is foolproof.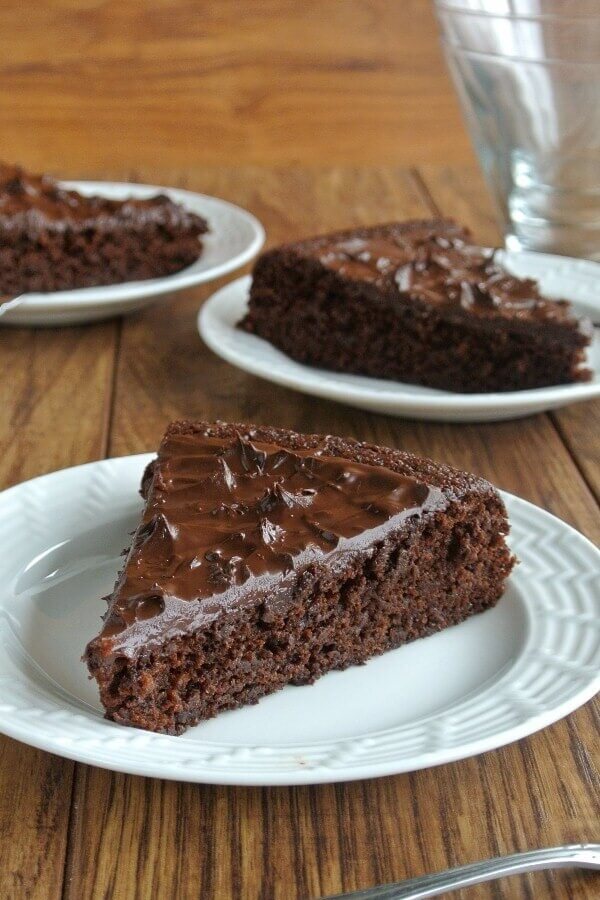 Follow the instructions - take your time - and witness the outcome of a dessert that will be memorable for all. Forever!
It may seem like I am laying it on really thick but, I'm not!
I really want you to make this Decadent Chocolate Torte and see what a great baker you are.
I think there are three types of food lovers and searchers checking out this decadent vegan chocolate cake.
Chocolate Lovers.
People looking for cake recipes.
Cooks wanting to find a special dessert for a special occasion or holiday.
This Vegan Chocolate Torte will aid every one of those searchers but I can't resist showing you a couple more recipes.
Simple Chocolate Cake is one of those perfectly moist cakes that is easy and bakes in a 9" x 9" square pan.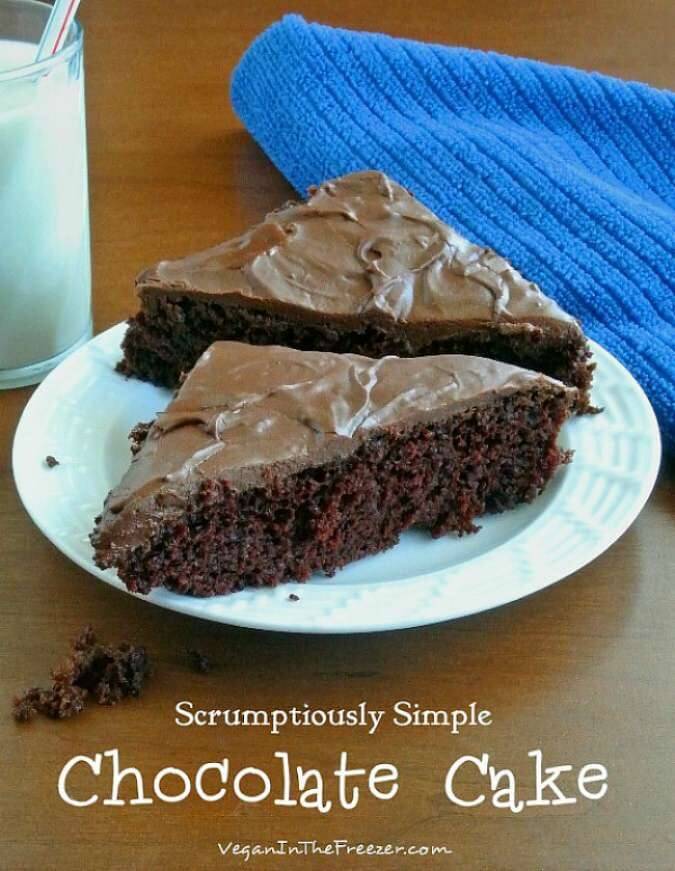 Are you looking for cupcakes but the chocolate kind? Chocolate Cupcakes can be decorated with any color theme sprinkles.
Simple Chocolate Topping for Vegan Chocolate Torte
This beautiful torte is so perfectly moist and absolutely amazing that a simple topping is all you need.
The frosting is chocolate to add the extra oomph for the beauty of the cake. Super simple and exactly just right.
I love one of the feedbacks that I've received for this recipe so far. It's hard to scroll through because there are so many but here is one from Brita:
OMG. I just baked this cake for my mom's birthday… still standing in the kitchen eating it and it's absolutely amazing! So chocolatey. So moist and rich. It's a hit! Everyone loves it and is marveling over the recipe. Thanks so much! Love your blog -B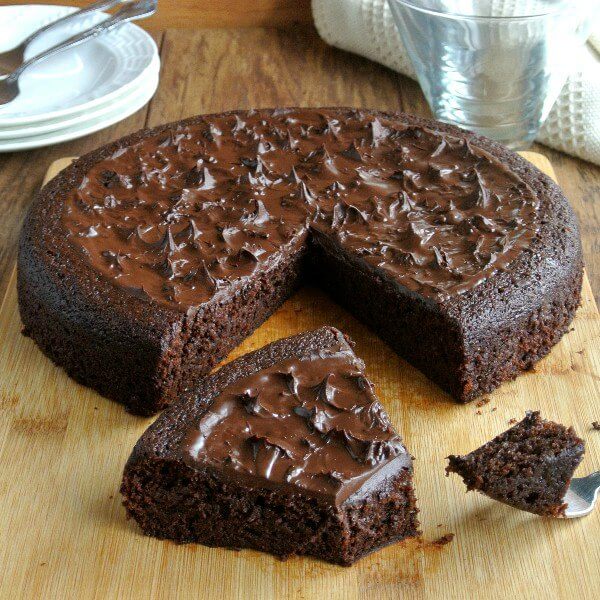 This post contains affiliate links. Read my disclosure policy .
I hope you get to try this unusal mix of a recipe becasue you will be so very happy that y=ou did!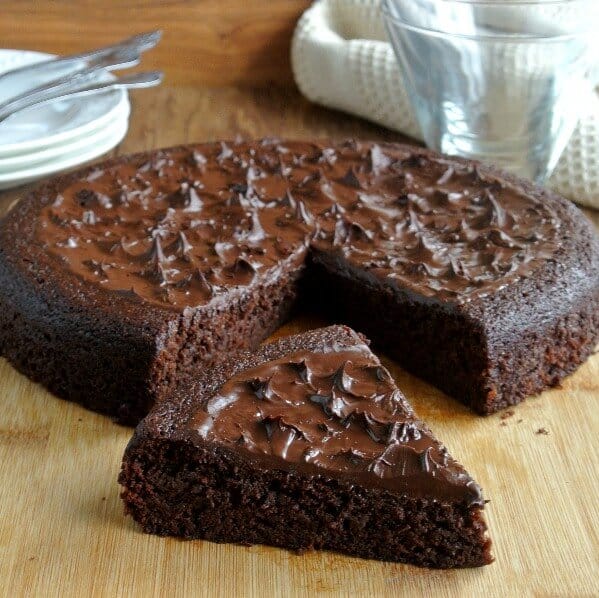 Decadent Chocolate Torte
Decadent Chocolate Torte has an amazing combination of ingredients!
Ingredients
1

cup

Pitted Dates

1

cup

coffee liquor such as Kahlua

2

teaspoons

Instant Coffee Granules

1

cup

coconut sugar

1

cup

almond milk

¼

cup

olive oil

1

teaspoon

vanilla extract

1 ¼

cup

whole wheat flour

¼

cup

Unsweetened Cocoa

1

teaspoon

Baking Soda
For the Frosting!
½

cup

melted Semi Sweet Chocolate Chips
Instructions
You need a Springform Pan that measures 9" to 10-¼". I used a 10-¼" one. The torte will just be taller if it is smaller.

Cut a circle to fit inside the springform pan. The way I do this is that I lay the springform pan insert on the parchment paper and draw around the edge. Then I cut right inside of the line.

Place the parchment round inside the springform pan. Brush the paper lightly with some coconut oil.

In a small saucepan add the coffee flavored liqueur and the dates. Cook over low heat for 20 minutes.

Stir in the instant coffee granules when the liquid is hot.

Take off heat and let cool.

When cooled - puree in a food processor until smooth. It does not have to be completely smooth but very close.

In a large bowl mix the pureed date mixture, coconut sugar, almond milk, oil and vanilla.

In another bowl sift the flour, cocoa and baking soda together.

Stir into the date mixture until well mixed.

Pour into the prepared springform pan and bake at 350 degrees for 30 to 40 minutes.

If you use a smaller pan, like 9", you should go to the 40 minutes.

Remove from oven and let cool in the pan for 10 minutes.

Remove the sides of the pan and let cool on a rack.

Melt the chocolate in a microwave for a few seconds. Stir and heat in the microwave a few more seconds. Keep a very close eye on the chocolate because it can burn.

It does not have to be completely melted because the chocolate will continue to melt in it's own heat as it sits a minute.

Spread the chocolate in the center of the top of the cake in a nice circle.

After the chocolate cools a bit - take a spoon and with the back of the bowl - tap the chocolate and pull up into little peaks. They will hold themselves up.
Nutrition
Serving:
1
Slice
Calories:
335
kcal
Carbohydrates:
53
g
Protein:
3
g
Fat:
9
g
Saturated Fat:
2
g
Sodium:
177
mg
Potassium:
247
mg
Fiber:
4
g
Sugar:
34
g
Vitamin A:
20
IU
Calcium:
53
mg
Iron:
1.6
mg
This is very rich and decadent, as I have said, and you can cut the torte into 12 slices but we indulge sometimes and only get 8 slices. A restaurant would get 12 slices out of it.
IF FREEZING:
After the cake has cooled you may freeze the cake or leftovers pieces in any of the methods shown in my article How to Freeze Food.
It will defrost quickly so it really doesn't take any planning.