Nuts and Bolts Party Mix Recipe is an old-timey recipe that can keep an army 'snack happy'. Homemade chex mix flavors - and so easy to make.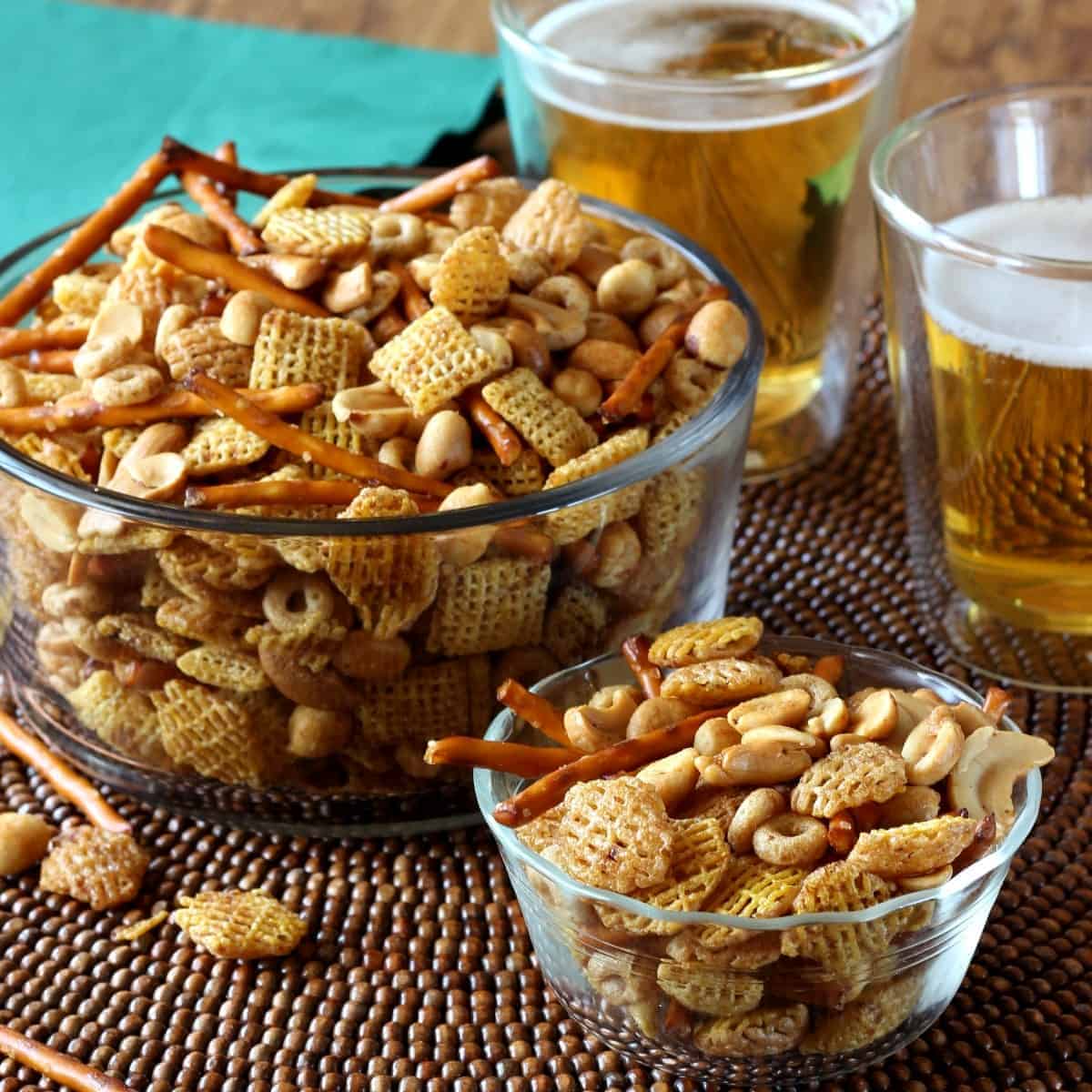 Do you remember ever putting your hands into a mountain of flavored cereals and nuts when you were at parties? I do! In fact, I remember making it with my mom.
Just mixing it with your hands before the seasonings were added was fun in itself.
I think I remember mom doing the mixing with the added flavorings because I can also remember some going over the side of the bowl as it was getting tossed.
So many great kinds of cereals and nuts are included. You can switch up the nuts if you like, just make sure you keep the same measurements so that the balance is correct between the sauce and mix.
You know how I mentioned this is an old-timey recipe? I don't mean the 80's or 60's even. It's from the 50's and it was always on hand at every get-together, Especially sports games
And it wasn't always just at parties. This is a a really nice party mix snack without the party.
You may have already noticed that there are two different Chex mixes here. In fact some cereals aren't even Chex. They are vegan varieties. And you can see pretzel sticks are in one and pretzel knots are in the other.
What I'm getting at is that you can mix it up but just use the same seasoning mix. Stick with the 'Chex' kinds of cereal to make it classic.
Chefs Tips and Variations
You can go into any store and find vegan versions of the original Chex cereals. There is one that is a multi-grain chex square that would work perfectly for the Wheat Chex.
Cheerios has a vegan alternative also. Just look for oat cereals and there will be one sitting there.
I got all of my ingredients at Sprouts but I feel sure any Trader Joe's and all natural food stores will have a good assortment.
Don't forget the vegan version of Worcestershire sauce too. Of course, peanuts and pretzel's are always good to go.
Another fun finger food that is very popular on the blog is Pesto Tortilla Rollups! It takes only minutes and you won't believe how tasty they are. Check 'em out!
Both of these appetizers are also included in the pot 17 Vegan Party Appetizers because they are just that good and easy. They needed to make that list.
Of course, you can't grab these by the hand full like you can Nuts and Bolts Party Mix but they are still fun to handle.
Ingredients and instructions
Get out the biggest bowl you've got and start mixing. If you've got a large roasting pan that's even better as it will save you from cleaning an extra bowl.
You can keep this Party Mix recipe gluten-free too. Just use your favorite cereal that has large pieces like Chex and you'll be fine. Not sweet varieties though because this is a savory mix.
The taste is savory and it just happens to have all of the flavors that kids like too. Below is a picture of the ingredients and you can see how easy it's going to be.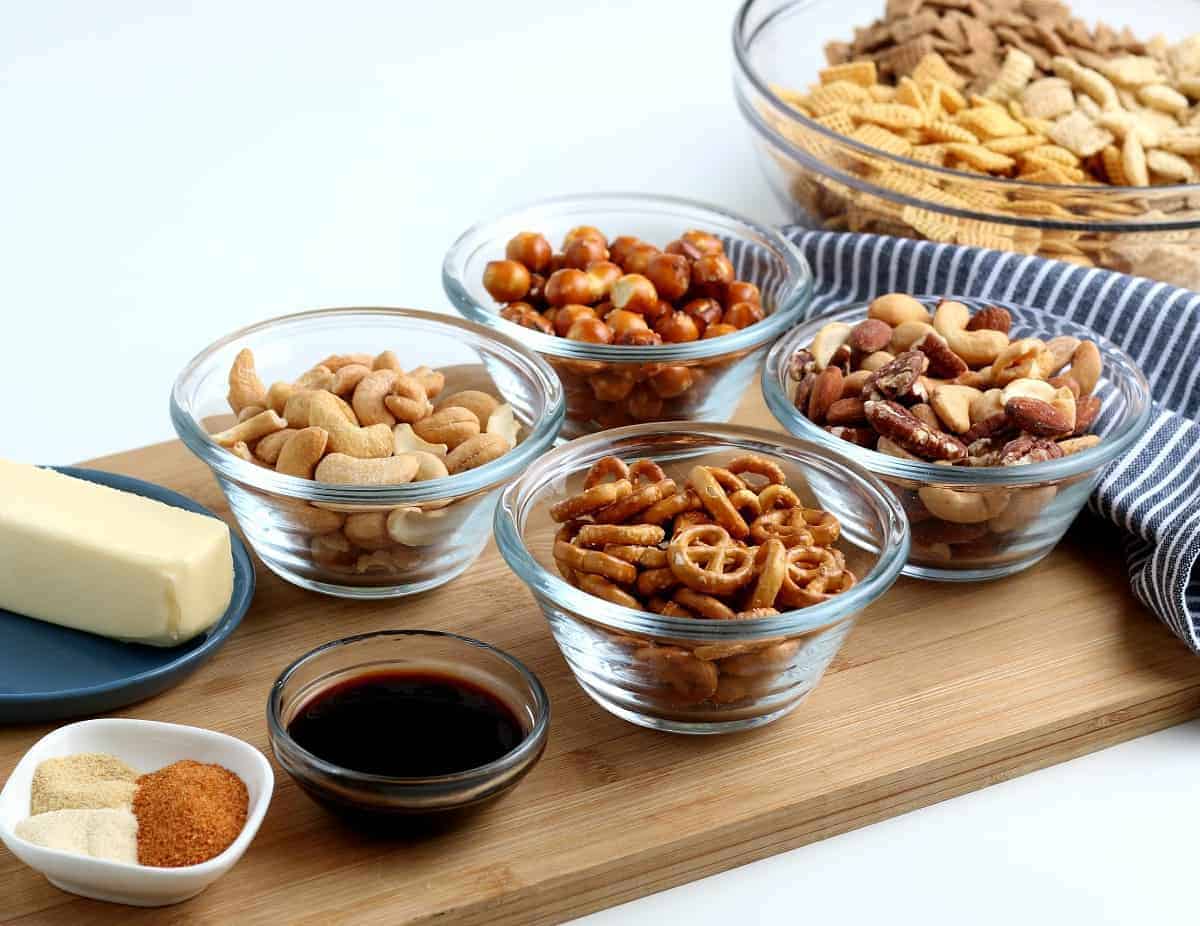 Ingredients for the ones in the recipe card, Make sure you check the labels to but vegan varieties.
Rice Chex style Cereal
Corn Chex style Cereal
Wheat Chex style Cereal
Pretzel rounds
Mini pretzels
Mixed Nuts
Cashews
Dairy-free butter
Vegan Worcestershire Sauce
Seasoned Salt
Garlic powder
Onion powder
Preheat the oven to 300°F.
Melt the butter in a microwave-safe bowl.
Add the vegan Worcestershire sauce and seasonings. Mix well.
In a very large bowl mix the nuts and cereals together.
Pour the prepared seasoning liquid over everything in the large bowl and mix well.
Spread evenly on a baking sheet and bake 30 to 40 minutes stirring halfway through.
Remove from the oven and allow it to cool.
There you have it. A really nice snack to enjoy. You can store it in an airtight container. Make it ahead of time and you can also keep it in the freezer.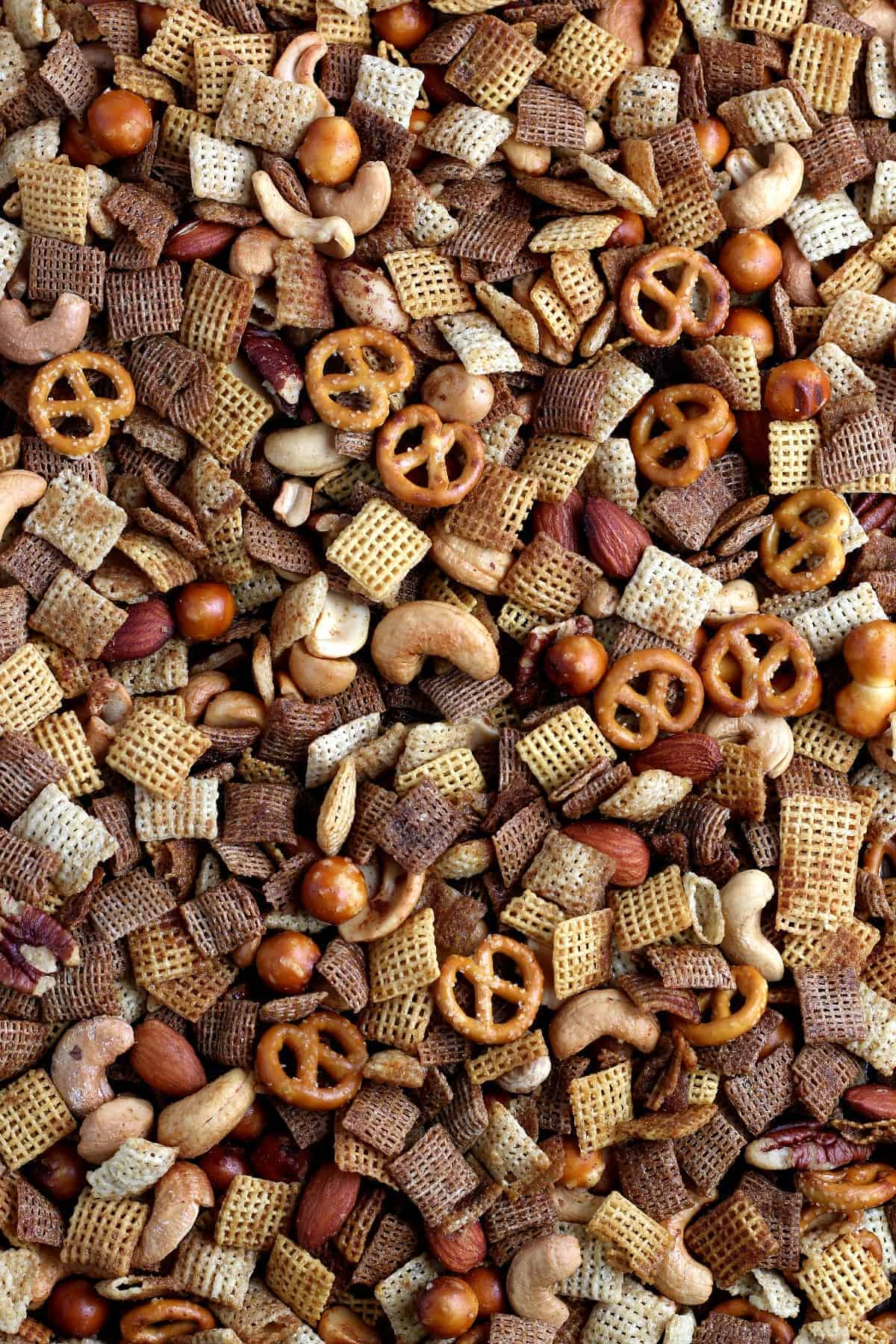 Make ahead party mix
This Party Mix Recipe is perfect for making ahead in bulk, freezing, and then enjoying whenever you want. It's also great for homemade gifts!
My mom always makes a ton of this and froze it. She sends us home from Christmas dinner with large freezer bags of this goodness. It's not necessarily great for the waist-line but it's really great for the soul - and taste buds.
It's just too delicious and feels like home.
FAQ's
Can chex mix be made spicy?
Yes! Add a teaspoon of cayenne pepper to this recipe and you're on your way.
What is a serving size of Chex mix?
It's about 1 ½ cups.
What is seasoned salt?
It is a mixture of spices such as salt, pepper, red pepper, paprika and more.
How do you freeze party mix?
Place in an airtight freezer storage bag and double bag. You can also freeze in a rigid sided container that is freezer safe.
More finger food recipes
Something completely different but so good to have as a snack is Vegan Sushi that is madewith cauliflower rice.
📋 Recipe
Nuts and Bolts Party Mix
This Party Mix Recipe is an old-timey appetizer recipe that can keep an army snack happy.
Ingredients
2

cups

Rice Chex style cereal

2

cups

Corn Chex style cereal

2

cups

Wheat Chex style cereal

¾

cups

Pretzel rounds

¾

cups

Mini pretzels

¾

cups

Mixed nuts

¾

cups

Cashews

8

tablespoons

dairy-free butter

2

teaspoons

Worcestershire sauce

- vegan version

2

teaspoons

Seasoned salt

½

teaspoon

garlic powder

½

teaspoon

onion powder
Instructions
Preheat the over to 300°F.

In a large bowl, combine the cereal, nuts, and pretzels.

Melt butter in a microwave-safe bowl.

To the butter add the Worcestershire sauce, seasonings, and spices and whisk until well combined.

Pour butter liquid mixture over the cereal mixture and mix until well coated.

Pour on a cookie sheet and spread evenly.

Bake at 300°F for 30 to 40 minutes stirring halfway through the baking.

Remove from oven and allow to cool.
Notes
Keep in an airtight container.
Nutrition
Serving:
12
Ounces
Calories:
331
kcal
Carbohydrates:
36
g
Protein:
7
g
Fat:
20
g
Saturated Fat:
3
g
Trans Fat:
2
g
Sodium:
871
mg
Potassium:
226
mg
Fiber:
4
g
Sugar:
3
g
Vitamin A:
435
IU
Vitamin C:
5
mg
Calcium:
82
mg
Iron:
9
mg