Mushroom Bruschetta Crostinis is a fantastic appetizer that has only 6 ingredients.  It comes together quickly for perfect Mediterranean classic flavors.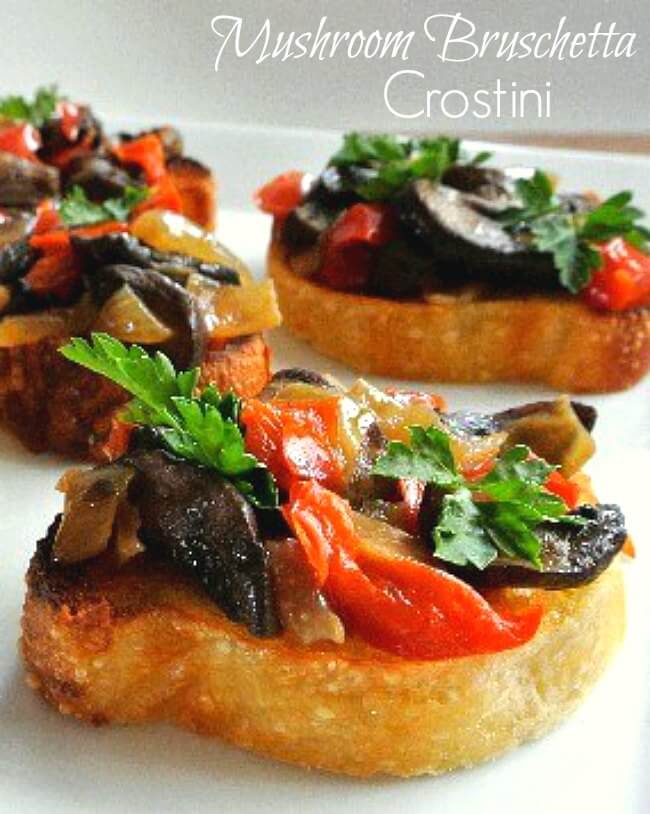 Appetizers are the soul of a party spread.  There's the lineup of wines and pretty glasses and maybe even some alcohol, mixes and a bucket of ice but the food is what pulls it all together.
When people are coming over they want to laugh and have fun but you'd better believe they want snacks too.  I'm all about having finger foods.
The dips and veggies are there but I really like when you can pick up an appetizer, all by itself, and get a bite or two.  That's where Mushroom Bruschetta Crostinis come into play.
I have to tell you that I caught my mother's style of entertaining.  One of the things she would say is 'It's better to have too much food than too little".
So … there was always plenty of food at our parties.  Now, at mine too.
Another one of my favorites to serve besides crostini are rollups.  Sun-Dried Tomato Pesto Tortilla Rollups is a crowd pleaser and so simple.    And how about something spicy like Slow Cooker Spiced Cashews?  I can eat those by the handful.
Oh, man!  I can make a very long list here but I'll stop and get back to Mushroom Bruschetta Crostini and it's Mediterranean flavors.
An added bonus to this recipe is that the Cremini Mushroom Bruschetta is also sublime on it's own as a side dish.
Also, added as a topping for pasta or lentils it adds an unexpected treat.  Or add it to your fajitas with a little vegan cheese and it is all you need.  Toss it with roasted new potatoes and it brings your potatoes to a new height.
I actually misspelled Mushroom Bruschetta Crostinis in the URL so I need to stick with it because google tells me so. 🙂  It's Crostini without the 's'.
Cremini Mushrooms, red bell pepper and onion is a perfect combination.   Double or triple the recipe because it freezes perfectly.
Connect with Vegan in the Freezer
Facebook   |   Pinterest   |   Instagram   |   Bloglovin
Cremini Mushroom Bruschetta Crostini
Mushroom Bruschetta Crostini is a fantastic appetizer that has only 6 ingredients.
Ingredients
2

tablespoons

extra virgin olive oil

1/2

cup

onion

diced

1

red bell pepper

dices

8

ounces

cremini mushrooms

, sliced and barely chopped, about 10

1/2

teaspoon

sea salt

1/4

teaspoon

black pepper

1

long loaf of Italian bread for slicing
Instructions
To make the bruschetta:
Heat the coconut oil in a large skillet and sauté the onion and red bell pepper for 10 minutes.

Add the cremini mushrooms and sauté 10 to 15 minutes more.

The mushrooms will shrink and add moisture to the mixture.

Season with the salt and pepper. Set aside.
To make Crostini
Slice a long baguette loaf (or use pre-sliced)

Lightly brush oil on each slice and place on a cookie sheet.

Fill up the cookie sheet in a single layer.

Set oven to broil and toast on the top shelf under the broiler. Do not walk away - watch the toast closely.

Remove from the oven as soon as the toasts turn a golden brown.

Spoon bruschetta onto the toasted bread slices and serve.

I used pinches of fresh parsley to garnish the tops.
Recipe Notes
TO FREEZE:
If freezing - Cool completely to room temperature. Put in a freezer container as defined in my article Preparing Food for the Freezer
TO PREPARE AFTER FREEZING: Remove from the freezer and put in the refrigerator for 6-8 hours. Zap in the microwave for a few seconds to take the chill off. Prepare the crostini toasts as described above. Put some bruschetta on each toast and serve.
Nutrition Facts
Cremini Mushroom Bruschetta Crostini
Amount Per Serving (2 Crostini)
Calories 97
Calories from Fat 54
% Daily Value*
Total Fat 6g 9%
Sodium 91mg 4%
Potassium 72mg 2%
Total Carbohydrates 8g 3%
Protein 1g 2%
* Percent Daily Values are based on a 2000 calorie diet.
Mushroom Bruschetta Crostinis photographed for a close-up look.