Spiced Cashews- Raw cashews are tossed in olive oil, ground cumin, garlic, paprika, cayenne powder, and sea salt and cooked to perfection in a slow cooker. These savory cashews are the perfect afternoon snack or addition to a party platter that doesn't require you to spend a lot of time in the kitchen. They are healthy, crunchy, and delicious.
Do you love your slow cooker as much as I do? It's the best time-saving appliance ever! They're like little kitchen appliance miracles, but people only seem to use them for soups and stews. I've recently been using mine to make snacks because football season is finally here! Who would have thought that a slow cooker could be so versatile?
Have you ever made something and thought, "this is so easy; why didn't I think of this sooner" Well, that's how I feel about these spicy roasted cashews. They're the perfect healthy snack, and they're effortless to make. You just need a few simple ingredients, and your slow cooker does all the work! So if you're looking for an easy recipe, you can make any time, give these spicy roasted cashews a try.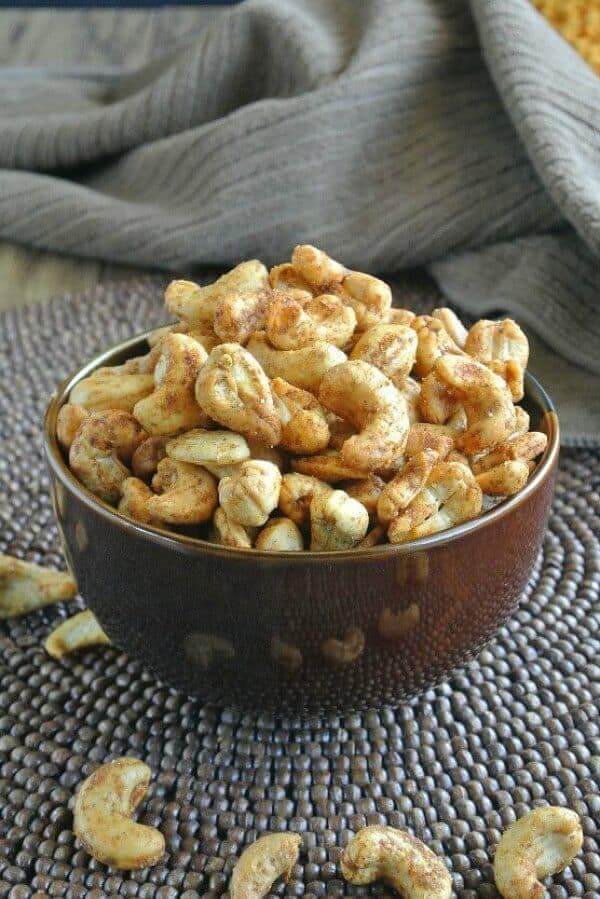 Why You'll Love This Spicy Cashew Recipe
Slow-Cooker- These spicy roasted cashews are made in the slow cooker. There is minimal prep work required, and you don't have to spend all your time preparing it in the kitchen.
Simple Ingredients- This spiced cashew recipe is easy to make and only calls for a few simple ingredients that you likely already have in your pantry.
Make-Ahead- Spicy cashews are the perfect recipe to make ahead of time. You can make a big batch and store it in the fridge for snacking all week long or serve them in a decorative bowl for fall gatherings.
Perfect Snack- Cashews are the perfect snack for satisfying your hunger without making you miserable. They're packed with healthy fats and protein to keep you full and satisfied.
Great As Gifts- Looking for a thoughtful, unique, and tasty gift? Look no further than these spicy cashews! They are great for any occasion. Store them in a tin or jar with a lid and wrap them up with a pretty bow, and you're all set.
Equipment Needed To Make Vegan Spiced Cashews
Slow Cooker
Small Mixing Bowl
Spoon for Stirring
Measuring Cups and Spoons
Ingredients For Slow-Cooker Spiced Cashews
Cashews
Extra Virgin Olive Oil
Ground Cumin
Powdered Garlic
Cayenne Powder
Smoked Paprika
Sea Salt
How To Make Spicy Cashews In The Slow Cooker
These spiced cashews are a great snack and easy to prepare in your slow cooker. Start by adding all the cashews into the pot. Make sure they're coated with oil, then give them a good stir. In a small bowl, combine your spices of choice before adding them to the mix in the slow cooker. Give it one final stir, put on the lid, and let cook for about an hour. Take off the top after this time has elapsed, letting the cashews cook exposed for another 15 minutes before removing from heat to cool and serve as desired.
What to Serve/Pair With Slow Cooker Spiced Cashews
These spiced cashews are delicious on their own but also pair well with a variety of other snacks and dishes. Try serving them with:
Crackers
Veggies
Fruit
Pita chips
Hummus
Tzatziki sauce
Or enjoy them as a topping on salads, soups, or grain bowls
Popular Substitutions & Additions
There are endless ways to customize this recipe to your liking. Get creative and try adding in different spices or herbs, such as:
Thyme
Oregano
Rosemary
Basil
Black pepper
Nutmeg
Cinnamon
Cloves
The possibilities are endless! You can also try using different types of nuts.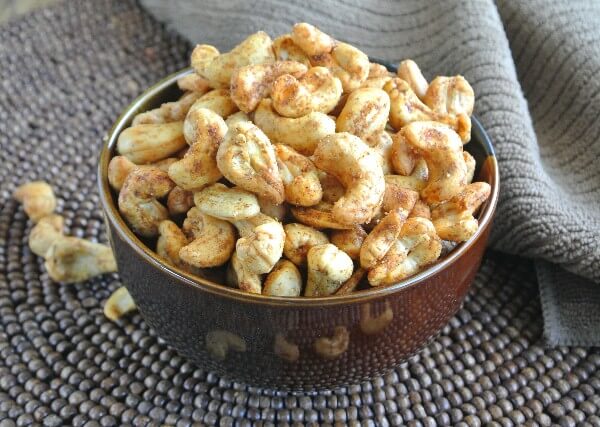 How To Reheat & Store Spiced Cashews
What Is The Best Way To Store Slow Cooker Spiced Cashews?
Once your spiced cashews have cooled, transfer them to an airtight container and store them in the pantry or in the refrigerator.
How Long Will Spiced Cashews Last In The Fridge?
Properly stored, spiced cashews will last for 2 weeks in the pantry or up to a month in the fridge.
Can I Freeze Vegan Spicy Cashews?
Yes, you can freeze spiced cashews! Simply place them in a freezer-safe container and store them in the freezer for up to 3 months. When ready to enjoy, thaw them overnight in the fridge before eating.
How To Reheat Slow Cooker Spiced Cashews?
Spicy cashews are best served at room temperature but can also be reheated if desired. Place them in the microwave and heat them for 30-60 seconds, or until warm. Alternatively, you can reheat them on the stovetop over low heat until warmed through.
Slow Cooker Spiced Cashews FAQs
Do I have to use a slow cooker to make spiced cashews?
No, you don't have to use a slow cooker to make spiced cashews. You can also make them in the oven. Preheat your oven to 350 degrees Fahrenheit and bake for 15-20 minutes, or until golden brown and fragrant.
Can I Double This Recipe?
Yes, you can easily double or triple this recipe if you're feeding a crowd. Simply use a larger slow cooker or multiple small ones. Alternatively, you can make them in batches on the stovetop or in the oven.
What type of cashews should I use in this recipe?
You can use any type of cashew for this recipe, but we prefer to use raw, unsalted cashews. If you use cashews that have already been roasted, you may need to adjust the cooking time accordingly.
Can I use a nut besides cashews?
Of course! If you're not a fan of cashews, you can also use almonds, pecans, or walnuts.
Do I have to use oil?
No, you don't have to use oil, but it helps to coat the nuts and allows the spices to stick. If you want to cut back on fat, try using water or vegetable broth instead.
Don't Forget To Come Back And Let Me Know How Your Vegan, Slow-Cooker Spiced Cashews Turned Out!
📋 Recipe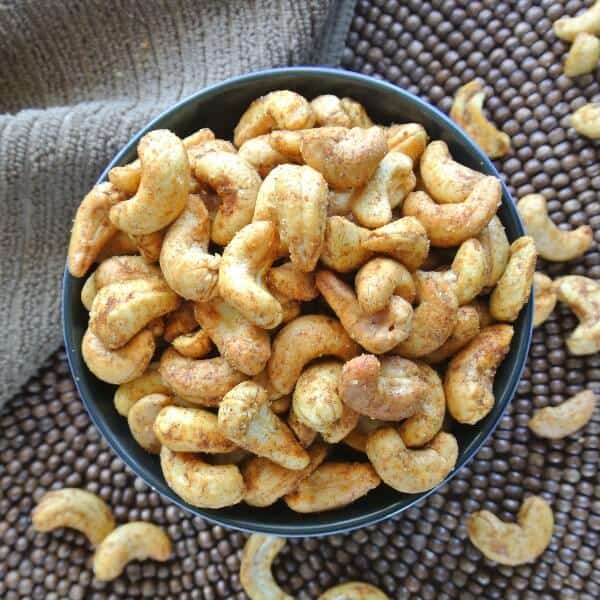 The Best Slow Cooker Spicy Cashews
Cashews are tossed in olive oil and various savory spices, then cooked in a slow cooker. They are healthy, crunchy, delicious, and don't require much prep work.
Ingredients
3

cups

cashews

1

teaspoon

extra virgin olive oil

½

teaspoon

ground cumin

½

teaspoon

powdered garlic

½

teaspoon

cayenne powder

½

teaspoon

smoked paprika

½

teaspoon

sea salt
Instructions
Put the cashews in the crockpot.

Add the oil and stir so that there is a little bit of oil on all the cashews. It will be enough.

Mix the spices together in a small bowl and then add to the crockpot and stir.

Cook on low 1 hour. Uncover and then cook 15 more minutes.
Nutrition
Serving:
2
Ounces
Calories:
102
kcal
Carbohydrates:
9
g
Protein:
5
g
Fat:
13
g
Saturated Fat:
2
g
Sodium:
101
mg
Potassium:
212
mg
Fiber:
1
g
Sugar:
1
g
Vitamin A:
75
IU
Vitamin C:
0.2
mg
Calcium:
12
mg
Iron:
2.2
mg