Dairy-Free Strawberry Smoothie is perfect for the plant-based diet. It has only 4 ingredients and takes less than 5 minutes. There's even a bit of maple syrup for this fruit packed best ever strawberry smoothie recipe.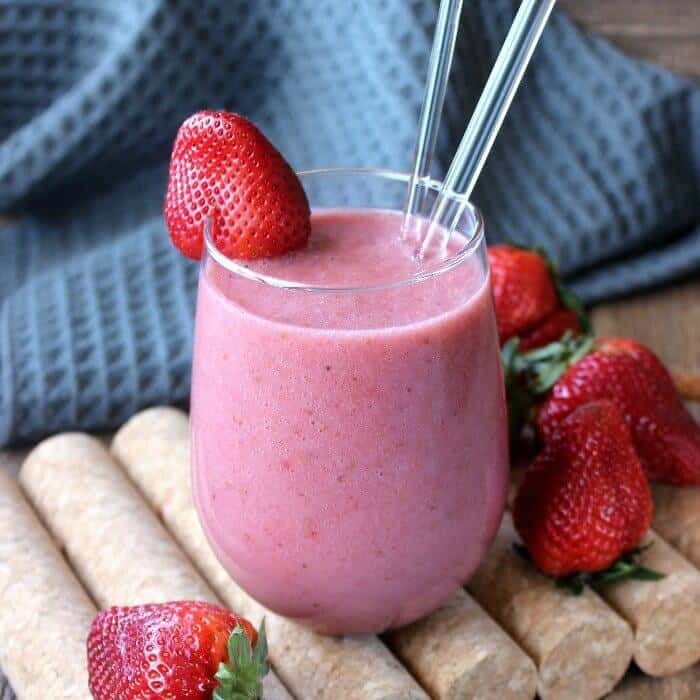 A nutritional breakfast is always first on my list. If it consists of four of my favorite ingredients then I'm all in. Children can even make this. How do I know?
My niece makes it almost daily. They have one of those single serve $15 blenders that also makes cleaning up easy.
Fresh strawberries are in the store right now but Kaelin uses frozen because fresh strawberries aren't always there. Either way the smoothie is perfect.
Packed full of nutrients coming from the strawberries, banana and dairy-free milk.
Did I say breakfast? It also fills you up when you are starving and need a snack. In just 5 minutes you can be enjoying the flavors and having a wonderful pick-me-up.
Jump to:
Healthy, flavorful, quick and last but not least, pretty. Well, maybe even gorgeous.
That might be a fun agenda. Whenever you have a non dairy smoothie make sure it is a gorgeous one. I forgot! They already are. Hahaha.
So now I can say "I've never had an apple I didn't like and I've never had a smoothie that wasn't gorgeous". Drink up!
This recipe makes two non dairy smoothies so just cut back on some of the ingredients if you want one just for yourself. You can still use a whole banana but put in half the strawberries and maple syrup.
You can play around with the dairy free milk too. Just start with 2 tablespoons and add a tablespoon at a time if you'd like it thinner.
What are the best fruits for smoothies
Mango and banana - don't forget to take out the big mango pit!
Mango and peach with or without the maple syrup.
Pineapple and banana is a delicious combo and it gives a real zing to your taste buds.
Raspberries and cherries are spectacular together.
Kiwi and Pineapple will wake you up and they make great POPSICLES too!
Watermelon and peach make a great duo.
Oranges and sweet ruby grapefruit is really refreshing.
These are only a few fruit smoothie combos that are out there. You can always add a banana to anything and every single berry works great too.
Here is another great dairy-free fruit smoothie! This one, the Workout Blueberry Protein Shake, is packed with protein!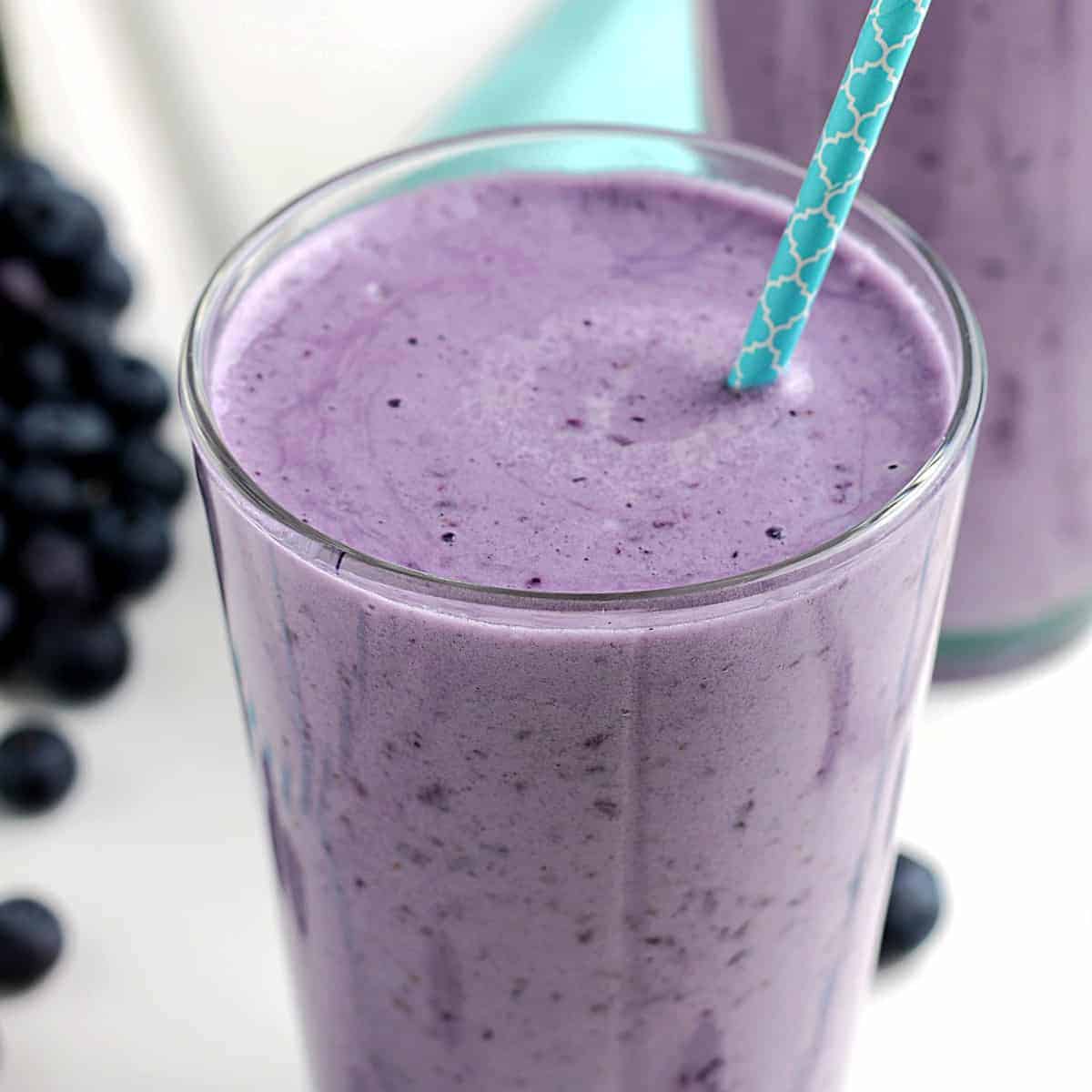 Notice that vegetables weren't even mentioned in this post. A handful of spinach or kale would take you a long way too. But that's a whole other story.
Are smoothies good for you
The short answer is a resounding Yes! Here are some hints to keep them that way.
Smoothies without milk are the only ay to go.
Make the smoothies yourself to be sure what is inside.
Use fruit for taste and fiber. They can be frozen or fresh. A good hint is to freeze sliced bananas to add to smoothies.
A tablespoon of your favorite nut butter adds protein and healthy fats.
They are so quick to make that you can whip up a fresh fruit smoothie in mere minutes and drink it right then.
The majority of the time a sweetener such as a tablespoon of maple syrup isn't necessary. Sometimes you'll want it but if the fruit is sweet - skip it.
Always use dairy-free milk or water, not fruit juices.
You'll never know by the taste if you add a few greens to your dairy-free smoothies. A little spinach adds nutrients and vitamins.
Add a tablespoon of flaxseed meal or raw hemp seed. Both add fiber and help reduce inflammation.
Add ice for a thicker frosty like smoothie. You'll actually feel fuller.
You ask if smoothies are healthy? This spinach smoothie couldn't be any healthier and it also has chocolate.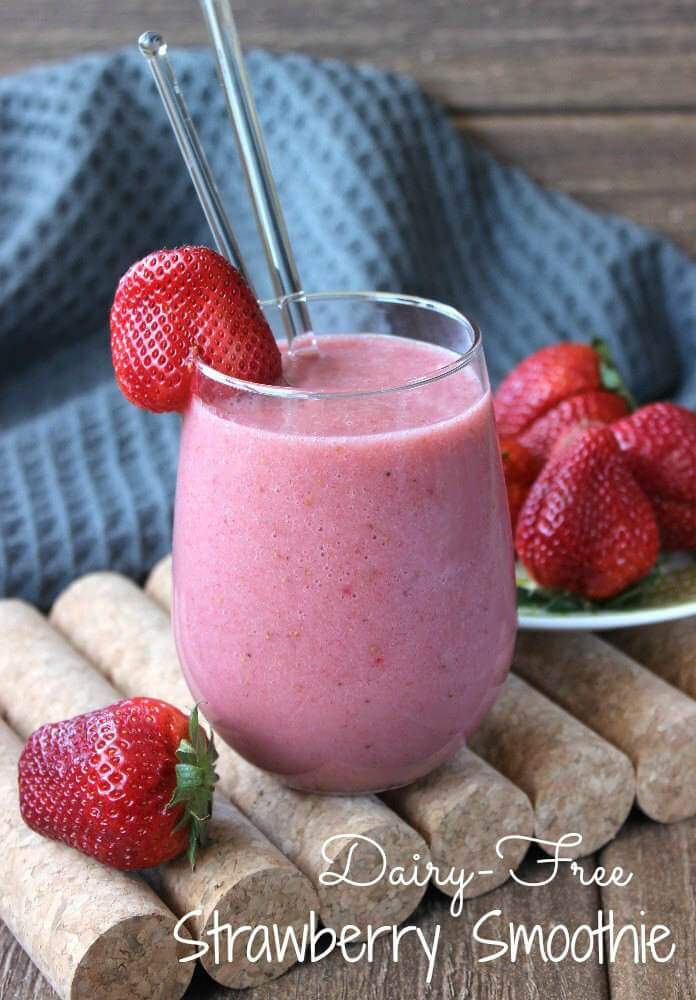 Ingredients and easy instructions
It was so funny when I made this dairy-free strawberry smoothie and then sat down to write out the recipe.
Usually it takes a while to make sure no ingredient is forgotten and they are all in order so that the recipe is easy to follow.
I just had to smile that the recipe was under 50 words. Isn't that nice!
We all deserve a deliciously easy recipe once in a while that takes just a few minutes to make. Life is good.
📋 Recipe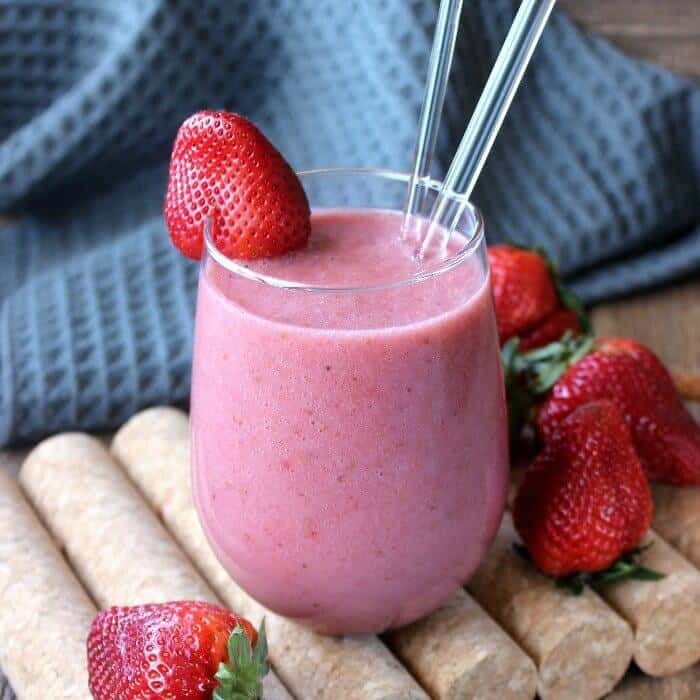 Dairy-Free Strawberry Smoothie
Dairy-Free Strawberry Smoothie only 4 ingredients and takes less than 5 minutes.
Ingredients
2

cups

strawberries, fresh or frozen

1

banana

¼

cup

dairy-free milk, unsweetened, you can add more milk if you like it thinner

2

tablespoons

maple syrup

optional
Instructions
Get out your blender or food processor.

Add all of the ingredients and blend until smooth.
Notes
No kidding - so good and perfect for a lift me up.
Nutrition
Serving:
12
ounces
Calories:
152
kcal
Carbohydrates:
38
g
Protein:
1
g
Sodium:
3
mg
Potassium:
476
mg
Fiber:
4
g
Sugar:
26
g
Vitamin A:
40
IU
Vitamin C:
89.8
mg
Calcium:
45
mg
Iron:
0.7
mg