Dairy Free New York Cheesecake is a dream come true. Completely plant-based with all the pleasure of a baked New York style cheesecake. Now you can make and enjoy it too.
Dairy Free New York Cheesecake almost seems like an oxymoron. I mean how can this be dairy free!
I have the answer for you and it is partly because of all of the wonderful vegan products we have in our markets now.
I say partly because the rest of the reason we can make this fantastic cheesecake is because of the creative minds of Michael Suchman and Ethan Ciment. They have a new cookbook out!
Creamy Baked Decadence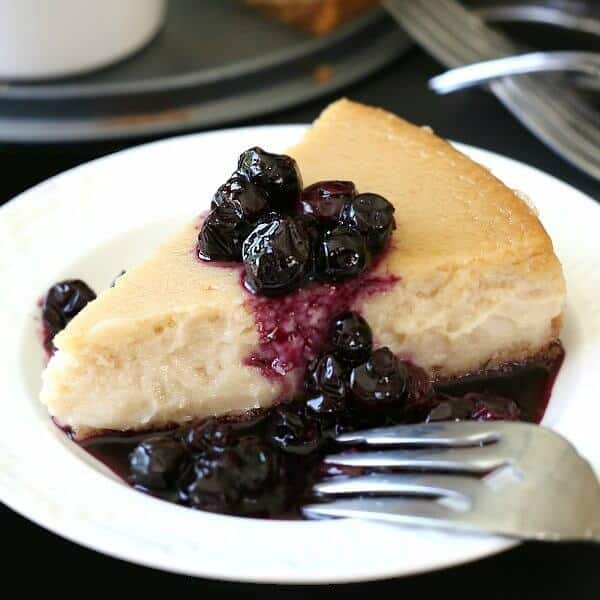 Starting with a springform pan gives the iconic baked cheesecake it's beautiful look.
I'm going to veer off topic a bit here. There's another amazing dessert on the blog using a springform pan.
It's called Decadent Chocolate Torte and you've got to check out the ingredients. Here's a photo.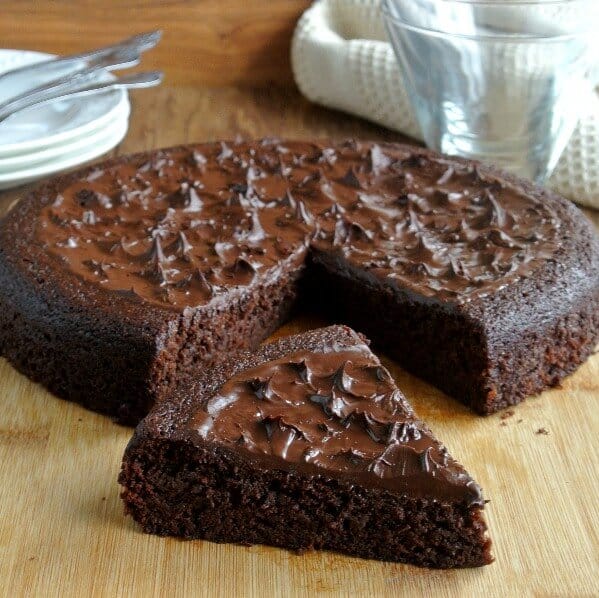 It's definitely a dessert for a special time. That's the way I think about this cheesecake too.
It takes some time to make although most of the time is leaving the cheesecake in the refrigerator for a while. I left mine overnight because I made it late in the day.
Blueberry sauce was my topping of choice but you can make any choice that you like.
Cherry sauce would be fantastic too! Maybe the second or third time I make it I'll go with strawberry or raspberry sauce.

I am so lucky that the guys from VeganMos are letting me share their recipe with you. It's only one out at least a hundred recipes that celebrate the famous foods of New York City.
The cookbook is aptly named NYC Vegan!
I have ohhhhd and ahhhhd a couple of plant-based cheesecakes over the last year and have been wanting to make one - so bad.
So here came this recipe and it was set right down in front of me.
Dreams do come true. The last piece was eaten last night and I really really tried to let my husband eat most of it.
Let me tell you the titles of a couple of the other recipes in this book. How about Reuben Sandwiches and Knishes. Yep, they're in there.
Full-color photography of the recipes throughout the book too.
Above is a photo of the cookbook and below is the recipe. I hope you get to make this cheesecake very soon. It is wonderful!
📋 Recipe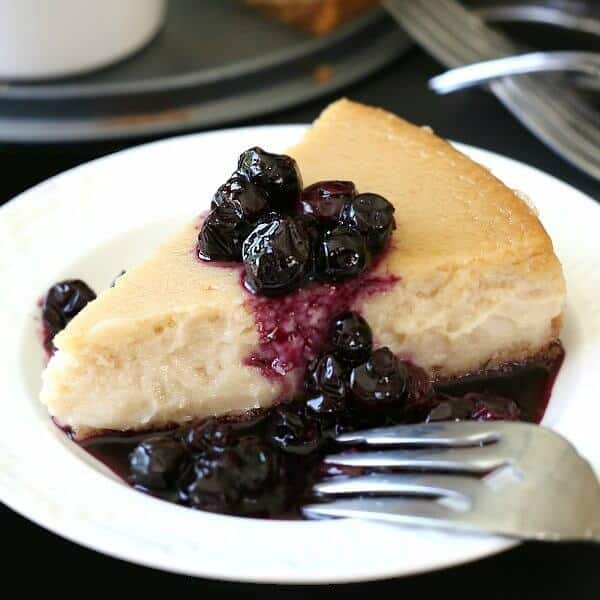 Dairy Free New York Cheesecake
New York Cheesecake is a dream come true.
Ingredients
1 ½

cups

graham cracker

crumbs

4

tablespoons

nondairy butter

- melted

24

ounces

dairy-free cream cheese (I had to reduce this from the cookbook from 32 ounces

- 3 containers (8 ounce each), softened

3

tablespoons

all-purpose flour

-unbleached

2

teaspoons

lemon juice

1 ¼

cups

Organic granuated sugar, I had to change this measurement from the cookbook from 1 ½ cup

2

teaspoons

vanilla extract

pinch

salt

½

cup

nondairy sour cream

2

tablespoons

Ener-G Egg Replacer
Instructions
Preheat the oven to 350°F. Lightly spray the bottom and sides of a 9-inch springform pan with nonstick cooking spray and set aside.

Combine the graham cracker crumbs and butter in a large mixing bowl and mix well with a fork.

Use your fingers to press the mixture firmly and evenly into the prepared springform pan until it is a solid, packed ¼-inch layer of crust lining the bottom and slightly up the sides of the pan.

Bake the crust for 10 minutes.

Remove it from the oven and allow it to cool before filling.

Combine the cream cheese, flour, lemon juice, sugar, vanilla and salt in a large mixing bowl.

Mix well. either with a handheld electric mixer or stand mixer; on medium speed until fully combined and the sugar is dissolved. About 3 minutes. The batter should be completely smooth.

Beat in the sour cream and egg replacer on low speed until well blended.

Pour the batter into the partially baked crust.

Bake at 350 for 60 to 70 minutes or until the center is set but still a little jiggly.

Turn off the heat and let the cheesecake rest 60 minutes in the oven (the cookbook says 30 minutes).

Remove the cheesecake from the oven and let it cool in the pan on a wire rack for at least 30 minutes.

When the cheese is cool, run a knife carefully around the side of the cheesecake but do not remove or release the side of the pan.

Put the cheesecake in the refrigerator, uncovered, for at least 4 hours (preferably overnight).

When ready to serve, carefully run a knife along the side of the cheesecake to loosen it and remove the side of the pan.
Nutrition
Serving:
1
Slice
Calories:
523
kcal
Carbohydrates:
55
g
Protein:
7
g
Fat:
34
g
Saturated Fat:
10
g
Sodium:
534
mg
Potassium:
23
mg
Fiber:
6
g
Sugar:
36
g
Vitamin C:
0.4
mg
Calcium:
94
mg
Iron:
1.7
mg
Store leftovers in the refrigerator for up to 5 days.
More recipes that star in New York and made vegan in this new cookbook:
Old New York: Manhattan clam chowder, Waldorf salad, eggs Benedict, New York-style pizza, and New York-style cheesecake.
Delis and diners: Reuben sandwich, bagels, pot pie, and Brooklyn egg creams.
Street foods and festivals: Soft pretzels, churros, falafel, Italian ice, caramel corn, and zeppole.
Neighborhoods: Polish pierogis, Italian lasagna, Dominican arroz con maíz, Greek avgolemono soup, and Puerto Rican mofongo.
Bakeries: Knishes, cinnamon rolls, black-and-white cookies, and Irish soda bread.
Jewish specialties: Blintzes, brisket, mandelbroit, and "chicken" soup.