Peanut Butter Chocolate Balls- Melted vegan-free butter mixed with creamy peanut butter and powdered sugar are hand-rolled into balls and dipped into melted vegan chocolate. These little peanut butter chocolate balls are the perfect bite-sized sweet treat!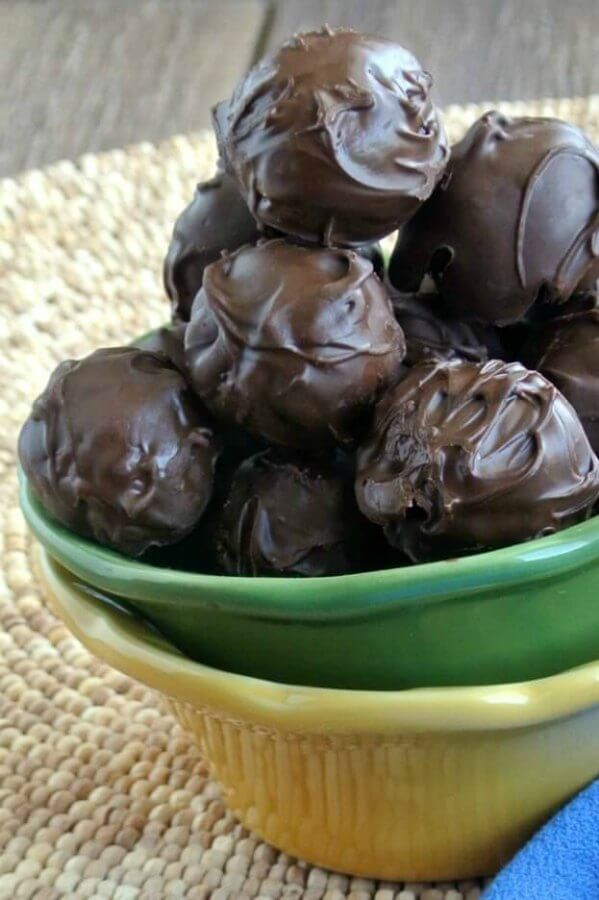 Chocolate and peanut butter are two of the most popular flavors in the world. When you combine them, you get a flavor that is both rich and creamy. The chocolate provides a depth of flavor that pairs perfectly with the salty taste of peanut butter. It is a flavor combination that is comforting, delicious, and loved by kids of all ages.
Vegan peanut butter chocolate balls are my favorite way to enjoy this irresistible combination. These peanut butter chocolate balls are the perfect snack for when you're looking for a quick and easy pick-me-up. They're made with simple ingredients you probably already have in your pantry, and they're easy to customize to your taste. Chocolate peanut butter balls are bite-sized treats packed with protein and healthy fats, making them a perfect choice for an energy boost or a quick snack on the go.
Why You'll Love This Chocolate Peanut Butter Ball Recipe
No-Bake- Who doesn't love a good no-bake recipe? These chocolate peanut butter balls require no time in the oven, which means they're ready in a snap.
Kid-Friendly- Peanut butter balls are a great way to get the kids involved in the kitchen. They can help measure the ingredients, roll the balls, and dip them in chocolate. It will be a fun family activity for everyone!
Easy To Make- This recipe is so simple that even the most inexperienced cook can easily make them. Just mix, roll, dip and enjoy
Absolutely Delicious- These chocolate peanut butter balls are rich, creamy, and totally irresistible! One bite, and you'll be hooked.
Simple Ingredients- You probably already have everything you need to make these chocolate peanut butter balls in your pantry.
Equipment Needed To Make No-Bake Vegan Peanut Butter Balls With Chocolate
Small Microwave-Safe Bowl

2 Large Mixing Bowls

Wooden Stirring Spoon

Wax Paper

Baking Sheet

Double Broiler or Small Pot and an Oven-Safe Bowl

Forks
Ingredients For Peanut Butter Chocolate Balls
Vegan Butter

Creamy Peanut Butter

Organic Powdered Sugar

Vegan-Friendly Semi-Sweet Chocolate Chips
How To Make Vegan Peanut Butter Chocolate Balls
You can easily make vegan chocolate peanut butter balls! Begin by melting the vegan butter in a small, microwave-safe dish.
Get a large mixing bowl and add the peanut butter to it. Once you pour in the melted butter, slowly mix everything together as you work in the powdered sugar until combined. The mixture's consistency should be pretty stiff-which is precisely what you want.
Using the palms of your hands, roll the peanut butter mixture into 48 balls of equal size. Place them in a large bowl and refrigerate for about an hour.
Melt the chocolate chips either over a hot water bath or double boiler, then lay wax paper on the baking sheet.
Work with only 6 peanut butter balls at a time, keeping the rest refrigerated, so they maintain their shape.
Use two forks to dip each ball into the melted chocolate. As you remove it from the bowl, lightly swipe the bottom of the ball against its rim, so there is no excess chocolate buildup on your wax paper. Finally, place each peanut butter ball onto the wax paper, then refrigerate or freeze until set.
Serve in a decorative bowl or mini paper cups, and enjoy!
What to Serve/Pair With Chocolate-Covered Peanut Butter Balls
Chocolate peanut butter balls are the perfect dessert or snack to enjoy on their own. But if you're looking for something to serve alongside them, try one of these ideas:
Platter of fresh fruit

Vegan brownies or chocolate cake

A scoop of dairy-free ice cream

A glass of cold almond milk
No matter how you enjoy them, these chocolate peanut butter balls are delicious!
Popular Substitutions & Additions
There are a few ways you can change up this recipe to suit your cravings:
Use almond butter or cashew butter in place of the peanut butter

Add ½ teaspoon of peppermint extract to the chocolate coating for a minty twist

Roll the balls in chopped nuts, shredded coconut, or vegan chocolate chips instead of dipping them in chocolate

Looking for a crunch? Try adding ¼ cup of chopped nuts to the peanut butter filling before rolling it into balls

Feeling really indulgent? Dip the chocolate-covered peanut butter balls in for a second layer of melted chocolate!
How To Store & Reheat Peanut Butter Balls
You can store these chocolate peanut butter balls in the fridge for up to 2 weeks. Or, freeze them for up to 3 months. When you're ready to enjoy one (or two!), remove them from the freezer and let them sit at room temperature for about 15 minutes. Or, pop them in the fridge for an hour or so until they're thawed.

To reheat these peanut butter balls, microwave each ball for 10-15 seconds. You want the chocolate to thaw but not melt.
Vegan Peanut Butter Chocolate Balls FAQs
Can I use a different type of chocolate?
Yes! You can use any chocolate you want, like vegan dark chocolate, milk, or white chocolate.
Does it matter what type of peanut butter I use?
I prefer a creamy peanut butter with this recipe. Natural peanut butter is too oily and the results just aren't as good
What is a hot water bath?
A hot water bath is a method of cooking where you place a bowl or pan of food in a larger bowl or pot of hot water; this process helps to cook the food evenly and gently.
Can I use a different type of nut butter?
Yes! You can use any type of nut butter you want, like almond or cashew butter. You can even use sunflower seed butter if you have a peanut allergy.
Do I have to use a double boiler?
No, you don't have to use a double boiler. You can melt the chocolate chips in a microwave-safe bowl or dish in 30-second increments, stirring in between each until completely melted.
What's the best way to measure the peanut butter in this recipe?
When measuring the peanut butter, be sure to use a dry measuring cup. If you use a liquid measuring cup, you'll end up with too much peanut butter, and the balls will be too oily.
Don't Forget To Come Back And Let Me Know How Your No-Bake Peanut Butter Chocolate Balls Turned Out!
📋 Recipe
Vegan Peanut Butter Balls Recipe
A sweet snack that anyone can enjoy! These dairy-free treats are made with creamy peanut butter and powdered sugar, hand-rolled, and dipped in vegan chocolate.
Ingredients
¼

cup

dairy free butter

melted

1 ¼

cup

peanut butter

creamy

2

cups

powdered sugar

organic

12

ounce

semi-sweet chocolate chips

package
Instructions
Mix the melted non dairy butter and the peanut butter together.

Work in the powdered sugar.

It will be pretty stiff but that is good.

Make into 48 balls. I divide the dough in half - then each half into half - and so on until you get 48 little chunks. Then I roll them in the palms of my hands and place in a large bowl.

Refrigerate for about an hour.

Put a piece of waxed paper on a

baking sheet

. I cut the piece to fit inside the pan so that it lays flat.

Melt the chocolate over a hot water bath or in a double boiler.

Take the peanut butter balls out of the fridge and work with about 6 at a time. Put the unused balls back in the fridge while you are working.

Roll each ball in the chocolate and pick up with two forks. Swipe the bottom of the ball against the top rim of the bowl as you lift out so you don't get a blob of chocolate, under the ball on the wax paper. Lay on the wax paper on the cookie sheet.

When all the balls are finished place the pan in the refrigerator (or freezer) to harden up. About an hour.

You can place each ball in a mini paper cup for looks or just pile in a stack.
Nutrition
Serving:
2
Balls
Calories:
108
kcal
Carbohydrates:
10
g
Protein:
2
g
Fat:
7
g
Saturated Fat:
2
g
Sodium:
39
mg
Potassium:
83
mg
Sugar:
8
g
Vitamin A:
5
IU
Calcium:
7
mg
Iron:
0.6
mg