Mimosa is an easy sparkling wine and orange juice recipe. There seem to be endless variations such as a Prosecco Mimosa with Cointreau. So check out these Mimosa Bar Ideas for the next time you're able to have guests over.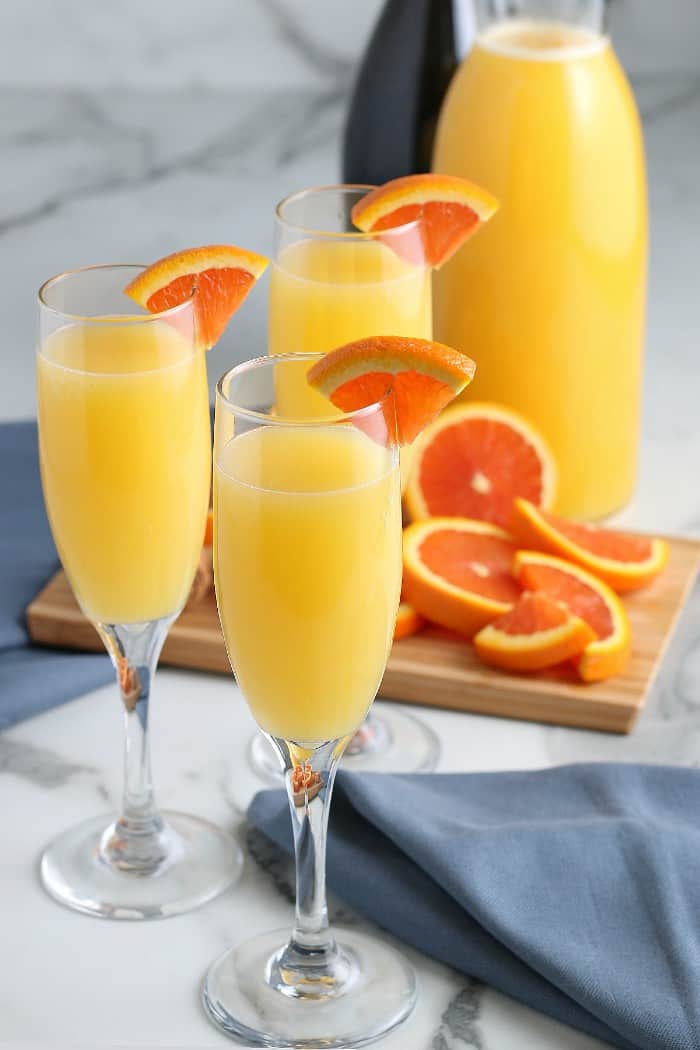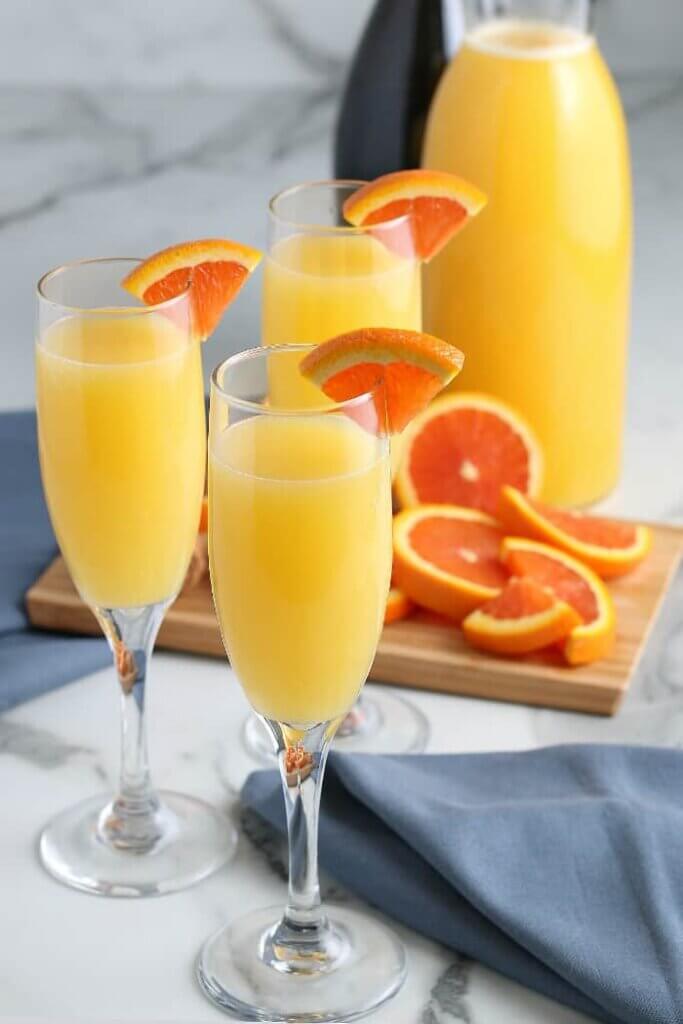 Mimosas are such a simple pleasure and the recipe is almost just a how-to. The extra exciting bit of information is how versatile it is.
The variations can go on and on with switching out juices and topping off with specialty liqueurs that the fun has truly just begun.
Now you don't have to change the recipe up at all and that is one of the reasons that Mimosas have stayed in the upper ranks in cocktail popularity contests.
You want to choose a yellow drink that is one of your favorites. After all, the mimosa tree that it is named after is bright yellow.
Even if you go a little peachy in color the taste will be divine.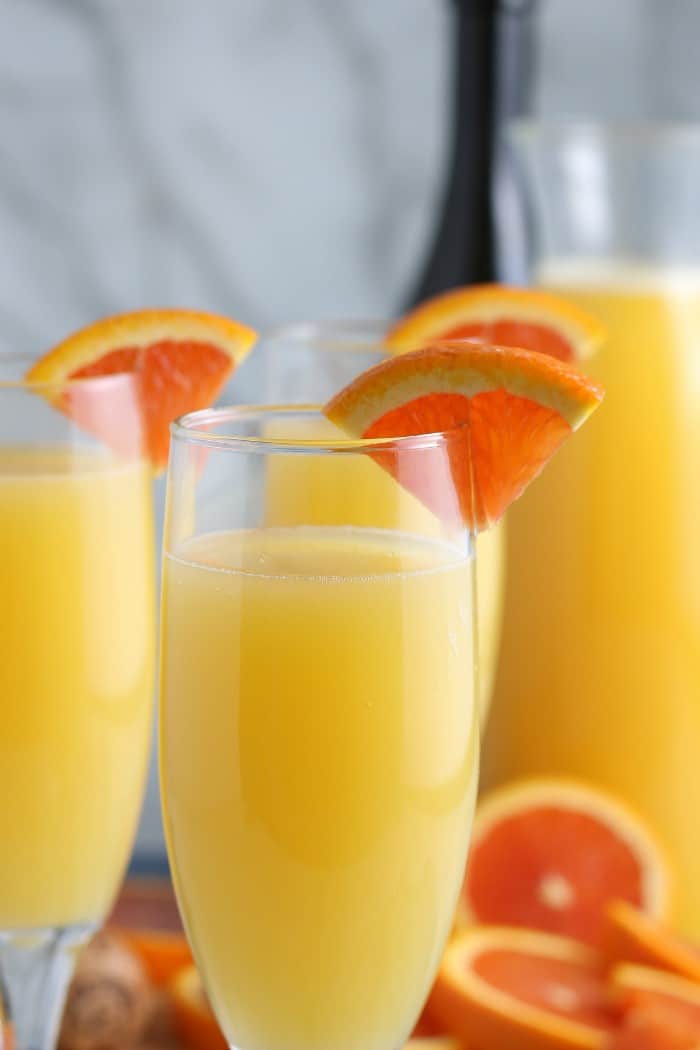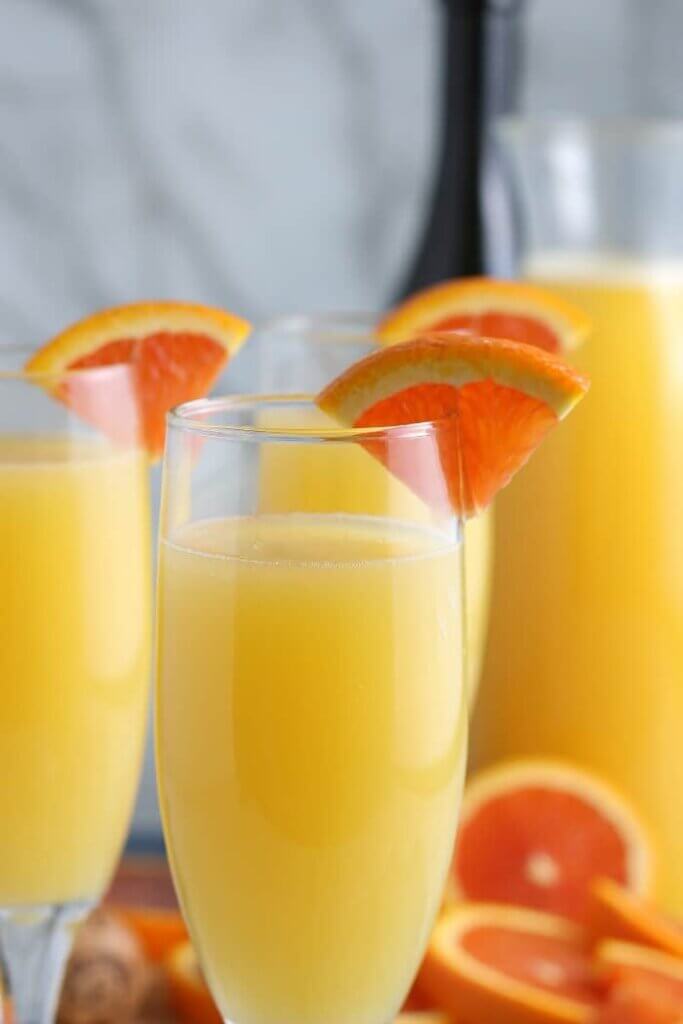 And ... don't forget that there are purple flowering mimosa trees to so don't forget that color also.
🍹 Juice Variations
Colors featured below from yellow to purple.
Orange juice is the original and classic juice of choice.
Mango juice has the most vibrant color.
Pineapple juice is sweet and gives a tropical vibe.
Peach juice is turning a little orange and has a unique flavor.
Raspberry-lemonade tastes so good on its own and makes a really delicious and pretty mimosa.
Blood Oranges are a very deep reddish-orange color and ti thins out nicely with sparkling wine.
Orange and cranberry make a lovely holiday mimosa.
Grape Juice is deep purple and delicious for a Prosecco Mimosa.
🥂 Liqueur toppers
The very most popular fruit liqueurs to make everyone happy! They're attractive bottles too so they really add to the mimosa bar.
Chambord - black raspberries - clear deep purple
Cointreau - oranges - colorless
Grenadine - pomegranate - deep red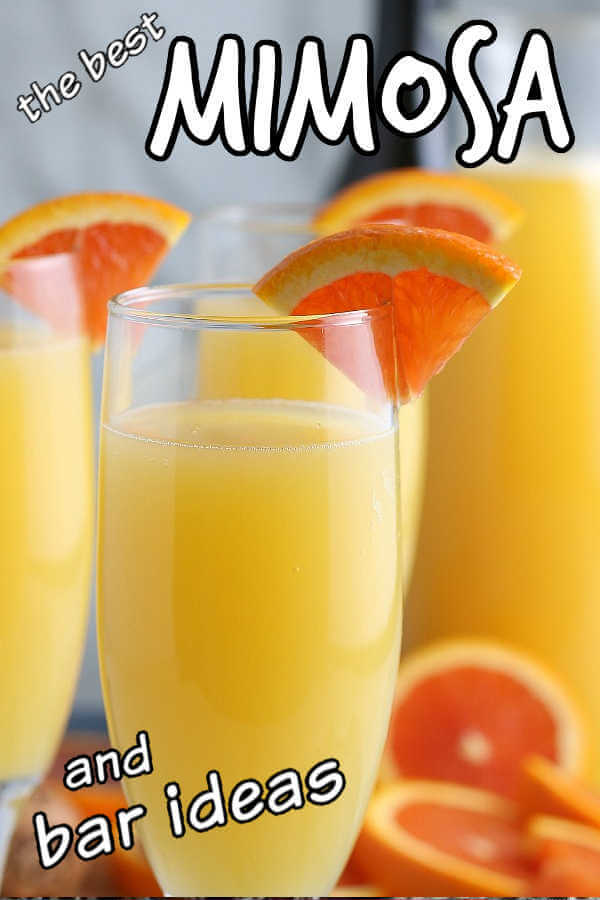 💭 Mimosa bar ideas
So the recipe is simple for a basic crowd pleaser mimosa and you can carry on from there if you're feeling a little fancy.
Try not to overwhelm guests with too many choices.
Choose three to four juices. If you're looking for a fancier bar then pour the juices into clear glass bottles.
Have all three of the liqueurs sitting together on the table.
Glasses and these can be mixed varieties or all one kind such as flutes (as are shown in these photos), stemless flutes but they are a little harder to hang on to, shaped flutes, and flared flutes.
Coasters spread around strategically and a few stacked on the bar.
Fresh fruit garnishes and you can use orange quarters with many different fruit mimosas. Strawberries are nice too. A few blueberries sprinkled in the bottom of a purple/red mimosa is petty too.
No ice goes into mimosas but you do need ice for the ice bucket (or two) to keep the bubbly cold or use a larger acrylic ice tub to hold four or more bottles.
Now you can make mimosas for everyone or they can help themselves.
🥘 Ingredients
Orange juice
Sparkling wine (I love a Prosecco Mimosa)
Liqueur topping if you so choose - see list above
Fruit garnish if you so choose.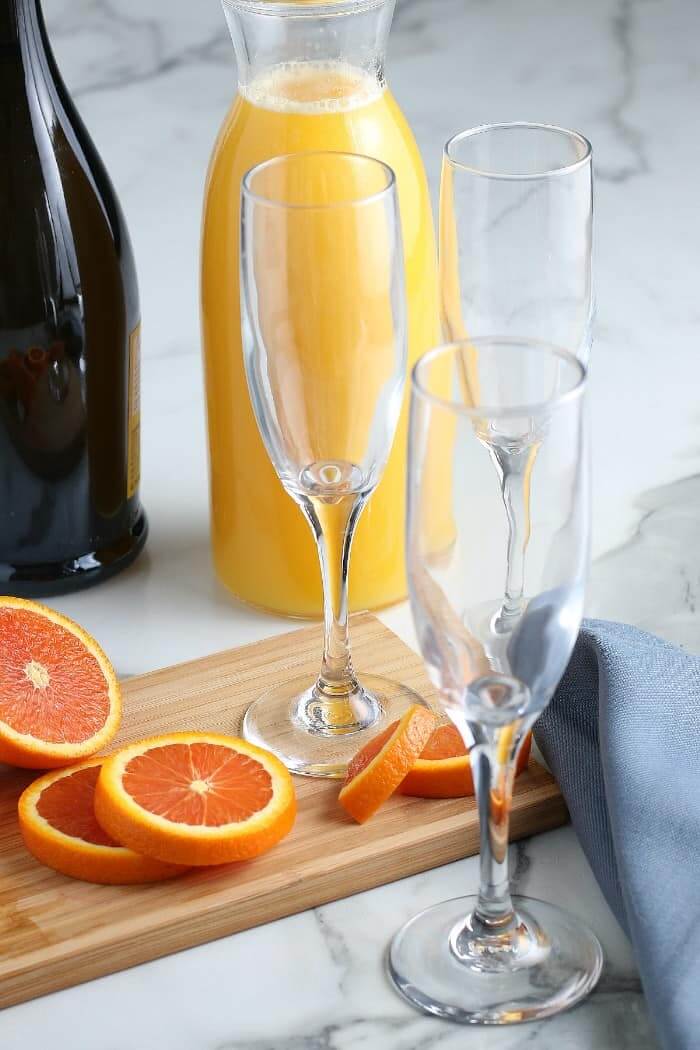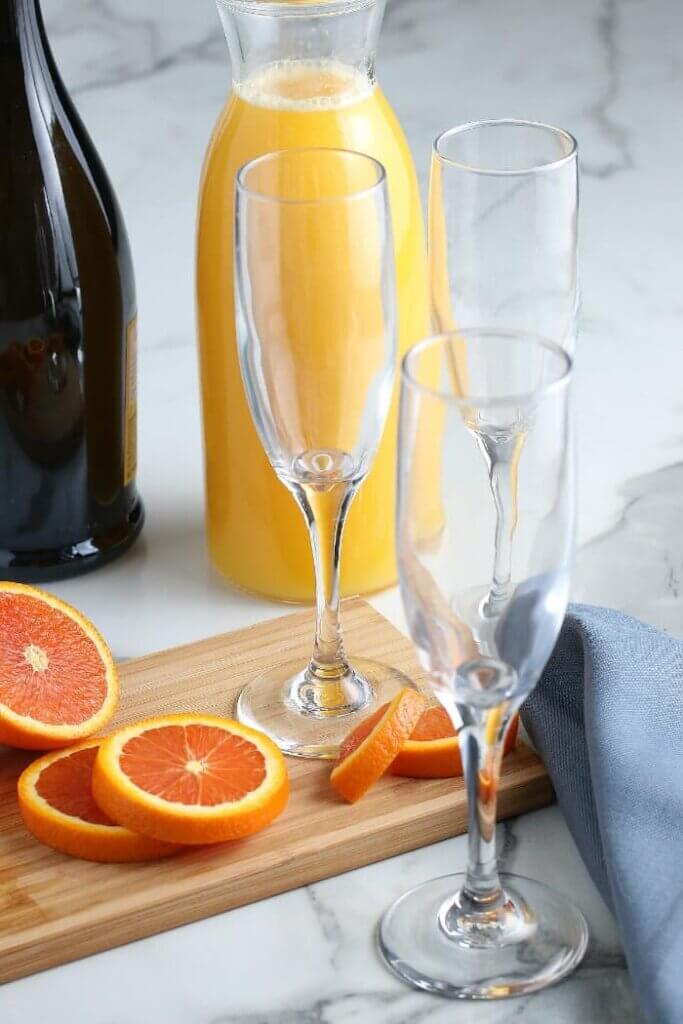 Set up your bar for quick and easy handling.
Start to pour in the sparkling wine until the glass is at about half-full. Pour very slowly but, even better, lift and tilt the glass as you slowly pour in the bubbly.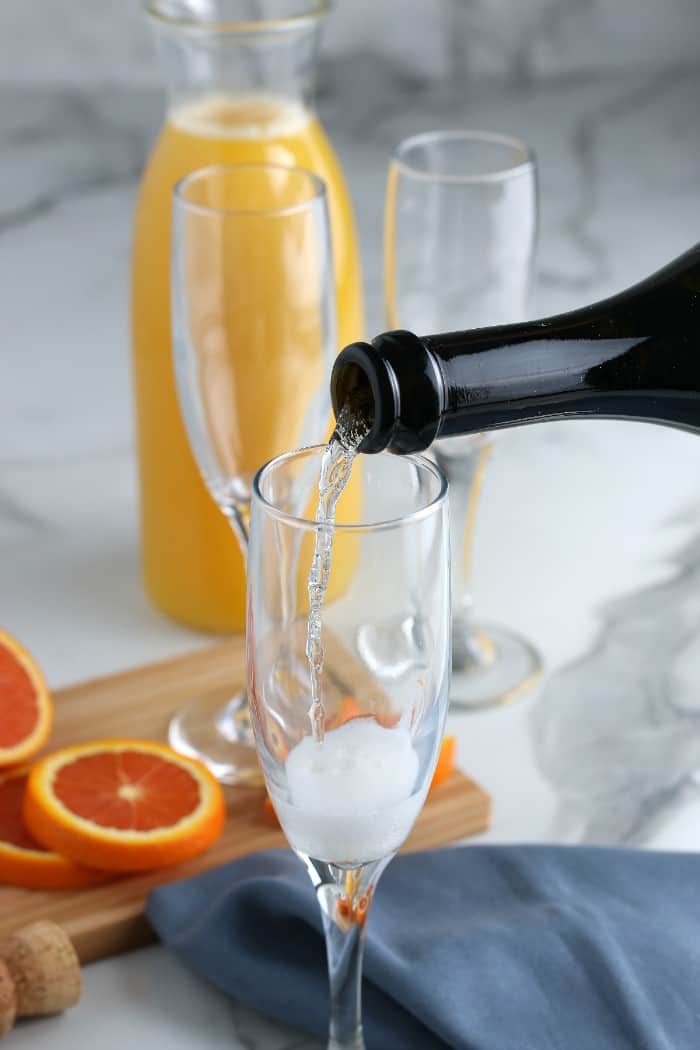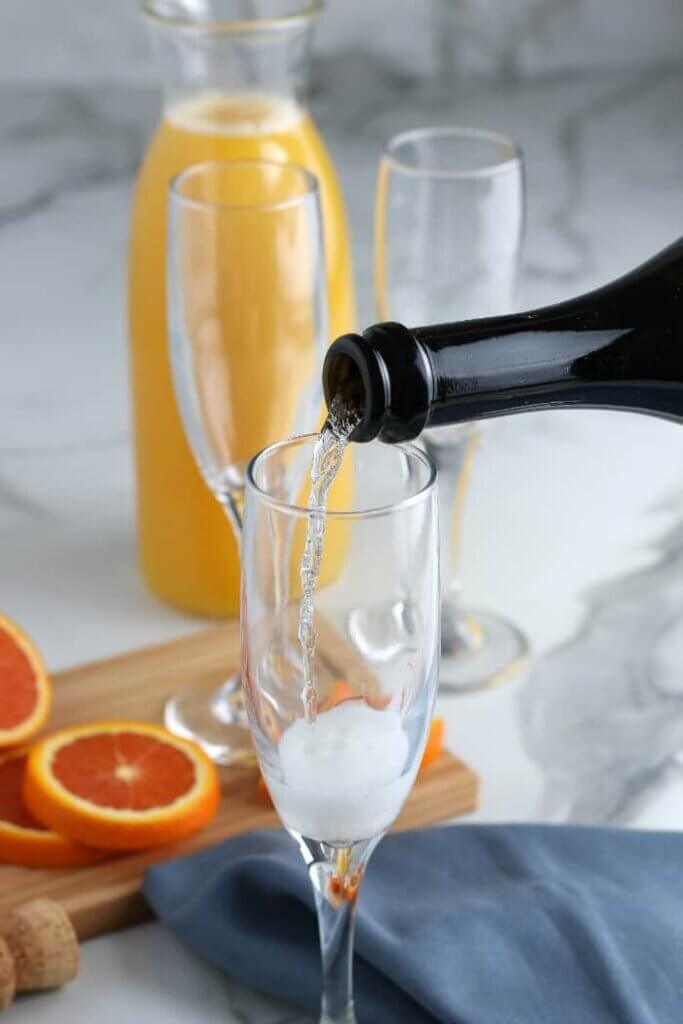 After you have the desired measurement of sparkling wine then fill up the glass with orange juice. Freshly squeezed oranges are always the best but you can certainly use your favorite store-bought variety.
No pulp, please.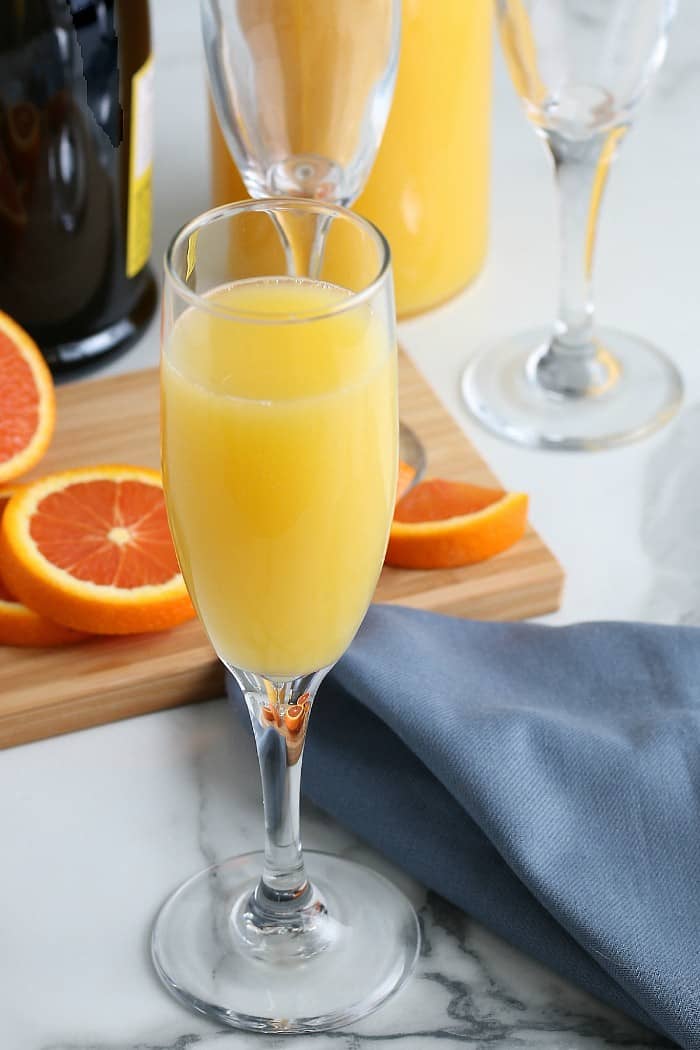 The classic combo of orange juice and sparkling wine is always a good place to start.
Now that you're in the party mood how about checking out some more cocktails?
🍸 Cocktail Recipes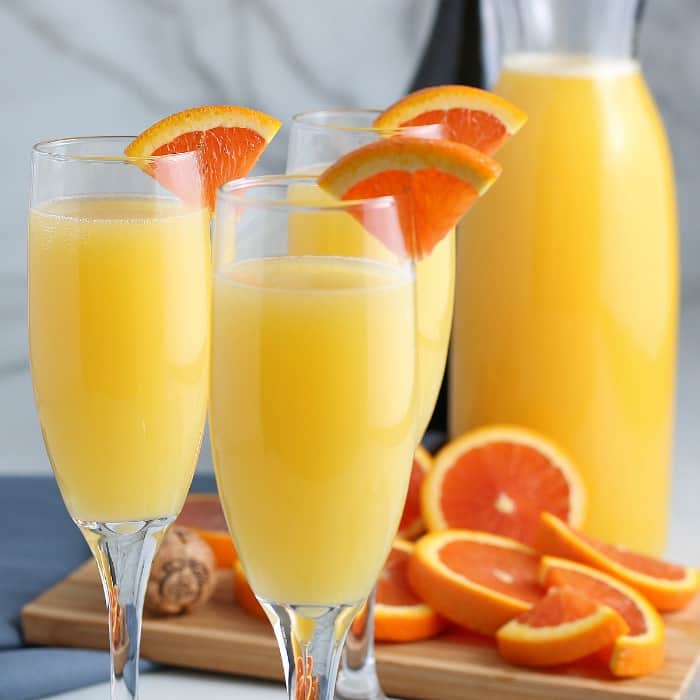 If you take a photo of your gorgeous golden mimosa I would love to see it. Follow me over on Instagram and tag me on your photo @vegan_in_the_freezer.
📋 Recipe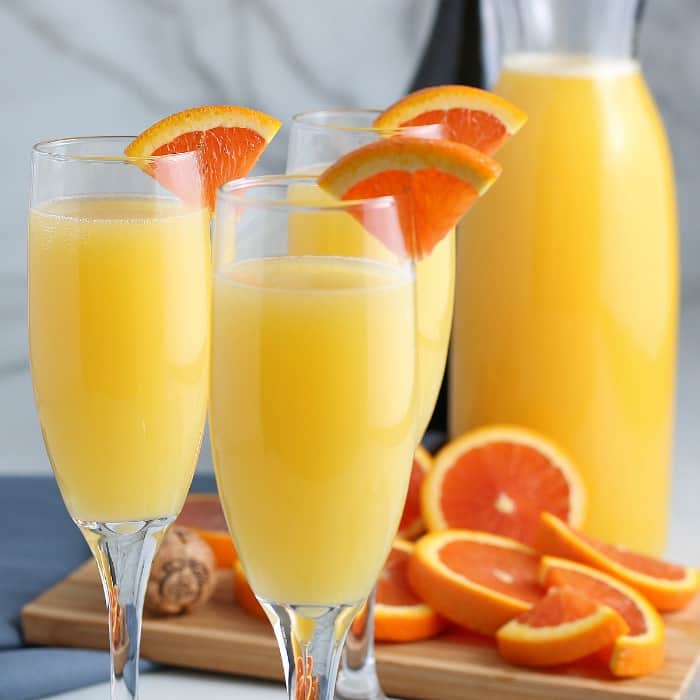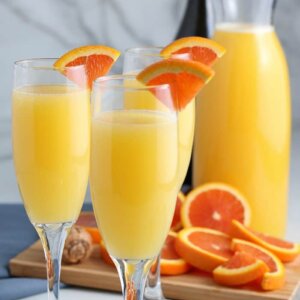 The Best Mimosa
Mimosa is an easy sparkling wine and orange juice recipe that is refreshing and a crowd favorite.
Ingredients
750

ml

1 bottle dry sparkling wine, like Prosecco or Cava

3-4

cups

chilled orange juice

sliced orange slices and quartered for garnish
Variation with liqueur
750

ml

1 bottle dry sparkling wine, like Cava or Prosecco

3-4

cups

chilled orange juice (or substitute fruit juice)

½

teaspoon

Grenadine per glass
or
1

teaspoon

Cointreau per glass to float on top. You can add a little more since it's clear and won't change the orange juice color.

sliced orange slices and quartered for garnish
Instructions
Fill glass halfway with Prosecco (Italy) or Cava (Spain) or another favorite sparkling wine. You could even use champagne (France).

Top with orange juice and add garnishes if you like.
Liqueur Variation with Grenadine for a Mimosa Sunrise
Start with the orange juice. Fill glass half full.

Top off with your favorite sparkling wine.

Add about ½ teaspoon grenadine down the edge of the glass so that it will tend to sink to the bottom. Add a garnish if you like.
Notes
Some of the heavier colored liquers will float down through the orange juice some are colorless (Cointreau).
Nutrition
Serving:
1
Serving
Calories:
178
kcal
Carbohydrates:
16
g
Protein:
1
g
Fat:
1
g
Saturated Fat:
1
g
Sodium:
19
mg
Potassium:
468
mg
Fiber:
1
g
Sugar:
13
g
Vitamin A:
248
IU
Vitamin C:
62
mg
Calcium:
36
mg
Iron:
1
mg