Vegan Garlic Bread- Fresh Italian baguettes cut into slices are covered in a delightful vegan butter infused with fragrant garlic, basil, and chives wrapped in foil and baked until crispy and browned. Serve warm with a variety of dishes, and the whole family will be coming back for more.
Have you ever had garlic bread? It's delicious, crispy, garlicky goodness that just makes your mouth water. I'm a big fan of it, and I know many of you are too. In fact, I'm pretty sure most people love garlic bread. It's the perfect side dish for any meal.
What if I told you that you could have all the deliciousness of garlic bread without animal byproducts? That's right, my friends. This garlic bread is 100% plant-based, and it is absolutely amazing. The best part about this recipe is that it is so easy to make. You don't need any special ingredients or equipment. Just a few simple pantry staples, and you're good to go. So what are you waiting for? Let's get cooking!
Why You'll Love This Garlic Bread Recipe
Delicious- This vegan garlic bread is so good! Fresh garlic and herbs leave each bite bursting with flavor.
Simple Ingredients- You probably already have most of what you'll need to make garlic bread at home. If not, it's readily available in your local grocery store.
Easy to Make- There aren't any complicated instructions to follow when making this crispy garlic bread. It can be ready to eat in under 30 minutes.
A Perfect Side- This garlic bread is the perfect side dish to serve with soup, salad, or your favorite Italian main dish.
Crunchy- The outside of this garlic bread is nice and crispy, while the inside is soft and fluffy. It's the perfect combination!
Family-Friendly- Everyone will love this vegan garlic bread recipe! It's the perfect side to please even the pickiest of eaters.
Equipment Needed To Make This Crispy Garlic Bread
Cutting Board
Knife
Mixing Bowl
Spoon for Stirring
Butter Knife
Aluminum Foil
Measuring Cups and Spoons
Ingredients For Vegan Garlic Bread
Baguette or French Loaf
Vegan Butter
Garlic
Basil
Chives
Sea Salt
How To Make Crispy Vegan Garlic Bread
It's incredibly simple to make vegan garlic bread. Start by preheating the oven to 350 degrees Fahrenheit. Cut the baguette in half and then cut each half into 1-inch slices, but don't go all the way through the bread.
Combine the rest of the ingredients in a mixing bowl and mix thoroughly. Make sure each slice is well-coated with butter. Then top each loaf with butter. Wrap the bread in aluminum foil and bake for approximately 15 minutes, or until golden brown on top. Pull slices apart and serve warm.
What to Serve/Pair With Your Garlic Bread
Vegan garlic bread pairs well with just about anything! Here are some ideas:
Soup- Try it with a bowl of piping hot tomato soup.
Pasta- Serve it as a side to your favorite pasta dish.
Salad- Pair it with a simple green salad.
Roasted Veggies- Serve it alongside some roasted veggies for a complete meal.
As a Snack- Enjoy with your favorite dipping sauce for a quick snack.
Popular Substitutions & Additions
While this garlic bread recipe is delicious, as written, there are always ways to change it up and make it your own. Here are some popular substitutions and additions:
Add some spice- Add red pepper flakes or diced jalapeños to the butter mixture for a little bit of heat.
Use a different bread- If you're not a fan of baguettes, feel free to use any type of bread you like. Ciabatta, sourdough, and French bread all work well.
Add cheese- Feel free to top your garlic bread with vegan shredded mozzarella or Parmesan cheese.
How To Reheat & Store One-Pan Vegan Garlic Bread
What Is The Best Way To Store Garlic Bread?
The best way to store garlic bread is in an airtight container or resealable bag at room temperature or in the refrigerator.
How Long Will Vegan Garlic Bread Last In The Fridge?
When stored in an airtight container, garlic bread will last up to 4 days in the fridge or at room temperature.
Can I Freeze This Crispy Garlic Bread?
Yes, you can freeze garlic bread! Place it in a freezer-safe bag or container, and it will last for 2-3 months. When you're ready to eat, thaw it overnight in the fridge, then reheat as desired.
How To Reheat Garlic Bread?
For best results, reheat crispy garlic bread in the oven at 350 degrees Fahrenheit until the desired temperature is reached. You can also use the microwave to reheat garlic bread, but it does come out a little softer.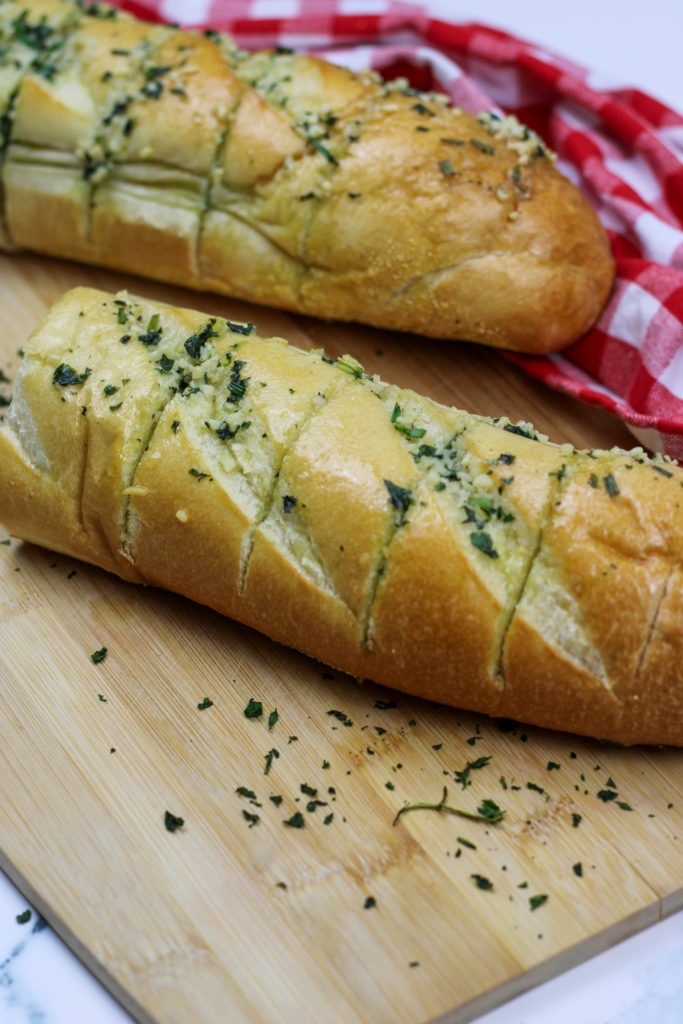 Vegan Garlic Bread FAQs
Should the vegan butter be at room temperature before mixing it with other ingredients?
Yes, it's essential to use room-temperature vegan butter to mix evenly with the rest of the ingredients. If your butter is too cold, it will be difficult to mix, and you may end up with clumps.
Do I have to wrap the loaves of bread in foil?
No, you don't have to wrap the loaf in foil, but it helps keep the bread crunch on the outside and soft and fluffy on the inside.
Can I add cheese to my garlic bread?
Yes, if you'd like! Before baking, you could top the garlic bread with vegan shredded mozzarella or Parmesan cheese.
I don't have any basil. Is there any other herb that I can use instead?
Yes! If you don't have basil, you could use oregano, thyme, or rosemary.
Is there a way to know if my garlic bread has gone bad?
The best way to tell if garlic bread is no longer good is by the smell and appearance. If the bread smells sour or off, it's time to throw it out. If the bread is moldy, it's also time to trash it.
My garlic bread came out too soft. What can I do?
If your garlic bread is too soft, it's likely because you didn't cook it long enough. Be sure to bake the bread until it's golden brown on top. You can also try reheating it in the oven at 350 degrees Fahrenheit until desired texture is reached.
Don't Forget To Come Back And Let Me Know How Your Crispy Vegan Garlic Bread Turned Out!
📋 Recipe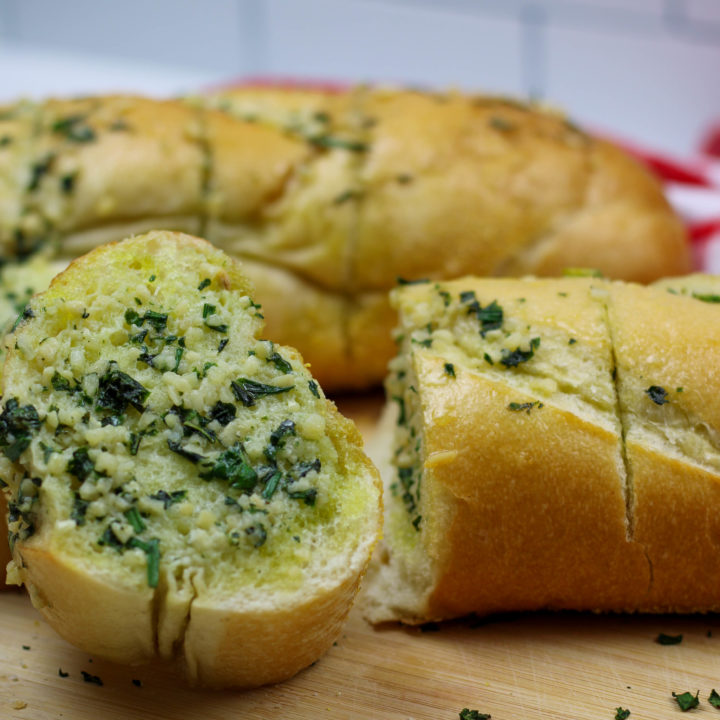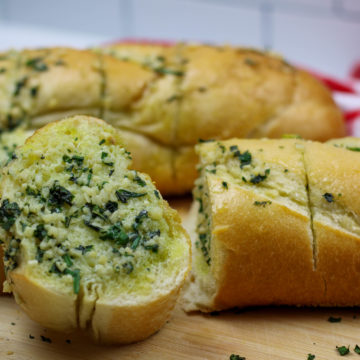 Vegan Garlic Bread
Fresh baguettes cut in slices and covered in butter infused with garlic, basil, and chives then baked until brown. Everyone will love this garlic bread recipe!
Ingredients
1

baguette/ french loaf

2 foot long

½

cup

+ 1 tbsp vegan butter

2

tsp

garlic

crushed

2

tsp

fresh basil

1

tsp

chives

½

tsp

sea salt
Instructions
Cut the baguette in half. Then cut each half from the top into 1-inch slices. Don't slice all the way through.

Then in a mixing bowl add butter, garlic, basil, chives and, sea salt. Mix until well mixed.

Spread butter in between each slice making sure to get each slice well. Then spread butter on top of each loaf.

Wrap in tinfoil and bake in the oven for 15 minutes.
Nutrition
Calories:
1756
kcal
Carbohydrates:
210
g
Protein:
44
g
Fat:
83
g
Saturated Fat:
21
g
Polyunsaturated Fat:
24
g
Monounsaturated Fat:
31
g
Trans Fat:
1
g
Sodium:
4302
mg
Potassium:
527
mg
Fiber:
9
g
Sugar:
19
g
Vitamin A:
4370
IU
Vitamin C:
2
mg
Calcium:
221
mg
Iron:
16
mg