Vegan Bread- Light and airy on the inside, crusty on the outside. It's perfect as a snack, sandwich bread, or a side with soup or salad. Who needs store-bought bread when homemade crusty vegan bread is so easy to make? This vegan bread recipe is made with just 5 pantry staples and couldn't be any more delicious.
Bread is a food that is enjoyed by people all around the world. It's typically made with flour, water, and yeast. Did you know that bread is one of the oldest foods in the world? Homemade bread was first created over 10,000 years ago! Today, many different types of bread are available, from white bread to whole wheat bread to vegan bread. Bread is a versatile food that can be eaten on its own or used as the base for a sandwich. It is also a popular ingredient in many recipes. Whether you like your bread plain or with a little bit of vegan butter, there's no doubt it's a delicious food everyone can enjoy, and it's so easy to make at home!
There's nothing quite like the smell of homemade bread wafting through the house. The warm, yeasty scent is enough to make your mouth water, and the taste is even better. Homemade bread is definitely a labor of love, but it's so worth it when you take that first bite. The crusty exterior gives way to a fluffy, soft interior; every bite is pure bliss. Whether you enjoy your bread plain or topped with butter or jam, homemade bread is sure to satisfy you. So next time you're in the mood for something special, give homemade bread a try. You won't be disappointed.
Why You'll Love This Simple Vegan Bread Recipe
Delicious- Homemade vegan bread recipe is incredibly easy to make and tastes delicious. It has a slightly crunchy crust and an airy, light interior perfect for sandwiches or snacking.
Made From Scratch- Homemade vegan bread recipe is made from scratch using simple ingredients like flour, water,
Easy-To-Follow Instructions- It's a simple, easy recipe that everyone can make. The best part? You don't need any special equipment- just some basic kitchen items.
Versatile- This easy vegan bread recipe is versatile in every way. You can make it sweet or savory and vary the ingredients to make different flavors.
Great For Gifting- Homemade bread is a great gift for someone special. Whether it's a family member, friend, or neighbor, homemade bread is sure to be appreciated!
What Is Vegan Bread?
Vegan bread is a type of homemade bread made without using any animal products, such as milk, eggs, butter, or honey. Vegan bread is an excellent option for those following a vegan lifestyle, as it is 100% plant-based. You can enjoy it plain or topped with vegan butter, jam, or other toppings of your choice. Whether you're a seasoned vegan baker or just starting out, this homemade bread recipe will become one of your favorites!
Equipment Needed To Make Homemade Vegan Bread
Large Mixing Bowl
Stirring Spoon
Clean Kitchen Cloth
Baking Dish
Serrated Knife
Ingredients For The Easiest Vegan Bread Recipe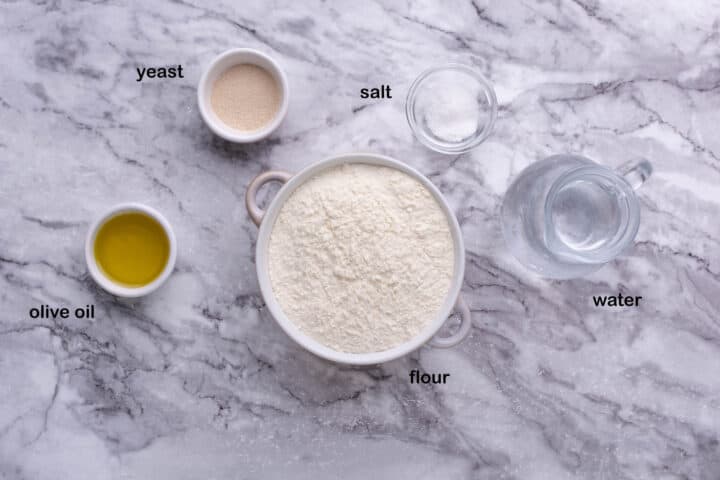 Flour
Dry Yeast
Sea Salt
Warm Water
Olive Oil
How To Make Vegan Bread
I used to be terrified of homemade bread because it sounded so difficult, but I decided to give it a go anyway. Much to my surprise, the process was much simpler than I thought!
In a large bowl, mix together the dry ingredients. Then, add water and olive oil. Stir until dough forms. Once you have a dough, knead it with your hands until smooth. Place the dough back in the mixing bowl and cover it with a clean kitchen cloth. Set aside 2-3 hours to allow it to rise; it should double in size within that time frame.
After the dough has risen, take the edges and fold them towards the center to create a ball. No more kneading is necessary.
Add the dough to the baking dish and let it rise for another 30 minutes. Then, use a serrated knife to make cuts on top of the dough.
Bake the bread for approximately 30 minutes.
After the bread is cooked, allow it to cool completely. Once cooled, slice and serve as desired.
Enjoy!
What to Serve/Pair With 5-Ingredient Vegan Bread
Homemade vegan bread is excellent for sandwiches, toast, or just by itself. It also pairs well with soups and salads. Top it with homemade jam, marmalade, or nut butter for extra flavor- the possibilities are endless!
You can also use this homemade vegan bread to make French toast or croutons.
Popular Substitutions & Additions
If you're looking to switch up the flavor of homemade vegan bread, there are lots of easy options. Here are some popular substitutions and additions:
Oats– swap ¼ cup of flour for ¼ cup of oats
Seeds– add in your favorite seeds, such as sesame seeds, pumpkin seeds, sunflower seeds, etc.
Herbs– add in some fresh herbs such as rosemary or thyme.
Nuts– add in some chopped nuts such as almonds or walnuts.
Spices– give your homemade vegan bread an extra boost with spices like cinnamon, cardamom, nutmeg, etc.
Sweetener– add some vegan-friendly sweetener such as maple syrup or coconut sugar.
Spreads– serve homemade vegan bread with spreads like homemade nut butter and jam.
With so many possible variations, this homemade vegan bread recipe will become a staple in your kitchen!
How To Store & Reheat Simple Vegan Bread
Once cooled completely, you can store homemade vegan bread at room temperature in a sealed bag or container for up to 3 days. To keep homemade vegan bread longer, freeze it in an airtight container or resealable freezer-safe bag.
To reheat homemade vegan bread, wrap the slice in a damp paper towel and microwave for 30-45 seconds. Wrapping the bread will help keep the crusty texture of the homemade vegan bread intact.
The Easiest Vegan Bread Recipe FAQs
Can homemade vegan bread be made in a bread machine?
Yes, you can make homemade vegan bread in a bread machine. Just follow the instructions on your particular machine.
Why do you have to let the dough ride for so long?
Letting the homemade vegan bread dough rise for a few hours helps it to become light and airy. This process is necessary to make homemade vegan bread that's fluffy and flavorful.
Can vegan bread be made without yeast?
Yes, you can make homemade vegan bread without yeast. Just replace the yeast with baking powder and baking soda.
Is homemade vegan bread better than store-bought?
Yes, homemade vegan bread is much better than store-bought! It's more flavorful and fresher, plus you can customize it to your tastes.
Can homemade vegan bread be frozen?
Yes, homemade vegan bread can be stored in an airtight container or resealable freezer-safe bag for up to three months. To reheat homemade vegan bread, wrap the slice in a damp paper towel and microwave for 30-45 seconds.
Don't Forget To Come Back And Let Me Know How Your Easy Homemade Vegan Bread Turned Out!
The Easiest Vegan Bread Recipe
With only 5 ingredients, you'll be surprised at just how easy and delicious vegan bread can be. It's light and fluffy inside with a crispy crust on the outside.
Ingredients
3 ¼

cup

flour

2

tsp

dry yeast

1 ½

tsp

sea salt

1 ½

cups

warm water

1

tbsp

olive oil
Instructions
Combine flour, yeast, and sea salt in a bowl.

Stir with a spoon until the dough comes together.

Knead the dough until smooth and cover it with a clean cloth. Let the dough rise for2-3 hours.

Preheat oven to 450F. Grease a baking dish or dust it with some flour.

Once the dough is doubled in size. Take the edges and fold them toward the center until you shape the ball of the dough. Do not knead at this point.

Place the dough into a baking dish and let the dough rise for 30 minutes. Make a few cuts on the dough's surface, with a serrated knife.

Bake the bread for 30 minutes.

Cool the bread completely before slicing and serving.
Nutrition
Calories:
210
kcal
Carbohydrates:
40
g
Protein:
6
g
Fat:
2
g
Saturated Fat:
0.3
g
Polyunsaturated Fat:
0.4
g
Monounsaturated Fat:
1
g
Sodium:
439
mg
Potassium:
83
mg
Fiber:
2
g
Sugar:
0.1
g
Vitamin C:
0.01
mg
Calcium:
9
mg
Iron:
2
mg