Herbed Focaccia is very popular in Italy and you could even say a staple. It has a wonderful chewy texture, is aromatic and satisfying. Great to dunk too.
Herbed Focaccia is very popular in Italy and you could even say a staple.   It's popularity has grown in other areas of the world by leaps and bounds in the last 20 years.  You can even find it in specialty food stores.
Herbed Focaccia has a wonderful chewy texture, is aromatic and satisfying.  I remember when I was first introduced to it. The flatbread was actually made into a sandwich.  I was hooked.
Since then I have had it multiple ways and you can too.  As a side dish at the dinner table or dunked in spaghetti and pizza sauce or eaten in numerous ways as any sandwich you can think of.
This is the traditional olive oil and sea salt recipe and now I can make it at home.  I hope you try it because it is really not hard at all.  I am so happy.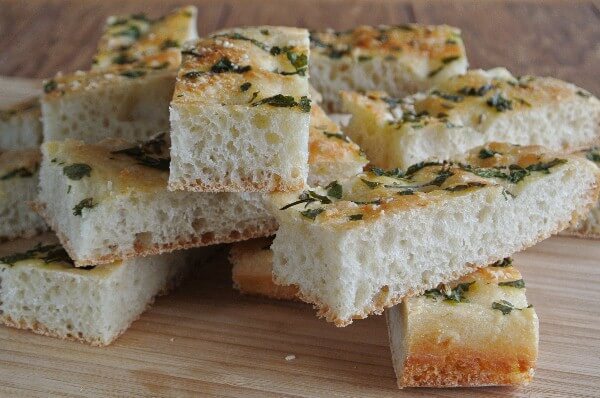 Connect with Vegan in the Freezer
Facebook | Pinterest | Instagram | Bloglovin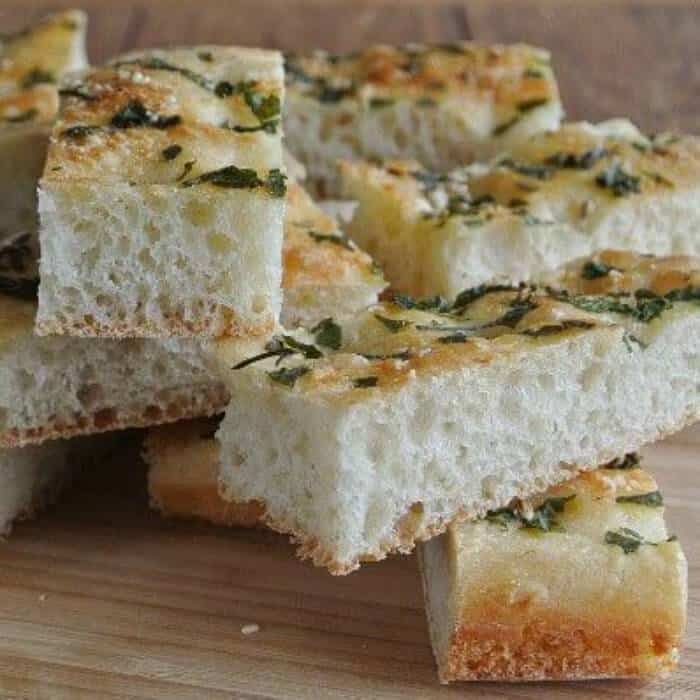 Herbed Focaccia
Prep Time
2
hours
30
minutes
Total Time
2
hours
50
minutes
Ingredients
1

teaspoon

packet Active Dry Yeast or 2-1/4 from a jar

1 1/2

cups

warm water, 100-110°

1/2

teaspoon

Sea Salt

3

tablespoons

extra virgin olive oil

4

cups

whole wheat pastry flour

1

Tablespoon

Nutritional Yeast (this is if you are vegan and want to add the extra protein, it is not for leavening)

1

teaspoon

dried oregano but preferably fresh oregano, 1/8 cup chopped
Instructions
Lightly grease a 10" x 15" baking sheet with olive oil.

Lightly oil a medium to large bowl for your dough to rise after kneading. Set aside.

Have the warm water in a bowl and make sure that it is the correct temperature. You can zap it in the microwave again and 'take it's temperature'.

When the water is at 100° to 110° pour in the yeast.

Stir and let stand 5 to 10 minutes.

Put the flour and nutritional yeast in a large bowl - not the oiled one.

Add salt and oil to the yeast mixture and stir.

Add to the bowl of flour.

Stir and then dump on a lightly floured cool board or counter.

Knead about 5 to 10 times until the dough is elastic. You will need to add extra flour as you knead until it is not TOO sticky. You will be able to remove your hand without dough left on your fingers and palms.

Form into a ball.

Place in your oiled bowl and turn the dough to get oil on all sides.

Cover with a clean dish towel and let rise 45 min. to 1 hour until it doubles.

Remove the dough and knead 2 to 3 times to remove the air.

Lay the ball on the prepared baking pan and push the dough close to the corners with your fingers.

Cover and let rise another hour.

Sprinkle 3 Tablespoons olive oil over the bread and smooth around.

Dimple the bread lightly with your finger tips. You no not want to loose it's 'rise'.

Sprinkle on the oregano and just a pinch more of sea salt..

Bake at 425° for 20 minutes.

Let cool a bit and then remove to a rack.
Recipe Notes
This loaf or slices can be refrigerated for a couple of weeks or frozen for about 6 months.
IF FREEZING:
After they have cooled you may freeze them in any of the methods shown in my article How to Prepare Food for the Freezer. It will defrost quickly so it really doesn't take any planning.