Focaccia Bread- Knead whole wheat pastry flour, active dry yeast, and warm water into an elastic-like dough. Flatten it out, drizzle some olive oil on top, season with fresh herbs, and bake until golden brown! You can use homemade focaccia bread to make sandwiches, a base for pizza, or serve as an appetizer with your favorite dipping sauces. This recipe is perfect for beginners.
What Is Focaccia?
Focaccia is an Italian bread typically made with olive oil, salt, and herbs. The dough is usually fairly thick, and the finished bread is often relatively flat. It is often baked in a rectangular or oval shape, and the surface of the bread is often dimpled. Focaccia bread is believed to have originated in the region of Liguria in Italy. The word "focaccia" comes from the Latin word "focus," which means "hearth." The focaccia was traditionally cooked on a heated stone placed near the fire. Focaccia bread is now commonly found in bakeries all over Italy and around the world.
Focaccia bread is a delicious, versatile dish that can be enjoyed on its own or used as a base for other meals. Focaccia will hit the spot whether you're looking for a hearty side dish or a simple snack. This vegan version is made with herbs and olive oil, giving it a flavorful and satisfying taste. Focaccia bread is also relatively easy to make, perfect for busy weeknights or lazy weekends.
Why You'll Love This Vegan Focaccia Recipe
Versatile- Good Focaccia can be enjoyed on its own or used as a base for other meals, such as pizza or sandwiches. It makes a great appetizer, side dish, or snack.
Freezes-Well- This vegan focaccia bread recipe makes a large batch, which is excellent for meal prep or feeding a crowd. You can freeze the leftovers for up to 3 months.
Easy to Make- This recipe is relatively simple and doesn't require any special ingredients or equipment. It's the perfect choice for busy weeknights or lazy weekends.
Flavorful- Focaccia is made with herbs and olive oil, giving it a delicious and satisfying taste.
Family-Friendly- Vegan focaccia is a great choice for families because it's easy to make, and everyone can enjoy it.
Equipment Needed To Make Homemade Herb Focaccia
Large Baking Sheet
Medium Mixing Bowl
2 Large Mixing Bowls
Dish Towel
Cooling Rack
Measuring Cups and Spoons
Ingredients Needed For Herbed Focaccia Bread
Active Dry Yeast
Warm Water
Sea Salt
Extra Virgin Olive Oil
Whole Wheat Pastry Flour
Nutritional Yeast
Fresh Oregano
How To Make This Homemade Vegan Focaccia
Lightly grease a baking sheet and a medium-large bowl with olive oil and sit them aside. Whisk together the active dry yeast and warm water in a large bowl, then let it stand for 5-10 minutes.
While the yeast is activating in the water, add the flour and nutritional yeast to a large ungreased bowl and stir.
Stir salt and oil into the yeast and water mixture and combine well. Once it's well combined, add it to the large mixing bowl with the flour and mix until a dough is formed.
Lightly flour the kitchen counter and knead the dough until it is elastic-like. You may need to add extra flour to the dough while kneading to keep it from becoming too sticky. Form the dough into a ball and place it into the greased bowl. Roll it around in the bowl until the dough ball has been coated with the oil.
Cover the mixing bowl with a clean dish towel to allow the dough to rise for about 45 minutes. You want the dough to double in size.
Remove the dough and knead it a couple of times to remove any air.
Place the dough on the greased baking sheet and spread evenly pushing the dough close to the corners.
Cover the dough once more to rise for another hour.
Sprinkle a few tablespoons of olive oil over the bread and spread it over the dough. Dimple the bread lightly with your fingers without losing its rise. Add oregano and a pinch of salt before baking for about 20 minutes.
Once cooked, move the focaccia to a cooling rack before serving as desired.
What to Serve/Pair With Focaccia Bread With Herbs
Because of its versatility, you can use focaccia bread for many different purposes. It can be enjoyed on its own as a delicious and satisfying snack with your favorite dipping sauce. It can also be used as a base for other meals, such as pizzas or sandwiches. Focaccia bread is often served alongside soups or salads as a hearty and filling side dish.
Popular Substitutions & Additions
While this recipe is delicious, as written, there are a few ways to change it up to suit your taste.
If you don't have whole wheat pastry flour, you can use all-purpose flour or bread flour instead.
You can also add other herbs to the focaccia dough, such as rosemary or thyme.
Add grated vegan parmesan to the dough for a cheesy flavor, or sprinkle it on top before baking.
You can add honey or sugar to the dough if you want sweeter focaccia bread. Before baking, you can also top the bread with dried fruit or chocolate chips.
There are endless possibilities when making focaccia bread, so feel free to experiment and see what you come up with!
How To Store & Reheat Vegan Herb Focaccia
This vegan focaccia bread recipe is best enjoyed fresh, but it will keep in an airtight container in the refrigerator for up to 3 days.
If you want to reheat the bread, place it in a 350-degree Fahrenheit oven for 5-10 minutes until warm. You can also reheat individual pieces in the microwave.
Vegan Focaccia Bread FAQs
Can homemade focaccia bread be frozen?
Yes, it can! This bread freezes well for up to 3 months. Be sure to wrap it tightly in a freezer-safe wrap or place it in a freezer-safe bag before freezing.
How do I know when my focaccia bread is done baking?
Focaccia bread is ready to take out of the oven when it is golden brown and firm to the touch. You can also insert a toothpick into the center of the bread to check for doneness. If the toothpick comes out clean, the bread is done.
Is focaccia bread vegan?
This vegan focaccia bread recipe, as it does not contain eggs or dairy. However, only some recipes for focaccia bread are vegan, so be sure to check the ingredients list if you are unsure.
Can I make vegan focaccia gluten-free?
Yes, you can make gluten-free focaccia bread using a gluten-free flour blend instead of whole wheat pastry flour.
Is there something I can use in place of the active dry yeast?
If you don't have yeast, you can substitute baking powder or baking soda. However, the bread will not be as fluffy and will have a slightly different flavor.
📋 Recipe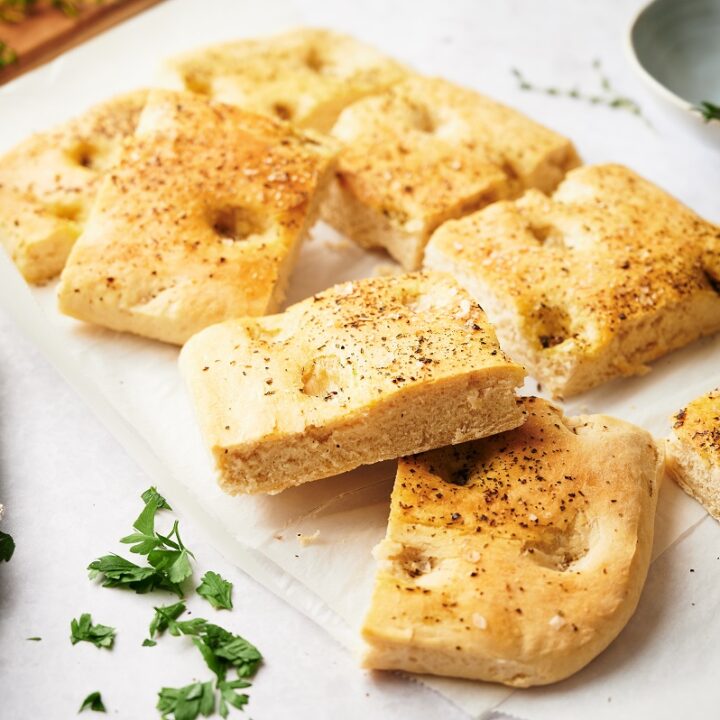 Vegan Focaccia Bread Recipe
Flatten homemade dough made from flour, yeast, and water before adding oil, herbs, and bake until browned. Focaccia is a perfect base for any meal or appetizer.
Ingredients
2 ¼

teaspoons

Active Dry Yeast

- from a jar or 1 packet

1 ½

cups

warm water, 100-110°

½

teaspoon

sea salt

3

tablespoons

extra virgin olive oil

4

cups

whole wheat pastry flour

1

tablespoon

Nutritional Yeast (this is if you are vegan and want to add the extra protein & nutrients, it is not for leavening)

1

teaspoon

dried oregano but preferably fresh oregano, ⅛ cup chopped
Instructions
Lightly grease a 10" x 15" baking sheet with olive oil.

Lightly oil a medium to large bowl for your dough to rise after kneading. Set aside.

Have the warm water in a bowl and make sure that it is the correct temperature. You can zap it in the microwave again and 'take it's temperature'.

When the water is at 100° to 110° pour in the yeast.

Stir and let stand 5 to 10 minutes.

Put the flour and nutritional yeast in a large bowl - not the oiled one.

Add salt and oil to the yeast mixture and stir.

Add to the bowl of flour.

Stir and then dump on a lightly floured cool board or counter.

Knead about 5 to 10 times until the dough is elastic. You will need to add extra flour as you knead until it is not TOO sticky. You will be able to remove your hand without dough left on your fingers and palms.

Form into a ball.

Place in your oiled bowl and turn the dough to get oil on all sides.

Cover with a clean dish towel and let rise 45 min. to 1 hour until it doubles.

Remove the dough and knead 2 to 3 times to remove the air.

Lay the ball on the prepared baking pan and push the dough close to the corners with your fingers.

Cover and let rise another hour.

Sprinkle 3 Tablespoons olive oil over the bread and smooth around.

Dimple the bread lightly with your fingertips. You don't want to lose it's 'rise'.

Sprinkle on the oregano and just a pinch more of sea salt..

Bake at 425° for 20 minutes.

Let cool a bit and then remove to a rack.
Notes
Can you freeze focaccia?
This loaf or slices can be refrigerated for a couple of weeks or frozen for about 6 months.
FREEZING:
After the focaccia has cooled you may freeze it as a whole loaf or in slices in a freezer bag or hard sided freezer safe glass container.
DEFROSTING:
It will defrost quickly so it really doesn't take any planning.
Nutrition
Serving:
1
Piece
Calories:
131
kcal
Carbohydrates:
22
g
Protein:
5
g
Fat:
4
g
Saturated Fat:
1
g
Polyunsaturated Fat:
1
g
Monounsaturated Fat:
2
g
Sodium:
74
mg
Potassium:
127
mg
Fiber:
4
g
Sugar:
0.1
g
Vitamin A:
5
IU
Vitamin C:
0.01
mg
Calcium:
13
mg
Iron:
1
mg