Are you looking for a vegan pancake recipe that is just as delicious as the classic pancakes your grandma used to make? Then look no further! Our version of this traditional breakfast favorite has all the taste and fluffy texture you're craving without any animal products. Whether it's Sunday morning or just midweek brunch, these vegan buttermilk pancakes will surely bring smiles and full bellies to all the pancake lovers out there.
Why You'll Love This Vegan Pancake Recipe
Fast- The pancake batter comes together quickly and cooks in just minutes. So there is no need to wait around all morning for delicious pancakes.
Tasty- Thanks to the use of vegan buttermilk and a combination of baking powder and baking soda, these are not only the fluffiest vegan pancakes but also incredibly delicious.
Easy- Packed with pantry staples, this recipe is so easy you'll be making it over and over again.
Customizable- Top these fluffy vegan pancakes with fresh fruit, berries, coconut whipped cream, or melted vegan butter, and maple syrup.
What Are Buttermilk Pancakes?
Buttermilk pancakes are a classic Sunday morning breakfast dish. They are typically made with flour, baking powder, sugar, salt, and eggs combined with traditional buttermilk. This vegan version of the recipe is made without animal products by substituting almond milk mixed with apple cider vinegar for the buttermilk and using chia seeds instead of eggs. The result is light, fluffy vegan pancakes that are just as delicious as the classic.
Equipment Needed
Blender
Small Bowl
Medium Bowl
Large Bowl
Stirring Spoon
Griddle or Wide Flat Pan
Stirring Spoon
Spatula
Baking Sheet
Measuring Cups and Spoons
Ingredients
For Making Vegan Buttermilk Pancakes:
All-Purpose Flour- Provides structure to the pancake batter and holds the ingredients together.
Coconut Sugar- Adds a bit of sweetness to the pancakes.
Baking Powder- Makes the pancake batter rise and become super fluffy.
Baking Soda- This also helps the pancake batter to rise.
Sea Salt- Enhances the flavor of the other ingredients.
Vanilla Extract- Adds flavor to the pancakes.
Almond Milk- Replaces traditional buttermilk and adds moisture to the batter.
Apple Cider Vinegar- Adds a slightly tangy flavor and helps create a vegan buttermilk substitute.
Egg Replacer- Chia seeds mixed with water bind the ingredients together.
Coconut Oil- Keeps the pancakes from sticking to the pan and also keeps the moist.
For Making The Syrup:
Almond Butter- Adds a creamy texture and nutty flavor to the syrup.
Maple Syrup- Used as a sweet topping for homemade vegan pancakes.
How To Make Vegan Buttermilk Pancakes With Almond Butter Syrup
First, use a blender to create the syrup by blending the syrup and almond butter until it is smooth. Do not refrigerate the syrup. Next, combine chia seeds and water in a small bowl to prepare the egg substitutes. Allow the mixture to sit for 10 minutes until it becomes gel-like.
Combine the all-purpose flour, coconut sugar, baking powder, baking soda, and salt in a large bowl. Mix them well. In a medium bowl, stir the almond milk and apple cider vinegar together. This will transform the milk into a vegan buttermilk substitute.
Create a hole in the center of the flour mixture and add the vegan buttermilk, vanilla extract, and egg substitutes. Mix the wet with the flour and baking powder mixture until just combined. Avoid overmixing, although there may still be some lumps.
To make pancakes, first heat some oil on a griddle or flat pan over medium heat. When the oil is hot, pour the batter into the center of the pan. Wait until small dry bubbles appear all over the pancake, then use a spatula to lift it up. Sprinkle a few more drops of oil onto the pan before flipping the pancake over to the other side. The second side should only take a short amount of time to become golden brown.
After cooking the pancakes, keep them warm by placing them on a baking sheet in the oven on low heat until serving. Serve a stack of vegan pancakes warm, topped with almond slices, a pat of vegan butter, and maple syrup.

What To Serve With The Fluffiest Vegan Buttermilk Pancakes
These vegan buttermilk pancakes are delicious when served with a wide variety of other breakfast items. Try serving them with:
Fresh fruit- Fresh strawberries, blueberries, banana slices, and other fresh fruit are perfect for topping pancakes.
Nuts and Seeds- Nuts such as walnuts or pecans and sunflower or pumpkin seeds add a delicious crunch to pancakes.
Vegan Yogurt- Coconut yogurt or almond milk yogurt provides a creamy topping for vegan pancakes.
Fresh Juice- Orange, apple, or cranberry juice make great drinks to accompany vegan pancakes.
Vegan Breakfast Meats- Plant-based bacon, sausage, and other breakfast meats perfectly complement vegan pancakes.
Other Beverages- Hot coffee, warm tea, or a tall glass of your favorite plant milk such as oat milk, soy milk, or almond milk.
Popular Substitutions & Additions
If you're looking for some creative ways to change up your pancake recipe, try adding the following substitutions and additions:
Replace the all-purpose flour with whole wheat flour, white whole wheat flour, almond flour, coconut flour, or gluten-free flour.
Add a pinch of cinnamon or nutmeg for an extra flavor boost.
Instead of using almond butter, use peanut butter, cashew butter, sunflower seed butter, or your favorite nut butter.
Lemon juice or white vinegar can be used instead of apple cider vinegar.
Swap out the melted coconut oil for avocado oil or melted vegan butter.
Replace the coconut sugar with maple syrup, agave nectar, or date syrup for a healthier option.
For vegan chocolate chip pancakes, add some vegan chocolate chips to the batter. Alternatively, for vegan blueberry pancakes, add some fresh or frozen blueberries to the batter before cooking.
Top your pancakes with vegan coconut cream, mini dairy-free chocolate chips, vegan butter, nuts, seeds, jellies, or jams.
Use different types of non-dairy milk, such as oat milk, coconut milk, or soy milk.
Add a teaspoon of flaxseed meal to the pancake batter for an extra health-boosting punch.


Can You Freeze Vegan Buttermilk Pancakes?

Yes, you can freeze vegan buttermilk pancakes. To do so, place them in a single layer on a cookie sheet lined with parchment paper and freeze for 2-3 hours until they're solid. Once frozen, transfer the pancakes to an airtight freezer-safe container or freezer bag and store them in the freezer for up to 3 months. When ready to eat, warm up the pancakes in the toaster or oven. At the same time, prepare a new batch of almond butter syrup.

Leftover pancakes do not need to be refrigerated. You can store them at room temperature in an airtight container for up to 5 days or freeze them as described above.

The Fluffiest Vegan Buttermilk Pancakes FAQs

Can I double this fluffy vegan pancake recipe?

Absolutely! You can easily double or triple this vegan buttermilk pancake recipe by doubling or tripling all the ingredients.

What type of egg substitute should I use?

You can use a variety of egg substitutes in this recipe, such as ground flaxseed to make a flax egg, chia seed gel, applesauce, or mashed banana. Each option will give you slightly different results, so feel free to experiment with all of them to find the one that works best for you.

Can I make these vegan gluten-free pancakes?

Yes. You can replace the all-purpose flour with a gluten-free flour blend or oat flour and use certified gluten-free oats if needed. The other ingredients should already be gluten-free, so you shouldn't have any problems making gluten-free vegan pancakes.

What is the best way to reheat leftover pancakes?

The best way to reheat leftover pancakes is in the oven or toaster. Preheat the oven to 350°F (177°C). Place the pancakes on a baking sheet and heat for about 10 minutes, flipping once halfway through, until warmed throughout. Alternatively, you can place them in the toaster and toast for 1-2 minutes until heated. I do not recommend reheating them in the microwave as it will make dry, tough pancakes.
📋 Recipe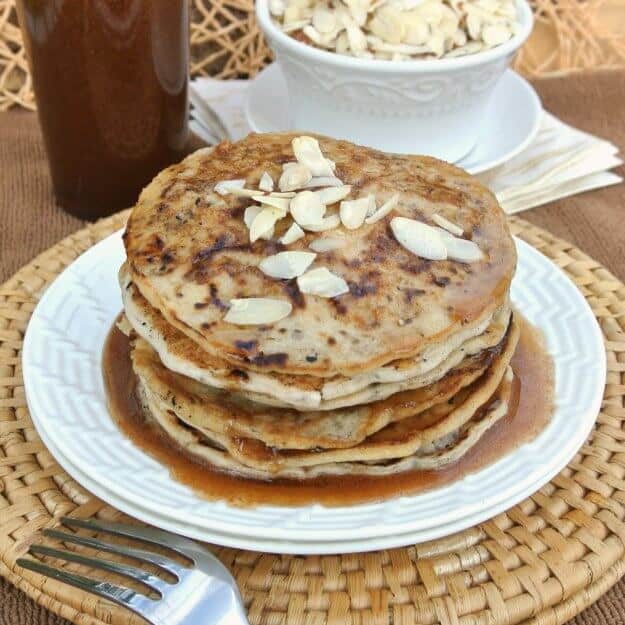 The Best Vegan Buttermilk Pancakes
Perfect for pancake lovers cravings, whether a Sunday morning or a midweek brunch! The fluffy texture and buttermilk taste is just like grandma used to make.
Ingredients
Dry Ingredients
2 ¼

cups

all-purpose flour

3

teaspoons

coconut sugar

1 ½

teaspoons

baking powder

1

teaspoon

baking soda

½

teaspoon

sea salt
Egg Substitute
2

tablespoons

chia seeds

6

tablespoons

water
Wet Ingredients
2 ¼

cups

dairy-free almondmilk

2

teaspoons

apple cider vinegar
For frying the Pancakes
2

tablespoons

coconut oil
Almond Butter Maple Syrup
1

cup

maple syrup

¼

cup

almond butter
Instructions
In a blender, add maple syrup and the almond butter. Blend for a minute until completely smooth.

Set aside and do NOT refrigerate.

Make the egg substitutes, place the chia seeds in a small bowl, add water and mix.

Set aside to gel, about 10 minutes.

In a large bowl combine all of the dry ingredients: all-purpose flour, coconut sugar, baking powder, baking soda and salt. Mix well.

In another medium sized bowl pour in the almondmilk and add the cider vinegar. Stir.

Make a well in the center of the flour mixture.

Pour in the almond milk mixture, vanilla and egg substitutes.

Stir the wet mixture into the dry mix until just incorporated.

Don't over mix. It will be a bit lumpy.

Add oil to the pan and heat to medium heat. Fry on a griddle or a wide flat pan. I use a flat stainless pan.

Pour ¼ cup batter right in the center of the pan. You should hear a mild sizzle. Cook until you see lots of little bubbles pop up all over the pancake. They should be pretty dry bubbles too.

Slide your spatula under the pancake and lift up from the pan. Sprinkle a few more drops of oil on the pan so when you flip your pancake there is some fresh hot oil.

Flip and brown on the other side. This won't take long at all.

Set on a baking sheet and after you have about 5 done place the baking sheet in the oven that has been set as low as possible. Not over 200 degrees. This will keep your pancakes hot for serving.
Nutrition
Serving:
3
Pancakes
Calories:
207
kcal
Carbohydrates:
34
g
Protein:
4
g
Fat:
5
g
Saturated Fat:
2
g
Sodium:
185
mg
Potassium:
205
mg
Fiber:
1
g
Sugar:
15
g
Vitamin A:
80
IU
Calcium:
121
mg
Iron:
1.5
mg