Vegan Buttermilk Pancakes with Almond Butter Maple Syrup are to-die-for and simple to make. holiday Brunch Plan included! Have as a special treat on the weekends or serve at your holiday brunch.

When pancakes get put on the table there is a special feeling in the air. It's usually the weekend when no one is being rushed out the door and there is time for comradery around the table.
Whether it be silly giggles or conversations about daily events the pancakes are disappearing.
Buttermilk pancakes are also famous for being the best kind of pancake. There's no need to forgo that treat because they can be duplicated in the vegan lifestyle.
Even when I wasn't vegan I knew about putting vinegar into milk to make buttermilk. It was the perfect option when you didn't have buttermilk on hand.
It works here too. Apple cider vinegar added to dairy-free milk does the trick. Another change made for these Vegan Buttermilk Pancakes was to leave out the banana.
Chia seed eggs were used instead for a clean and original style pancake. Now you have a massive amount of nutrients for very little calories.
Do you like brunches? Me too! They are a little later in the morning so you are much more awake to enjoy the feast. That isn't the main reason they're so good though.
Food choices are more abundant than your everyday meal and the choices also offer plates that are a little more special than smoothies and granola.
Don't get me wrong. Granola and a pitcher of dairy-free milk as one of the offerings would be perfect too.
You could also have mason jars filled with individual servings for smoothies and people could whip up their smoothie right then and there.
When you make your choices of what to serve at your brunch you have to realize that everyone isn't going to have each thing on the table. They may not like something and so there should be another option for them.
Carbs, protein and, fruit should be offered. That makes for nice healthy choices.
It takes a little planning to get a brunch together and below is a simple guide, with food suggestions, to help you plan a buffet of your own.
All the better is that most of it is prepared ahead of time. Days and even weeks ahead!
Menu
Vanilla Almond Biscotti
Fresh Fruit, peeled and cut
Vegan Buttermilk Pancakes with Almond Butter Maple Syrup
Crystalized Ginger Orange Juice Cocktail
2 Pots of Coffee, regular and decaf
Dairy-Free Milk
When to Prepare
days or weeks ahead of time
in the morning before brunch
days or weeks ahead of time
morning of the brunch and kept warm in the oven at 150 degrees
up to 3 days before brunch, refrigerated, no ice
right before the brunch
right before the brunch
Serving Style
upright in a narrow bowl
big bowl with a slotted spoon
overlapping on the diagonal
pancakes stacked, syrup in a medium pitcher
large pitcher with ice cubes in an ice bucket
coffee pot with cups
pitcher and glasses
Now for a few essentials to add to the table? Along with Vegan Buttermilk Pancakes and all of the other wonderful choices above put a few more things on the table.
Coffee creamer, coffee sweetener, dairy-free butter, plates, silverware, and napkins. Now is the time for a fun-filled brunch.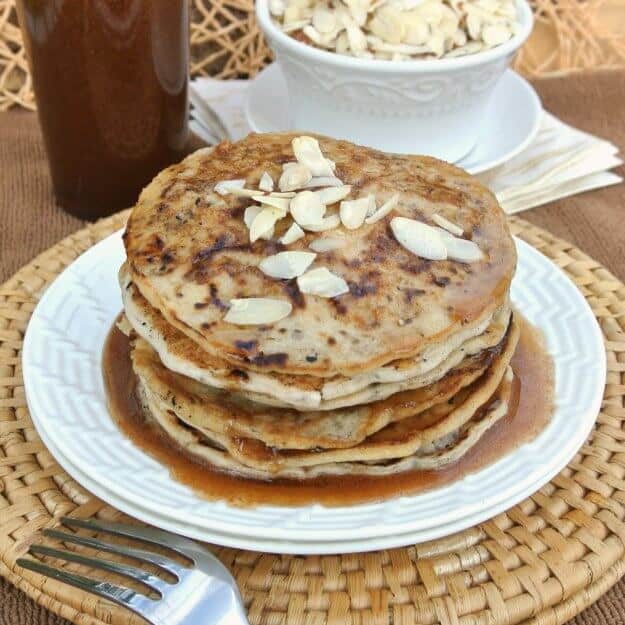 This post contains affiliate links. Read my disclosure policy here.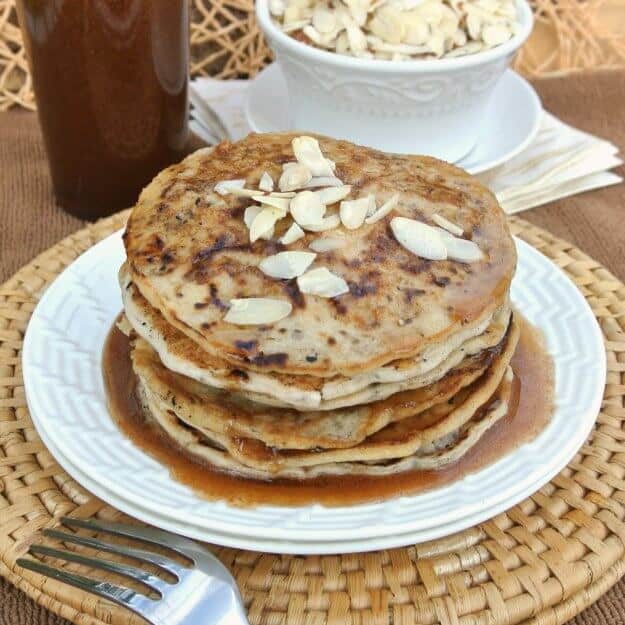 Vegan Buttermilk Pancakes with Almond Butter Maple Syrup
Vegan Buttermilk Pancakes with Almond Butter Maple Syrup are to-die-for and simple to make.

Ingredients
Dry Ingredients
2 ¼

cups

all-purpose flour

3

teaspoons

coconut sugar

1 ½

teaspoons

baking powder

1

teaspoon

baking soda

½

teaspoon

sea salt
Egg Substitute
2

tablespoons

chia seeds

6

tablespoons

water
Wet Ingredients
2 ¼

cups

dairy-free almondmilk

2

teaspoons

apple cider vinegar
For frying the Pancakes
2

tablespoons

coconut oil
Almond Butter Maple Syrup
1

cup

maple syrup

¼

cup

almond butter
Instructions
In a blender, add maple syrup and the almond butter. Blend for a minute until completely smooth.

Set aside and do NOT refrigerate.

Make the egg substitutes, place the chia seeds in a small bowl, add water and mix.

Set aside to gel, about 10 minutes.

In a large bowl combine all of the dry ingredients: all-purpose flour, coconut sugar, baking powder, baking soda and salt. Mix well.

In another medium sized bowl pour in the almondmilk and add the cider vinegar. Stir.

Make a well in the center of the flour mixture.

Pour in the almond milk mixture, vanilla and egg substitutes.

Stir the wet mixture into the dry mix until just incorporated.

Don't over mix. It will be a bit lumpy.

Add oil to the pan and heat to medium heat. Fry on a griddle or a wide flat pan. I use a flat stainless pan.

Pour ¼ cup batter right in the center of the pan. You should hear a mild sizzle. Cook until you see lots of little bubbles pop up all over the pancake. They should be pretty dry bubbles too.

Slide your spatula under the pancake and lift up from the pan. Sprinkle a few more drops of oil on the pan so when you flip your pancake there is some fresh hot oil.

Flip and brown on the other side. This won't take long at all.

Set on a baking sheet and after you have about 5 done place the baking sheet in the oven that has been set as low as possible. Not over 200 degrees. This will keep your pancakes hot for serving.
Nutrition
Serving:
3
Pancakes
Calories:
207
kcal
Carbohydrates:
34
g
Protein:
4
g
Fat:
5
g
Saturated Fat:
2
g
Sodium:
185
mg
Potassium:
205
mg
Fiber:
1
g
Sugar:
15
g
Vitamin A:
80
IU
Calcium:
121
mg
Iron:
1.5
mg
You can actually freeze pancakes and they come back perfectly.
Whether they've been frozen or not these pancakes are also delicious when you roll it up (as is) zap it in the microwave for 15 seconds and eat as a snack.
You know the Vanilla Almond Biscotti and Crystallized Ginger Orange Juice Cocktail that I mentioned in the menu above? Here are a couple of pics of them for you.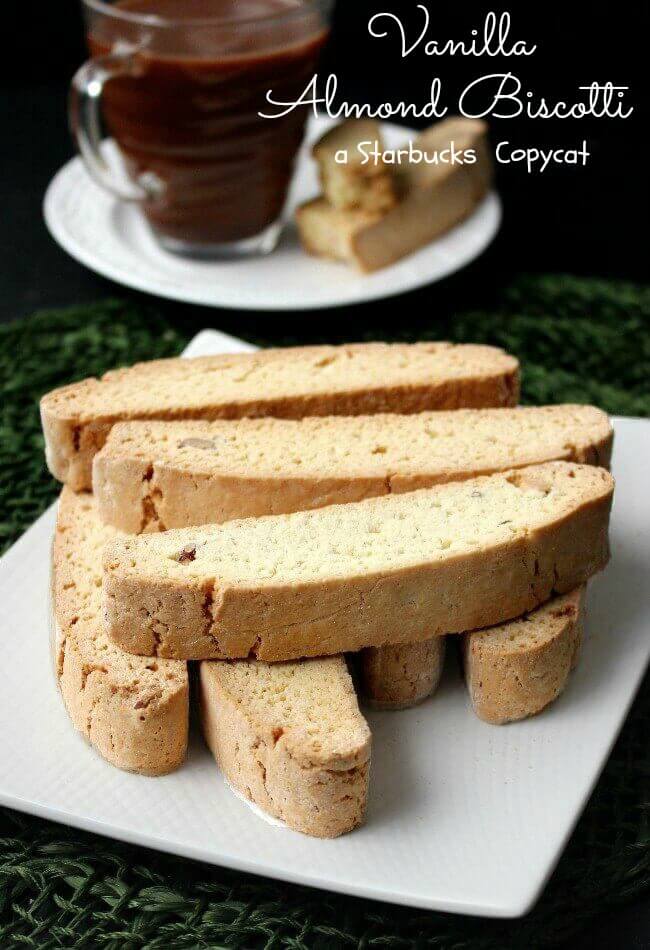 And a very sweet cocktail but so nice at a brunch.