Vegan Split Pea Soup is delicious and it's amazing how easy this soup is to make. You'll have to add it to your cook again and again list.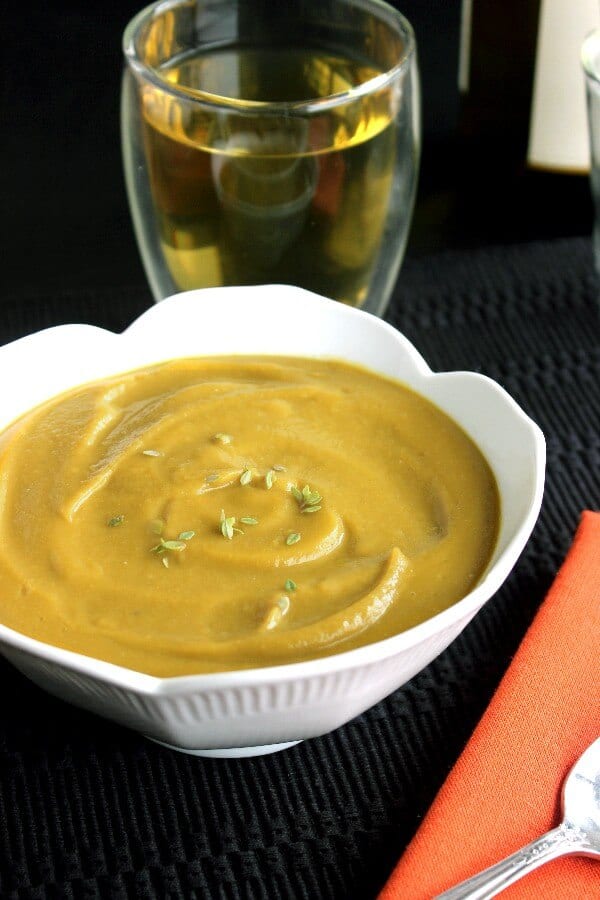 Marvelous in texture and flavor, Vegan Split Pea Soup is one of the best soups out there.
When I was a young girl I can remember going to Buellton, California and the restaurant 'Anderson's' which was made famous for their Split Pea Soup. It was wonderful.
Without being too cocky I think this recipe rivals theirs. It's vegan even!
I always thought the sweetness came from the ham but evidently, I was wrong. The sweet onions and carrots do the trick.
This green split peas recipe is one that I've been making for years. One small change is that I've added a little liquid smoke as a suggestion. I mean it's really just a little bit as it can become overpowering.
What Do Split Peas Taste Like?
There are green and yellow split peas. Both make a delicious soup.
Split peas are a little sweet although green split peas are just a tad sweeter. Not earthy like lentils but pretty much the same texture.
The flavor is amazing and a green split peas recipe collection would be something to cherish.
Just lately I discovered how fantastic green split peas are in a meatless meatloaf. You could sure substitute the yellow ones but check out this Vegan Meatloaf with chickpeas, mushrooms, green split peas and more.
Vegan Split Pea Soup also freezes really well. As you can see in the photo below the soup is in different sizes of freezer-safe jars and containers.
Use straight sided jars and don't fill above the screw threads on the glass. Liquid expands and you don't too much pressure to build if they are overfilled. The jars can crack or break.
Don't use jars that you have cleaned that once held another food. They need to be the heavier actual canning and freezing jars that you buy in the store.
Helpful Tools:
Stockpots are great for both soaking beans and cooking. Plenty of room for any soup or stew.
You can get your blending done in one step with an immersion blender.
A blender works well too. That is what I used but the soup might need to be blended in two batches. I love the glass jars and this set has two extra attachments.
You can make the split pea soup as thin as you like. Some people like to use crackers so you'd want more liquid than my pictures show.
It's all equally delicious and I change the thickness up depending on my mood and how far I want the soup to spread.
This is a very simple homemade soup to make and so rewarding. I think I will have to add it to my 'cook again and again' list.
📋 Recipe
Vegan Split Pea Soup
Homemade Split Pea Soup is delicious & it's amazing how easy this soup is to make.
Ingredients
3

tablespoons

extra virgin olive oil

½

cup

small yellow onion, diced, about ½ to ¾ cup

16

ounces

dried green split peas

6

cups

vegetable broth

¼

cup

dry white wine, you can use water

2

cups

carrots, sliced, about 1

1

bay leaf

¼

teaspoon

black pepper

¼

teaspoon

liquid smoke

¼

teaspoon

marjoram

½

teaspoon

parsley
Instructions
In a large soup pan heat the oil and saute the onion for about 10 minutes.


Add the split peas, broth (and wine if you are using it), carrots, bay leaf and black pepper.

Cover and bring to a boil.


Add the liquid smoke, parsley, and marjoram.

Turn down to a medium-low simmer and cook for about 1 ½ hours

Stir every once in a while to keep from sticking. You can add more broth if you think it is too thick.

When the split peas are done let them cool a little bit before putting into a blender or using an immersion blender.

Remove the bay leaf.

Put the soup in a blender (I did this in 2 batches) and blend until the soup is smooth (or almost smooth, depending on your taste). Serve while hot.
Notes
IF FREEZING:
Let cool to room temperature.
Package in rigid sided containers as defined in my article How to Prepare Food for the Freezer.
TO PREPARE AFTER FREEZING:
Remove from the freezer and put in the refrigerator overnight because it is a pretty solid mass and will take longer to defrost.
THE NIGHT BEFORE SERVING:
Put all in a large saucepan and heat through. You can add more broth if you think it is too thick.
Ready to serve.
Nutrition
Serving:
1
Serving
Calories:
176
kcal
Carbohydrates:
10
g
Protein:
7
g
Fat:
12
g
Saturated Fat:
2
g
Sodium:
150
mg
Potassium:
509
mg
Fiber:
1
g
Sugar:
3
g
Vitamin A:
10690
IU
Vitamin C:
3.8
mg
Calcium:
35
mg
Iron:
1
mg