Slow Cooker Wild Rice Recipe with Pecans is simple to make in the crockpot.  Grains, nuts, and veggies are all combined for a special side dish.
There are so many nice blends of rice on market shelves now. Wild rice can be a little, well, wild for some people so when it's combined with lots of other grains the flavor is softened and extra special.
This recipe is especially nice for a party or holiday.  Not that it can't be eaten on any day of the year but there is just something festive about its looks and taste.
There are a couple of notes at the bottom of the recipe to help you get even more creative when the time comes.  Take a hint from your blend and go wild.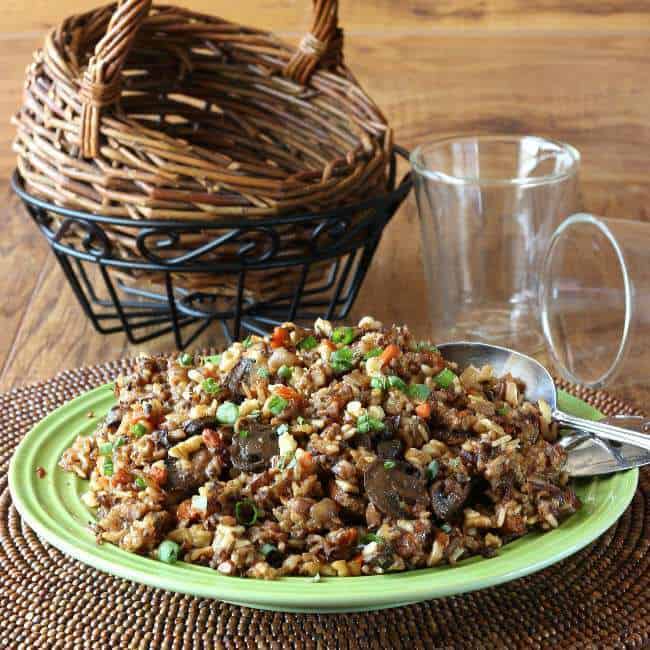 This post contains affiliate links. Read my disclosure policy .
Recipe Variations
Toss your favorite grilled seitan or plant-based bites to the finished side dish to make a main dish version.
Add some additional vegetables like freshly snapped green beans to boost its nutritional value.
If this is for Thanksgiving or Christmas you can add 1/2 cup dried cherries or dried cranberries when you add the pecans.
Switch out the white button mushrooms for cremini mushrooms for more depth of flavor.
I made this version with a wild rice blend because I love the mixture so much but you can sure go for straight wild rice if you like. The preparation is the same.
You might be surprised to learn that wild rice isn't rice at all but is an aquatic grass seed (grain). Originating primarily from the freshwater area in the Great Lakes.
It is now grown and harvested in Northern America Great Lakes area and Canada.
Wild rice takes longer to cook than white or brown rice and that makes it doubly perfect for making this slow cooker wild rice recipe.
The whole recipe can be doubled for a larger crowd.
Check out the video right here if you're on mobile or at the top of the page if you're on a desktop!
Want to try this Slow Cooker Wild Rice Recipe?
PIN IT

to your Slow Cooker or Side Dish board to save for later!
Find me on Pinterest for more great recipes!